Feeling the senses awaken is a wonderful aspect of any museum trip. It's a physical as well as an intellectual experience. At the Fitzwilliam Museum, our latest activities with Early Years audiences have explored ideas connected with food and clothes, to highlight this sensory side of museum visiting.
So what have we been doing?
Dressing to Impress
In November, to celebrate the opening of the sumptuously refurbished Gallery 3, we devised two workshops for babies and older preschoolers that focused on the depiction of fabrics, clothing and accessories in portraits.
The younger children sang and investigated sensory play baskets focusing on opposites and contrast which are featured in the new gallery: light & dark, hard & soft, large & small. The older ones were invited to join a story tour in which a new outfit was created for the main character, who borrowed green stockings from Charles I, a string of pearls from Elizabeth Vernon, Countess of Southampton, and a lacy ruff and sleeves.  In the studio older preschoolers tried making textile art through weaving and sewing activities and the babies continued to explore contrasts through light play and creating cosy, dark, enclosed spaces.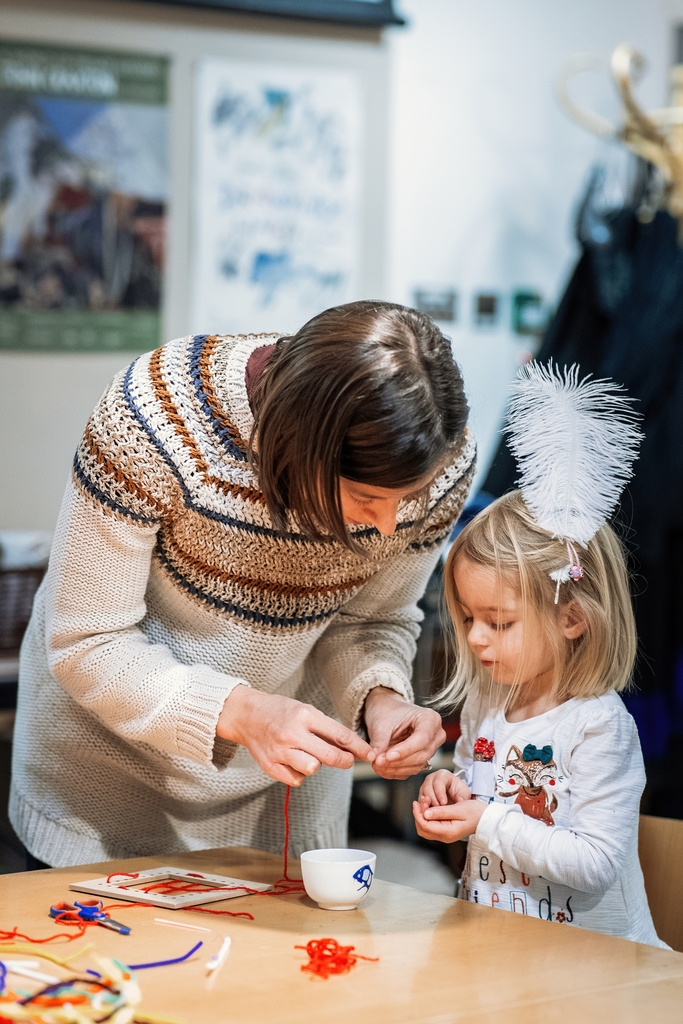 'Seeing ways of engaging this age group in a gallery that I could come back on my own with my daughter and use in sharing ideas and observations about portraits with her. A 'way in' to art. Also a wonderful way of expressing herself creatively and by the end she gained the confidence to try on the hats and that was helped by being a very warm and positive space enabled by great helpers!'  Parent at Baby Magic.
Talking and Eating Together
December saw a switch to a focus on food! We received funding from Cambridgeshire County Council's Talking Together initiative which seeks to address unequal outcomes for young children in the area of early language and communication development in different parts of the county. In collaboration with North Cambridge Child and Family Centre and Cambridge Women's Aid, we developed a four-week long Creative Families course: Talking and Eating Together with an outreach session in Arbury and three visits to the museum.
Each session was related to the Feast and Fast exhibition https://feast-and-fast.fitzmuseum.cam.ac.uk and provided opportunities for:
New shared experiences for adults and children
Chatting with other families and staff
Learning more about the exhibition
Sharing stories
Singing
Sensory play with objects
Art making
Creating a souvenir scrapbook in the Creative Families journal
A gift to take away to continue creative activities at home
Lunch together in the museum café
We took part in a wide range of activities inspired by the exhibition: pineapple-scented playdough play, gingerbread man stories, pretend cooking with pots and pans, making clay pots and marbling recipe cards.
'Food makes a great relatable subject for children'  Parent at Creative Families.
Having the group visit over a whole month, and taking time to share food together, meant that we were able to get to know each other over the course, plan activities that would be of direct interest to those in the group and build up relationships which we hope will continue to develop in the future with many families showing an interest in other programmes and activities that are available at the museum.
'I wasn't sure before how child friendly the museum was. I am excited to now bring my older child here. We had a really enjoyable experience and am confident in bringing both my children to the museum. THANK YOU!'  Parent at Creative Families
Feast & Fast for Families
 Since then we have condensed what we learnt from the Creative Families course into shorter workshop sessions for young children with their carers, which we opened up to the public in January. Exhibition curator, Vicky Avery joined us providing new insights into stories behind the objects and helping to demonstrate to families that they are welcomed by the whole museum, and not just the Learning Team. We have loved seeing how the exhibition sparks conversation across the generations, and how the food-related themes have helped us to think of new ways to invite visitors to engage with art objects.
'I loved that the curator came along to talk to us. I thought the singing in the gallery and the baskets of props were excellent.' Parent at Baby Magic.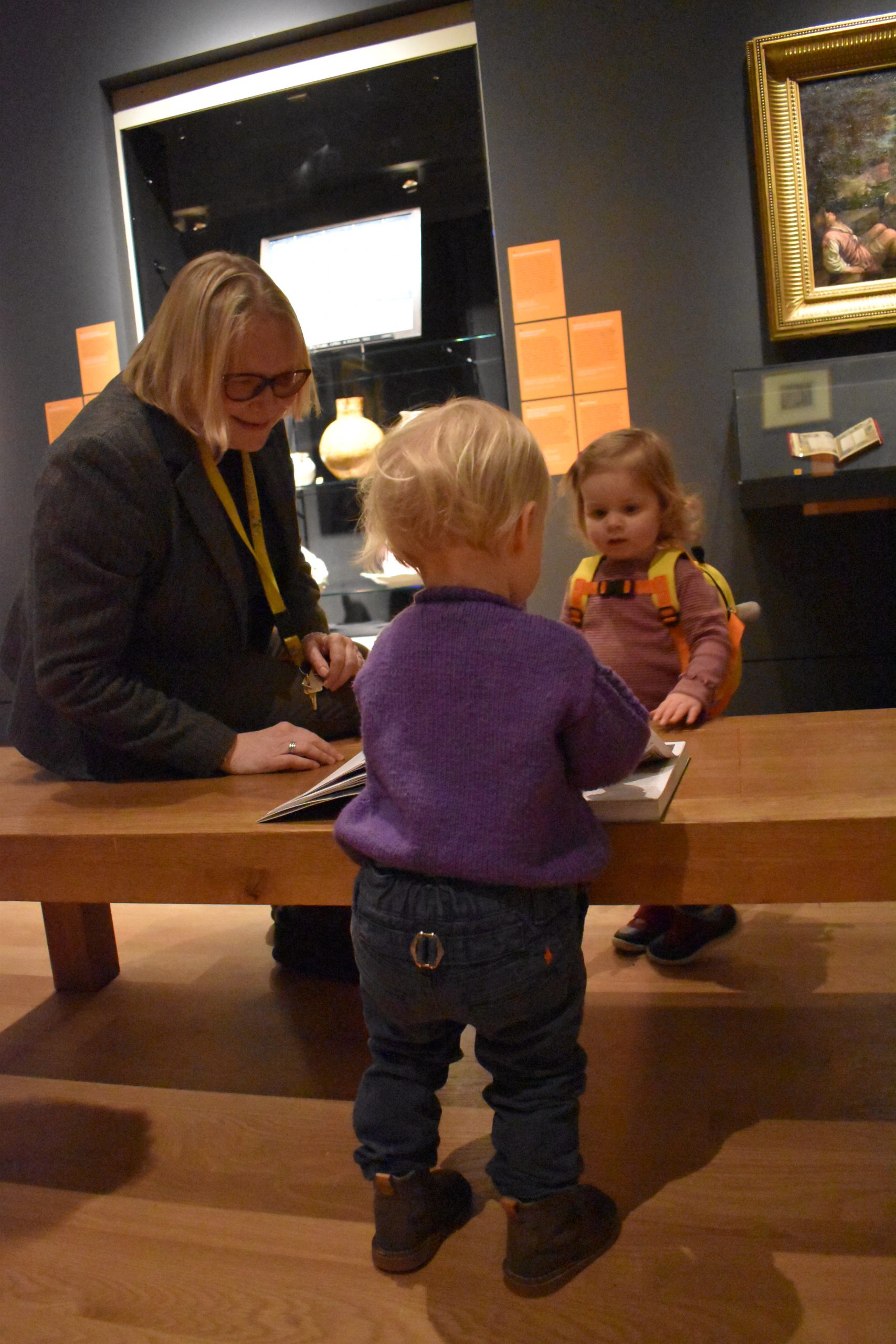 Thanks to everyone at the Fitzwilliam Museum and our partner organisations who has supported these projects, especially Alison Ayres, Nathan Huxtable and Vicky Avery at the Fitzwilliam Museum, Josie Peck and the team at Tate Catering, Sally McGivern at North Cambridge Child and Family Centre and all at Cambridge Women's Aid.
If you'd like to know more about our work with very young children, including visits for EYFS settings and activities for families with under fives, please contact Nicola Wallis.