Green Buildings
The term 'sustainability' can be used in many different ways, but to get to the root of it, it is all about making things last. In a society where it is expected everything is made with some built in obsolescence, the move to a more sustainable world means we need to make sure things last longer, especially the very big things like the buildings we live and work in and the way we use them. So how do you make a building green?
Conservation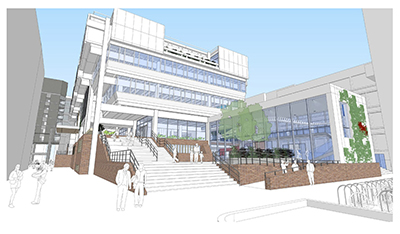 The Museum of Zoology is currently closed for redevelopment  but when it opens in 2018 it will be the greenest museum in Cambridge. Conservation of the natural world is integral to the themes of the Museum of Zoology and they will be apparent from the moment you approach the building.
The main sustainability features include the large green roof to promote urban biodiversity; and provide insulation; a low carbon heat supply from a combined heat and power system; rooftop electricity generation from solar panels and a metering infrastructure to facilitate competitive energy and water monitoring throughout the building.
 
Find out more about the Museum of Zoology Building Redevelopment.
Over the next year the Zoology Museum Outreach Team are collecting empty snail shells in workshops which will be used in a public artwork by Ackroyd and Harvey to be displayed permanently on the outside of the new Museum of Zoology. These shells will then become homes for bees.
Credit: Museum of Zoology, University of Cambridge
Energy
Many of our Museums are housed in beautiful historic buildings. That is why for the skae of energy conservation and protection of the objects in our collection, many of the museums have had work carried out to improve the climate control systems. The Fitwilliam Museum have recently had this completed in the Dutch Gallery and the Charrington Print Room. This will ensure that the collections continue to be housed in the best possible conditions, in the most environmentally sustainable way. In particular, the Fitzwilliam Museum is working in partnership with building and research engineers and conservation specialists to develop more sustainable, hybrid environmental control systems for the permanent collections while also exploring the feasibility of switching to low energy lighting in the galleries and other public areas.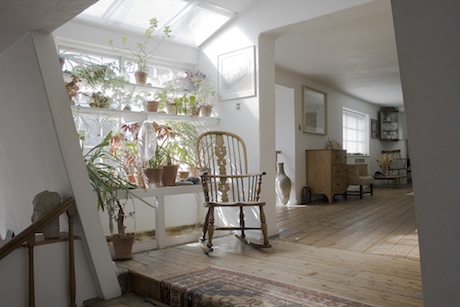 Kettle's Yard has taken a different approach to energy conservation, as the gallery and house are both designed to make the most of natural light and passive heating through the large number of windows. Originally designed by Jim Ede for the benefit of combining natural objects and lighting alongside artworks, it is also an incredibly environmentally sustainable approach to energy use.
Credit: Kettle's Yard, University of Cambridge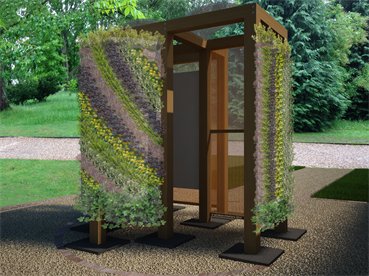 The Botanic Garden has been involved in research into new forms of energy – from plants. A prototype "green bus shelter" that could eventually generate enough electricity to light itself, has been built by a collaboration of University of Cambridge researchers and eco-companies. Green wall technology and semi-transparent solar panels have been combined to generate electrical current from a renewable source of energy both day and night. The hub has specially adapted vertical green walls that harvest electrons naturally produced as a by-product of photosynthesis and metabolic activity, and convert them into electrical current. he long-term aim of the P2P solar hub research is to develop a range of self-powered sustainable buildings for multi-purpose use all over the world, from bus stops to refugee shelters.
Find out more about this research here.
Credit: Cambridge University Botanic Garden, University of Cambridge
Resources
Recycling an reusing resources is essential for sustaibability. The University of Cambridge also has its own environmental action plan, and the University community is encouraged to take part in a number of green initiatives. One of these the Fitzwilliam Museum is actively involved in, Green Impact, an environmental accreditation scheme run by the National Union of Students. By signing up to this accreditation scheme, all staff at the Fitzwilliam Museum are committing to make the environment an integral part of their job. This commitment has resulted in the Fitzwilliam Museum being the University's Recycling Champion for the last two years.
The Botanic Garden aims to practise sustainable horticulture. In all of their operations, they try to reduce the materials we used, limiting chemical inputs and recycle as much as possible. By approaching this in a holistic way, they encourage wildlife providing natural pest control and by recycling green waste, provide mulch for beds and avoid the need to water.
Find out more about the Botanic Gardens holistic approach to resource use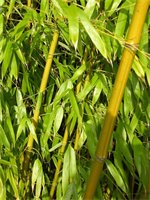 Researchers at the Botanic Garden have been investigating bamboo as a viable alternative to current building materials to help meet CO2 emission targets. The overall aim of this project is to lead architects and engineers to a greener and more sustainable future. Some bamboos are very fast growing, and can reach 60ft to 90ft in the first year, making the genus an ideal candidate for research in sustainable construction practices.
Find out more about the Botanic Gardens research into bamboo as a building material
Credit: University Botanic Gardens, University of Cambridge