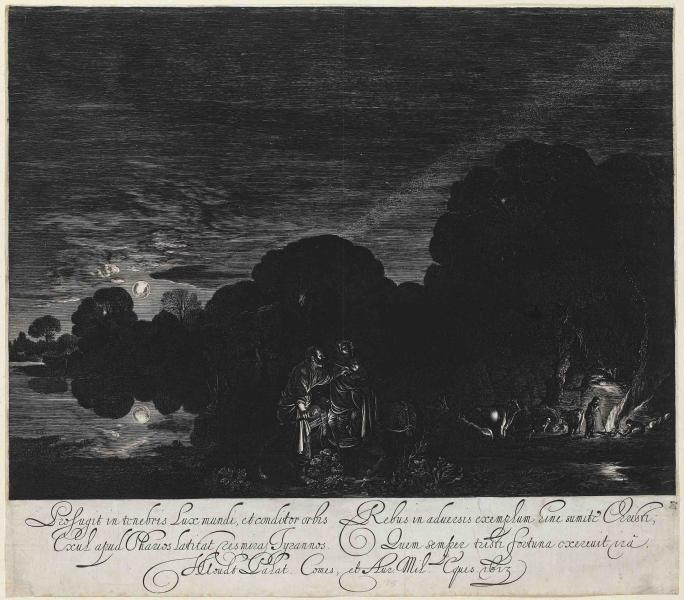 Elenor Ling, Paintings, Drawings and Prints
The Fitzwilliam Museum
I'm not good at this kind of question, since I always have quite a lot of favourites, but this engraving by Hendrik Goudt after Adam Elsheimer is a sure-fire contender. Goudt engraved only 7 prints, all of them after the short-lived German artist, Adam Elsheimer, who himself only painted a handful of works (we are fortunate enough to have two of them here – on display in this gallery).
I love to marvel at the staggering degree of skill that went into producing this print.
Not being a printmaker myself I've acquired knowledge of printmaking processes through second-hand means, sometimes just from reading definitions in books, which are often very brief. For instance, engraving is commonly described as the technique whereby a printmaker makes lines in the surface of a metal plate with a tool with V-shaped point (a burin). The deeper he or she pushes the tool, the wider the line. What books don't explain – and why I love to stare closely at the surface of this print – is quite how it was possible for Goudt to engrave the lines so closely together that they still hold the ink and print this vibrant, enveloping black. In rich impressions like this you can barely make out the individual lines at all. I would have loved to have watched Goudt work (though I doubt he would have let me – he styled himself a Count so probably wouldn't have wanted to share his secrets with anyone of less than noble birth. In the last line of the beautiful calligraphic inscription he signs himself 'Count Palatine' and 'Golden knight').
Goudt's prints are fantastic in comparison with ones by Rembrandt, who produced his own dark-manner etchings. He was particularly inspired by Goudt's play on physical and symbolic light and dark – the idea of Jesus Christ, 'light of the world', disappearing into inky blackness, as the Holy Family fled Bethlehem to escape King Herod's massacre. There are a couple of examples of prints by Rembrandt in the adjacent case.