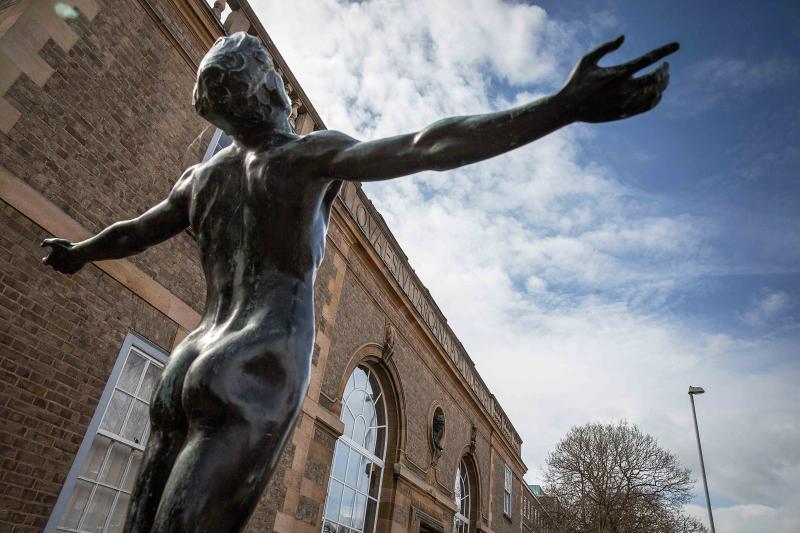 Naomi Chapman, Education and Outreach Officer
The Polar Museum
Kathleen Bruce and Robert Falcon Scott were married on 2 September 1908 in the Chapel Royal in Hampton Court.
At the time of their marriage, Kathleen was a fully-fledged sculptor who moved in artistic circles – both Auguste Rodin and J.M. Barrie (author of Peter Pan) were guests at the wedding. Although they came from very different worlds, Scott and Kathleen had a very happy marriage.
Kathleen presented a number of objects and papers to the Scott Polar Research
Institute in memory of her husband and his four companions, who died on their return journey from the South Pole in 1912. Outside the museum is a statue of a young man with outstretched arms. This statue is called 'Youth' and was cast by Kathleen Scott in 1920. The model was A.W. Lawrence, younger brother of T.E. Lawrence (Lawrence of Arabia) and later Cambridge Professor of Classical Archaeology. It was presented to the Institute for the opening of the building in
1934.
The Latin inscription on its pedestal – LUX PERPETUA LUCEAT EIS – is translated as LET ETERNAL LIGHT SHINE UPON THEM. The bust of Captain Scott in the alcove above the entrance door was also cast by Lady Scott.