Kirstie Williams, Organics Conservator
Museum of Archaeology and Anthropology
Writing about a single favourite object at the Museum of Archaeology and Anthropology is difficult … as I have two favourite cases within one gallery.
In the Andrews Gallery there are two visible storage cases, the first one holds glass vessels all shapes, sizes, ages, and colours. I walk past this case most days and seem to spot something new I hadn't noticed before, whether it is a 'Toilet bottle' from the 1st century with the most intricate detail of blue and white lines. Or to the 'Cinerary Urn' the largest vessel in the case with its pale blue/green colouration, and fancy handles. I marvel at the technology used to create them and at the iridescent colours that the objects create as they deteriorate (the iridescent layer is the original surface of the glass and you can't stop this process, only prevent flakes from falling off).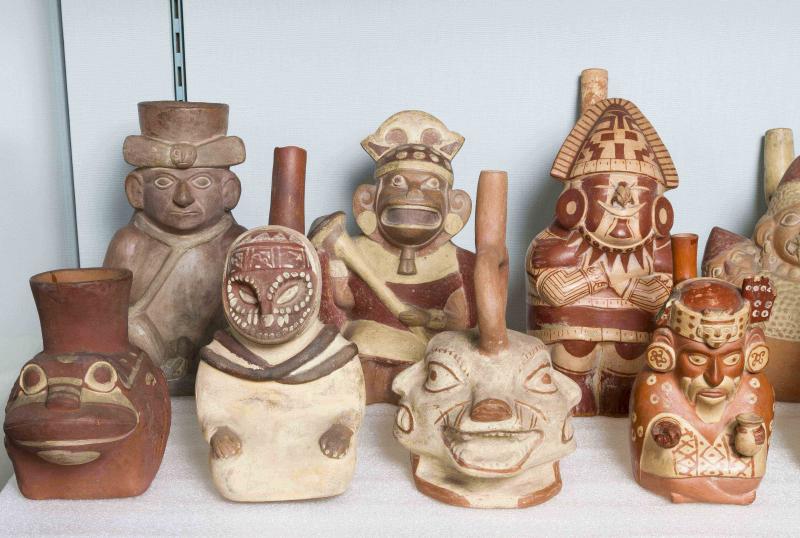 The second of my favourite cases is on the other side of the gallery, where another visible storage case holds Peruvian ceramics, and this case just makes me smile. There are cheeky grins on the figures of the vessels; there is one to me that looks like a frog; a fox; birds; bats; and an old lady with her hand over her knees. The use of a dark red/brown/ white/cream slips as decoration just makes the objects come alive to the imagination.
This gallery is a work in progress and will be re-displayed in the future. There are feedback forms, which the curators are using to shape the design of this gallery around the public's interests and ideas.