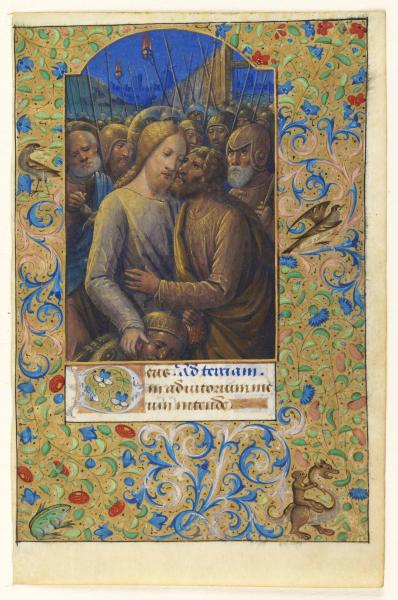 Sibel
Ergener, ICON Intern for Conservation of Illuminated Manuscript Fragments
The Fitzwilliam Museum
Choosing just one favourite object is very difficult, so I will point you towards two manuscript fragments in the Rothschild Gallery; Prayer preceding the Mass (Marlay Fr.6) and Prime (Marlay Fr.4) in case number 16.
I am particularly fond of these fragments and their presentation in this case. As objects they are both stunning examples of 15th century French manuscript illumination and the detail in each of them is exquisite. If you look at the bottom-most initial on Marlay French 4 you will see a tiny bee painted inside the letter D. Even under high magnification the detail in this little insect – one of many illuminations on just this single leaf – is exquisite and it never fails to thrill me.
These manuscript fragments also illustrate some of the conservation concerns I have faced as an Icon intern at the Museum, as well as a number of the conservation techniques I have implemented to address them. Marlay French 6, on the left, is lined with paper. This has caused stress to the parchment and media. However, the provenance and sale details which are written on the paper lining are an important part of the object's history and it was necessary to preserve them.
The physical needs of the parchment must be considered sympathetically when mounting manuscript fragments, as this is the crucial finale to their conservation treatment. The mounting solution which we came up with and implemented here is detailed on a panel in this case. The mounting system is discrete, aesthetically pleasing and will ensure the object's long-term preservation. Ultimately the completion of this project – and particularly the success of this mounting technique – is something I am very proud to have worked on during my time at the Fitzwilliam Museum.