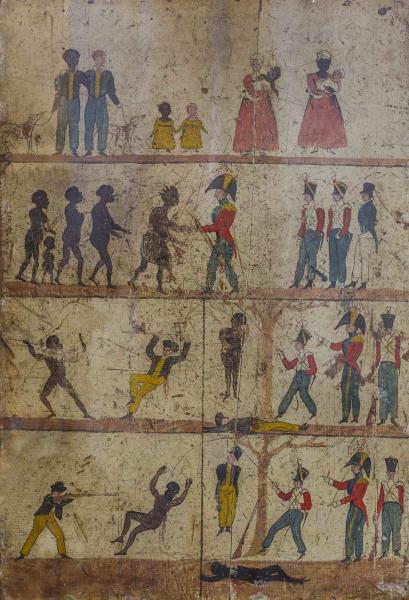 John Jarzabek, Volunteer Gallery Attendant
Museum of Archaeology and Anthropology
Only a hundred or so of these were made on the instruction of Governor Arthur, commander of the British Settlement on Tasmania. The idea was simple – to show the indigenous Tasmanians how trustworthy and fair the British were. Arthur himself is seen with his cockaded hat, undoubtedly in charge, as he dispenses justice to black and white equally. But look again. He is taller than anyone, he stands straight and is expensively dressed as he greets the Tasmanian leader who, by contrast, is short and slouching, wearing a drab loincloth and headdress.
Of course, it was 'Perfidious Albion', a shameful lie to take over the Tasmanians' land. Over the next ten years all Tasmanians were dispossessed, many being imprisoned or killed by the military in what was known as the Black Wars. The arrogance and cruelty of the British military had been developed only a decade or so earlier when the army and navy had defeated Napoleon and were the unchallenged rulers over land and sea. The same scenario was and is played out time and again since then, so the board holds a poignant reminder of how little we learn from history.
If the almost palpable sadness around this board could be set aside for a moment, it is a superb example of untutored art. The figures almost seem to flow, to come alive and move in their panels. But there is a hidden dialogue between the artist and the viewer, so look again. Under the propaganda lies the artist's message. Can you see the arrogant invader, the trusting Tasmanian family offering friendship but finding perfidy? Can you see them defending themselves against firearms and professional soldiers hardened to death and cruelty on the battlefields of Europe?
So why is the Proclamation Board my favourite object? Because it made me think. It is a potent political document of the past and a warning about the future to all people concerned about the nature of power and the way it is used.