Last week I had the opportunity to attend MuseumNext in Rotterdam. This years' theme was 'Gamechanging', a full on programme of exciting speakers from around the globe in an interesting city with amazing architecture and museums. With a head still buzzing from all the talks, conversations and experiences, this is a summary of the conference and the key take-aways.
So what's next for museums?
Interesting times are ahead for museums, looking at the work already being done, seeing how museums have shifted from project based one-off shiny digital experiences to more audience focussed and collaborative ways of working, further embedding digital in the physical to tell stories, building empathy, emotions and conversations.
The main themes and discussions were around:
Culture and art as a catalyst for change: Can art be a universal facilitator to change the world and create social change?
Can museums play a more active role in the world today? Taking on global topics like climate change and global citizenship through activism, collaboration, creativity and inclusion. Museums can be the places to discuss difficult questions and address challenges.
Focussing on integral change, sustainable models and long-term collaboration, rather than one-off projects to integrate change, while exploring new funding strategies and financial models.
Becoming more flexible, agile and brave and how Labs can be a space within the complex museum structures that allow us to break down silos and allow for more creative and flexible ways to collaborate, communicate and experiment.
Collaborative working involving audiences throughout and embedded in the process of research and development.
Radical change seems to be involving and connecting with audiences and communities. Shared responsibility by collaborating with artists and audiences allow ideas to grow organically and have surprising and unexpected results.
Mixing the unexpected to give a new perspective to old museum topics.
The environment, climate change, inclusion, nature and biodiversity. Big topics at #MuseumNext this year! pic.twitter.com/9UYZNsi9Ck

— Jasper Visser (@jaspervisser) June 27, 2017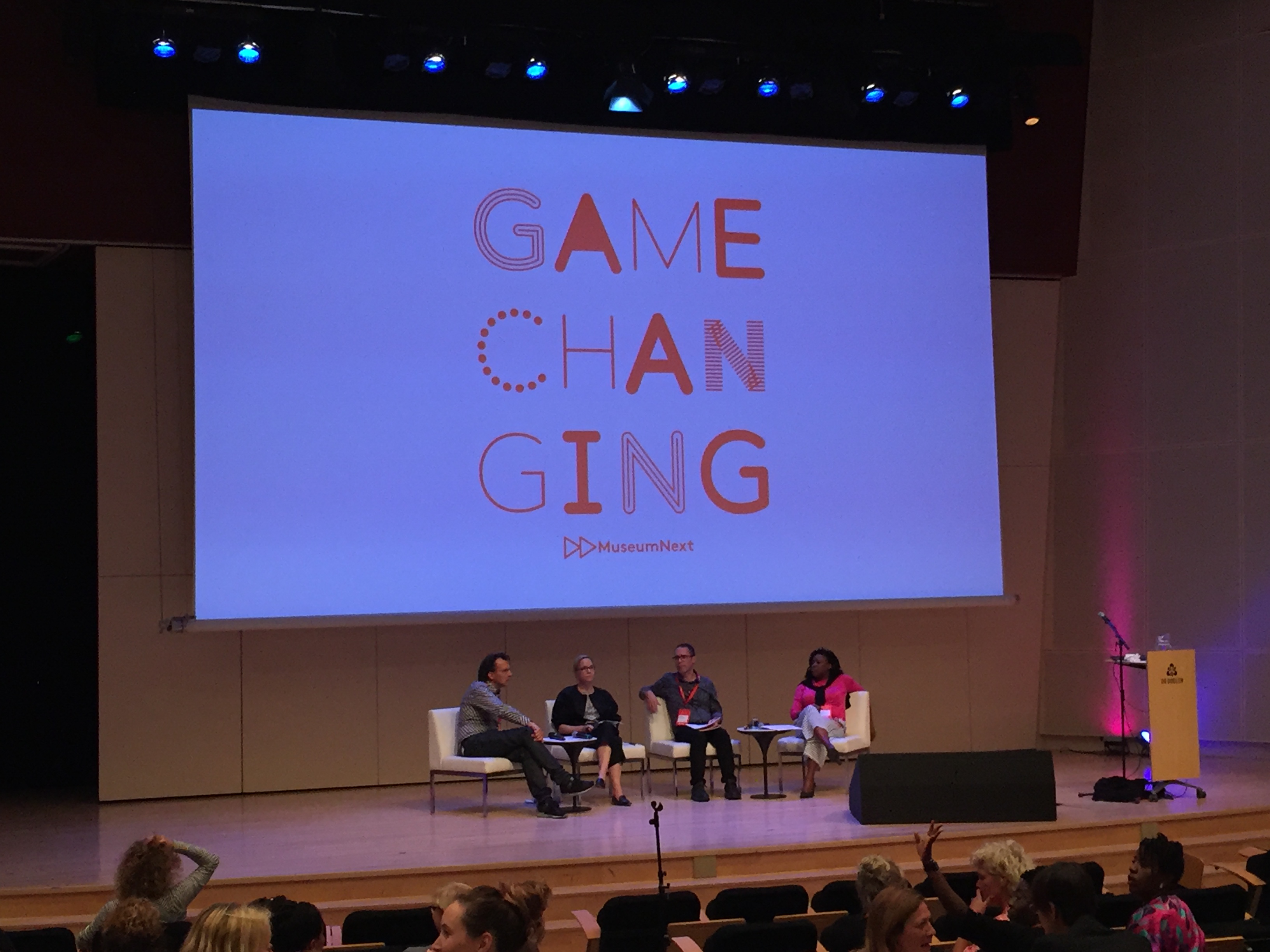 Rotterdam
Rotterdam was an excellent choice for the conference, a city with a rich cultural offer and fascinating architecture. I could only scratch the surface on the exploration day and really would like to go back to see all the things I missed. The exploration day is a great way to get introduced to the city and the conference and a chance to catch up with friends and meet new ones.
Most museums are closed on a Monday, so it was a great to have them open especially for MuseumNext delegates and as well the opportunity to explore after hours at evening receptions.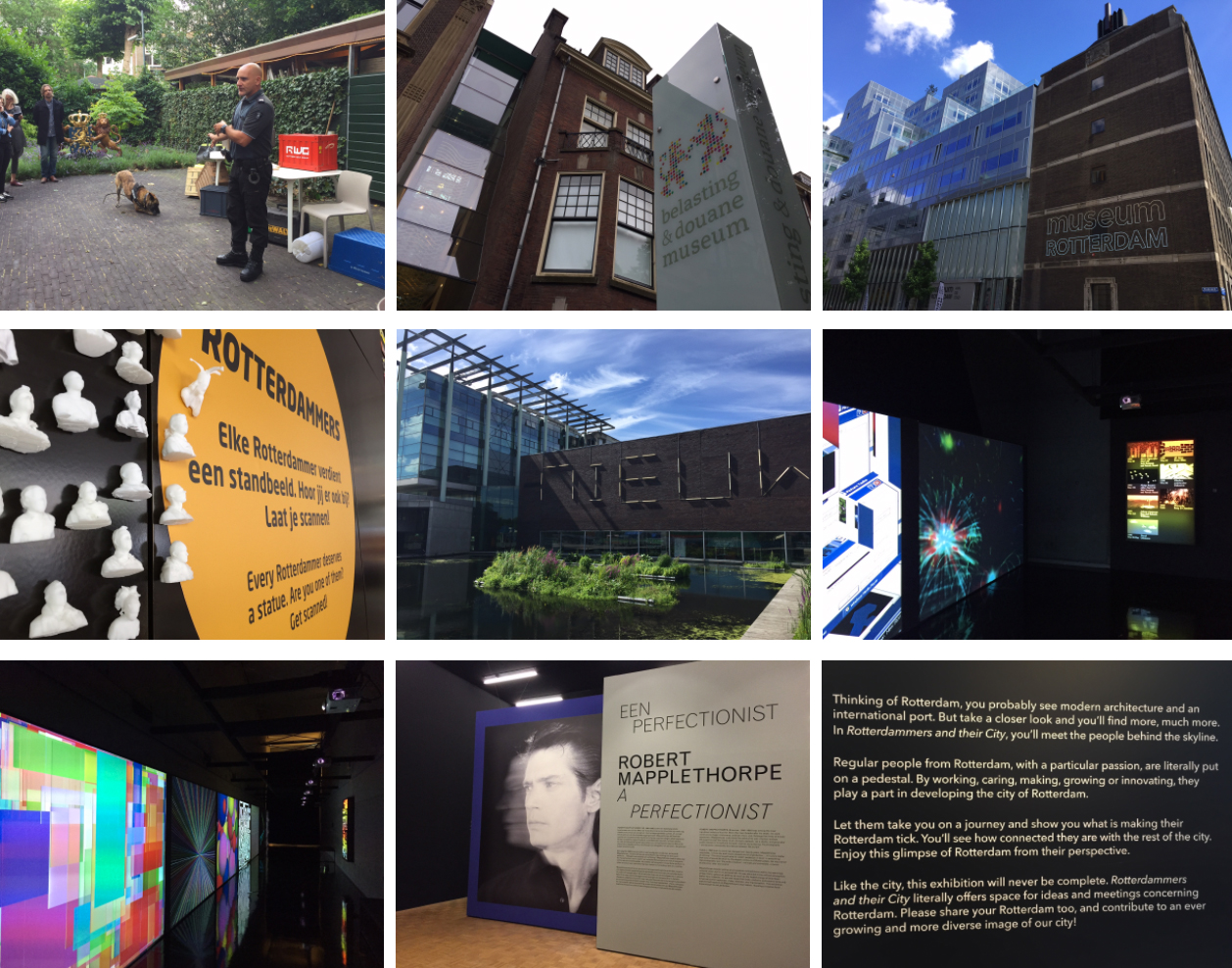 Kunsthal Rotterdam: Mapplethorpe exhibition, Het Nieuwe Instituut: Screensaver exhibition, Belasting & Douane Museum: Sniffer dog demonstration, Rotterdam Museum
Take aways
ArtScience Museum, Honor Harger
A space where art, science, technology and culture meet. Interactive exhibitions and collaboration with TeamLab an artist collective. Interesting to not think about objects or collections, but solely digital technologies and the space as a place to reflect on the world and society, creating meaningful connections between people and the environment.
Future World: changing environment responding to visitors.
Into the Wild: partnership with Google using their AR platform Tango. People can plant virtual trees, which are then planted in reality.
There's a terrible irony that in order to get people to engage with nature you have to re-create it digitally #museumnext

— Mike Ellis (@m1ke_ellis) June 27, 2017
MIA – Minneapolis Institute of Art, Karleen Gardner
Museums as places of reflection, connection and dialogue. Global citizenship and how museums can help people to understand and respect different cultures, ideas and perspectives. Finding creative solutions to create new skills and innovative solutions for global problems. Re-thinking the work at MIA to create empathy and discuss human stories, having challenging conversations and reflecting different viewpoints. Using the power of art to engage, connect and transform communities for the better. Spark curiosity and creativity to connect across cultural differences. Speaking about global competence and how this applies to art museums.
Digital Lab at Science Museum, Dave Patten
A space to explore and test emerging technologies, using agile and responsive ways of working as well as exploring new partnerships. You don't need a digital department.
TePapa National Museum, Miri Young
Learning innovation team creating a learning lab as a space for curiosity and new ways of working. Staff and visitors learning through collaboration, communication and creativity.
Stapferhaus, Sybille Lichtenstein
1001 Heimat project, the museum made a journey through Switzerland to meet the people. Ferris Wheel rides to interviews and talks about the meaning of Heimat (Home) as basis for an exhibition. Allowing for a dialogue and exchange of perspectives.
Kunsthal, Emily Ansenk
All you can Art, six-week summer school for young people. Artists working with community groups, shared ownership and responsibilities to activate visitors. By being open to new ideas, there is room for unexpected results and growing organically.
Vizcaya Museum, Wendy Wolf
How to design social value – break down silos and build partnerships, growing organically. Radical change seems to be involving and connecting with audiences and communities.
Creating the museum as a community hub by finding shared values as their vision had been detached from audiences. Design experiences that connect to the present.
Taubman Museum of Art, Cindy Peterson
Turning the learning spaces into a lab for leaders by creating a space for innovative thinking, collaboration and communication.
MuseumDetox brought lots of energy and enthusiasm, bringing new perspective and viewpoints, and raising the challenge to integral change starting by speaking the same language and challenging the words we use.
Forget Diversity, start adopting Representation; forget Audiences, adopt Partners – @shazhussain93 #MuseumNext #MuseumNextDetox

— Museum Detox (@MuseumDetox) June 28, 2017
Changing narrative starts with changing language – @shazhussain93 #MuseumNext #MuseumNextDetox

— Museum Detox (@MuseumDetox) June 28, 2017
Moderna Museet, Ylva Hillstrom
Participatory project to address climate change. How to make facts visual, physical and emotional.
Acclimatize: Touch the climate change. Art can be a climate game changer, creativity stimulates action, personal engagement can lead to real change.
Can art change the world? Emotionally engaging people with art can create activism #acclimatize #ActivistArt #MuseumNext pic.twitter.com/kh24YOGmAU

— Claire Bown (@thinkingmuseum) June 28, 2017
Art not oil, Chris Garrard
Museums need to demonstrate ethical leadership and question the financial ties to fossil fuels, e.g. sponsorship from oil companies. Given the urgency of climate change, benefits oil companies gain from museums, ethical questions about those financial decisions. Oil companies need to be held responsible to change the way we find solutions.
Are museums doing enough? Ensure that someone else is not paying the price for our enjoyment of art.
"Museums are values-led organisations. Careful considerations needs to be given to aligning with oil companies." Chris Gerrard #MuseumNext pic.twitter.com/OmkLlz9fE4

— honor harger (@honorharger) June 28, 2017
Utrecht University Museum, Paul Voogt
Do facts matter? Becoming a research museum involving visitors in the scientific process, not just learning facts.
Do facts matter? Yes! But prove it with dialogue, not with more facts. Turn the #museum into a research lab. #museumnext

— Pille Runnel (@PilleRunnel) June 28, 2017
Key Notes

'How not to die of excellence' – Museum of Contemporary Art, Adam Lerner
Applying lessons of an alternative art space to the museum, combining serious exhibitions and information with the unexpected. Connecting to people on a human level and speaking with a creative voice. Connecting to aspects of creativity that are outside of the museum, e.g. people on Instagram
Changing existing patterns of thought and forcing the mind into new patterns of thinking and seeing.
Don't take yourself so seriously, Museums need to be excellent, but also need some awesomeness.
'CultureBank: A new investment paradigm for art and culture'
Museums should worry less about being excellent and more about being awesome – awake, energizing, authentic @AdamLernerProject #MuseumNext pic.twitter.com/Gtnit3Cjtx

— Sofie Andersen (@Sofieny) June 27, 2017
Yerba Buena Centre for Arts, Deborah Cullinan
Transforming the role cultural centres can play as citizen institutions as a place that bring people together to make changes in their community.
Social impact investment, changing people's lives, helping people to see the future.
Inviting people to raise questions, and owning experiences and creativity to help solve them. Working with artist entrepreneurs to leverage community change, start seeing value and use it for lasting change.
Art is key and everything should be done in partnership with businesses, city, and artists to have impact. Valuing community impact as much as financial returns.
Art as an asset and exchange of value.
Every community around the world has assets of value. – Deborah Cullinan of YBCA. #MuseumNext pic.twitter.com/niPeMOfUWA

— Jasper Visser (@jaspervisser) June 28, 2017
Things to follow up on:
The Lost Palace, Historic Royal Palaces is returning this summer
Wild Centres' toolkit for hosting a successful participant driven summit
Going back to Rotterdam and exploring some of these recommendations
Fabrique presented their secret formula for impact, comparing digital strategy to a restaurant menu – 'You wouldn't order the whole menu, but choose wisely'.
MuseumNext hoping to catch-up soon on some of the talks I missed out on their website
So, what's next?
'Museums are changing from Storehouses of collections to spaces of civic engagement' #museumnext #YES #Leaderspanel

— Cherelle Cunningham (@cherelle_cc) June 28, 2017
The final directors panel addressed key questions and challenges for museums, looking into the future. It sparked some interesting conversations, but raised even more questions and highlighted the challenges.
Identifying museums as the conveners for global change and their new role as spaces for activism means letting go of old structures, beliefs and processes: How to move from being keepers of history and objects to museums that reflect our values?
It seems in many ways that we are just at the beginning and that we need to change the game collectively. We are recognising the opportunities but still struggling with the reality and barriers. The conference showed that change is already happening, by getting us out of our comfort zones. We need to be more flexible, listen and collaborate, and develop spaces to transform thinking and behaviours for creativity and innovation.
It will be exciting to see What's next for museums in 2018 #MuseumNext18