Imagining India: Greeks, Romans and the End of the Earth opened at the Museum of Classical Archaeology on 26 June. This is the first of three instalments of my diary of the six months leading up to the exhibition opening.
The Museum of Classical Archaeology (MOCA) often hosts temporary exhibitions in our Cast Gallery, but Imagining India was the first for a few years to be curated in-house. Just three members of staff and a small £500 budget means that this is a story of compromise and improvisation. It's also one of goodwill and teamwork. The exhibition would not have been possible without the help of colleagues from within and outside the University of Cambridge Museums. Most of all, it's the story of the MOCA team over those six months. Although I took the lead on the project, I couldn't have done it without the constant support of my colleagues: Education & Outreach Coordinator Jennie Thornber, and Curator and Maternity-Cover Curator Susanne Turner and Sophie Hawkins. I hope this diary gives you a window into the working life of a little team with big ideas.
The challenge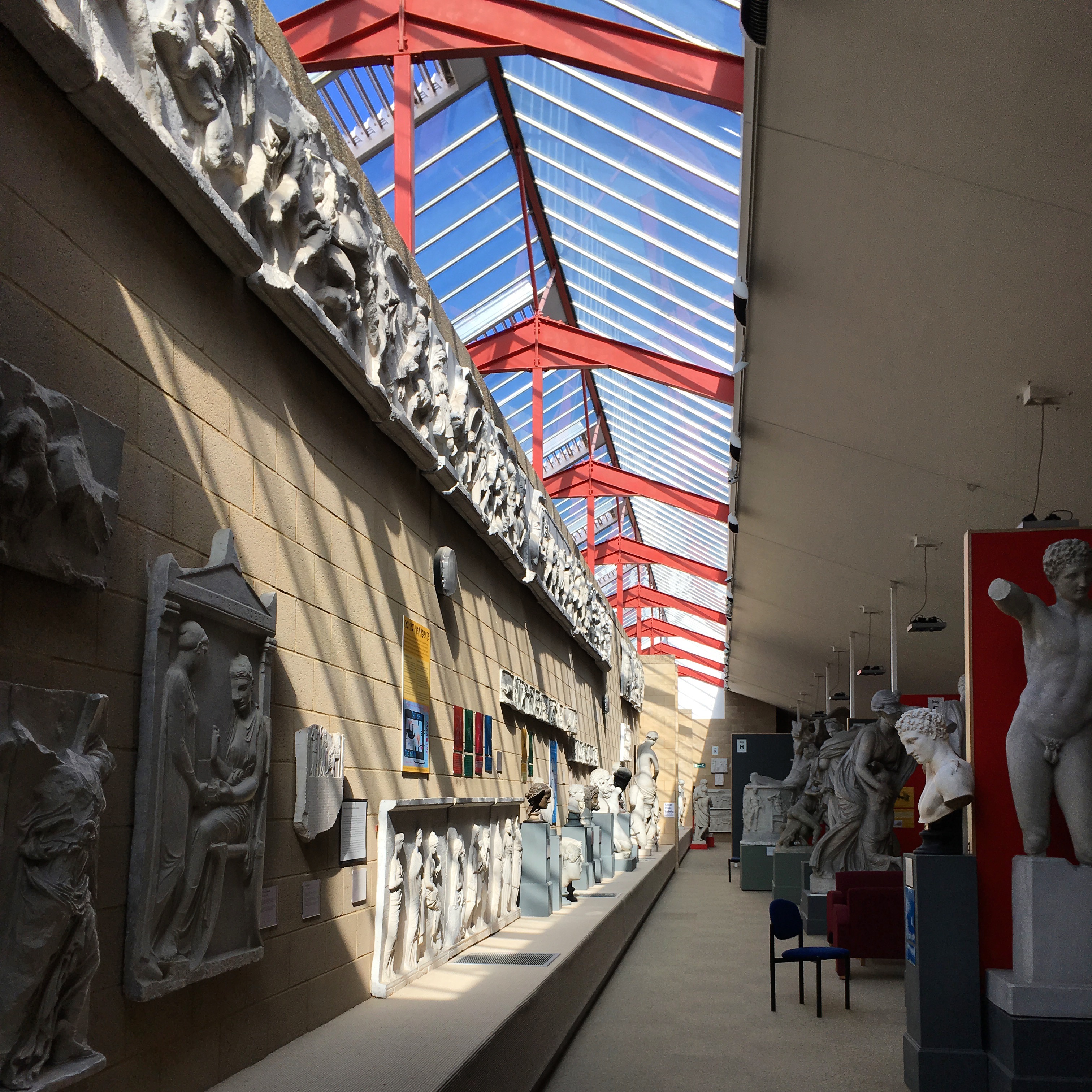 MOCA's Cast Gallery is packed to the rafters with plaster casts of iconic pieces of Greek and Roman sculpture. They stand under a glass roof, which floods the space with beautiful, dramatic light. Visitors are always struck by the tranquillity of the space. They linger to sketch, or take photos, or simply wander.
In practical terms, though, it's a challenge. As all exhibitors here quickly realise, there's very little available wall space to hang panels or pictures. Floor space is tight, and we have just four small display cases. The free space isn't spread evenly over the different bays, but concentrated in a few areas. We're on the first floor of the Faculty of Classics building, so anything large must be winched in. That bright glass roof that the visitors love makes lighting and atmospheric conditions impossible to control.
And let's be totally honest. When we heard that the University of Cambridge Museums were planning a season around India (not yet titled India Unboxed), we were stumped. Our cast collection is world-class, and we have a large number of smaller classical artefacts, but nothing in the collection – on the surface, at any rate – has any connection with India. Even so, our Curator Susanne was determined we'd participate. We'd just have to be smart about it…
December 2016: initial discussions
Project India really gets going. The powerhouse that is Malavika Anderson comes into post as Cultural Programmer at the University of Cambridge Museums. We know Malavika through her work on the Cambridge Festival of Ideas, and her arrival on this new secondment enthuses us. Exciting discussions are had before we disperse for Christmas. Susanne has lots of ideas, but her mind is on a larger project – she'll be going on maternity leave soon.
Excitement level: high. Pregnancy bump: growing. Mince pies: far, far too many.
January 2017: a new term begins
2017 begins quietly, but term arrives abruptly in mid-January. In the half of my week when I'm not in the Museum I'm Director of Studies for the third-year Classics students at Newnham College. There are students to teach, our volunteers are back, school groups are stampeding through the doors… and before we know it, Susanne is about to go on maternity leave. Sophie, who will be Curator during her absence, is popping in for handover meetings.
The summer seems a long way away. Before we can think about India, we have a challenging contemporary art exhibition to prepare for, Issam Kourbaj's Lost. The exhibition opens at the end of March. Issam is flying backwards and forwards over the Atlantic (he's exhibiting in Baltimore), and we're not sure what his pieces are going to look like…
Pregnancy bump: massive. Post-Christmas hangover: lingering. Marking: neverending.
Early February 2017: the concept takes shape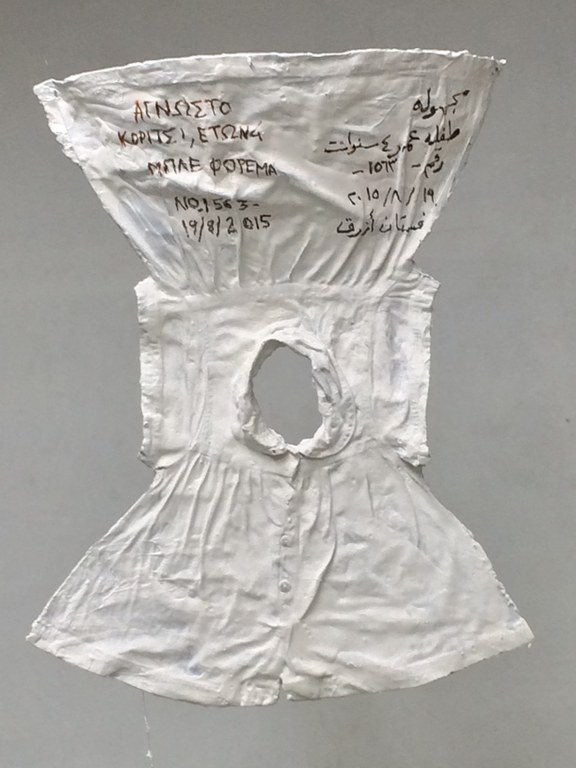 Issam has sent us the first images of his sculptures; empty pieces of clothing dipped in plaster, evoking refugees from his native Syria lost in the Mediterranean, they are desperately moving. Sophie is settling in, and I've taken the lead on Project India. In between thinking about promotion for Lost, my usual museum tasks, and the Roman emperors I'm teaching, I'm doing some reading around the connections between the classical Mediterranean and South Asia.
[Nerd moment!] It's brilliant! My research has always been centred on the ancient city of Rome. I sort of knew that the Roman Empire was trading with the India subcontinent. And I sort of knew that the Greeks and Romans had a whole range of odd myths about India. Now the topic is coming into focus. (For anyone who wants to find out more, I strongly recommend Roberta Tomber's Indo-Roman Trade: From Pots to Pepper and Grant Parker's The Making of Roman India. The exhibition owes a lot to both books.)
As I start to investigate further, it's as if a whole world has opened up. Sophie and Jennie listen to my burbling, and thanks to their patience I get a pitch together to run past our Director, Yannis Galanakis. Yannis and I decide that the exhibition will look at the odd fact that the Romans had a huge and complex maritime trade network that linked them with the west coast of India – and yet they knew very little about it. The information they wrote down about India was for the large part a mixture of myth and hearsay, inherited from the Greeks. Many believed that India was at the edge of the world…
10 February – Malavika visits and encourages us all. Jennie begins planning a children's activity. Working title: Tiny Merchants. (Now Journey to the End of the World – 15 August. Bring your kids!)
Nerdiness level: near-peak. Pregnancy bump: ginormous. (We're assured there is a Curator behind it somewhere.)
To be continued.
Next time: new friends; the world's cutest baby; and a curious ancient monk…
Imagining India is open until 29 September.