Each summer the Museum of Classical Archaeology offers work experience placements to two students in order to give them a taste of work in a small museum (the students also get to spend a week in the Classical Faculty Library in the second week of their placement).
This summer we were joined by two eager students: Holly, a Classical Archaeology undergraduate, and Cecily, a sixth former about to embark on a Classics degree. We thought we would ask them a little about their time with us…
Why did you decide to do work experience at the Museum of Classical Archaeology?
Holly
My decision to do work experience at the Museum was fuelled by my longing to work in the museum and heritage sector. This experience has been particularly useful for increasing my knowledge and understanding of different aspects of the sector, as I have been able to ask questions and take part in interesting behind-the-scenes enterprises.
My love for Greek and Roman art was a crucial part of the decision to come to the Museum of Classical Archaeology (MoCA). I am currently studying Classical Archaeology at university and have adored the ancient world for as long as I can remember. At MoCA I can combine my passion for the subject I study with my ambition to work in a museum in the future.
Cecily
Since studying Greek sculpture as part of my Classical Civilisation A-level I have been really interested in how the art developed through the centuries. I loved the Cast Gallery when I visited, and I enjoyed how the set-up allowed for easy comparison between the casts. So, this, combined with a love of all museums which I have had from a very young age, meant I was very excited to learn that there was an opportunity for work experience at MoCA!
What has been your favourite thing during your work experience placement?
Holly
I have thoroughly enjoyed all the experience I gained from working at the Museum – understanding how to curate an exhibition, looking into the Museum's social media and advertising, being on the reception, and taking part in the preservation of the casts by documenting what pests were found on little traps. However, while all of those areas were exciting, my favourite experience was helping to set up and run children's events. Education is a fundamental part of museums and heritage sites, and being able to increase visitors' knowledge of the casts in a fun, approachable way for all ages is very important. Taking part in the family events felt like I had succeeded in creating more interest and excitement in the ancient world and therefore was my favourite part of my work experience placement.
Cecily
I have enjoyed everything about working in this museum! I found it very interesting to witness all the preparation that goes into museum events, and also the hard work involved in keeping all the social media sites up to date and welcoming. However, my favourite activities have been working with children – it's great to watch them enjoying learning about the ancient world. I helped the children make votive offerings out of play-doh, which we then dedicated to the cast of the Artemision God (I made him a snail).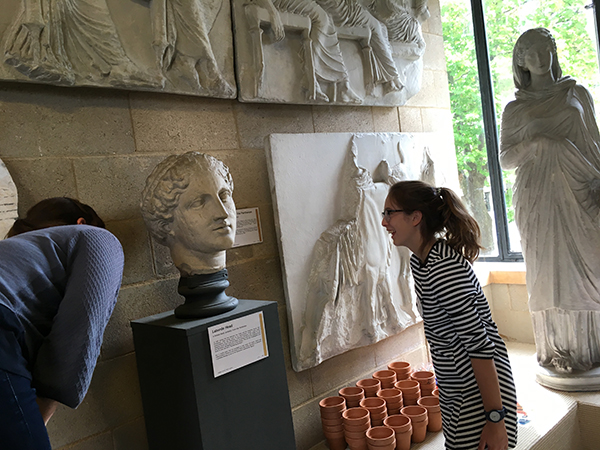 Is there anything new you have learnt during your time in the Museum?
Holly
Before coming to the Museum I didn't have much knowledge of conservation and curation, both of which I now find fascinating. There are so many aspects of running a museum that I hadn't previously imagined – such as the logistics of moving the larger casts in and out of the Museum when they're on the first floor! When I visit other museums, I shall now think in greater depth about the hard work that goes into keeping all of the objects pristine (and what happens to items when they go on loan).
Cecily
I have learnt a lot about how hard running a museum can be – especially on social media. I had also never considered the issues of having a first-floor museum which houses huge casts, and after seeing old photos of the casts moving in I realised how much time and effort has gone into MoCA over the years.
Do you think you'd consider working in museums after your placement?
Holly
I have wanted to work in museums for some time, but this experience has solidified for me that it is in this sector where my future career will unfold. Furthermore, this work experience placement has helped me realise that I would like to work in education and outreach for museums as I find that aiding visitors' intake of information about museums and their objects through engaging activities for all ages is very important to me. I now know that visiting museums isn't half as fun as running them!
Cecily
Definitely! I wanted to work in museums before coming here, and my experience has confirmed that for me. However, I am not sure which area of museum work I would be the most interested in, as I have enjoyed it all so much.
We're very grateful to both Holly and Cecily for their help this summer and them the best for the future.