This year the Whipple has had a bumper edition of work experience students. In June and July we had 5 work experience students come in, and the Whipple was keen to
milk them for all of their worth

ensure that they had enjoyable, well-rounded, and insightful projects on which to work during their stay here.

As we wrote earlier in the summer, Jack was able to resurrect the old Whipple tradition of curating, from start to finish, a display of his own. As we refurbish two of our four galleries, the museum has been looking a little sparse. And so Jack, Bethany, Sienna, and Sophia have very helpfully curated, designed, interpreted, marketed, and installed their own displays which can now be seen around the museum. (I know that's four students! Brad took a particular interest in our EDSAC 2 computer, and instead did research on this.) As a Learning Coordinator/Collections Assistant I always end up learning from the students too, as their research and ideas are nuanced, wide-ranging, and diverse, and we both get to nosy in a different corner of the Whipple collection. We can't thank them enough for their contributions this summer.

Bethany, our final student, wrote a blog about her experience developing and curating her fantastic exhibition Integrating Religion and Science. She writes…
"This week I have taken part in work experience at the Whipple Museum at the University of Cambridge. I applied here because I really wanted to experience firsthand what it is like to work in a museum and see what work in this industry actually involves. I have had previous work experience in a historical site rather than a museum, so I was also interested in seeing how the two different environments compare with each other and which environment I felt more comfortable in.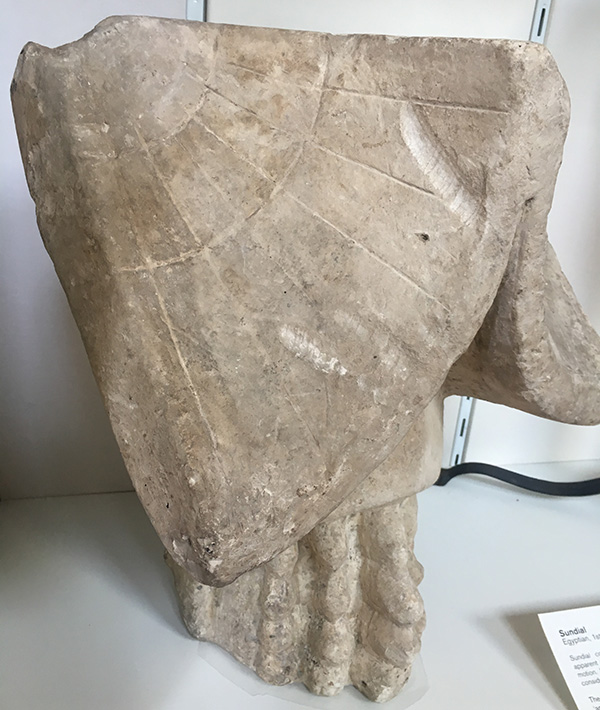 "I was very excited when I was told that I was going to be curating my own display. Despite not being particularly knowledgeable about science, I was thrilled to be able to work up close with some of the artefacts and to create an exhibition tailored to my interests. Due to my interest in classical and ancient history, my eye was immediately drawn to the Egyptian sundial in the Main Gallery. This was my favourite object in the museum due to the fact that it is so old and is still in pretty good condition. It had two separate sections of the sundial for different times of the day. Artefacts like this fascinate me because it was different from any other sundial that I had seen, therefore intriguing me with how it actually works and how it would have been used at the time.
"Another artefact that I had a great interest for was the "Bible Album", which was created by Eliza Brightwen, who was a Scottish naturalist in the 19th Century. This was a scrapbook that she had created in her lifetime that includes natural theology and how the world around us shows evidence of God's existence and greatness. The album includes scriptures, bible passages, watercolours that she had painted herself, and objects such as various leaves that she had collected and added into her scrapbook. The sheer artwork of the object combined with the clear devotion that Brightwen had for her religion as well as the scientific world really inspired me to see if I could create an exhibit with the intention of combining the two fascinating and often contradictory topic areas together.
"This is the display that I created during my week here. I attempted to demonstrate the coexistence of faith and science throughout history and how science has been used in aiding religious practices.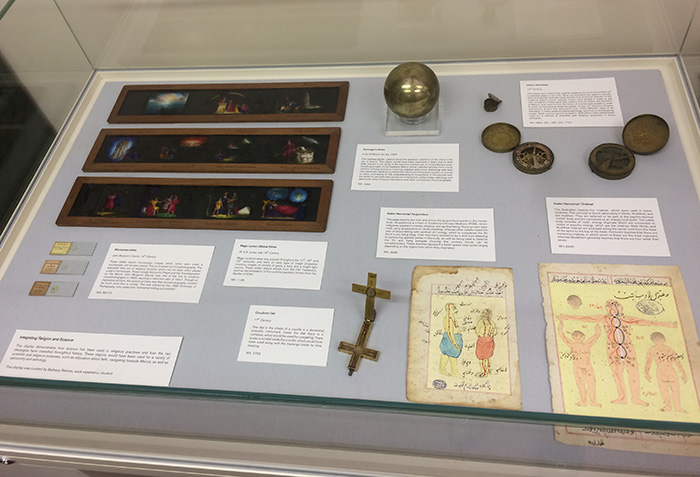 "Overall this experience has been amazingly beneficial to me as I contemplate my possible career paths in the future. It has given me a real insight to what museum life and curating is like, as well as the difference between what is on show at museums and what goes on behind the scenes. My work experience has definitely confirmed in my mind that history and museum work is what I want to do as a career. I would heavily recommend work experience here for anyone who has an interest in history and museums, whether science-based or not."