Cambridge is a fascinating place that brings people and objects together; a place that unites museums and research and attracts experts from all over the world. In April 2018, the Museum of Archaeology and Anthropology welcomed world-leading experts who studied and discussed some of the manifold textile treasures hold in the collections of the museum.
This masterclass was part of a one-day workshop that bridged the disciplines. Organized by Beatriz Marín-Aguilera (Cambridge, McDonald Institute for Archaeological Research) and Stefan Hanß (Cambridge, Faculty of History), the workshop In-Between Textiles brought together anthropologists, archaeologists, and historians whose research explores how textiles relate to cultural encounters between circa 1400 and 1800.
Thanks to the support of Chris Wingfield (MAA, Senior Curator), Imogen Gunn (MAA, Collections Manager), and Rachel Hand (MAA, Collections Manager), the Museum of Archaeology and Anthropology opened its doors and welcomed the participants of the workshop to study both Pacific and South American textiles in their local and global dimensions. Discussions, for instance, evolved about the identification and weaving techniques of Andean and Chilean textiles. The researchers furthermore debated the fascinating question to which extent such textiles reflect on exchanges between indigenous societies and how the production and usage of textiles changed with the Spanish conquest. Studying these fabrics in detail shed new light on past societies and their material worlds.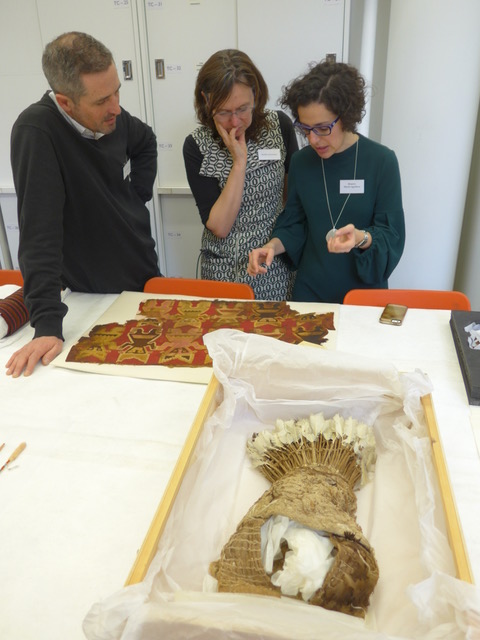 Another debate centred on cloths produced and exchanged on the other side of the globe: the Pacific. The researchers studied, amongst others, Hawaiian 'Ahu 'ula, knotted cloaks with thousands of vibrantly coloured feathers attached to it. Debates evolved about the patterns and the symbolic meanings of the materials and colours as well as their relationship with labour regimes and social hierarchies. Studying imitations of such feather capes across the eighteenth- and early nineteenth-century globe, the researchers debated the impact of the exchange and circulation of Pacific textiles on processes of imitation, innovation, and global connections. As the participants are based at institutions in Cambridge, Harvard, Istanbul, Leicester, and Warwick, the masterclass also helped to relate the holdings of the Museum of Archaeology and Anthropology to artefacts preserved in the collections of other museums in Africa, Asia, Europe, the UK, and the US. Such comparative approaches, again, underlined the remarkable and fascinating treasures of the University of Cambridge Museums. These dialogues beyond the traditional boundaries of academic disciplines and nations will help to make those objects a more integral part of the narratives that we tell about the past.