Donors to the Sedgwick Museum have come from all walks of life and different professions often nothing to do with earth sciences. Dr Lewis Moysey is an example. He was an army medic who lost his life 100 years ago in 1918.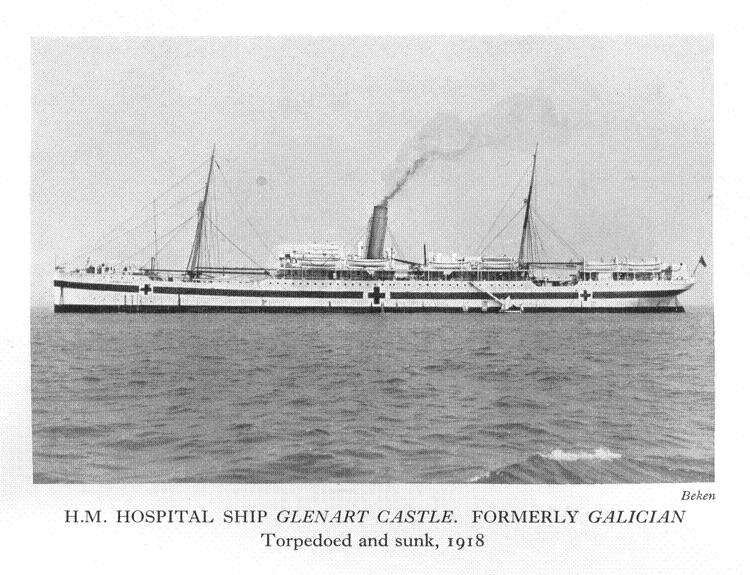 On the 26th of February, 1918 the hospital ship HMHS Glenart Castle left Newport, South Wales, heading for Brest in France. On board were 63 nurses, medical orderlies and officers, along with its crew and 99 wounded patients. One of the medical officers on board was the 49 year-old Captain Lewis Moysey RAMC, a graduate of Caius College and very keen amateur geologist who donated a substantial collection of Carboniferous fossils to the Sedgwick Museum.
The sinking of HMHS Glenart Castle
At 04.00 hours Glenart Castle was just 10 miles west of Lundy Island in the Bristol Channel. Despite being illuminated with the green lights of a hospital ship, she was torpedoed by the German U-boat UC-56. The blast hit number 3 hold, destroying most of the lifeboats and the rapid listing of the ship made it difficult to launch the remainder. The vessel sank within some 8 minutes. There were only 32 survivors and Lewis Moysey was not amongst them.
Moysey – the doctor
Born in 1869, Lewis Moysey matriculated in 1887 at Gonville and Caius College and whilst an undergraduate medic in Cambridge enrolled in the Territorial Force. He graduated in 1895 and was a house surgeon in London and Vienna before joining the British India Steam Navigation company in 1900 and getting married to the 31 year-old Frances Amelia Noble in 1901. By 1910 he was settled into a medical practice in Nottingham. But with his Territorial experience he was mobilized at the outbreak of war in 1914 to serve in the Royal Army Medical Corps with regimental duties in Britain. Then in the final year of the war he was detailed to duties in the East and on February 26th set sail from Newport, South Wales on the first leg of the journey, but tragically he never got beyond the Bristol Channel. Knowing that he was entering the active theatre of war, Moysey made over the entirety of his extensive fossil collections with the animal remains going to the Museum of Practical Geology in London and the plant fossils to the Sedgwick Museum in Cambrdge.
Moysey the geologist
In 1908 Moysey had his first geological paper published in the Geological Magazine (Decade V, vol V, pp 220-2). In this he recounted his rediscovery of a method for splitting clay-ironstone nodules by freeze-thawing to reveal their fossil contents more effectively than by breaking them open with a hammer. In what spare time he had from his medical work, Moysey used this technique to recover a significant number of rare, important and exceptionally well preserved Carboniferous arthropod and plant fossils from the Coal Measures of the Derbyshire and Nottinghamshire coalfield. The arthropods he passed on to the appropriate experts of the day – Henry Woodward, W.T. Calman and R.I. Pocock – who incorporated them in their publicatons. And, the plants went to Edward Arber in Cambridge, who figured some of the best examples. No doubt it was a combination of Moysey's familiarity with the Sedgwick Museum from his student days and Arber's presence in Cambridge that prompted him to donate his collection of 367 Carboniferous fossil plants to the Sedgwick Museum.
However, Moysey was not just a collector of fossils but achieved sufficient expertise to write a series of academic articles between 1911 and 1913, whose worth was recognised by the Geological Society of London, who awarded him the Lyell Medal in 1915. Moysey's papers were mostly descriptions of some of his Carboniferous arthropod fossils but he also collaborated with W.C.B. Wedd and others on a general account of 'The geology of the northern part of the Derbyshire Coalfield and bordering tracts'.
Dr Lewis Moysey's premature death was not only a tragic loss for his family and friends but also for the wider geological community which greatly valued such generous and well informed amateurs.
Find out more about the Sedgwick Museum here.