Last year, the Museum of Archaeology and Anthropology (MAA) refurbished its Pacific Island cases thanks to a grant from the National Lottery Heritage Fund. An associated education programme has been increasing engagement with the new cases.
Part of this programme involved outreach to three schools in the Cambridgeshire and Fenland region: Gretton School in Girton, Hinchingbrooke School in Huntingdon and Park Lane Primary in Whittlesey.
The outreach program aimed to reach schools and students that were not regular visitors to MAA. We hoped to engage them with some of the key themes of the refurbishment like climate change, ocean pollution, migration and movement and the importance of the ocean to Pacific peoples' lives.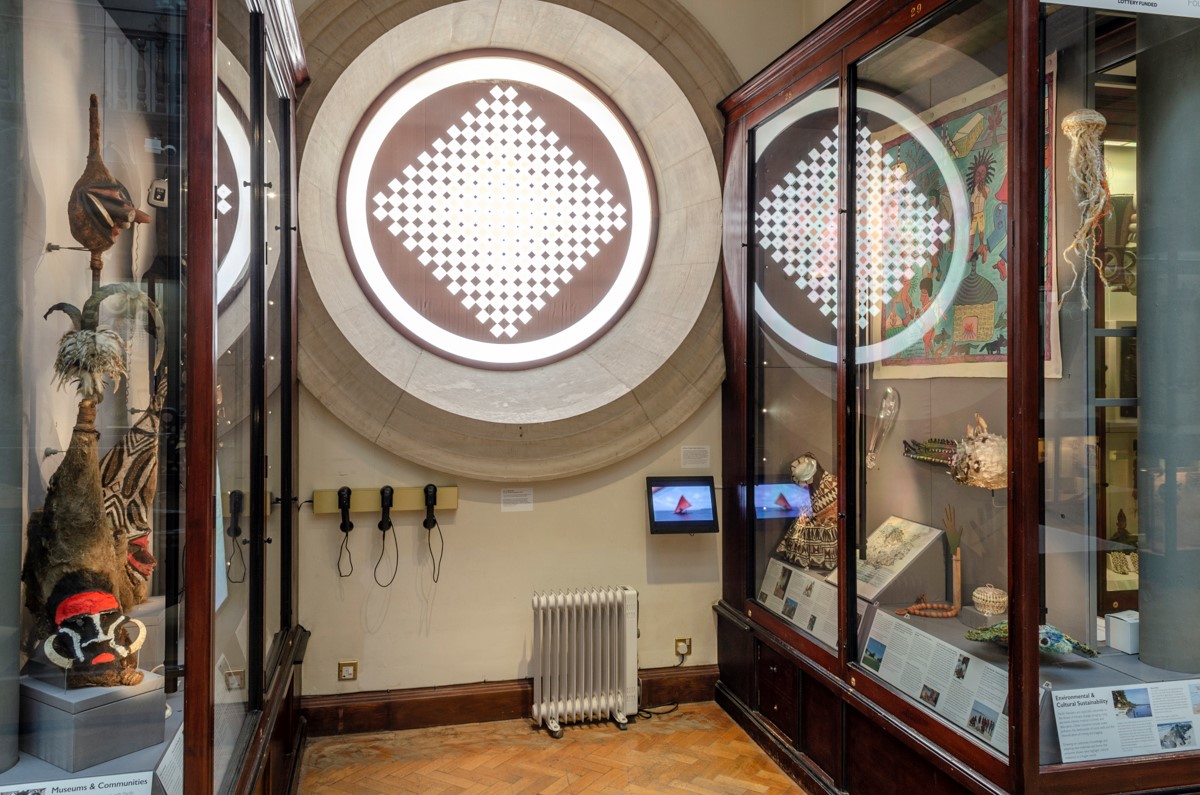 Making new connections with non-visiting schools was tricky and time-consuming. We knew talking to a specific person was better than sending something to a general email address, but finding the right contact wasn't straight forward. Teachers are busy and can't always reply to emails. While we thought our sessions related to the curriculum, this wasn't a guarantee they would be relevant, timely or useful when we contacted teachers.
We targeted secondary schools initially as many of the themes of the refurbishment seemed to fit the Geography curriculum. Also, while we often have Visual Arts students visit MAA, secondary schools don't use our collection as widely as primary schools do. This seemed an opportunity to attract new audiences. In the end though, we were able to reach a mix of schools: Primary, Secondary and SEND (Special Education Needs and Disability).
The partnerships came about in a variety of ways. I attended a Festival Bridge event in March to meet teachers and to advertise the upcoming outreach offer. The Vice-Principal of Hinchingbrooke School took my details and put me in touch with their A-Level Geography teacher.
Gretton School emailed to see if we ever did outreach and if we could support their students' Arts Awards. As the school is for students on the autistic spectrum, class visits to MAA could be difficult or stressful. The teacher thought outreach would be more successful as the school setting was comfortable and familiar for students.
Finally, at the end of last year, we sent out emails to all primary schools in the Fenland area offering free outreach sessions on the Pacific. Several teachers at Park Lane Primary emailed back and we arranged for four classes over two year groups to be taught on the same day.
Each session was tailored to the needs of the school. For Hinchingbrooke, I had an initial meeting with the A-Level Geography teacher to talk him through the Pacific displays. He suggested we frame the session as a demonstration of 'Synoptic Thinking and Skills'. This is where a case study is looked at from a variety of different angles and the most important information summarised. Students would need to demonstrate this kind of thinking in their A-level projects.
Gretton School had been experimenting with wood carving for their Arts Award, so asked for a talk on the Haida Gwaii totem pole from Canada. We suggested expanding the talk to include the Maori pouhaki (flag pole). We also brought carved Fijian and Solomon Islands objects that students could handle.
Park Lane Primary had been learning about oceans. We framed the session around the importance of the ocean for Pacific peoples, how it helped them live and shaped their lives.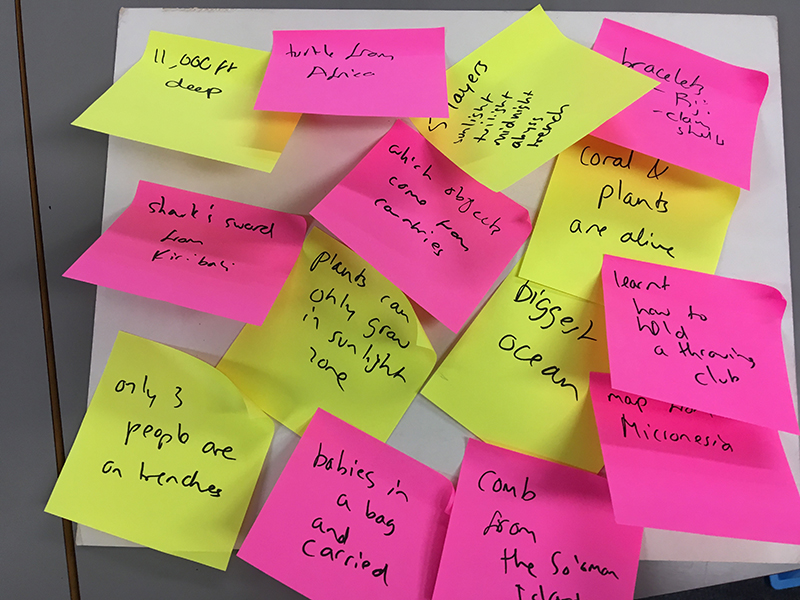 Lessons learnt
Making new connections with schools takes patience. Research your target school/s and their curriculum, follow-up when you haven't gotten a reply, talk to every teacher you can and try different strategies for getting in touch with the right people. And never, ever be discouraged!
Always make the most of what just falls into your lap – if someone contacts you with a slightly different request, try to find a way to make it work for both of you.
Having some kind of narrative or framing for why you are in a classroom really helps the students. Our most successful sessions were when students could directly relate what we were offering back to past learning. One Gretton student holding a wooden crocodile from Fiji said to his friend: 'Remember how hard it was to do that wood carving? And they've carved this! Imagine how long it would have taken!'
Getting a teacher's input on sessions is important. I couldn't have come up with 'synoptic thinking and skills' without the initial discussions with Hinchingbrooke's Geography teacher.
Having a follow-up with the school is gratifying and useful. Park Lane Primary students wrote us thank you letters and it was great to hear what they took away from the session. These can shape future outreach and let us reflect on whether we achieved our aims.
Some quotes from the letters: 'I loved holding the objects you brought in,' 'I was very disappointed to find ghost nets are capturing turtles as they are MY 2ND FAVOURITE ANIMAL', 'It was fascinating to learn that people use ocean waste to make unimaginable things like you showed us,' 'It was really really cool thank you so much for coming thank you.'
The Pacific outreach program has been extended until July, so if you are connected to a school in the Fenland region that would like a visit, please do get in touch at education.bookings@maa.cam.ac.uk