Can you hear when a pigment has been ground to the right particle size? How do we know which plastics in a museum are going to self-destruct?
Why is conservation documentation like a pile of dirty laundry? Can you make a priceless book full of moving paper parts and almost 500 years old accessible to all? Did the Pacific island people of Vanuatu use the same pigments for body art and tattoos as they did for decorating artefacts? How did medieval artists get the colour green?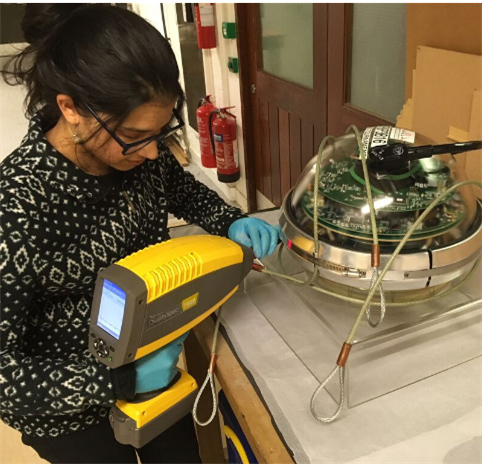 These and many other intriguing questions were presented and discussed at the University of Cambridge Museums 'Science of Art' event recently, where heritage scientists and conservators celebrated research projects across all of our museums. One of the main aims of the event was to encourage collaborations and develop networks to take research forward so all the projects we presented are works in progress. As well as some longer talks, we had a series of 'lightning talks' – elevator pitches about projects which are just getting started. And the National Heritage Science Forum also gave excellent advice on how to borrow cutting edge analytical equipment to help answer some of our questions.
Check out our videos from the day
Welcome from Rupert Featherstone, Hamilton Kerr Institute, and introduction to the day from Jo McPhee, University of Cambridge Museums:

The Power of Objects: an introduction to the University of Cambridge Museums
Jo McPhee

The quest for an affordable method to identify plastics in collections
Sophie Rowe

Reflections on the identification of copper sulphates in 16th-century Flemish art
Paola Ricciardi


Investigating the making of landscape oil sketches in the eighteenth and nineteenth centuries
Adele Wright

Documenting conservation: challenges and opportunities
Jennifer Marchant
Lightning Talks
The acidification and deterioration of 19th-century herbarium sheets OR Botanical Filth and Degradation
Lauren Gardiner
Is there a practical and low-budget solution to mass cleaning of important herbarium specimens?

How deep is your store?
Deborah Walton
How does storing archaeological objects in deep salt mines in Cheshire affect artefacts?
A history of painting in Vanuatu
Adele Wright
What pigments and dyes were used in Pacific artworks, both in artefacts and in body paint and tattooing?
Early Italian punchmarks
Lucy Wrapson
How can we develop digital photography or scanning techniques to investigate punch marks in a minimally invasive way, to characterise tools which are now lost and help with attributions for works?
Batch Process Control, Medieval Style OR Sensing Particle Size Distributions
Spike Bucklow
Can we correlate pigment particle sizes with their colour and the sounds made in traditional grinding during preparation?
The Astronomicon Caesarum of Apicianus – possibilities for an interactive book
Edward Cheese
This amazing printed book from 1540 includes numerous paper models to make early astronomy accessible. It has been digitised but how can it be presented to bring all aspects of it together and showcase the science that didn't work?
Please do not touch?
Helena Rodwell
How can we increase tactile access to our collections without compromising preservation? We are especially interested in communicating our touching policy to various audience groups and in using digital technology to offer alternatives to handling real artefacts.