In June, the Museum of Archaeology and Anthropology welcomed artists from Erub Island in the Torres Strait, Australia. Erub Arts hosted two workshops for the museum on how to work with ghost nets (abandoned fishing nets).
Last year, the Museum of Archaeology and Anthropology (MAA) refurbished its Pacific displays with a grant from the Heritage Fund. Part of the refurbished displays included new acquisitions of ghost net sculptures from Erub Arts in the Torres Strait Islands. The sculptures are popular with the public and help MAA tell important, contemporary stories about ocean pollution. When Erub Arts told us they were travelling to London to open an exhibition in June 2019, we knew we had to get them to Cambridge too.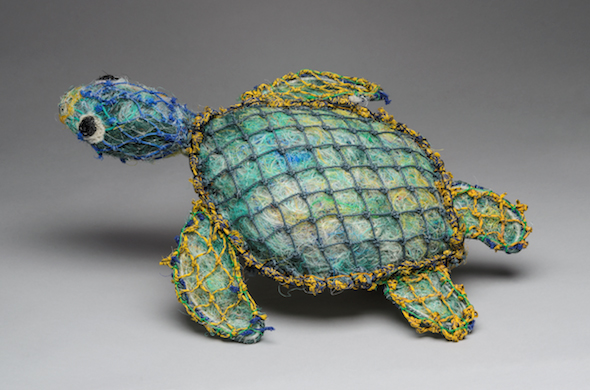 Thanks to an extension of the Pacific Currents project, MAA were able to organise two public workshops with Erub Arts on how to work with ghost nets.
'Ghost nets' are plastic fishing nets that have been lost or abandoned in the ocean, trapping fish and marine animals. Turtles are particularly vulnerable – 80% of animals found in ghost nets are turtles. When the nets become heavy they fall to the ocean floor, damaging coral reefs and marine environments. It is assumed these plastic nets can survive in the ocean for up to 600 years.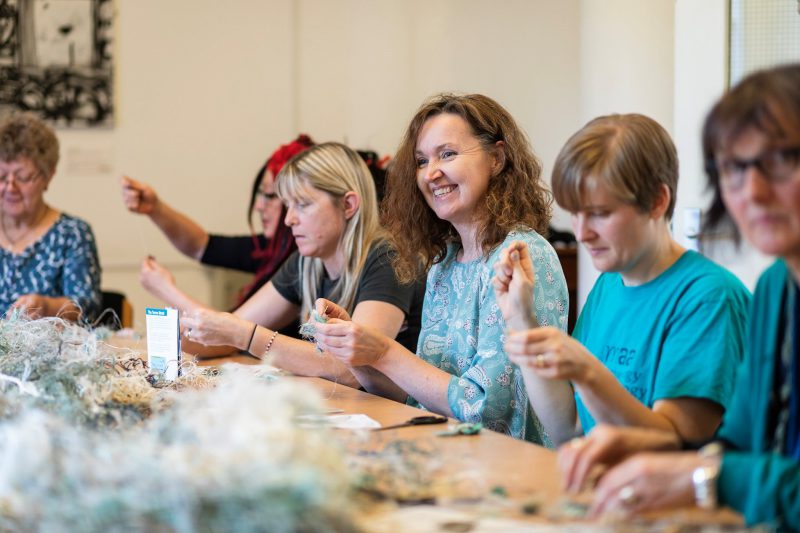 The Torres Strait – the small strip of water north of Australia and south of Papua New Guinea – is a hot spot for ghost nets. Because of the ocean currents and the monsoon winds, nets from all over the Pacific end up in this tiny area. This is particularly distressing as six of the world's marine turtles use the coast of nearby Queensland as a nesting area. Clean-up can be dangerous if the net is unexpectedly large or heavy or attached to submerged objects. And because nets can be made from a variety of different plastics, opportunities for recycling or reuse are limited.
Erub Arts have been working with ghost nets for almost 10 years. Their innovative sculptures are a way of reusing the net and engaging a wide audience with this global problem. They are also experienced creative facilitators, having run workshops for various groups around the world.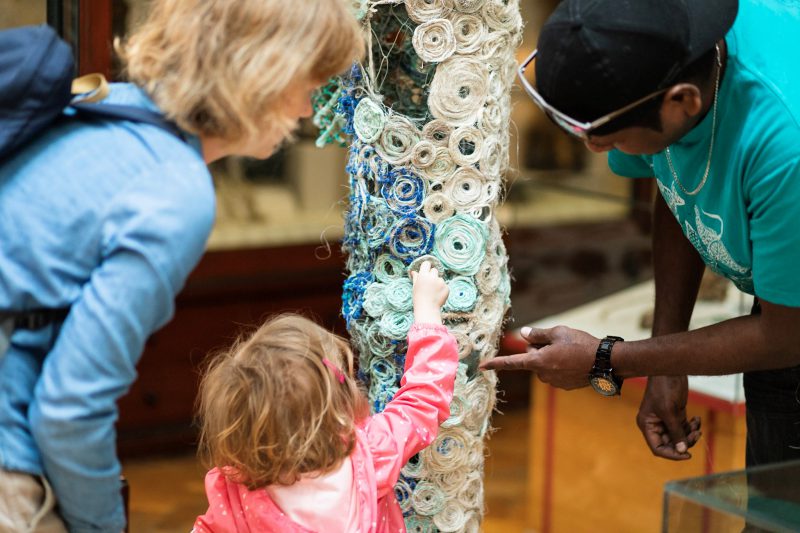 In the gallery, Erub Arts ran a drop-in workshop for a general audience. Visitors were taught 'coiling', a technique that is traditionally used to make baskets. These coils became fish scales for 'Barry the Barracuda' a large collaborative art project. People have made scales for Barry in Canada, Singapore and now the UK.
Erub Arts also ran a longer workshop for a small group of teachers and artists. Many of the people at this workshop had worked with MAA over the course of the Pacific Currents project and it was wonderful to welcome them again into the museum space. At this workshop, teachers gained the skills to make a tiny turtle from ghost nets. This is a project that we hope teachers and artists will take back to their classrooms and studios and share with their students.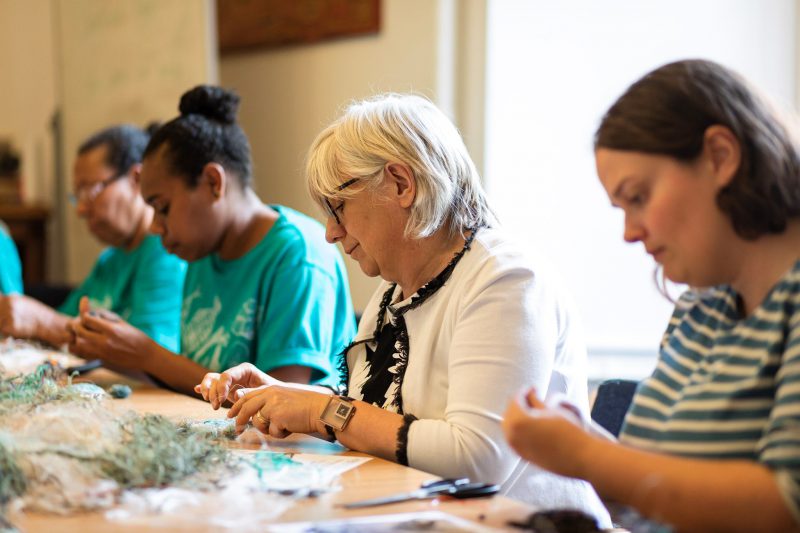 The workshops weren't just about making things. The artists shared information about the ghost nets and the damage they can do. I was particularly captured by the problem of 'drift nets'. These nets can be many kilometres long and are made from a thin, silky plastic that becomes easily entangled. The plastic is a bluey-green making it more difficult to see under water by animals. But perhaps worst of all, these nets are not attached to a boat, or looked after directly by fisher-people. They have GPS trackers so that a boat can locate them at some point to retrieve the catch. Of course, nets are regularly separated from their trackers, creating huge hazards to marine life.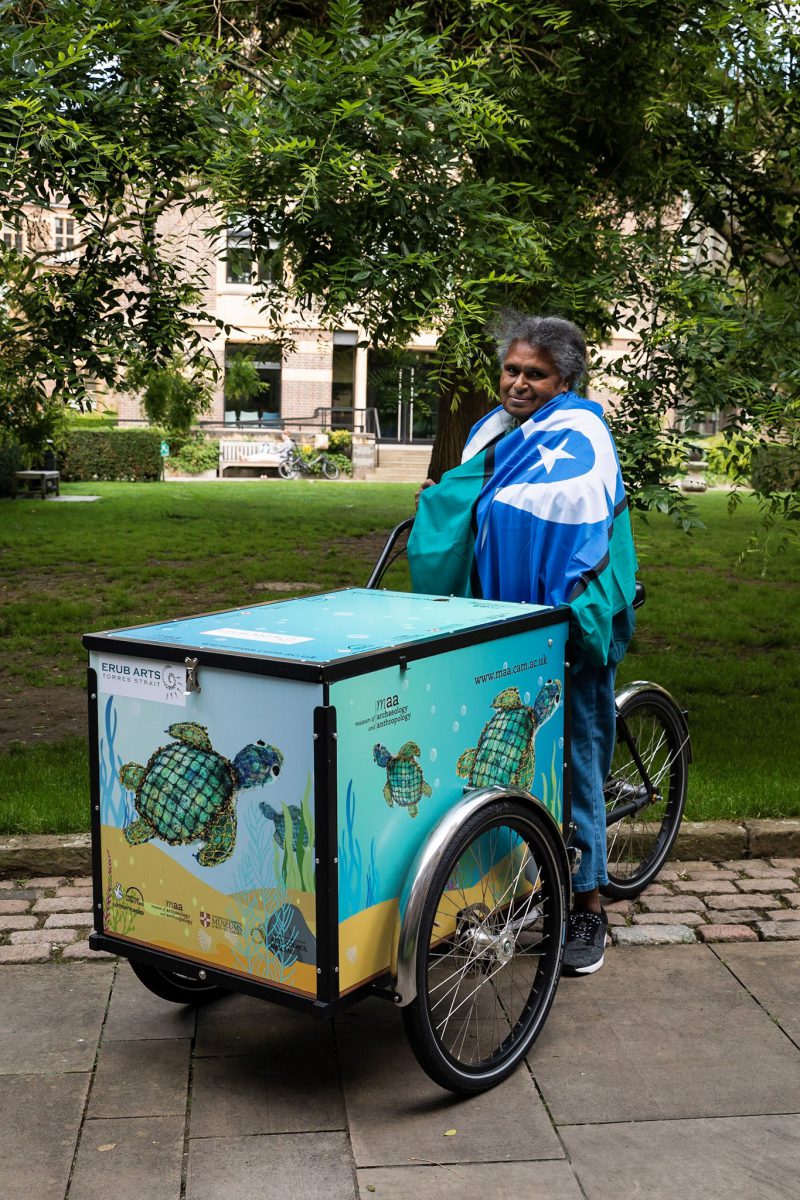 After the workshops, Erub Arts spent a day looking at MAA's collections, making drawings of historic objects collected from the Torres Strait by A. C. Haddon in the 19th century. Artist Florence Gutchen was also delighted to finally see MAA's outreach bike, which had been decorated with images of her turtle sculpture, 'Bee Dee'.