In May and June, the Museum of Archaeology and Anthropology and the Fitzwilliam Museum worked with Year 8 students from Cromwell Community College on a Bronze Arts Award project. The students explored stories of climate change through poetry and creative writing.
Thanks to a National Lottery Heritage Fund grant, during 2018 and 2019 the Museum of Archaeology and Anthropology (MAA) ran an education and outreach programme to help audiences engage with our newly refurbished Pacific cases. One of our aims was to encourage people to consider stories of climate change and environmental threat in the Pacific and make links to their own experience here in Cambridgeshire.
During the project, it became obvious that talking about things like climate change were difficult in our regular family planning and we decided that a longer format might be better for exploring these complex and sometimes upsetting issues.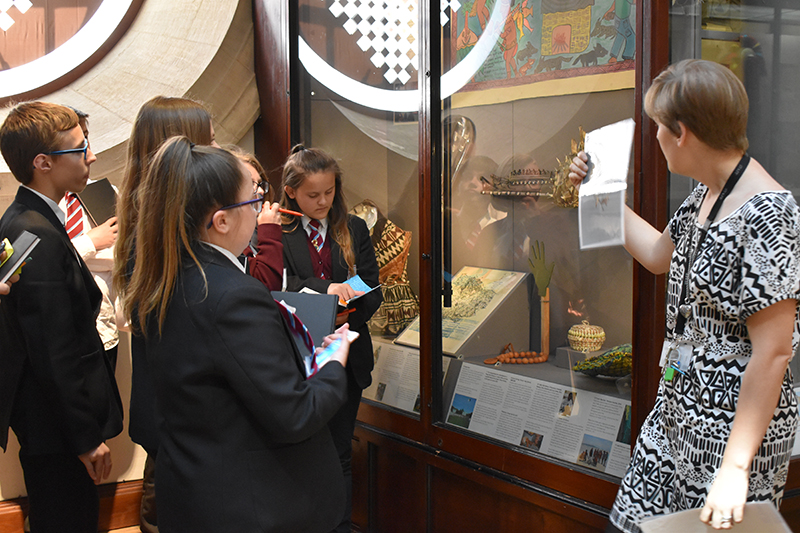 A Bronze Arts Award
The University of Cambridge Museums (UCM) run a Bronze Arts Award project annually with strategic partner school Cromwell Community College in Chatteris, Fenland. Mindful of the attainment gap between students eligible for the pupil premium and their classmates who are not, the UCM offers this Bronze Arts Award project to a group of Year 8 pupil premium students. The project aims to improve their confidence and soft skills, encourage them to feel welcome in our museum spaces, enable them to respond creatively to our collections and motivate them in their learning.
MAA and the Fitzwilliam decided to collaborate on this Arts Award project, allowing students to engage with climate change and environmental threats over the course. The project took place over 8 weeks at the school and in the museums. We engaged poet and theatre-maker Hannah Jane Walker to help the students write poems inspired by the objects they encountered in MAA and by their own fears and concerns for the environment.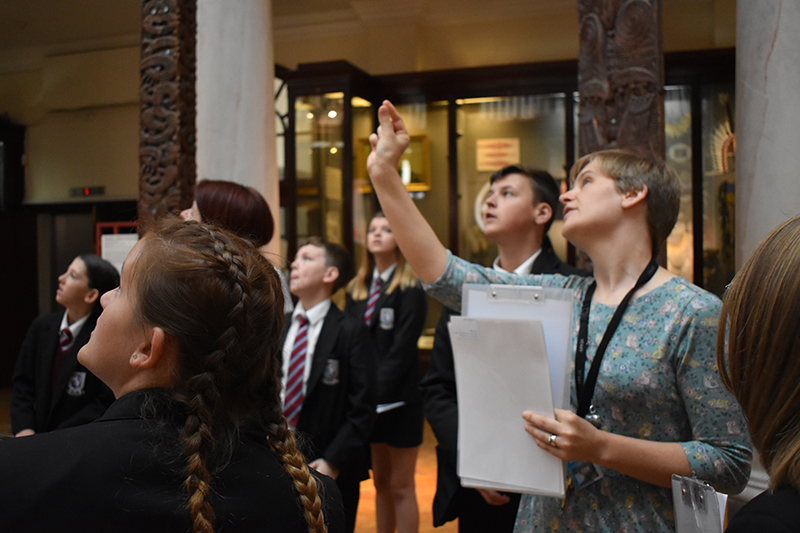 The students were initially quite sceptical of engaging with writing and poetry. It was not something any of them thought of as 'fun'. But Hannah led and developed a series of word and poetry games, as well as activities to build confidence in performing, that students engaged with enthusiastically (and then asked to play over and over!). We were all delighted by the quality of work that was developed through different techniques like blackout poetry and collage poetry, and both school and museum staff were really pleased to see that students who struggled with literacy thrived during the sessions and were really motivated thanks to the innovative activities Hannah planned.
Because of staff changeover, we had very little planning of the project, which meant we were often planning week to week. This was stressful in some ways but in others, it allowed us to be responsive to what students were enjoying or interested in. One particularly successful session involved students telling us about environmental problems they already knew about and what solutions they could imagine fixing those problems. They then made stop-motion animation videos presenting the problem and (ideally) a solution. It was clear the students were well aware of some of the biggest problems facing the world, knew what solutions were possible and were also imagining their own.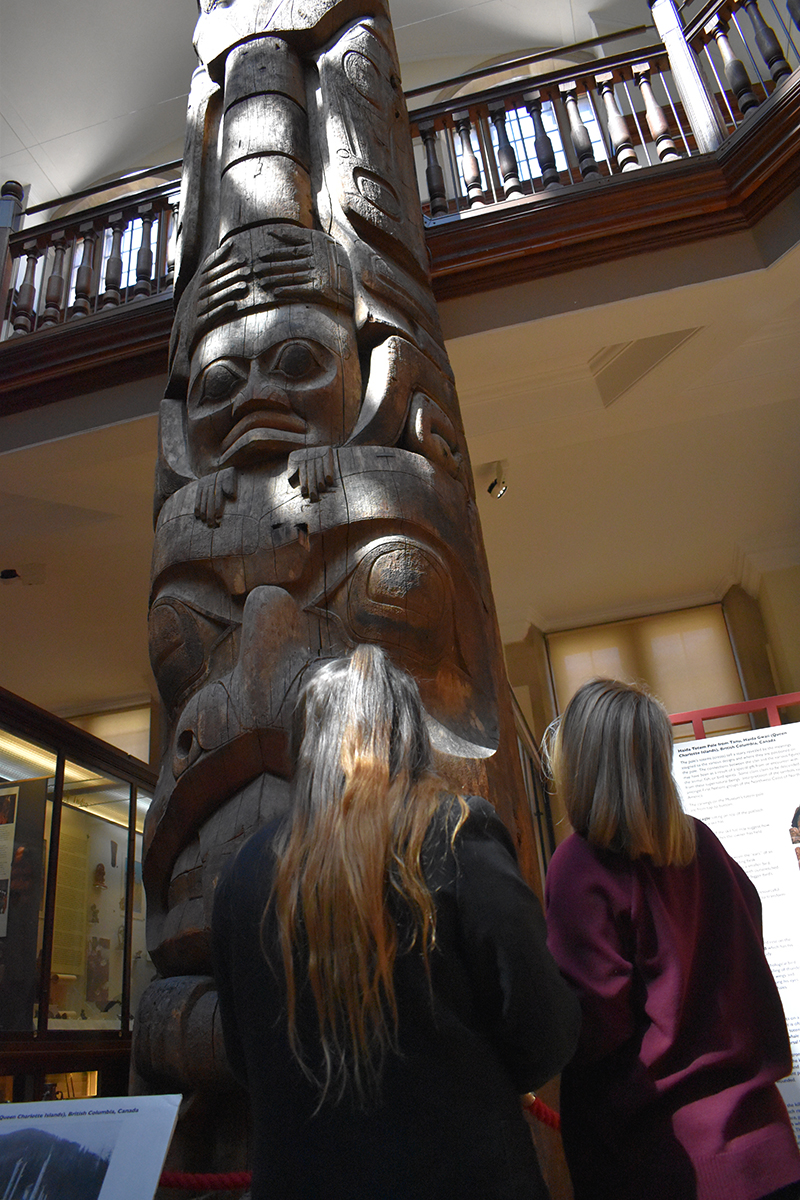 Digital Trail
MAA hoped that students would be able to write and record their responses to these objects and that these recordings could form the basis of a 'digital trail' for visitors to use in the galleries, linking stories of climate change across the three floors.
The digital trail idea was great but definitely ambitious! Not only for the students, but for MAA staff, figuring out practicalities of where to host the sound files and how they would be accessed. The poems are now uploaded to the UCM Soundcloud and we encourage visitors to bring their own phone and headphones to use in the gallery. If you are unable to listen to the recordings, the poems are also available to read at the front desk. The accompanying trail for people to find the related objects is also available at the museum front desk.
Listen to the poems
Introduction to the Trail
2 Million Years of Human History
Dear Future Me
Antler Poem
Student feedback
At the end of the project, the students were asked what they thought they had gained. They told us:
"I have more inspiration and I feel I have learnt a lot more skills."
"It has made me see art in a different way to I used to."
"I have gained art skills and intelligence in history."
The students also told us how they would describe the project to a friend:
"It's inspiring and so friendly, you achieve new things"
"It was an amazing experience."
Finally, when asked what came to mind when they thought of climate change, we were also pleased to hear how proactive some of their responses were and how their understanding of environmental issues had improved:
"Save the turtles, burning fuels, deforestation."
"We need to do something about it."
"Stop pollution."
An excerpt from one of the poems
Dear future me…
I am writing to tell you
Stop playing games and search up stuff on the environment.
Has climate change been solved or is the world still on the way towards the apocalypse?
Now you are 61. The age I was when writing this was 13.
I hope you still see that plastic is pollution and don't do littering.
I am writing this to you to tell you how good the Cambridge museum is.
Dear future me, hopefully you're alive. If not, wow, that's depressing.
Dear future me, the environment needs your help, it's calling your name.
I feel sad about the environment.
You can help by recycling your rubbish.
Make sure the sea is fine and make sure ghost nets stay out of the sea.
Come and visit MAA, listen to the poems in the galleries and find the objects on the trail!