Nellie-Mae Morgan has just received an unconditional offer to University. This is how she thinks UCM has helped. 
I first became involved with the University of Cambridge Museums (UCM) in 2017 when I attended a Work Experience Taster Day, which I found out about at a careers fair at my college, Cambourne Village College. 
The day consisted of bring 30 students to the Fitzwilliam Museum to find out what different roles there are at the museum.  I was so eager to learn more about what it takes to run a museum that after the Taster Day, I decided to apply for a position on one of the UCM Work Experience Weeks, which I was fortunate to be accepted on.
I learnt so much during the Work Experience Week and was able to see different departments and understand how each job and department has an impact on maintaining the museum standards. During the week I learnt how events are organised and what safety measures are need in order to keep the general public safe; we acted as Mystery Shoppers for the museum and spent time with the different departments, such Paintings Drawings and Prints and Applied Arts, where we got to handle delicate artefacts, such as watches (which I was lucky enough to hold Beethoven's watch), William Blake's glasses and see delicate fans.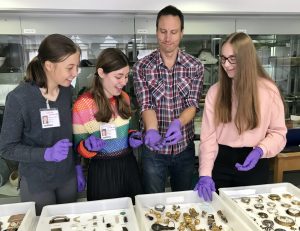 We also had the opportunity to spend time at a different museum and I went to the Museum of Archaeology and Anthropology (MAA). I learnt how activities and artefact arrangement helps create a sense of curiosity to explore the museum as well as learn about different cultures that differ from our own. During my time at MAA, I learnt how important display presentation is to show history in an interesting way, as well as to encourage the public to engage with the artefacts. 
The final activity I took part in was creating a presentation on what I did during the week. I had to choose a favourite artefact (which are some beautifully decorated cheek ornaments) from MAA and one artefact from The Fitzwilliam (which is a painting called the Twins by John Everett Millais because of the incredible attention to detail). During the final day I was able to learn about the work that goes into transporting an artefact to a different museum and how measures were used to protect artefacts from damage, such as wearing gloves. 
After the work experience week was over, I knew I wanted to still be a part of UCM work, so I decided to become a volunteer. The first event I took part in was Twilight at the Museums in February 2019, where I helped out at MAA handing out stickers to the public for naming a type of drum that was playing. Twilight was an amazing event; I was able to see the general public become fascinated by the history within the museum. After the Twilight, I began volunteering at MAA and have participated in events such as handling artefacts (mostly from the Mesolithic era and some from the Palaeolithic era) and the Day of the Dead event, which someone from the Mexican society attended and explained to the public the importance of the festival and the meaning behind it. Both events were incredibly enjoyable and it was a real joy to see the public becoming interested in history and different cultures.
The University of Cambridge Museums Work Experience Week and the Volunteering Programme, Opening Doors, helped me understand and see the incredible importance of preserving artefacts for years to come. This made me want to become a Conservator and help look after and preserver artefacts in the museums.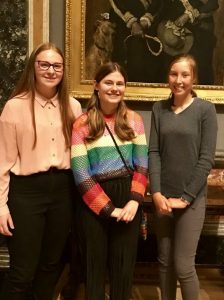 From the passion I gained through the museums, I applied to the Conservation of Cultural Heritage course at the University of Lincoln and was given an unconditional offer to the course where I will learn how to repair and protect these amazing artefacts that I care so much about. I want to thank the University of Cambridge Museum and staff for giving me so many opportunities to see what it takes to run a museum and how important it is to protect artefacts.