This blog records my richly rewarding collaboration with Rowan (the Cambridge-based charity and arts centre supporting adults with learning disabilities) over the past year. It charts the encounters and exchanges we had in the planning stages of the exhibition, and how these helped to develop display ideas, refine didactic content, and shape the public programmes. And it records our on-going collaboration after opening.
Feast & Fast is an exhibition that centres around food: its production, provisioning, preparation, preservation, and presentation. In order to make best use of the Fitzwilliam Museum's rich collections of food-related objects and paintings, and my own expertise as well as that of Melissa, we decided to focus on food in England and Europe between 1500 and 1800. That said, we were keen to bring historic debates about food up-to-date, as these narratives are so central to everyone's existence today, and also find creative ways of bringing a variety of perspectives on present-day cooking and eating into the exhibition. We wanted input from diverse audience groups during the planning stages of Feast & Fast to ensure that the content of the exhibition, its website, and public programmes were as engaging, meaningful, and relevant as possible.
In the planning stages of Feast & Fast, Melissa and I worked with a number of local groups with whom the Museum has longstanding connections, including 'Museum Ambassador' school pupils from North Cambridge Academy, young people participating in Arts Award projects and Widening Participation initiatives, undergraduate and graduate students from the Faculty of History and the Department of the History of Art, participants from the blind and partially-sighted group, seniors from the 'Dancing at the Museum' programme, and those with Dementia diagnosis and their carers who attend our Portals sessions. These diverse groups were invited to object-handling workshops in the Museum that allowed Melissa and me to share and explore research themes from the exhibition, test out approaches to interpretation and display, get feedback, and discover which questions and objects provoked the most curiosity and conversation. Ideas from these workshops fed directly into the display rationale and didactic content for Feast & Fast.
Our key engagement partners were a wonderful group of extremely lively ceramic art students from Rowan: Chris, Emma, Frank, Jenny, Mark, and Peter, and their tutors, Sarah Nibbs and Abi Moore. We are incredibly grateful to Alison Ayres (a member of the Fitz Learning Team who has worked closely with Rowan for years) for facilitating and nurturing this very special relationship.
May 2019: Rowan's first Feast & Fast-related visit to The Fitz
Ali and I invited the Rowan ceramics students and their tutors 'behind-the-scenes', to the Applied Arts Seminar Room, to handle and engage with a number of historic English and European ceramics that I was considering including in Feast & Fast. This was in order to explore themes relating to the material cultures of food, feasting, and fasting in early modern Europe, and to make connections with the students' personal experiences and memories of food. We had sent the Rowan students a PowerPoint presentation of these ceramics before their visit, so they could be introduced to the objects ahead of the session, get excited and curious, and start thinking about questions they wanted to ask.
The first half of the visit took the form of a very animated handling and debating session. I started off with a general introduction to the objects, which morphed into a group conversation about how and why the individual objects had been made, and how they would have been used and displayed.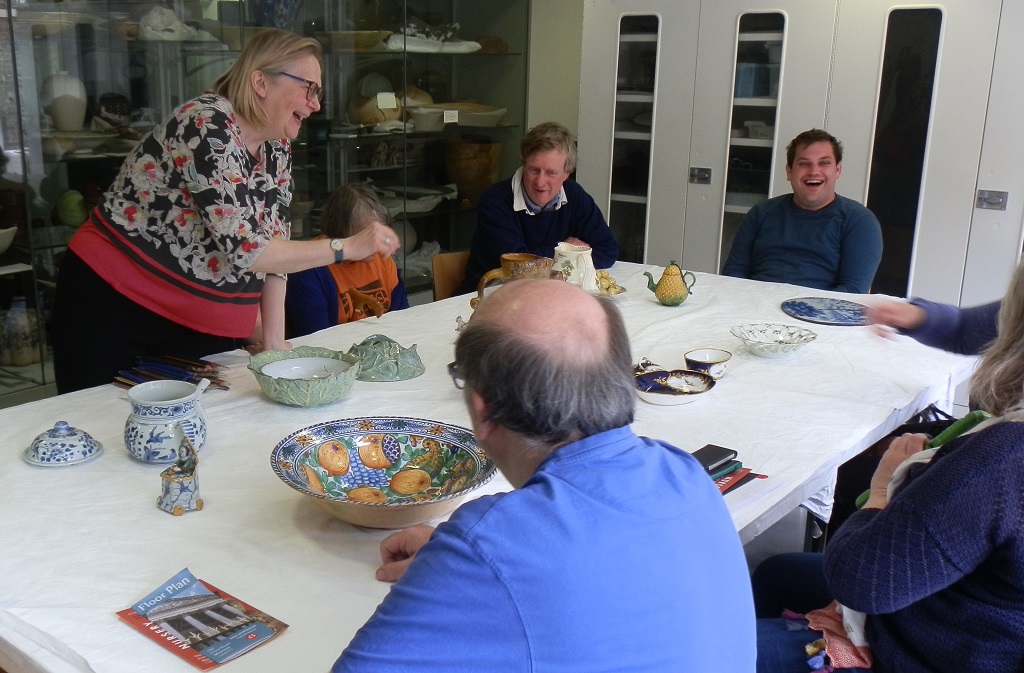 We then moved onto 'the close up and personal encounter' part with every student getting the chance to touch, pick up, and handle the objects. They felt the weight of each item and were then asked to think how much heavier it would feel when full of food or drink. They were asked to look for evidence of wear and tear, and repairs, and to consider how these might have come about, and why the objects had been kept rather than thrown away. The students were also asked to think about an object's particular shape and whether this was well suited to its function, and also how it had been decorated and what this added to the object, and what it told us about the original owners.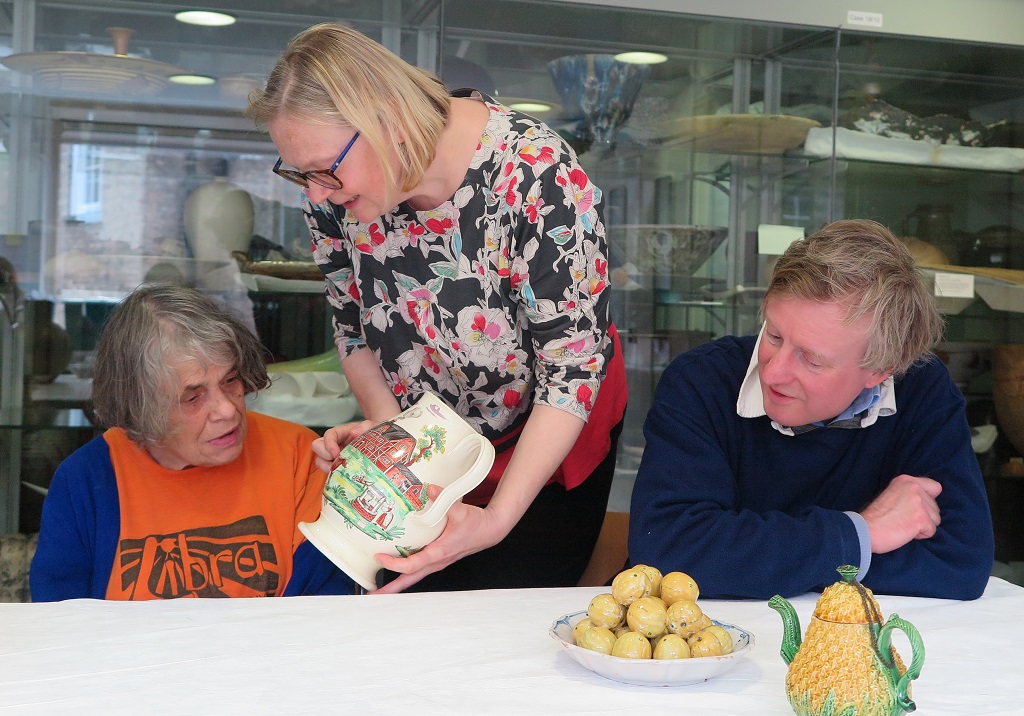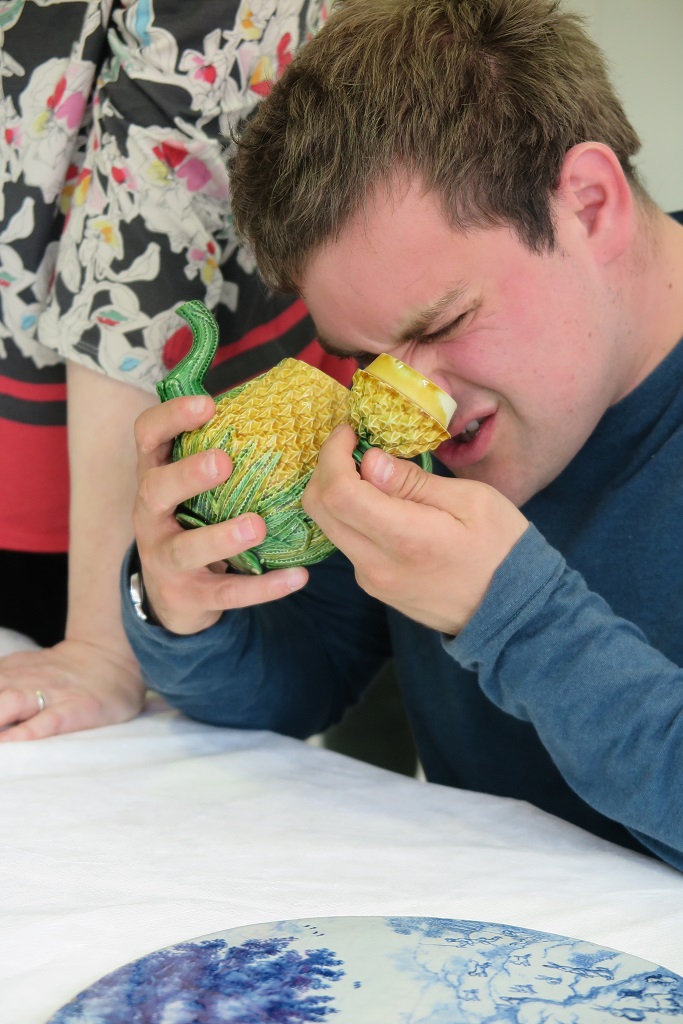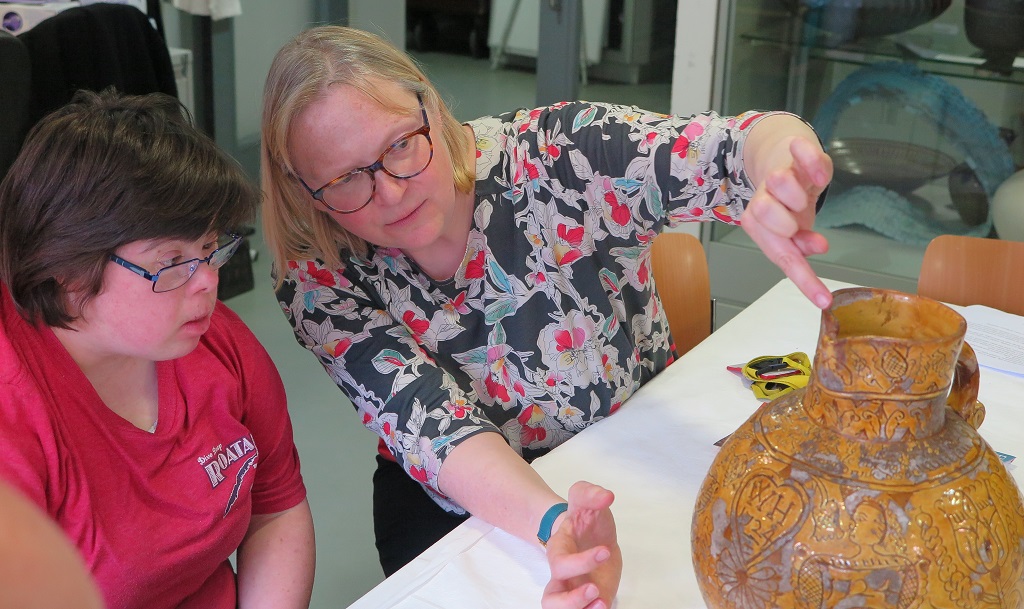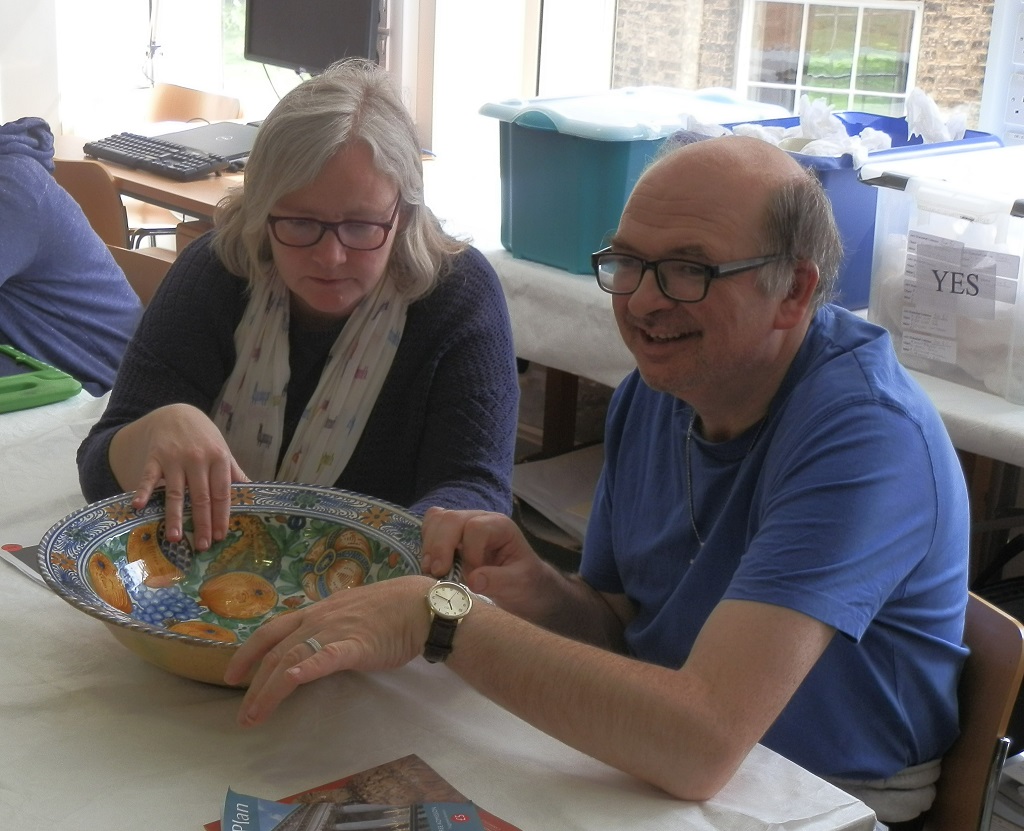 We also discussed how each of these ceramics could best be displayed within the context of Feast & Fast, and the sort of information that they would like to see on the labels. For example, I specifically asked the group whether they would prefer to see the pomegranate charger displayed flat (as it would have been used) or hung vertically, and there was a unanimous vote in favour of displaying it upright so its beautiful fruit decoration could be as clearly seen as possible, privileging its decorative function over its usage.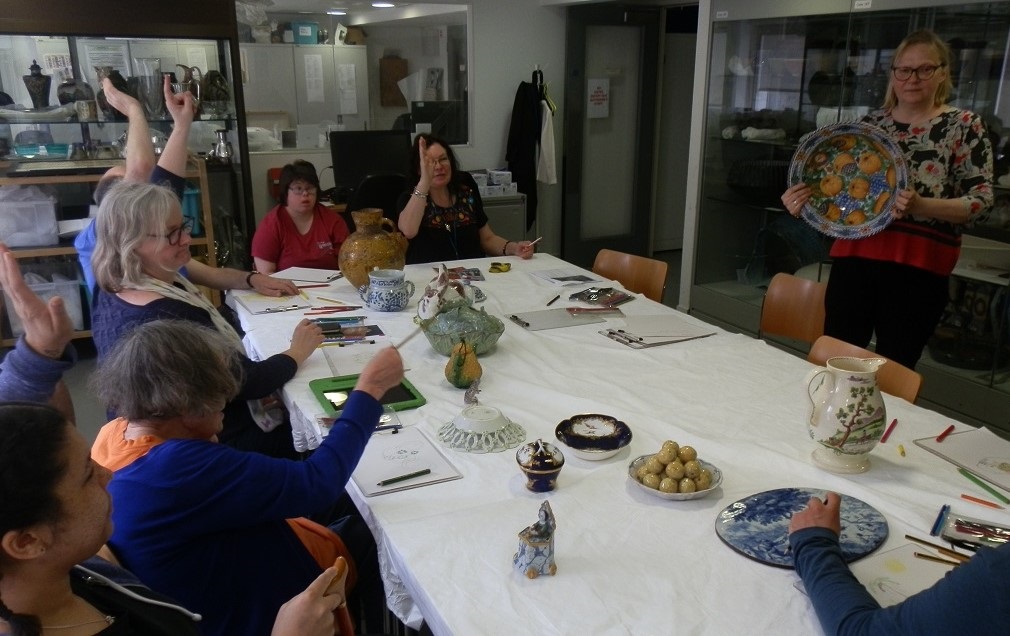 This was followed by a more contemplative second half in which each Rowan student selected a favourite ceramic and made a drawing in front of it, to take away as creative inspiration.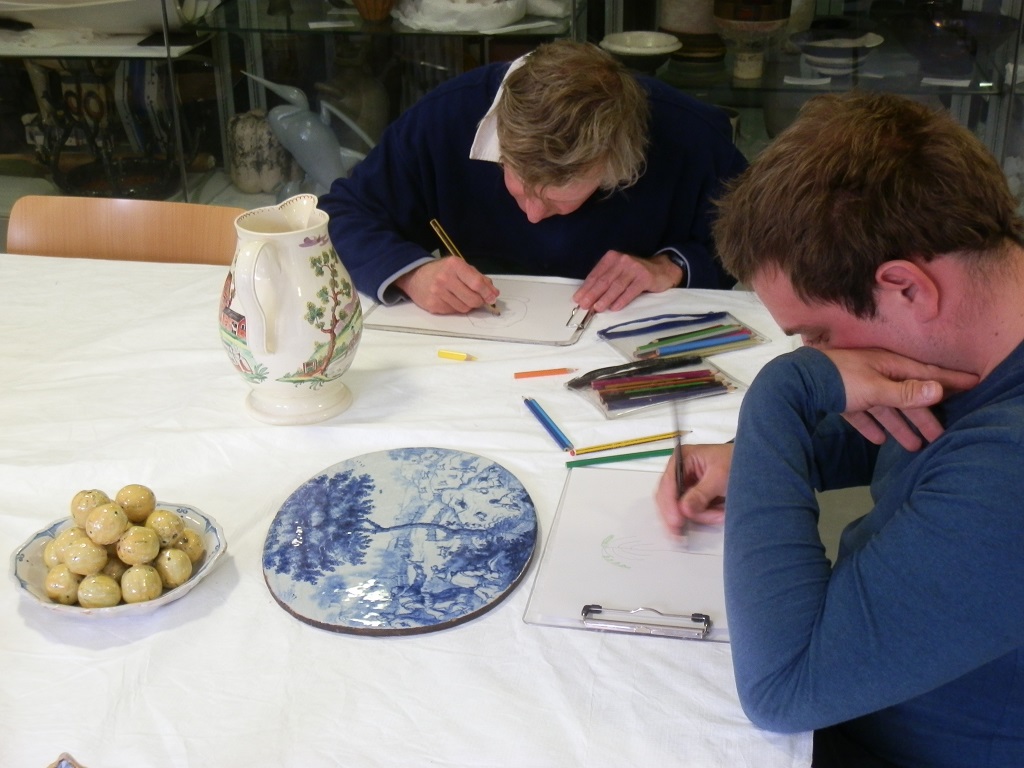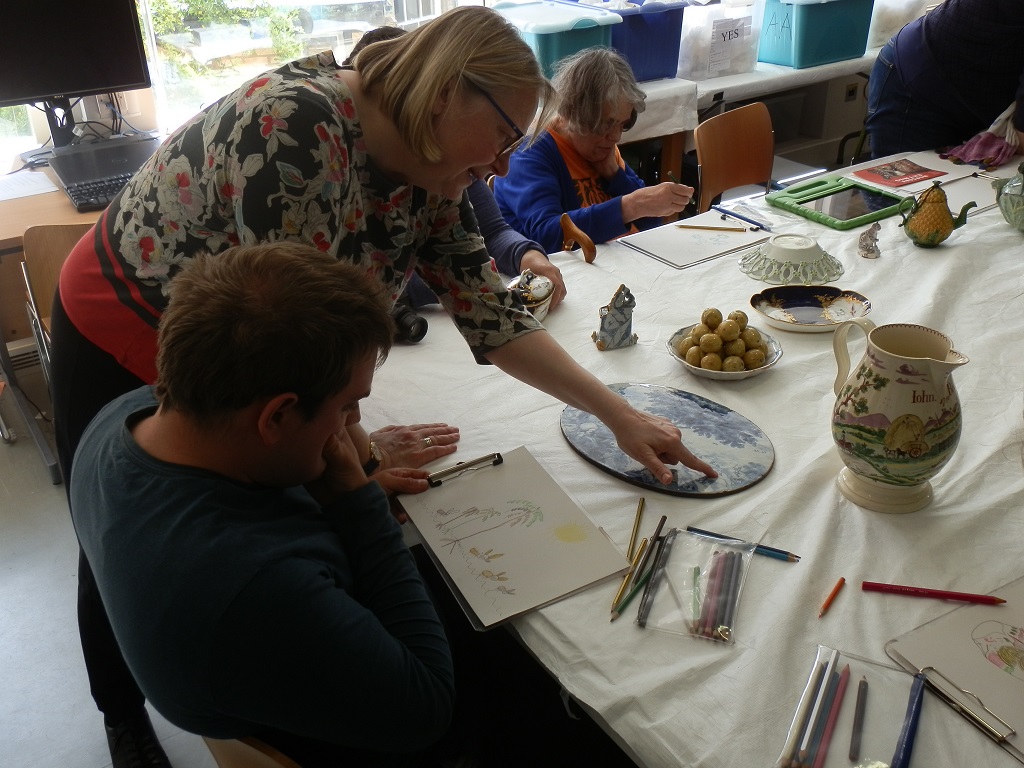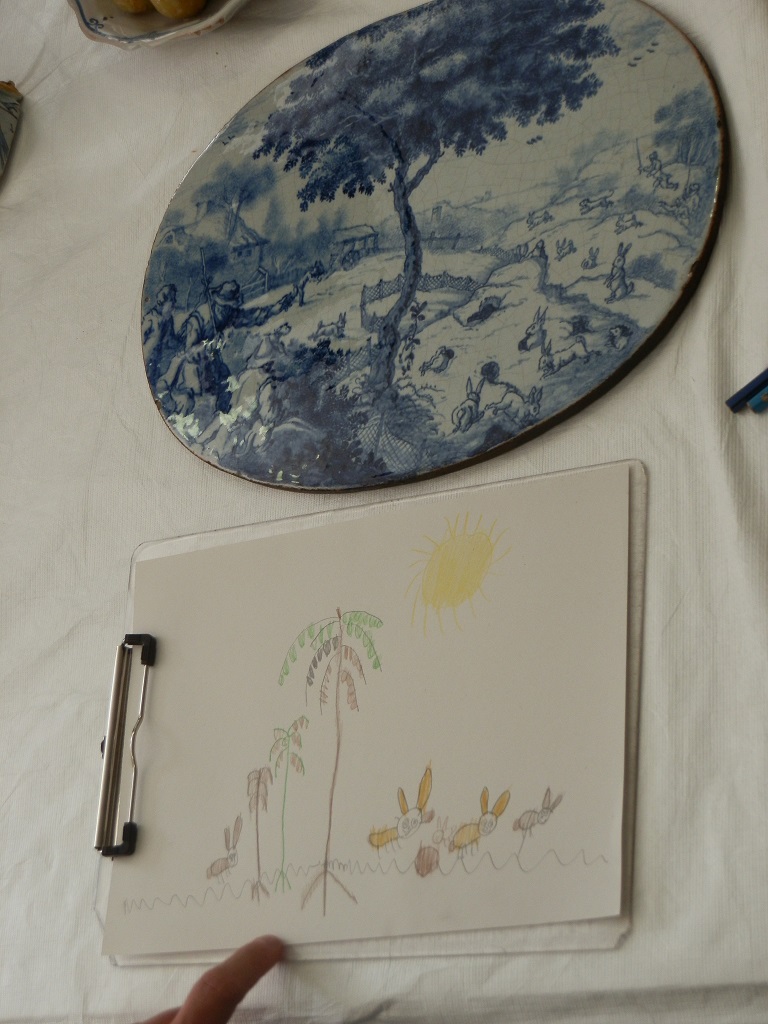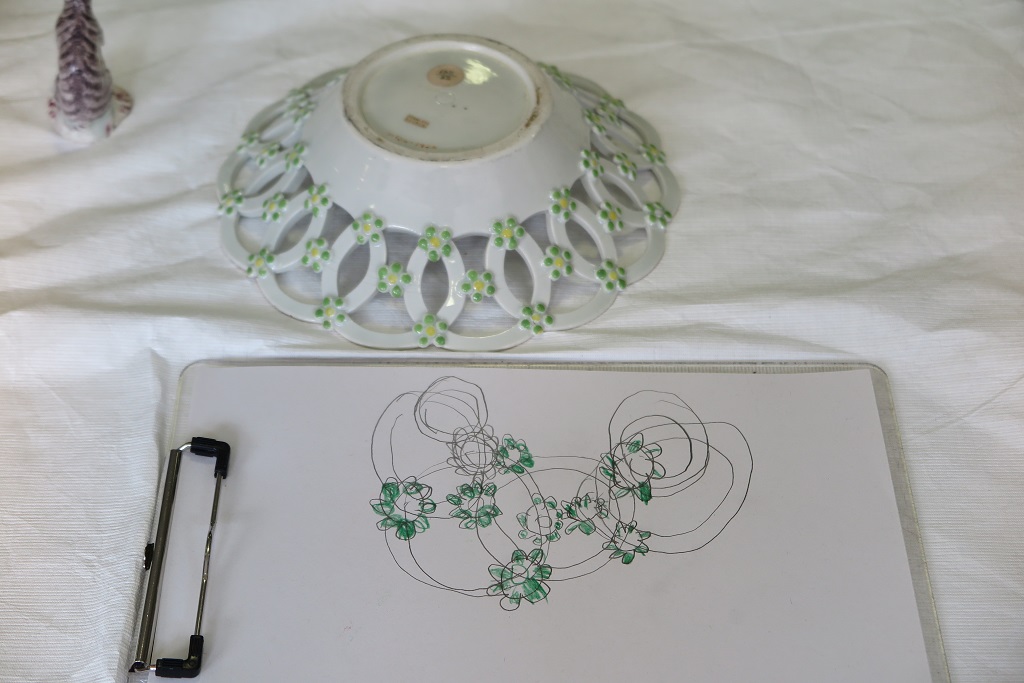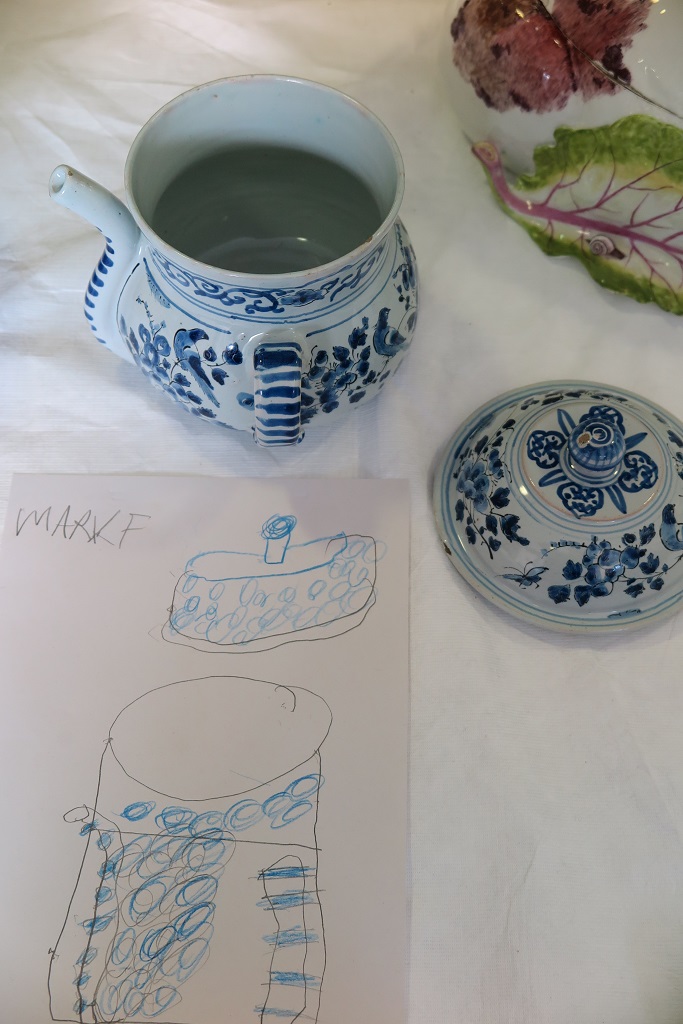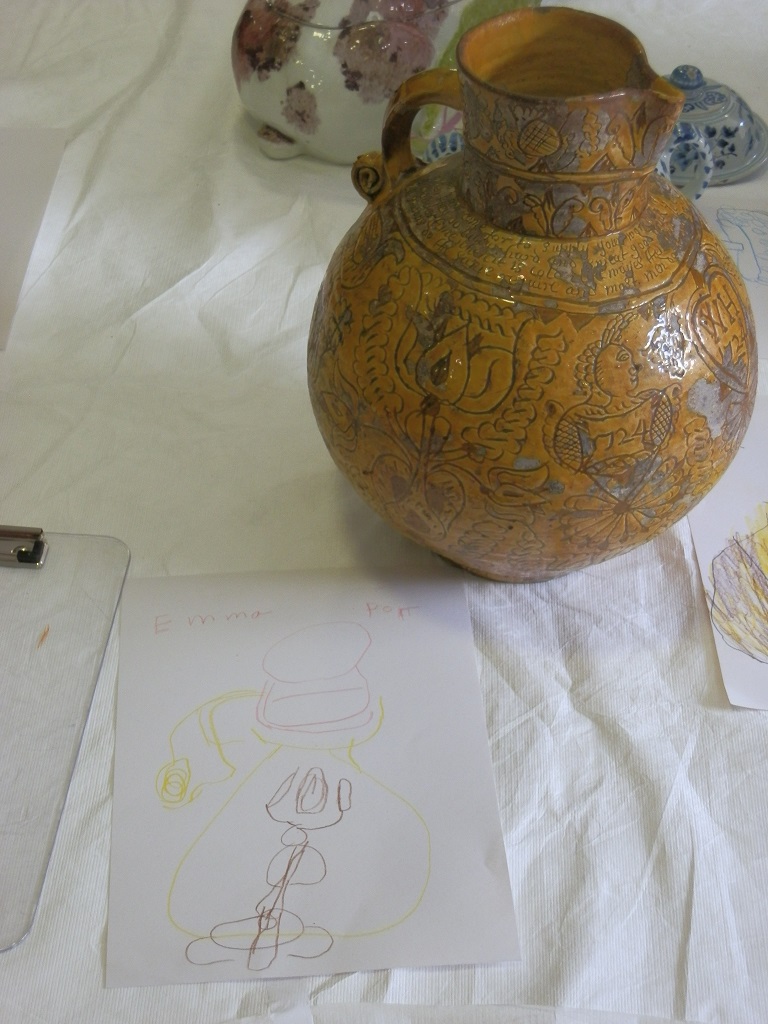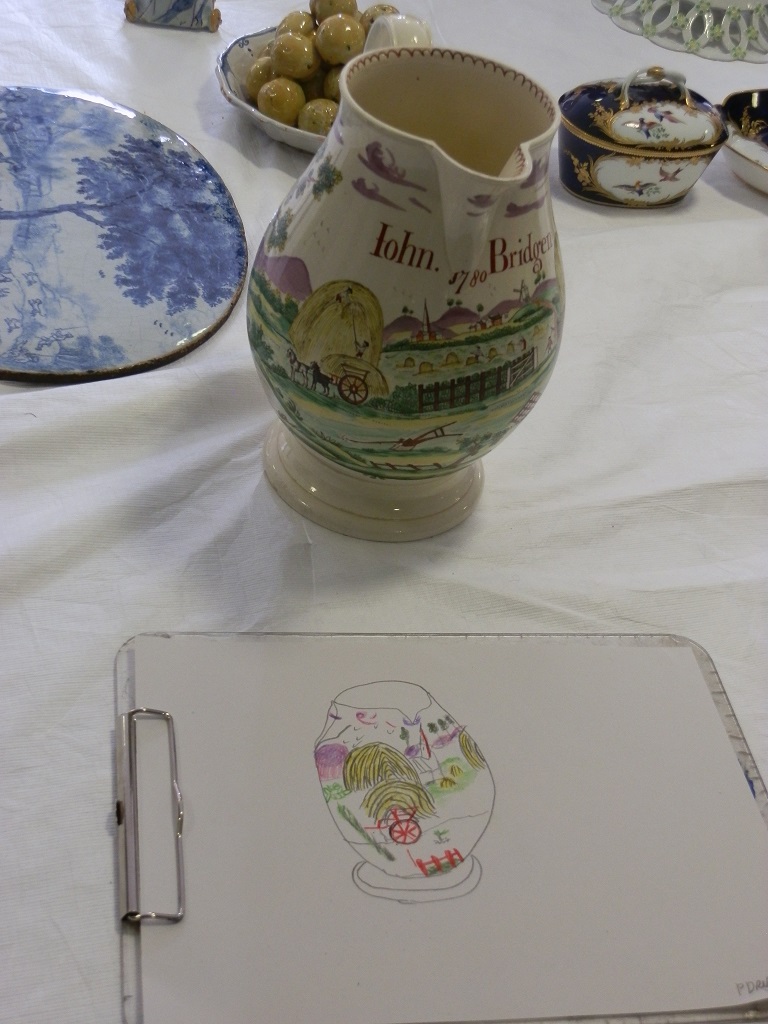 At the end of the session, I invited the Rowan students to continue to think about all the ceramics they had seen and handled, and to send me in due course any further ideas about display and label information. A week later, I received the following feedback from Ali:
'I wanted to reiterate what a great session it was for all who went behind the scenes last week. It's very special to get up close and handle objects that have history and have had a life. The exchange of ideas and stories was lively, interesting, and inspiring. Although the students had seen images of the objects in advance, I loved how surprised they were by the actual pieces and the scale of the objects. Here are some of the responses and ideas that came out of the session: 'What food would have been associated with, or used in the different types of objects?'; 'The stories behind the objects need to be shared, it was these that brought the object to life, and conjured up images of people using them'; 'the pomegranate plate needs to be hung vertically'; 'any chance of displaying some of the ceramics in freestanding cases so that they can be seen fully in the round?'; 'I loved the fake food ceramics, let's have lots of those in the show'; 'can there be people on hand to explain the objects?'.
June 2019: Rowan students make Feast & Fast-inspired ceramics
Back in the ceramics studio at Rowan, the students created some new pieces inspired by the historic objects they had handled and drawn. Peter, for example, created a spirited stoneware pot with a farmyard scene based on the farmyard jug he had sketched.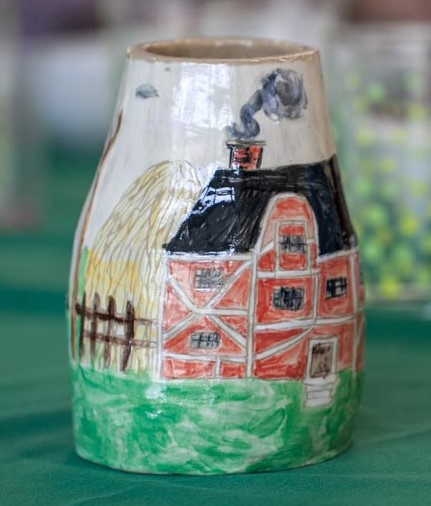 Moreover, based on their love of the Fitz's trompe l'oeil vegetable-shaped tureens and plates with 'fake fruit', the Rowan students decided to work together to create a new joint artwork. The result was a plate piled high with truly tempting and mouth-watering profiteroles. The particular choice of trompe l'oeil food was in honour of Chris, one of their cohort who, sadly, had been unable to attend the object-handling session due to illness, and his professed love of profiteroles, recorded on a 'food memory' plate that he had made in 2017.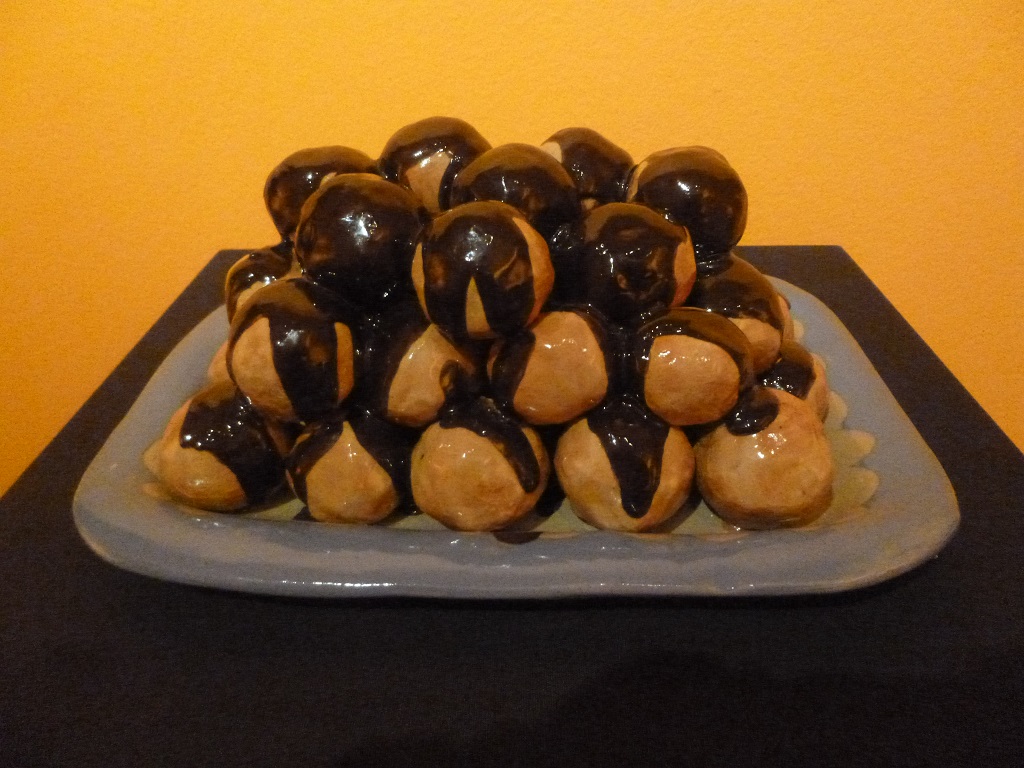 July to September 2019: Curators finalise the display of exhibits in Feast & Fast
Meanwhile, taking into account feedback from Rowan and the other audience groups whom we had consulted, Melissa and I with great help from David Evans (Exhibitions Manager) and Ayshea Carter (Designer) finalised the list of exhibits for Feast & Fast, and how each object was to be displayed, using hand-drawn plans followed by digital ones on Sketchup.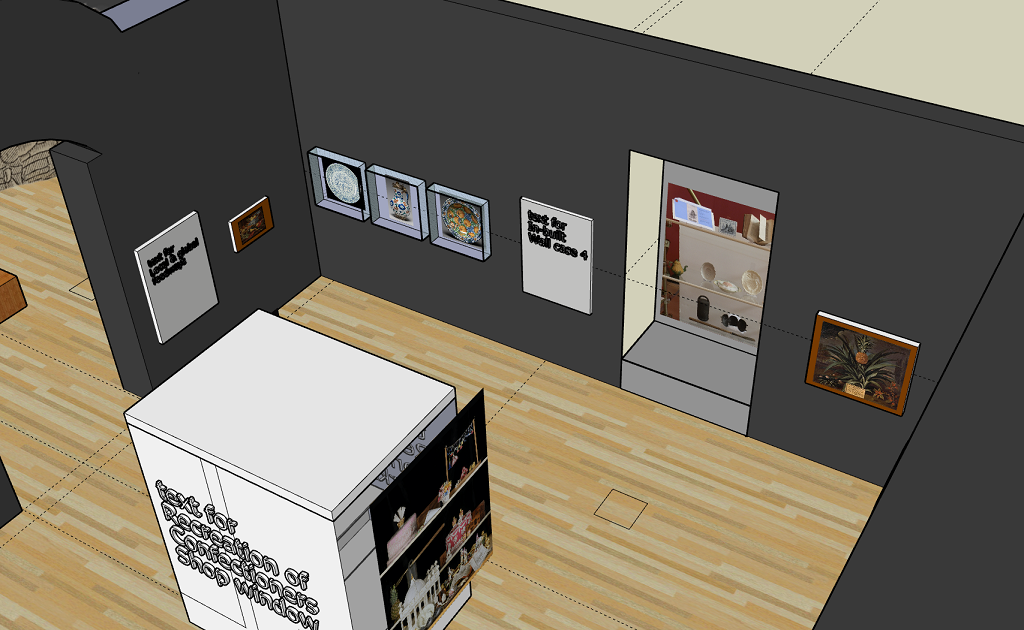 The creativity of the Rowan students, and the desire to let other Feast & Fast visitors be equally inspired by the art of food, led directly to the inclusion of the experimental Creative Zone. This was designed as a neutral space at the end of the show in which visitors could 'relax, reflect, and respond' critically and creatively to what they had seen. This dedicated visitor-feedback space within the floorplan of an exhibition is an innovation for the Fitzwilliam Museum. Painted in a vibrant pineapple yellow, it also incorporated the final exhibits of Feast & Fast within a section called 'Inspired by Food'. In addition to a few paintings of fruit and vegetables, we decided to include a case dedicated to trompe l'oeil food. Knowing how much delight these 'fake foods' had caused the Rowan students, we hoped that this massed grouping of food-shaped ceramics would be equally appealing, amusing, and inspiring to other visitors.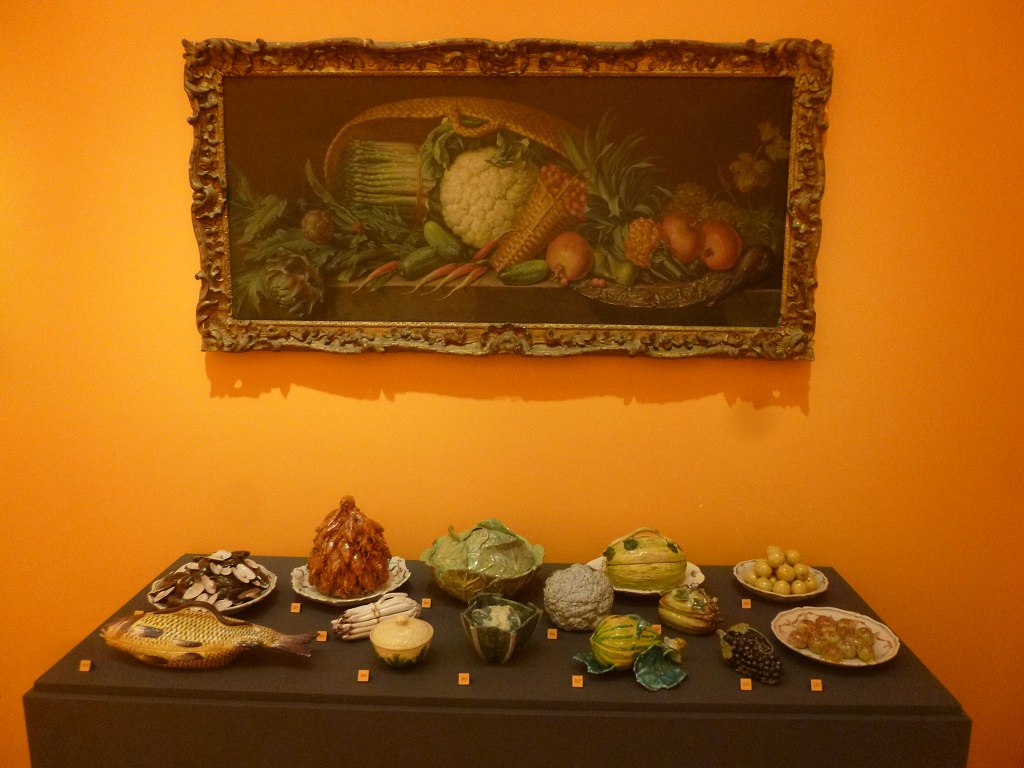 Based on discussions with Rowan and the Learning Team, we also decided that the Creative Zone should include a multi-sensory area, an art trolley with free paper and equipment, the components for a 'make-your-own still life', and a few tables and chairs for visitors to sit at and create their own artworks and visual responses to Feast & Fast.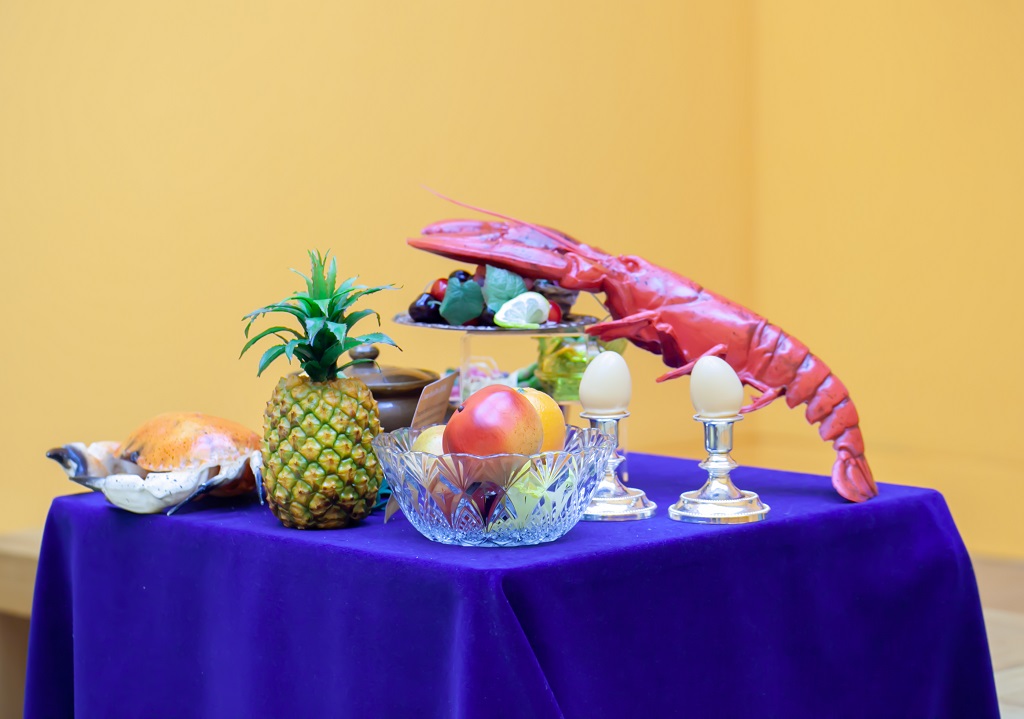 We decided that the Creative Zone was also the ideal venue in which to project a local community film about food and memories, which we were in the process of making, so we included a wall-mounted screen and seats in the Sketchup design. The projection of the film was designed to serve a number of purposes including bringing in more diverse and contemporary voices to the exhibition narrative, making clear the ongoing relevance of the exhibition themes, and encouraging visitors to reflect on their own food memories and experiences. The film was also used as a prompt for other suggested art activities in the space, for example, decorating a dish to share one's own food memories.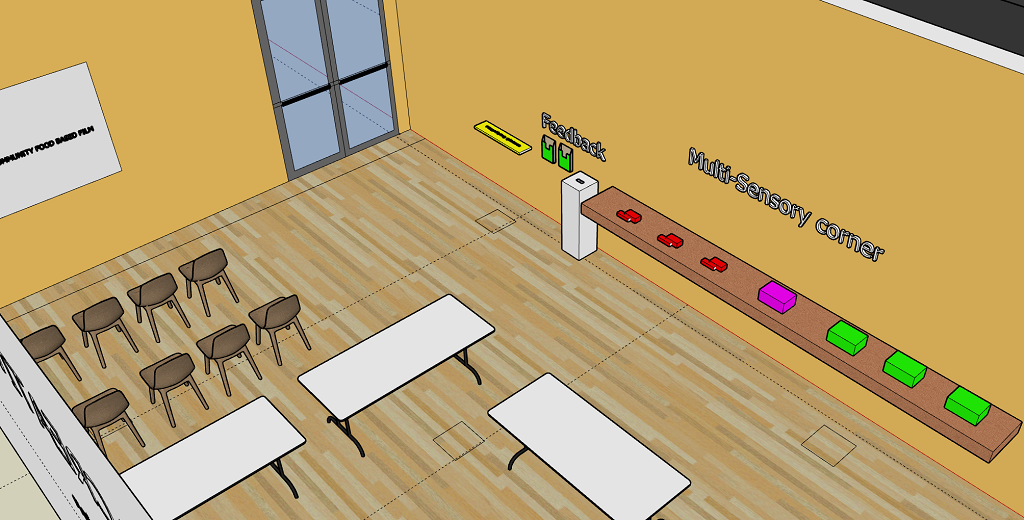 July and September 2019: Curators and Rowan collaborate on the first Community Food Film
Following on from all the lively conversations we'd had with diverse local audience groups, Melissa and I were keen that some of these different perspectives and voices be heard within Feast & Fast. We also wanted to include moving images of local people actually making and eating food to complement the static exhibits, and to bring the exhibition right up to date. We successfully applied to the University's Arts & Humanities Impact Fund for a grant to make a short film: Material culture and food memories in contemporary Cambridge communities. In consultation with Miranda Stearn (Head of Learning), we selected three groups with well-established links to the Museum: pupils from North Cambridge Academy who were part of the Museum Ambassadors programme, seniors living in sheltered accommodation from the 'Dancing at the Museum' programme, and the art students from Rowan. From a number of applicants, we selected film-makers Linda Mason and James Rattee from Egg & Spoon films, given their superb track record of working with diverse communities and creating beautiful, engaging films.
Filming took place over two sessions. The first session (24 July 2019) involved participants being invited to bring one or more favourite food-related objects from their own home to the Museum and to participate in a filming session in which their objects 'met' some of the historic ceramics from the Fitz's collection that had now definitively been selected for inclusion in Feast & Fast. These object encounters sparked discussions around the themes of the exhibition as well as participants' food-related memories, all of which were recorded for the film.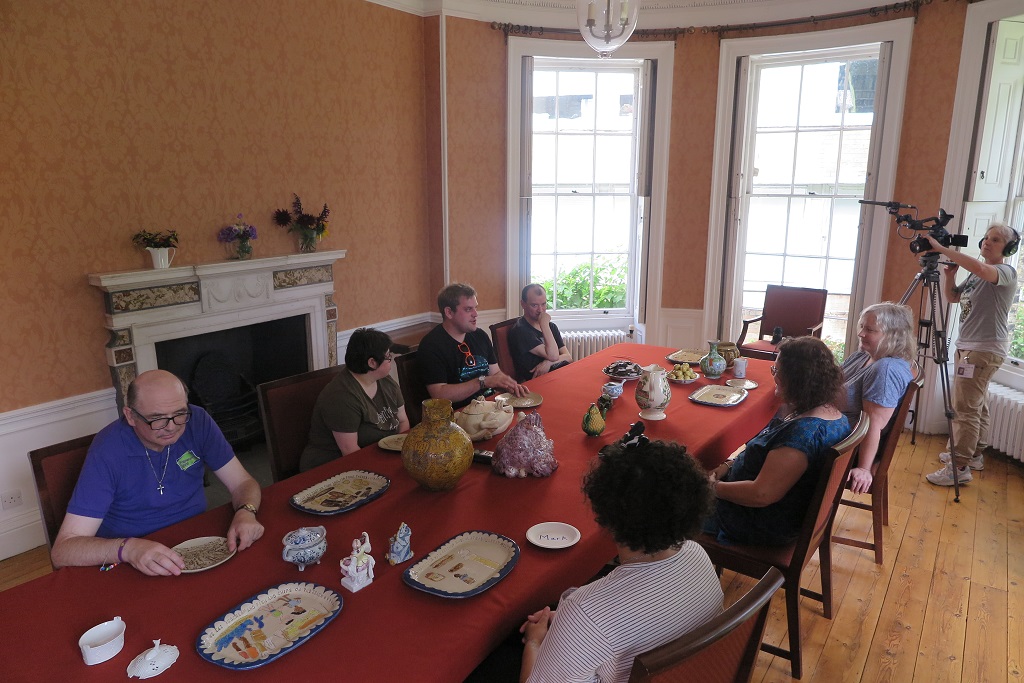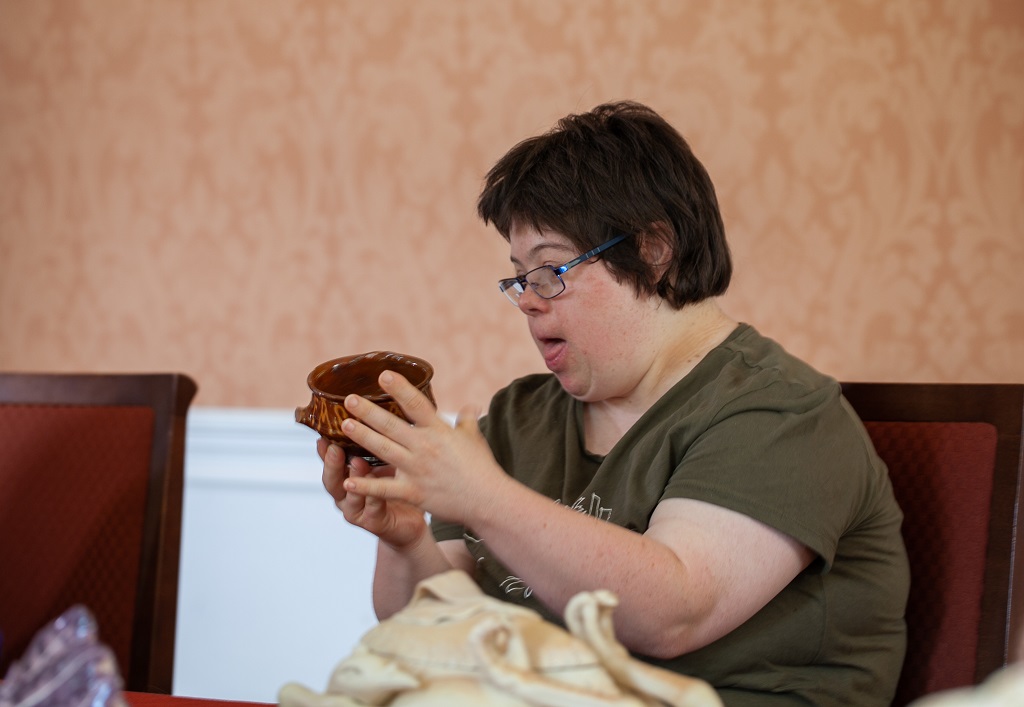 Each Rowan art student brought along their own 'food memory' plate, which they had made as part of a collective project in 2017. These plates had been made by pressing damp stoneware clay into a mould, incising bold images of favourite food or culinary memories into the upper side, stamping an explanatory text around the border, and applying colour under a clear over-glaze, before getting the plates fired. Emma's 'food memory' plate was full of images of her favourite native Polish food and was inscribed: 'This is my family's food. My mum is Polish. We have it every day, it's tastier than English food. There's lots of choice.' Jenny's plate recorded: 'When I was a little girl I went camping on the Isle of Wight. I had ice cream and we picked blackberries, while Chris' plate revealed his love of desserts: 'I have profiteroles or cheese cake with my lunch. I eat them quickly because they taste nice.'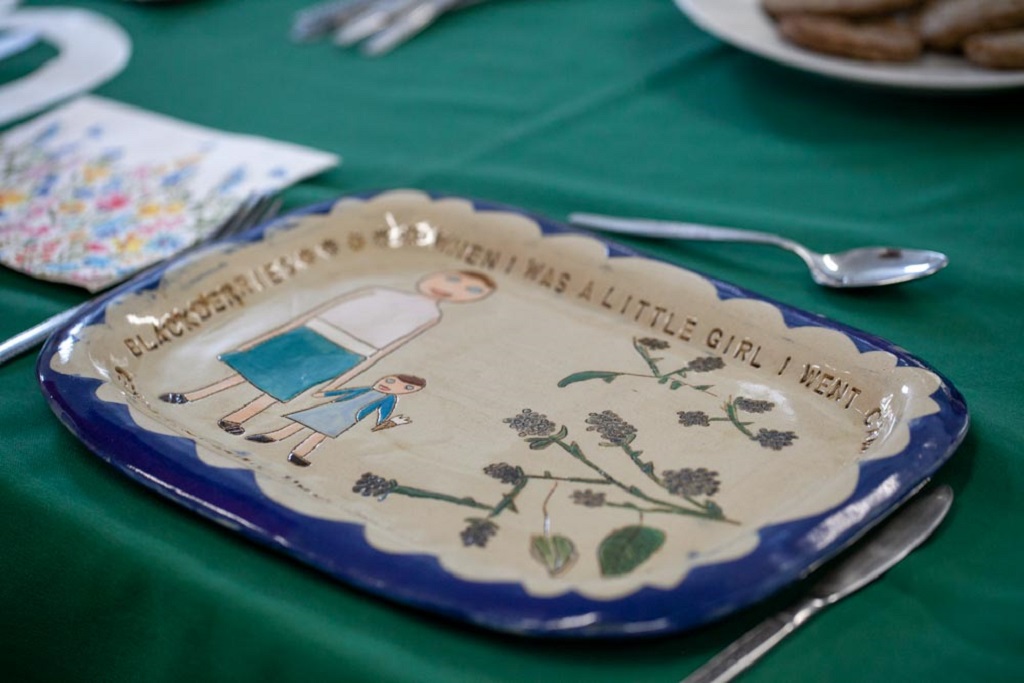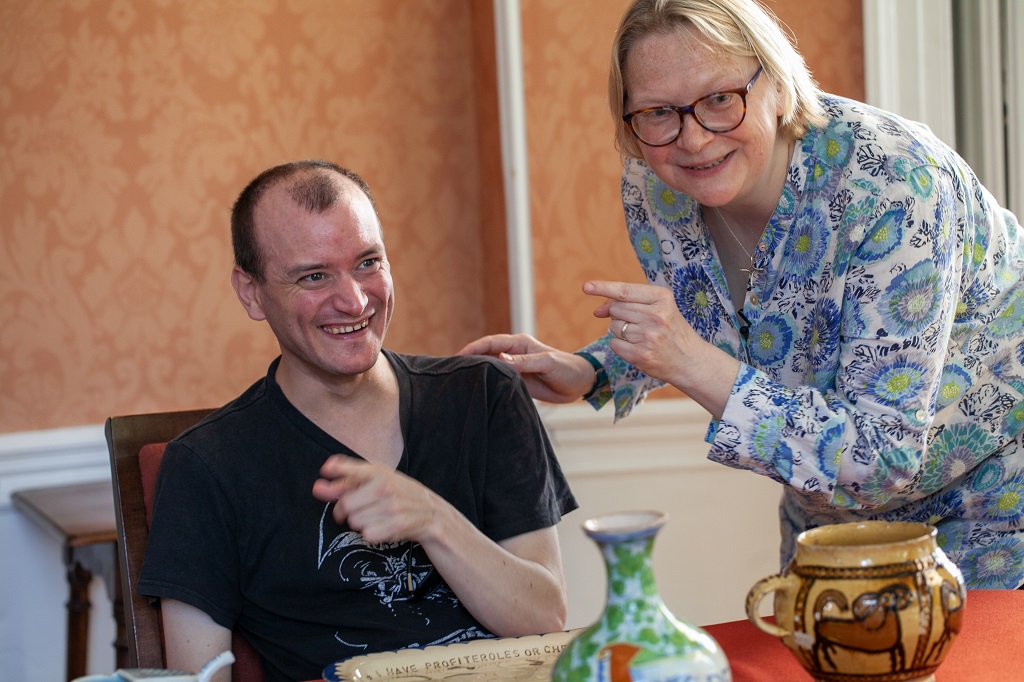 During the filming session, we talked about how the Rowan 'food memory' plates had been made, and how the processes were similar to the way in which some of the Feast & Fast exhibits had been produced, which led to a discussion about makers, memory, and status. This prompted an unexpected and remarkably impassioned declaration by Frank about his wish to have his own work on public display in the Museum for everyone to view and to remember him by. Having seen the quality and originality of the Rowan students' 'food memory' plates, Peter's farmyard pot, and the plate of trompe l'oeil profiteroles, and aware of how much it would mean to the Rowan students as well as to other visitors to see their artworks on display, I determined there and then to find a way of including these within the Creative Zone. Our short but crucial exchange was captured by the film-makers as you can see in this clip:
Video clip of Frank talking about his desire to have his own art on public display at the Fitzwilliam Museum
The second session (16 September 2019) involved filming the communal preparation and eating of favourite food by participants, back in their 'natural environment'. In the case of the Rowan students, this was the Rowan art centre. Some students, like Emma, brought in a few favourite dishes from home, which she had pre-prepared with her mum; other dishes were jointly made by Rowan students on site, the preparation of which was captured on film.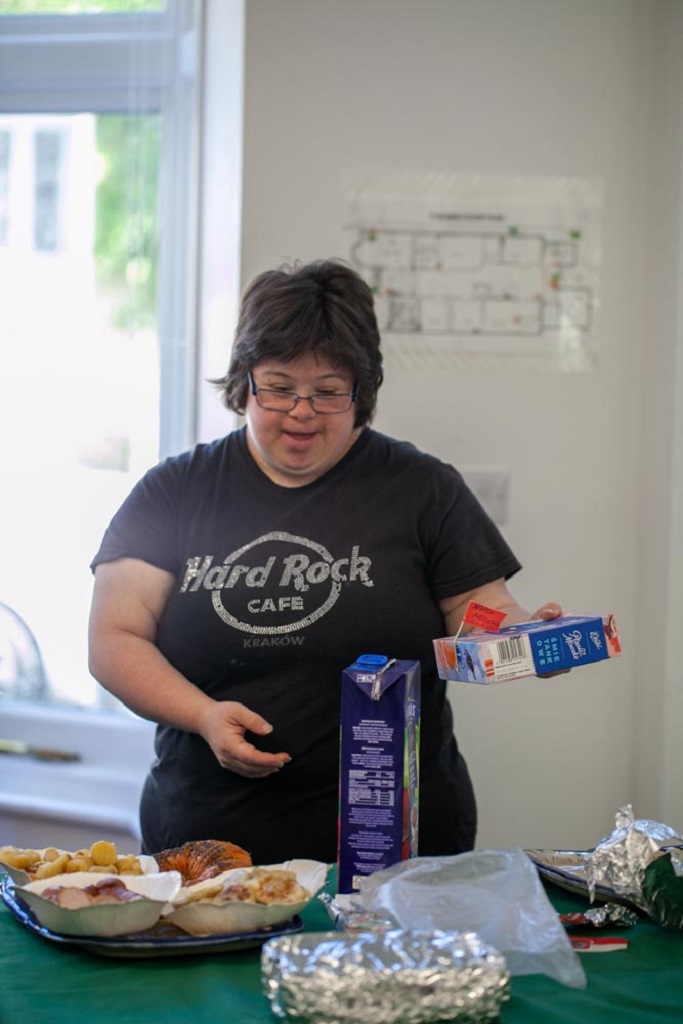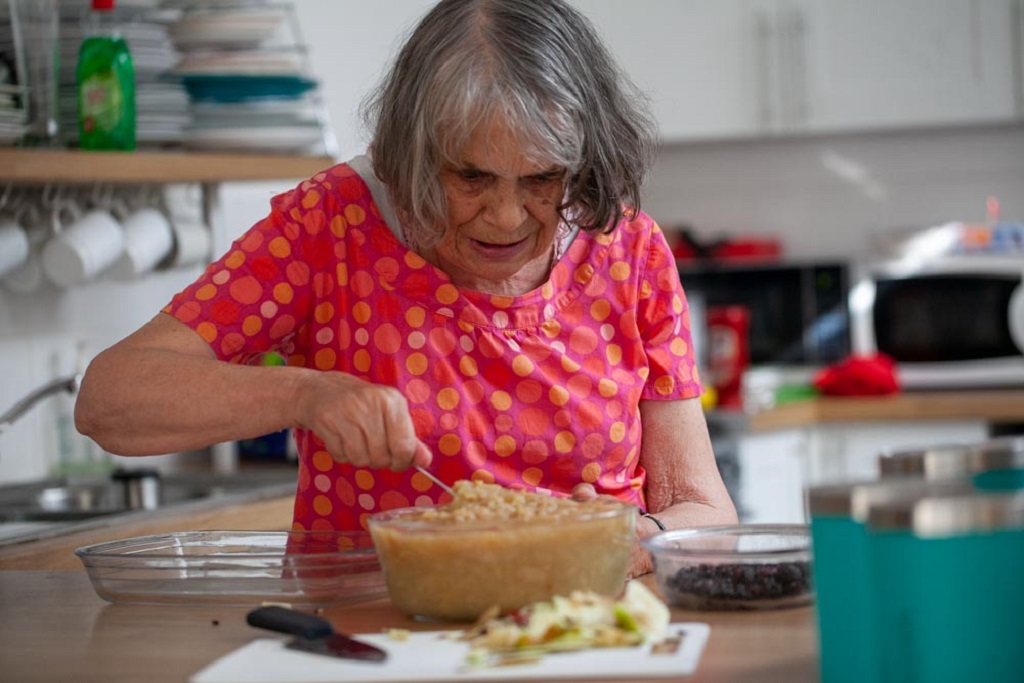 The festive communal table was laid with the students' 'food memory' plates, which were also used to serve the food. The students and tutors shared more food memories and stories of cooking triumphs and disasters, and then enjoyed a moment of hilarity when Sarah brought the students' plate of trompe l'oeil profiteroles to the table, and started offering them around, together with a plate of real ones. This generated a lot of laughter and animated conversation about the fake ceramic food seen at the Fitzwilliam, and tricks at the table over the course of history.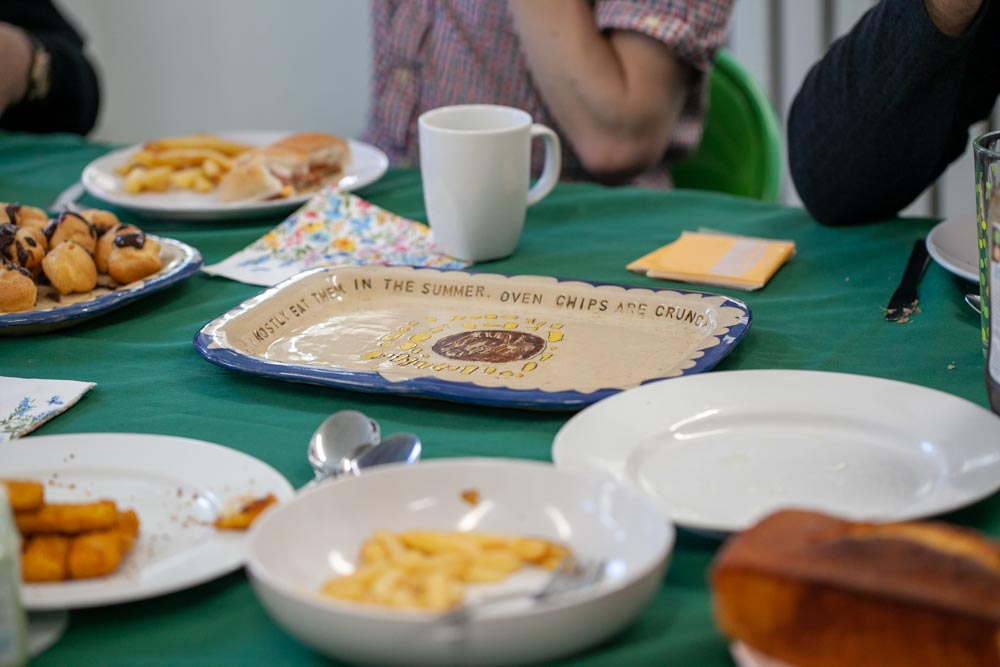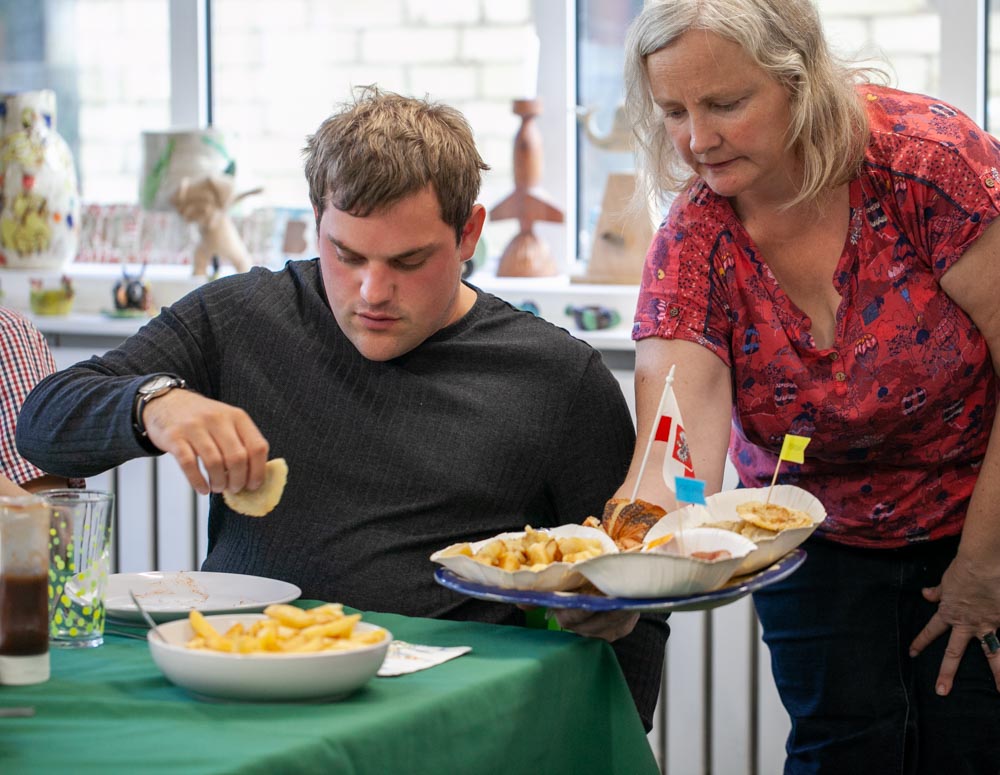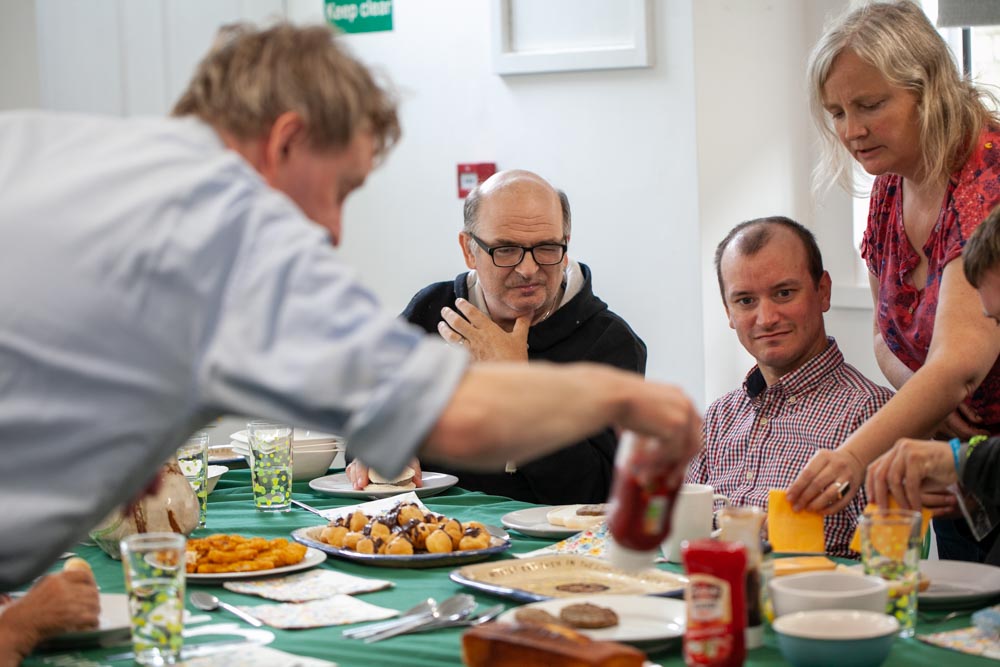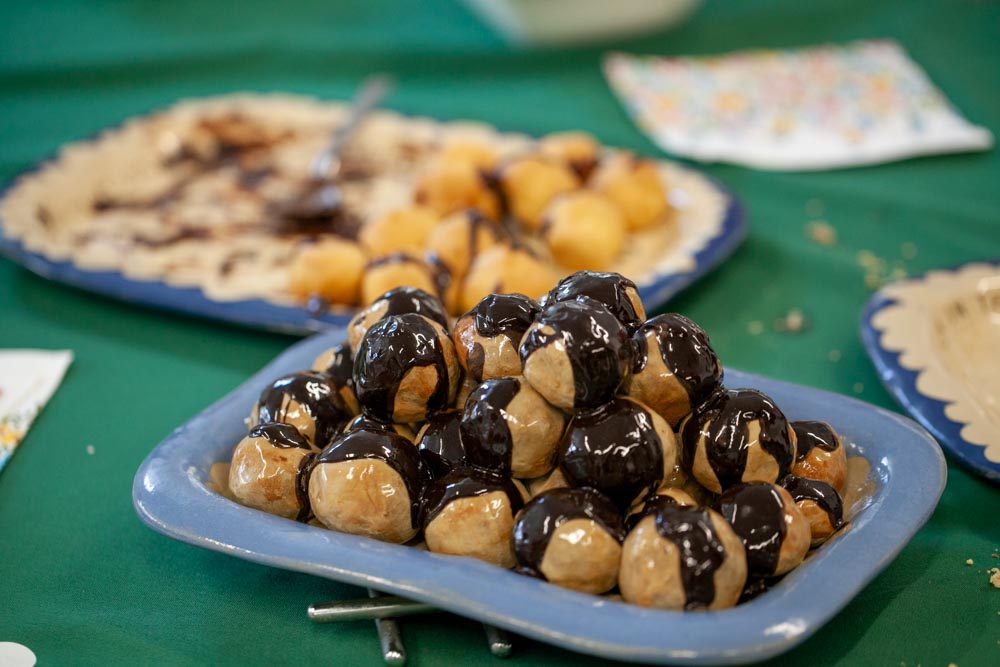 October and November 2019: Feast & Fast is installed
I spent a couple of frenetic months working with our wonderful in-house Exhibitions, Registry, Conservation, and Technician teams installing Feast & Fast. I took pains to bear in mind, wherever possible and practical, the comments of the Rowan students when it came to object display. Although, in the end, it was not possible to put any of the three-dimensional objects in free-standing cases (due to a lack of space and the need to guarantee sufficient distances between cases for wheel-chair and buggy access), I was able to place most of them in the corners of cases to achieve the largest possible viewing angle. I also incorporated mirrors to display the reverses and undersides of certain objects, again to show as many sides of a single object as possible. All exhibits and labels were hung deliberately low to make them as visible as possible for children and wheel-chair users; and all were carefully lit by an expert lighting designer to ensure maximum visibility whilst also ensuring that they were illuminated at 50 lux or below (in conformity with conservation guidelines). And I made certain to display most of the trompe l'oeil ceramics together, and the pomegranate charger in a vertical position in response to the Rowan vote.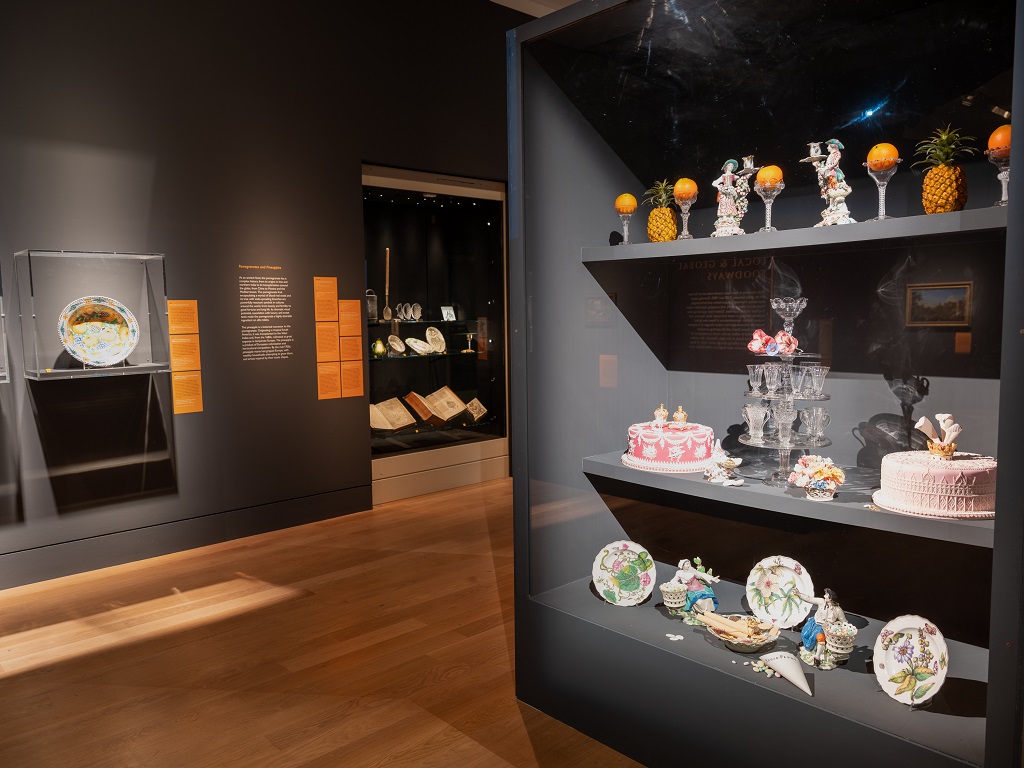 From the rich footage captured at both sessions, the Egg & Spoon film-makers created a beautiful 12-minute film, which was fully sub-titled to ensure maximum accessibility. It was projected on a large screen on the end wall of the Creative Zone, on a continuous loop system, for the benefit of all visitors; and it was also uploaded onto a dedicated page on the exhibition website, so it could be enjoyed by global audiences during the run of the show, and also after it had closed. The link is here: https://feast-and-fast.fitzmuseum.cam.ac.uk/film/
The very last items to be installed were the Rowan ceramics in the Creative Zone. The Applied Arts Technicians and I took great pains over their display, ensuring that the show-cases, number cubes, labels, and lighting were identical to all the other exhibits, to avoid any distinction between historic objects and new works. To give the Rowan ceramics maximum exposure, I split them between two cases, which were installed on either side of the screen where the Community Food Film was projected, so that visitors could see the ceramics in the film in close proximity to the originals. I decided to display the 'food memory' plates and Peter's farmyard pot together in a case that was wall-mounted close to the display of the Museum's trompe l'oeil food ceramics. As the fake profiteroles had been specifically created as a joint response to Feast & Fast, and were such fun, I decided to single them out and show them alone as the very final exhibit in Feast & Fast. They were placed in a small case – identical to the pair used to hold the 16th-century Della Robbia workshop vases with trompe l'oeil vegetables – to the right of the film-screen, close to the exit, and dramatically spot-lit.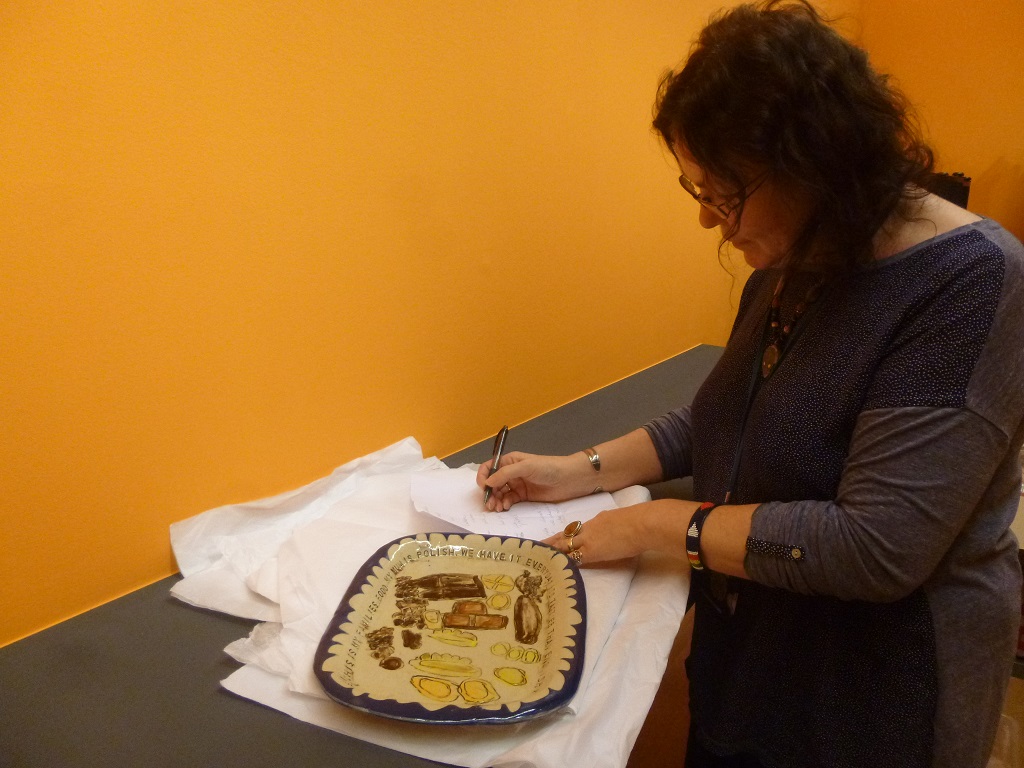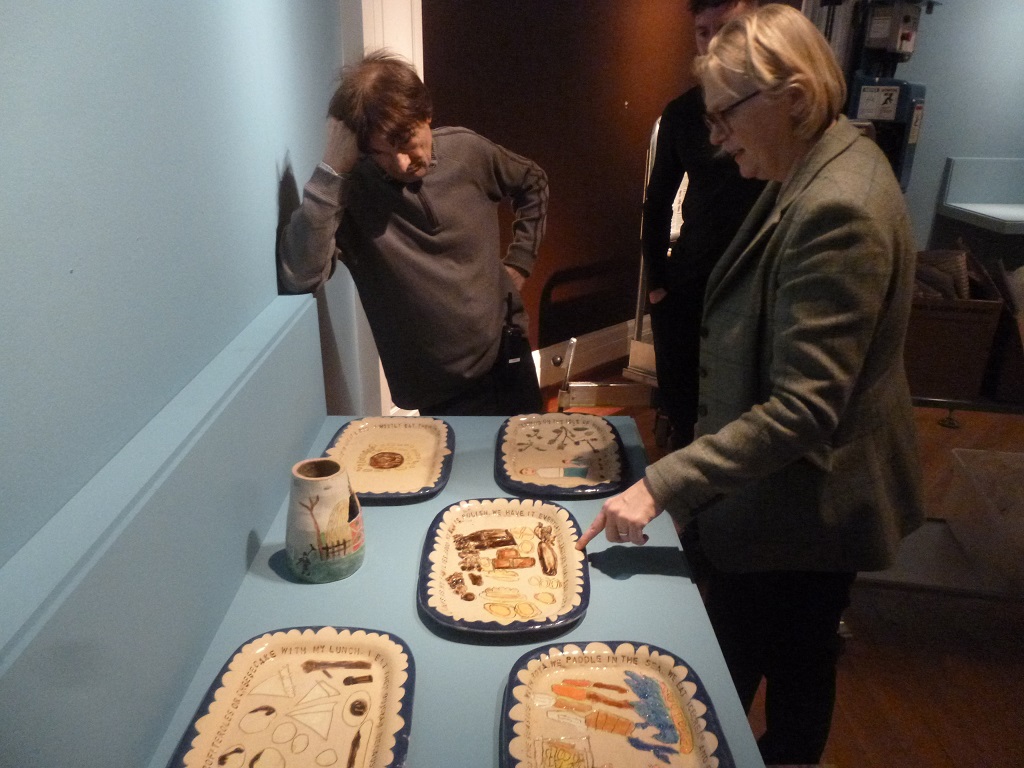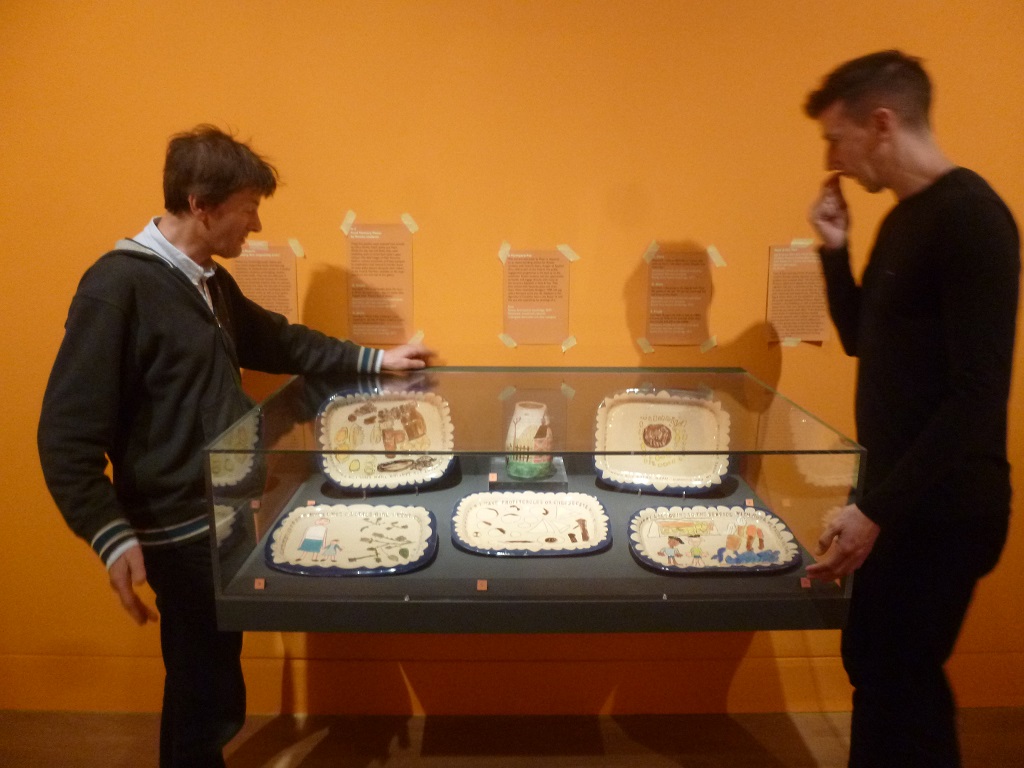 25 November 2019: The Opening Event of Feast & Fast
After three years of planning and preparation, Feast & Fast was finally ready to be opened to the public. The opening event was held on the evening of 25 November and, in keeping with the experimental approaches and community-focus that characterised the exhibition, the traditionally exclusive and formal 'private view' was converted into a larger, more informal celebration, to which all the community participants were invited, together with their family and friends. It was a fitting tribute that this new-style opening was the best attended private view in the Museum's 200-year history with a staggering 367 guests! The Rowan contingent was large and lively, and it was a pleasure and privilege for me to meet the students' families, about whom I had heard so much. Before all the other guests were allowed up to the exhibition spaces, the Rowan students were given an exclusive 'sneak peak' of the exhibition. They enjoyed seeing the final hang, and how their display suggestions had been incorporated. And they were over the moon to see their own work displayed in the 'Inspired by Food' section in the Creative Zone, and to see themselves starring in the Community Food Film. One student remarked that having their contributions celebrated in this way was 'like being at the Oscars'.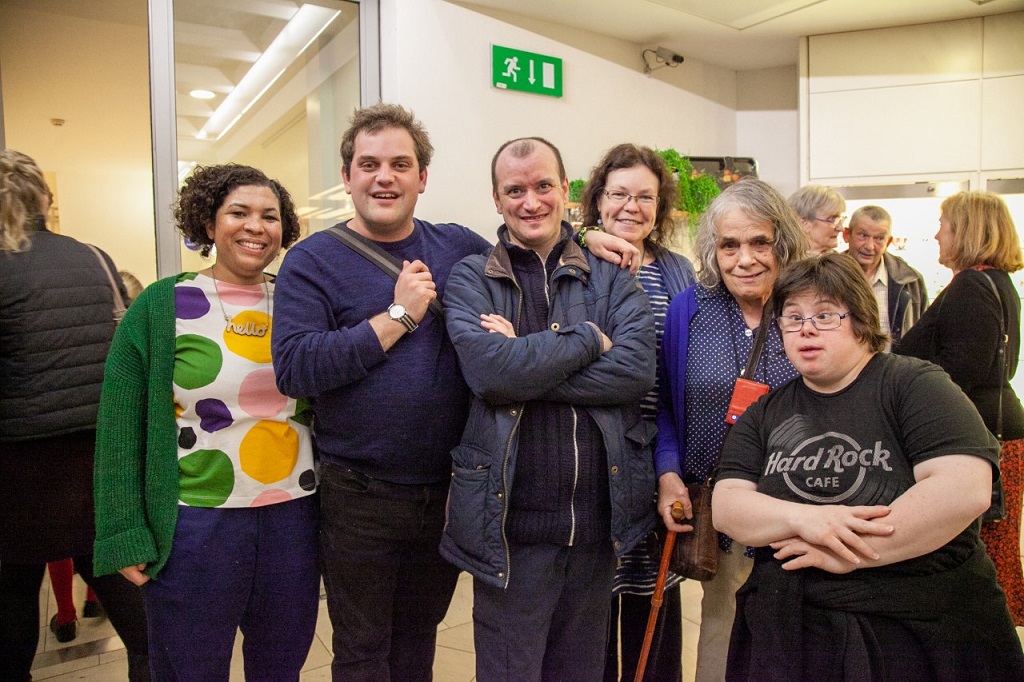 December 2020 onwards: Positive public responses to the Creative Zone, the Community Food Film and the Rowan ceramics
It was a pleasure for me to occasionally nip upstairs from my office to walk around Feast & Fast 'incognito', in order to observe visitors engaging with the exhibits, and to get feedback direct from them, and also from the Visitor Services gallery attendants. I was delighted that many visitors appreciated the existence of the Creative Zone, and the inclusion in it of the Rowan ceramics and the Community Food Film. Lily Stancliffe, our Impact Evaluation Coordinator, confirmed my observations saying that she, too, had noted 'a lot of smiles and excited discussion in groups around the Rowan 'food memory' plates and profiteroles'. Lily shared with me many written comments on the public feedback forms, which recorded positive remarks about the film and Rowan ceramics, for example: 'It was lovely to see the artists from Rowan interacting with the Museum objects in the film'; and 'I particularly enjoyed the Creative Zone section, and the film about diverse groups handling the Museum's objects'.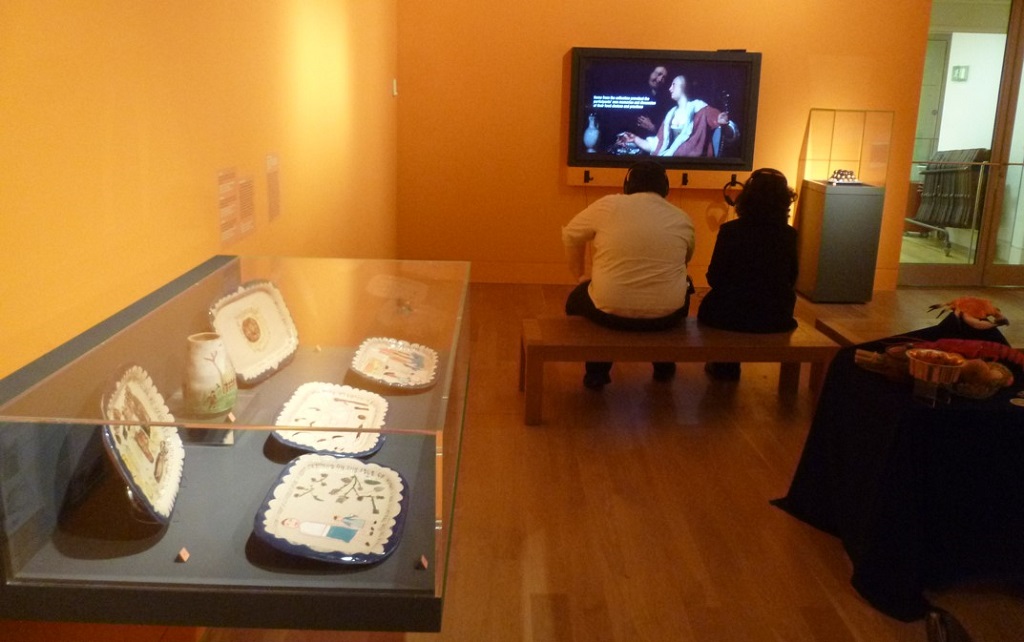 February 2020: Independent visit by Rowan students and tutors to Feast & Fast
During the run of Feast & Fast, the Rowan art students made several independent visits so that they could continue to engage with the exhibition and draw creative inspiration from it. Having been alerted by Ali Ayres to one of these visits (on 20 February 2020), I was keen to pop up and say a surprise 'hello'. I was thrilled to discover the Rowan students spread throughout the three rooms of the exhibition, all totally engrossed in sketching the ceramics they had handled as well as other exhibits. They exuded confidence and happiness, and seemed extremely comfortable within the exhibition space and to really 'own' it, which was really moving for me. I saw a couple of them talking to other visitors about their sketches, showing them their ceramics on display in the Creative Zone, and pointing out the Community Food Film and their presence in it. Sarah and Abi (their tutors) confirmed my observations, saying that all the students had grown in confidence when visiting the museum because of their sense of familiarity and belonging to it, and also in general. Emma, especially, had 'found her voice' and had started new activities like acting, and was really blossoming in diverse social contexts.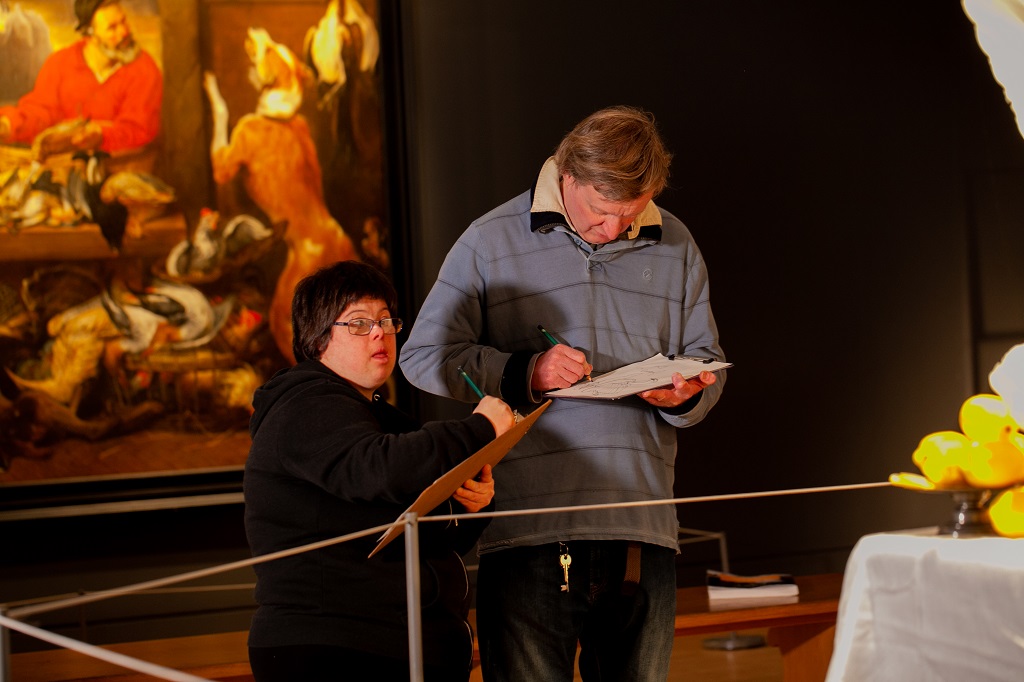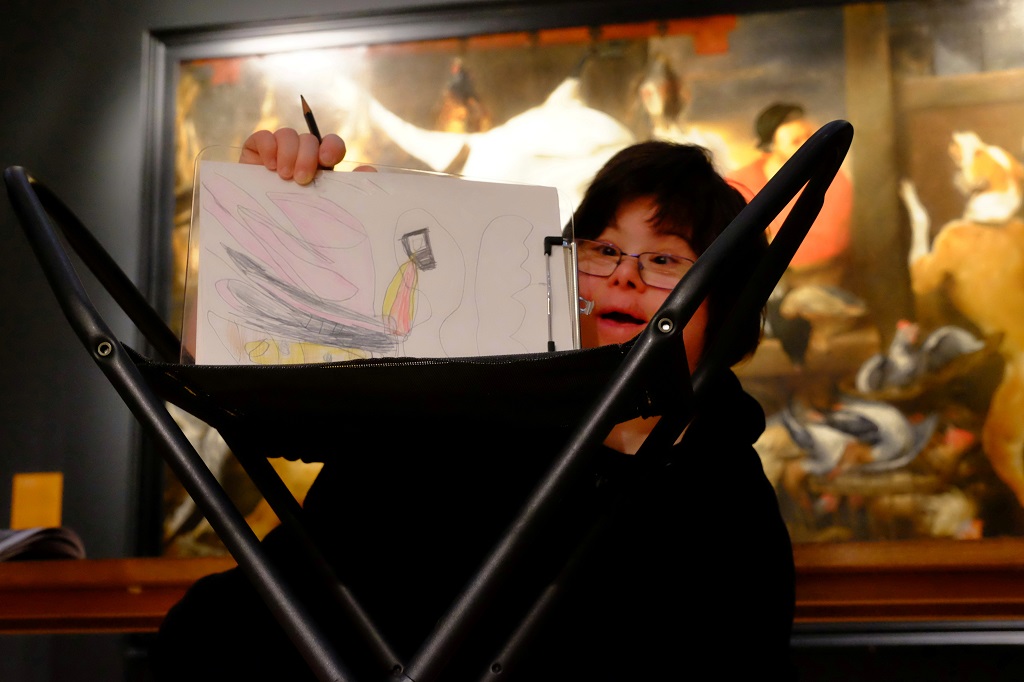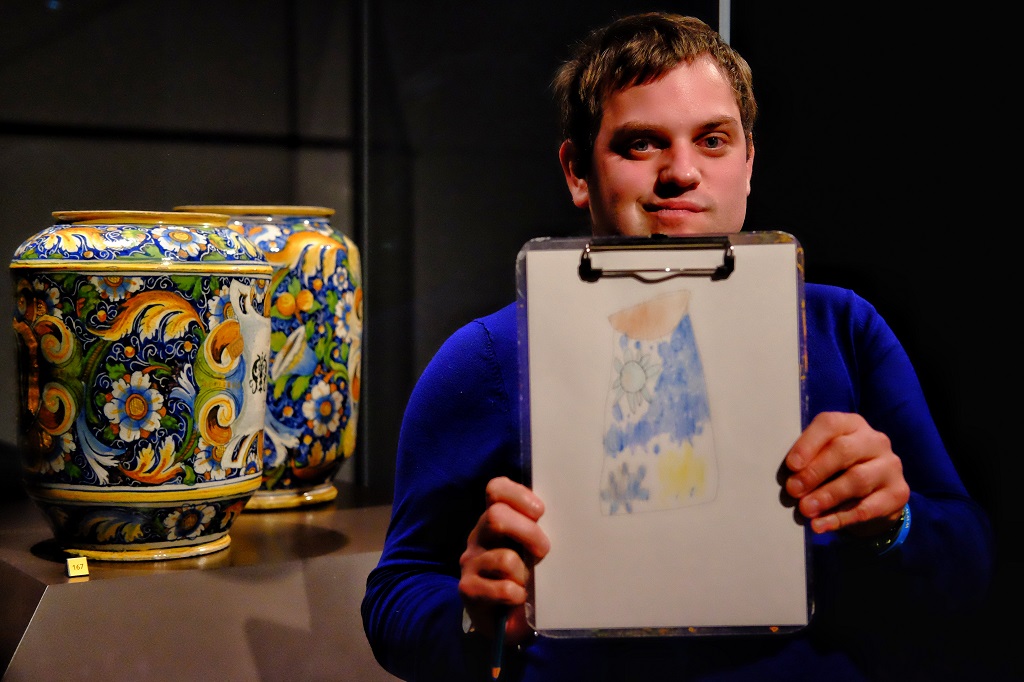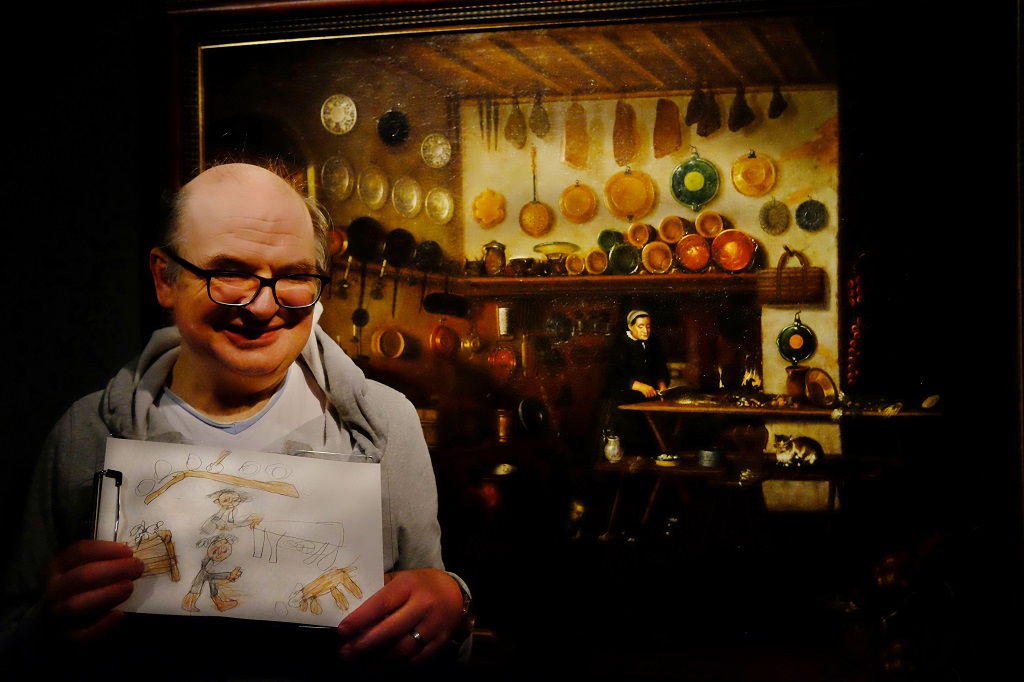 March to May 2020: Second Community Food Film is made, Feast & Fast closes early due to Covid-19, and the Rowan profiteroles are purchased by the Museum
The University Arts & Humanities Impact Team were so pleased with the first film, and how visitors were reacting to it, they asked us to create a follow-on film to record how involvement in Feast & Fast and the first film had benefitted the participants, shaped their thinking about the exhibits, and changed their views on food, its preparation and presentation; and how it had changed our thinking as academics and our curatorial practice. We commissioned Egg & Spoon to undertake this work for the sake of continuity and because they had done such a great job on the first film. And to make the two films work together, we decided to bring the story full circle by inviting all of the original participants back to the Museum, and record their reactions and reflections during a curator-led tour of Feast & Fast, followed by a celebratory 'thank you' lunch in the Syndicate Room (where the object-handling session of the first film had been recorded).
It was a real privilege for me being able to discuss the layout and display aspects of Feast & Fast with the Rowan students, and show them how their thought-provoking ideas and comments had affected my thinking, and the final hang. And it was marvellous to be able to discuss the display of their works in the Creative Zone, and the positive public feedback to this and to the Community Food Film. Seeing the sheer delight on the faces of both the Rowan art students and their tutors, and hearing them talk to camera about how pleased and proud they were to see their works of art on display alongside the historic artefacts within the exhibition, and what it meant to their friends and families, made me determined to push for one final experimental curatorial outcome: the purchase of the profiteroles. After all, in 2019, when Feast & Fast had opened, the Rowan art Centre was celebrating 35 years of 'Creating Art, Improving Lives'. Miranda Stearn (Head of Learning) and I spoke to the Director, and he agreed to this exceptional purchase – the first ever acquisition of a work specially created by a community group in response to Museum objects, and included in a temporary exhibition. This inventive, high quality, and humorous communal artwork, inspired by historic trompe l'oeil ceramics in Feast & Fast will now form part of the Museum's collection as a permanent legacy of this ground-breaking exhibition, recognising the vital work of Rowan, the tremendous creativity of its students, and acting as a celebration of our continuing and ever-evolving relationship.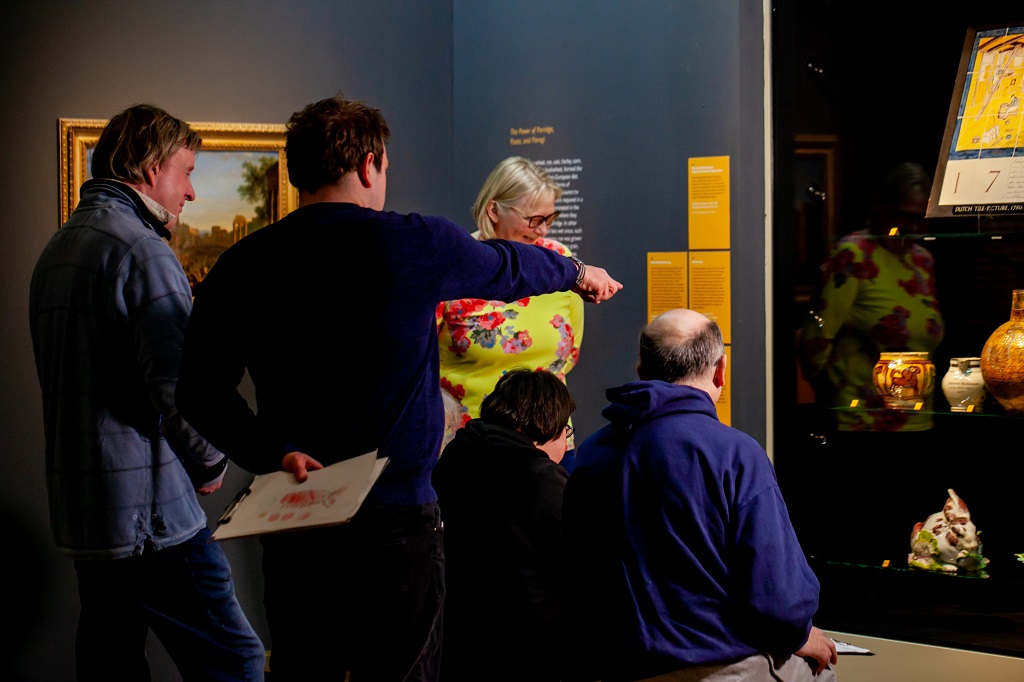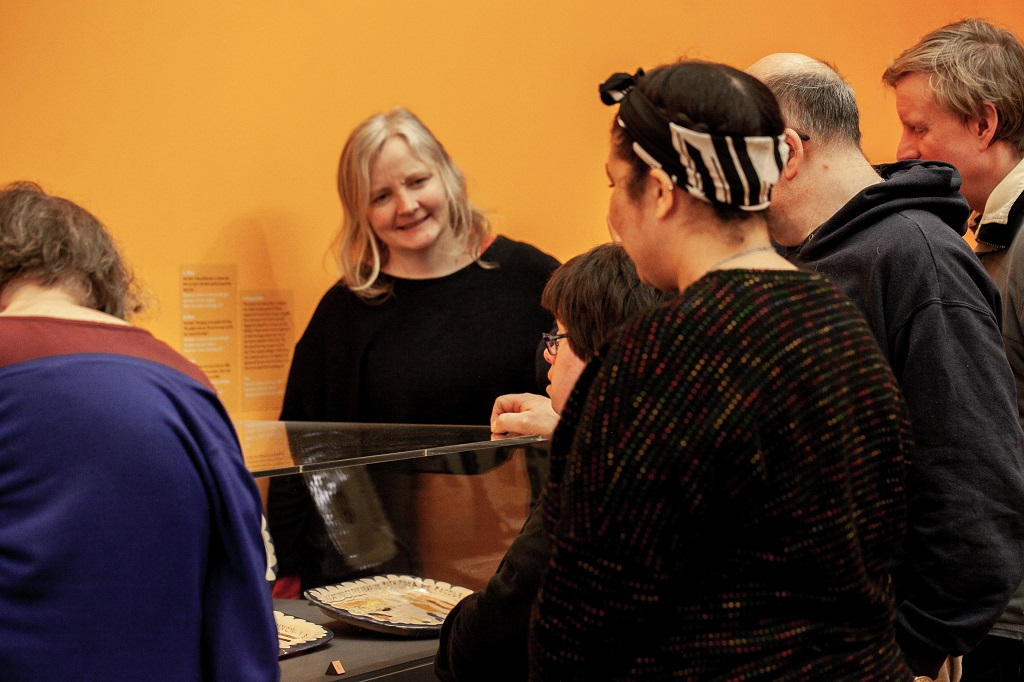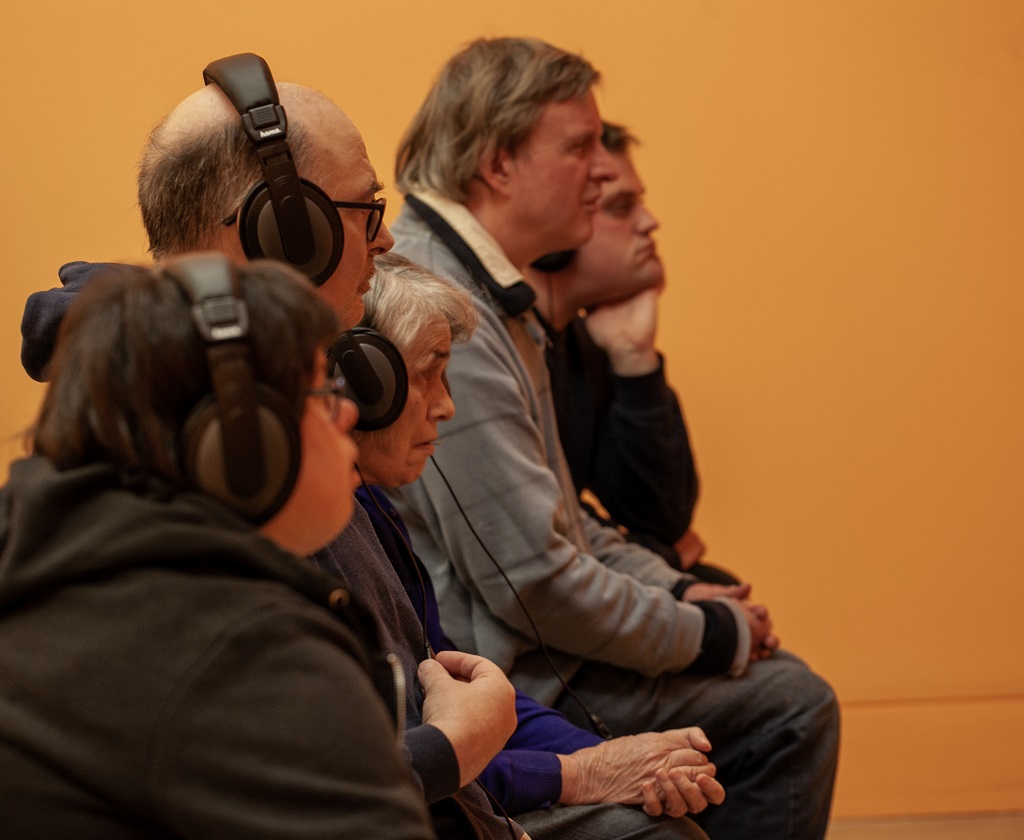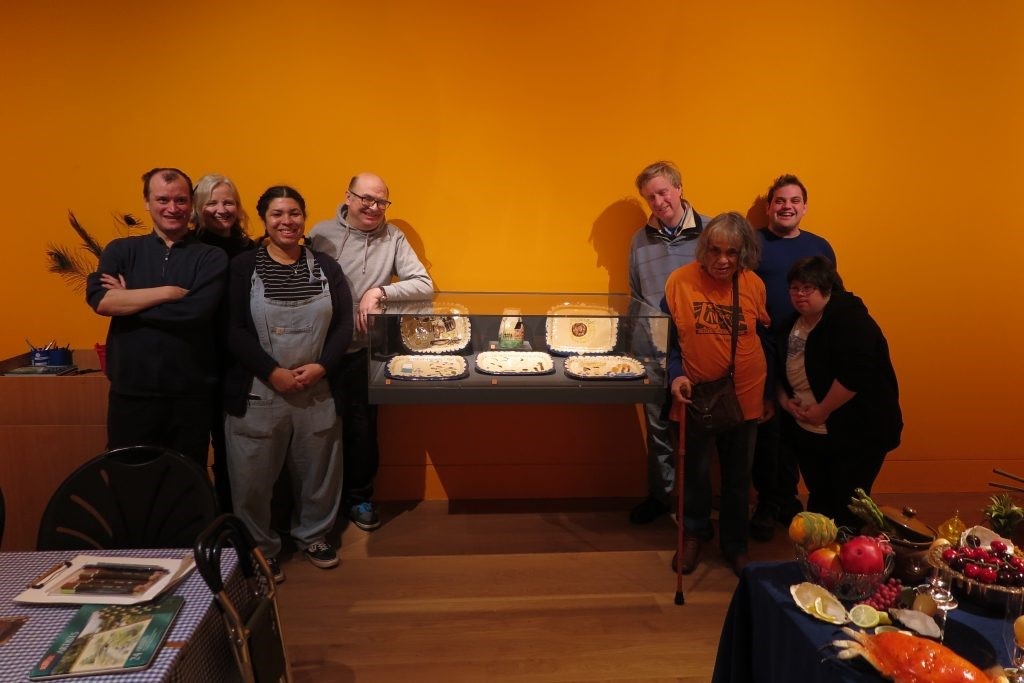 Despite this unexpected turn of events, the film-makers and I continued to work remotely on editing the second Community Food Film, completing it in early May. It has now been uploaded onto the same dedicated Feast & Fast web-page as the first film so that it, too, can be enjoyed by audiences world-wide: https://feast-and-fast.fitzmuseum.cam.ac.uk/film/
Conclusion
There is still much for me to learn about co-curation and community participation in the planning and delivery of exhibitions, displays, and public programmes, but my collaboration with the Rowan students, their tutors, and the Museum's Learning Team, was a truly enjoyable and enriching experience, which taught me a great deal.
As Melissa and I stated at the end of the second community film:
"Our conversations with the community participants have opened up our practice to make us more aware of the multiplicity of interpretations around a single object. We also have a greater understanding of the wider public resonances of what we do. Working with Rowan and the other community groups in the planning stages of Feast & Fast has been a privilege and pleasure. Listening to different perspectives and ideas about the objects, how to display them in the exhibition, and what to say about them on the labels was really helpful. We are keen to build on this to include diverse voices in future displays and exhibitions, from the earliest stages in planning, to ensure relevance and maximum impact."
To learn more about the Feast & Fast Fitzwilliam Museum-Rowan collaboration from Alison, Sarah and Abi, see here: http://www.rowanhumberstone.co.uk/the-feast-and-fast-exhibition/
Acknowledgements
With huge thanks to our Rowan collaborators: Chris, Emma, Frank, Jenny, Mark, and Peter, and their tutors, Abi Moore and Sarah Nibbs; to Linda Mason and James Rattee of Egg & Spoon films; and to the 'home team', especially Melissa Calaresu (co-curator of Feast & Fast), David Evans (Exhibitions Manager), Miranda Stearn (Head of Learning), Alison Ayres (Learning Team and Rowan Link), Lily Stancliffe (Feast & Fast Impact Evaluator), and colleagues in Applied Arts, Comms, Exhibitions, Finance, IT, Learning, Security, and Visitor Services.