Over the last eighteen months, the Fitzwilliam Museum's Department of Applied Arts has acquired objects made by modern and contemporary artists and craftspeople from around the world, in order to enable us to explore more diverse perspectives within our permanent collections and temporary displays.
This is part of a Museum-wide initiative, focussing on expanding the core collection to include objects that speak to encounters and experiences globally. In the future, this will enable us to offer research and teaching that goes beyond a Eurocentric view of art and is instead centred on global histories of art and material culture.
Many of the acquisitions complement the Museum's internationally-renowned collection of ceramics. These include two large-scale works by studio potter, Mo Abbaro. Mohammed Ahmed Abdalla Abbaro (1933–2016) worked from his studio at home in Camden and taught for decades at Camden Arts Centre. Born and raised in Sudan, in 1958 he graduated with a diploma in Fine and Applied Arts from the Khartoum Technical Institute (KTI) and won a scholarship to study at the Central School of Arts and Crafts, London, graduating with his diploma in 1962. He moved to London permanently in 1966.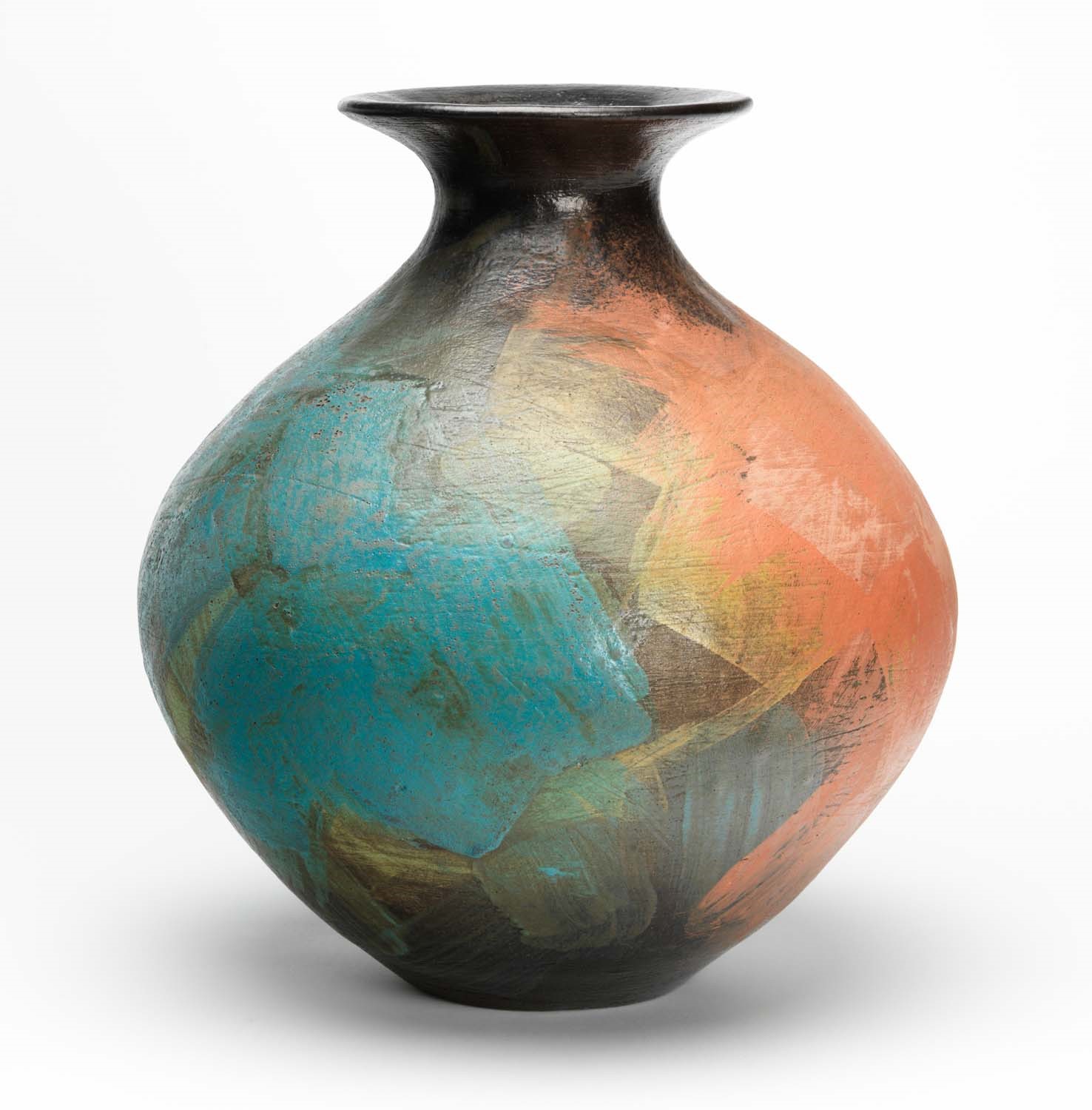 The two acquisitions, a bowl (dated 1985) and a large hand-built vessel (dated 1988) are typical of Abbaro's output. Made from high-fired porcelain, they are painted and sprayed with brightly-coloured slips (liquid clay). Although the forms echo those of traditional Sudanese ceramic forms, the decoration is distinct to Abbaro.
Nicholas and Judith Goodison continue to expand their generous gift of Contemporary British Crafts, given through the Art Fund with two Undulating Vessels (both 2018), made by Ashraf Hanna (b. 1967). Hanna, an Egyptian-British artist now based in Pembrokeshire, Wales, is known for his refined hand-built ceramics with crisp edges and smooth curves. When asked about the influence of place on his work, Hanna explains that, 'while we may not always make work that bears a direct relationship to our native homeland, the influences are there, deeply rooted in the subconscious informing concepts and aesthetics.' His Egyptian heritage continues to play a role in his work today:
Early formative years growing up in Egypt were hugely significant in shaping my sense of form and what I now find pleasing as a maker. I have memories of trips to Tell el-Amarna, where the Pharaoh Akhenaten established his capital city. There was something poetic about witnessing the stillness of those strong lines of ancient Egyptian architecture set against the ever-changing undulating dunes of a vast desert. In my immediate environment, I was surrounded by wonderful terracotta urns and storage jars, classic simple forms that have changed little since ancient times. Their lines and shapes seeping into the subconscious.
Today, Hanna's work is also influenced by the nearby Pembrokeshire coastline – 'the seascape, shades of blues, greys of pebbles of local storm beaches have influenced different pieces of work […] the dense forests, the rolling valleys, splashes of yellow and intense greens find their way in to my colour palette too.'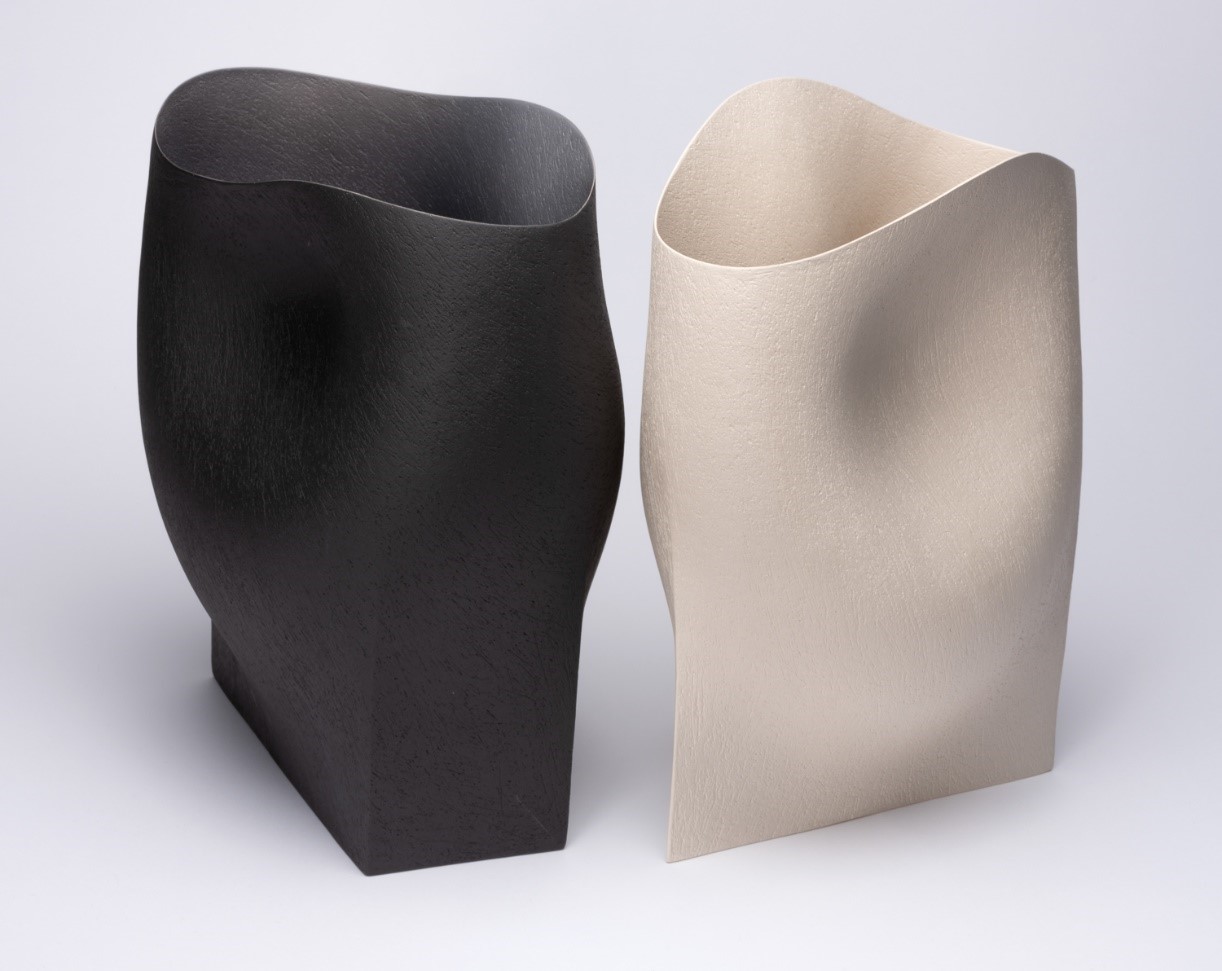 The Museum's outstanding collection of historic Korean ceramics has been augmented by two works by contemporary South Korean artists. Artist Prof. Oh Man Chul (b. 1963) has generously gifted the Museum his work, Rumination II, made in South Korea in 2016. Exploring the crossover between Korean drawing, western painting, calligraphy and ceramics, this large-scale porcelain panel depicts five ancient Korean vases in front of a traditional screen. It will be hung on the wall of the Gallery of Korean Art, echoing the historic Korean vessels on display inside the cases and showcasing the ongoing strength of the ceramic tradition in South Korea today.
This is joined by a porcelain Moon Jar by artist Seo Kwang-Soo (b. 1948), which has been given to the Museum by the ceramic team of the Culture and Tourism Department of Icheon, a city in Gyeonggi Province, South Korea. Icheon is one of two centres of South Korean ceramic production and is a UNESCO City of Crafts and Folk Art.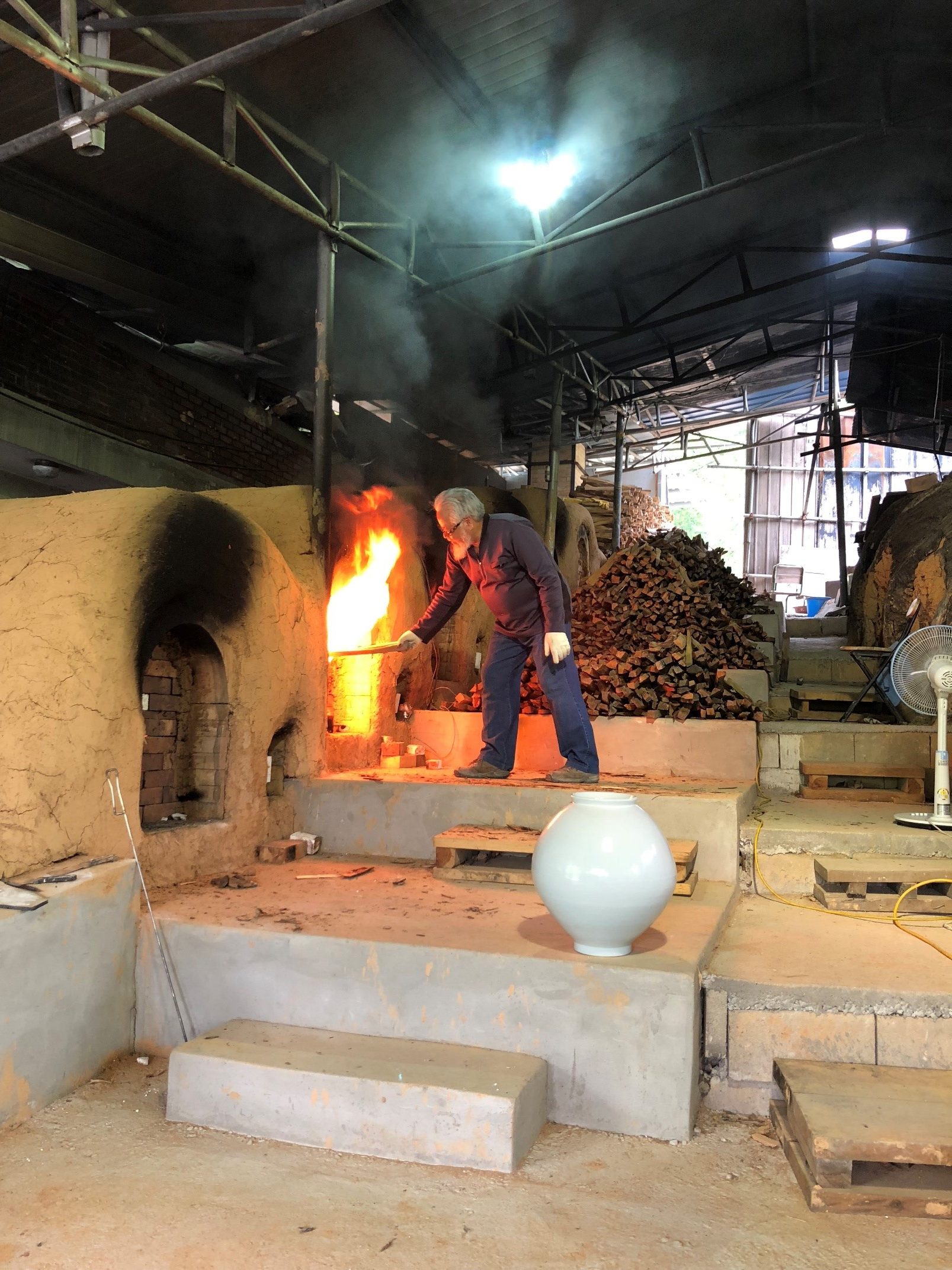 The artist, Seo Kwang-soo, is the 14th Ceramic Master of Korea as well as an Intangible Cultural Treasure (No. 41) of Gyunggi Province – the highest honour awarded to artists in South Korea. He adheres strictly to traditional methods of Korean ceramic production, extracting his own clay from the earth and using only pinewood in his wood-fired kiln. Kwang-soo's standards are impressively high and he has been known to take a hammer to pieces that don't meet them! The moon jar (named for its shape and whiteness) is a traditional Korean ceramic form, made by throwing two bowls and placing one upside down on top of the other. The jar is therefore never perfectly spherical but traditionally this imperfection is seen as key to its beauty.
Finally, the Japanese artist, Koyanagi Tanekuni (b. 1944) has given the Museum three examples of his lacquer work; a tray depicting the famous 'Eight Views' (after the Chinese painting tradition depicting eight scenic spots near the Xiao and Xiang Rivers) and two boxes, one with a pattern of fern leaves and another giving the impression of tidal movement on a beach, scattered with shells. All three pieces are made using, maki-e (literally 'sprinkled picture'), a way of decorating lacquer work with gold and silver particles, applied with a fine brush. The painstaking technique dates from the eighth century, at which time luxury maki-e objects were made only for members of the Royal household. Koyanagi Tanekuni has specialised in this technique for over fifty years, working in contemporary and historic styles to create both functional and decorative objects. In recognition of his contribution to this distinctly Japanese art form, he has recently been elected Director of the Japan Art Crafts Association.
Quotations from Ashraf Hanna taken from an interview with the artist by Crafts Council, 25 November 2017: https://www.zetteler.co.uk/news/2017/11/25/crafts-council-qa-with-ashraf-hanna