With their doors closed, staff at home and social distancing the new norm, how did museums continue to play an active and relevant role in people's lives?
Nicola Skipper shares her experience here of developing and delivering a remote session designed to engage the University of Cambridge Museums' Portals to the World participants: people with a dementia diagnosis or cognitive impairment and their care partners.
In its tenth year, Portals is a partnership programme delivered with Dementia Compass and combines regular courses with an alumni programme. The regularity promotes familiarity, confidence and trust in the Museums. Each session comprises of a talk, gallery exploration and a creative or object handling activity. Portals emphasizes ability over disability and provides opportunities for people to learn, share and create and to experience 'respite together'.
Other interviews in this series: Fitzwilliam Museum and the Museum of Zoology.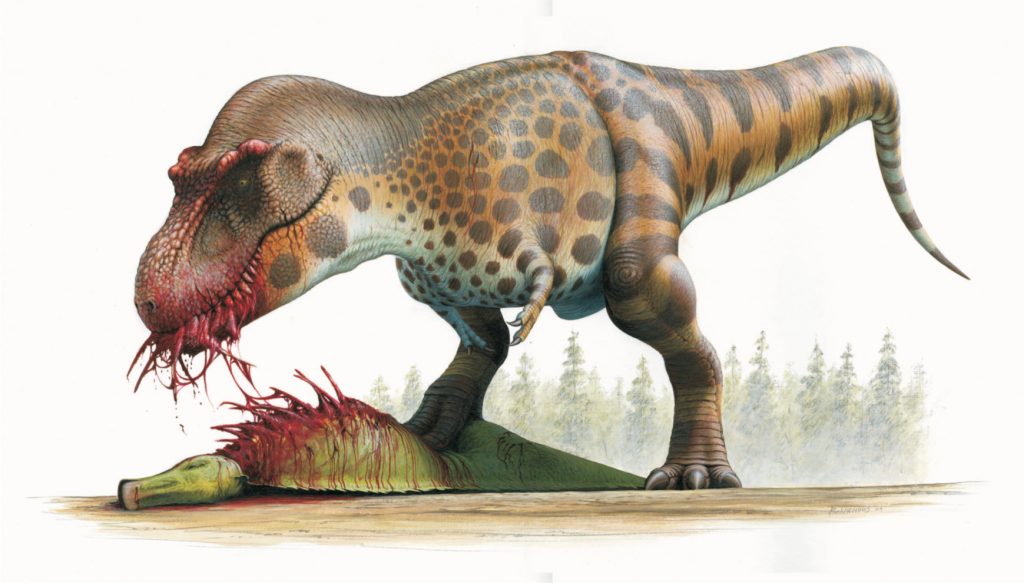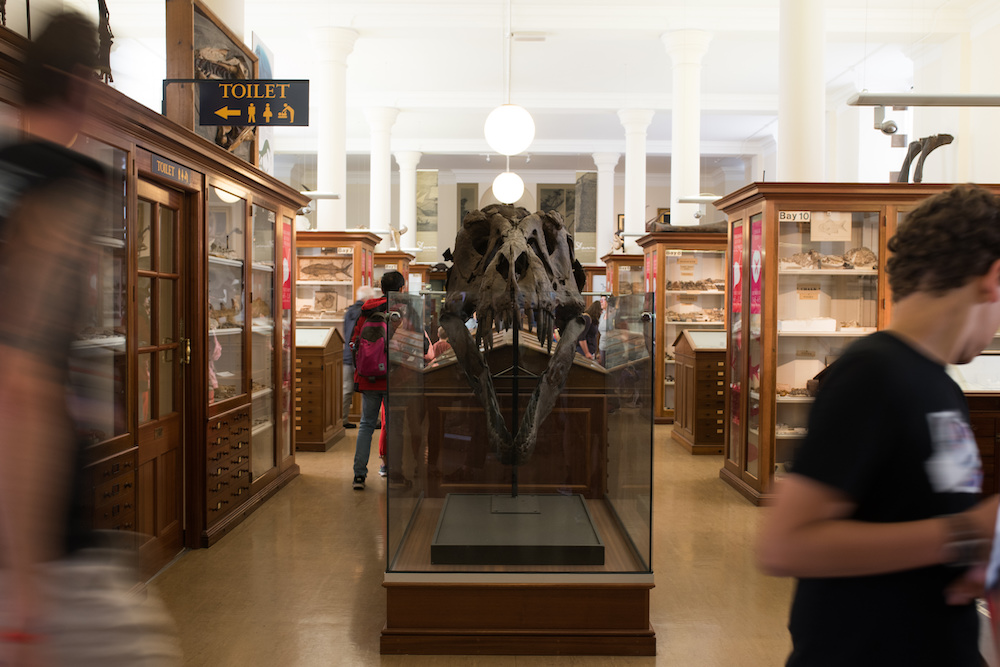 What were the challenges you faced in moving Portals to your home?
As a facilitator, I rely heavily on being able to stand with an object and talk about it; the object being my inspiration and prompt for thinking, without the actual object, I had to plan in detail, to make sure I didn't forget anything! Also I pick up so much from people's facial expressions e.g. whether I'm talking too quickly, are people engaged, what's interesting them and critically am I making sense! It was a real test for me to facilitate without this feedback. On the plus side, it's great to have slides to share on screen, I can't do that in the Museum.
How did you plan for the session content?
An awful lot of my school sessions involve dinosaurs so I'm very familiar with the objects. I chose the T.rex skull to focus on because it is so iconic, and the bones have such a great story to tell. I used the fact that we were not in the Museum to bring in some current research from the Earth Science Department. Daniel Field and his team have made the amazing discovery of one of the best-preserved fossil bird skulls in the world. Unfortunately the exhibition couldn't go into the Museum because of lockdown, instead it was made into an online display; this meant I could make the online display available for participants to look at in lieu of being able to get into the Museum.
For the accompanying art activity I joined forces with Nathan Huxtable, from the Fitzwilliam Museum's art studio. Through discussion, fossil feathers really stood out as having lots of artistic potential, the details of which making them look like they have just fallen from a bird! Nathan knows the group well, having working on the programme for many years and having led his own remote Portals session, as such he was able to design an activity that all would enjoy; beautiful feather prints that could be as artistic or realistic as the group wanted.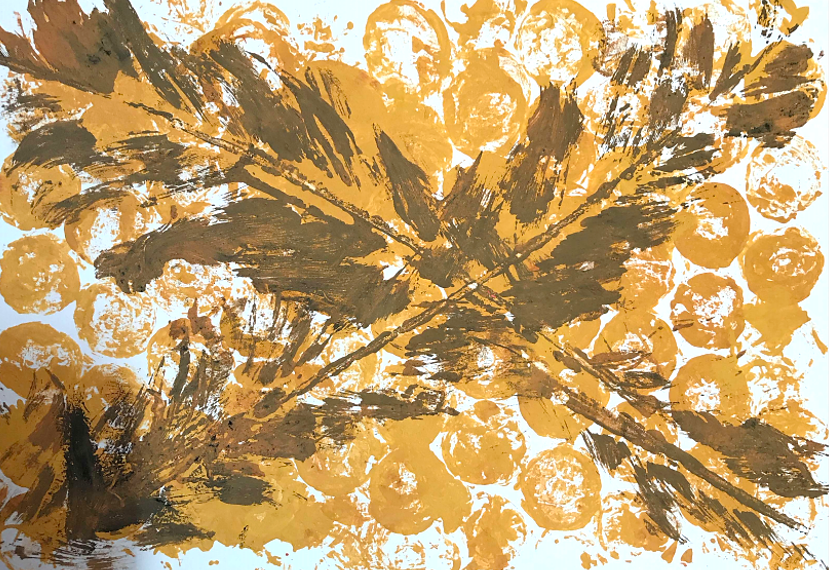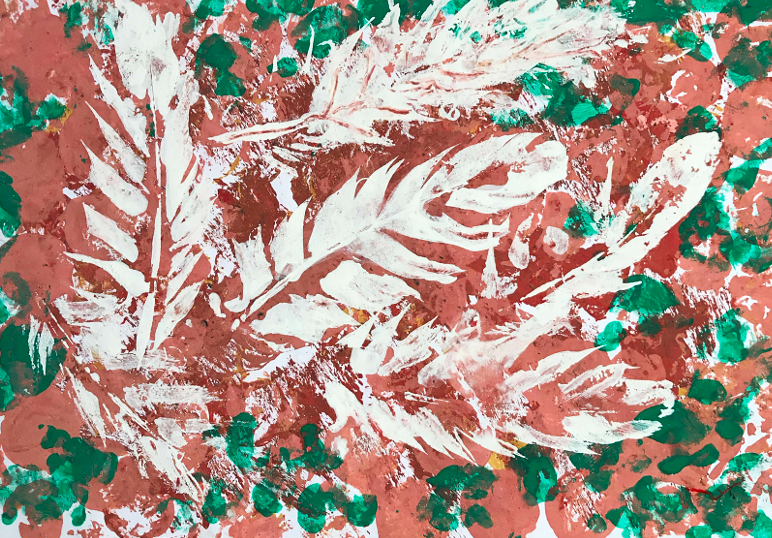 After all the planning … how did it go?
I know the Portals Alumni group had lots of experience with the arts, but I wasn't sure if my passion for 'all things dinosaur and bird' would be too different. I gave two short talks, and both prompted some great discussions about everything from evolution and feathers, to paleoart.
It was quite an intense session for me, I'm used to moving about the Museum, so having to sit still in front of a computer was a challenge! My advice to anyone in a similar situation is to make sure your laptop camera is a comfortable height and you have a drink within easy reach.
Nathan's video worked really well as a follow-on activity from my talk. It was lovely to be immersed in art after my science themed talk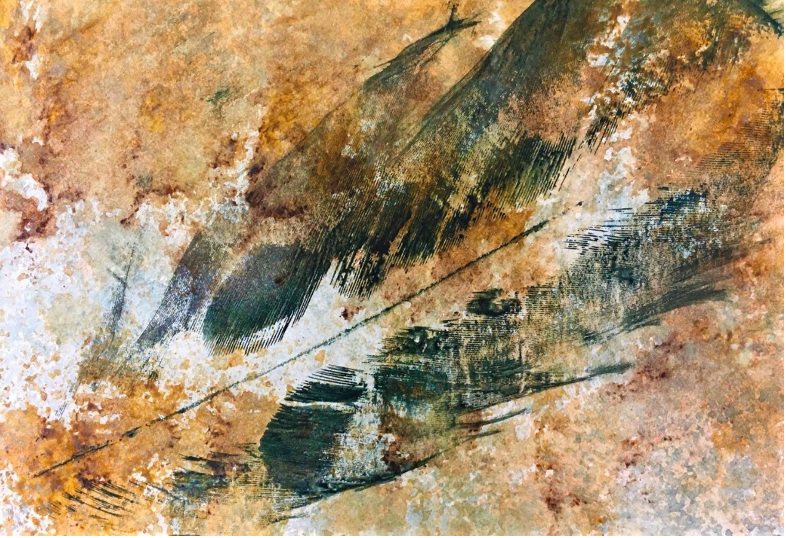 What has this challenge meant to you?
My joy in working at the Museum comes from being able to handle objects and see the wonder in people's faces when they hold an object that is millions of years old. Not being able to meet visitors in the Museum has been the hardest thing about lockdown. It was such a joy to share some of my passion with people, to have a discussion and answer questions without resorting to email.
Being part of the University of Cambridge Museums (UCM) consortium gives a relatively small museum like the Sedgwick the opportunity to be part of inspiring projects like Portals to the World, Wintercomfort and special openings for children with sensory difficulties. I'm really looking forward to welcoming the Portals alumni group into the Museum to continue our dinosaur discussions.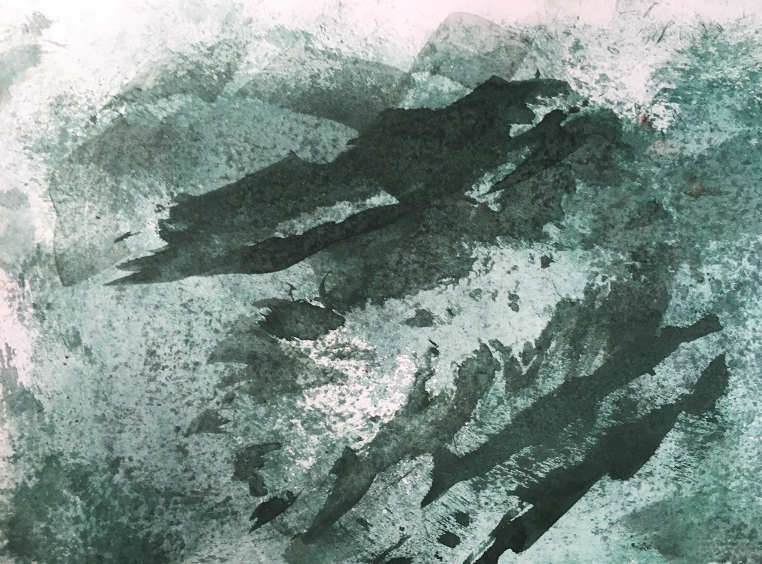 What have you been doing since?
I've been working on how we can best accommodate school groups when the Museum reopens. We are hoping that some local schools will be able to visit and for those that can't there will be digital displays and videos. I'll be adding to our fossil and dinosaur schools loan boxes and making a completely new loans box linked to fossil hunter Mary Anning. Being able to get real museum objects in to schools is so important for hands on learning especially if schools can't get to the Museum.
I've also been learning some new skills like how to make and edit videos. We often get asked where to go fossil hunting. As people are not travelling much at the moment I've made a short video, Gravel Hunters, for families about the kind of fossils that can be found in the gravel of a driveway or car park.
Last words
Dinosaurs were staggeringly successful and their reign on Earth my never be matched by mammals let alone us upstart homo sapiens. They force us to think on a geological timescale and wonder at just how old our planet is; they have mystery, we will never really know what it was like to walk through the Jurassic landscape or which dinosaur was first to co-opt feathers for flight.