Centre 33 and the University of Cambridge Museums (UCM) have a long-term partnership stretching back over ten years which enables young carers in the county to come together, have fun and creatively engage with our collections.
During the summer young carers from the Centre joined us at the museums to discover how nature, and particularly trees, have inspired and been valued by cultures throughout history; and how by engaging with nature creatively, we can preserve it into the future.
Earlier this year, Cambridge University Botanic Garden was approached by a new and ambitious music programme called EDEN. Devised by renowned opera singer Joyce DiDonato, EDEN is a whole new approach to international music touring and addresses the climate crisis through an embedded outreach programme. It aims to bring change by re-imagining the concert experience, creating a living garden of both song and seed, bursting out of the concert hall into the streets, the gardens, the voices, the hearts and – perhaps most importantly – the actions of the audience and beyond.
The young people from Centre 33 spent three days in the summer with artist Jacqui Campbell, and a day with musician Xenia Horne, exploring through our collections how and why people have particularly valued and celebrated trees throughout history and across the world.
For our first session we worked with Jacqui and the Museum of Zoology to explore the eco-system found in the churchyard of St Peter's Church, next to Kettle's Yard. The group undertook a mini-beast hunt and discovered a wealth of insects making their home amongst the trees and grasses of the church yard. The young people then explored the leaves in detail by creating prints from them. Using a portable printing press, we looked at the differences and similarities between the types of leaves we found, and discussed how they live and sustain the lives of the creatures around them.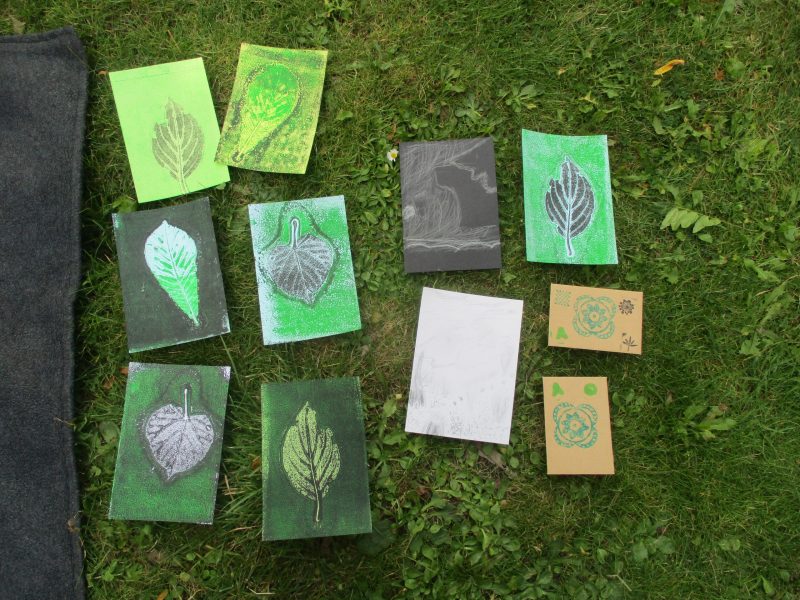 Following this, we visited the Fitzwilliam Museum where we discussed the sustainability of paper before making our own by recycling old sheets. We were joined by the Museum of Archaeology and Anthropology who described how trees are used in different ways around the world. They showed us some amazing things, including an amazing piece of bark cloth which reminded us of the paper we had just made ourselves. We also discovered how museums care for wooden items and the potential risks to them found across the collections. Then we visited the Impressionists paintings at the Fitzwilliam Museum to sketch some of the amazing artworks, looking carefully at how they depicted trees in different seasons and settings.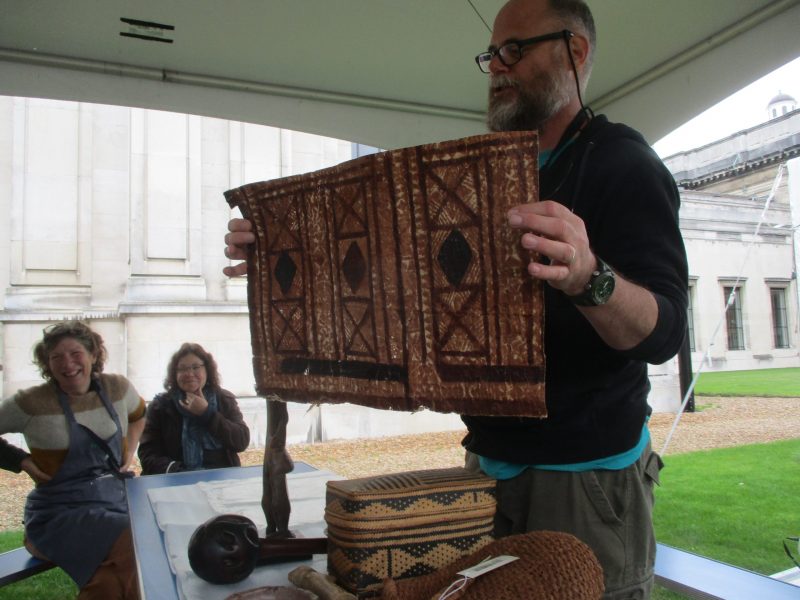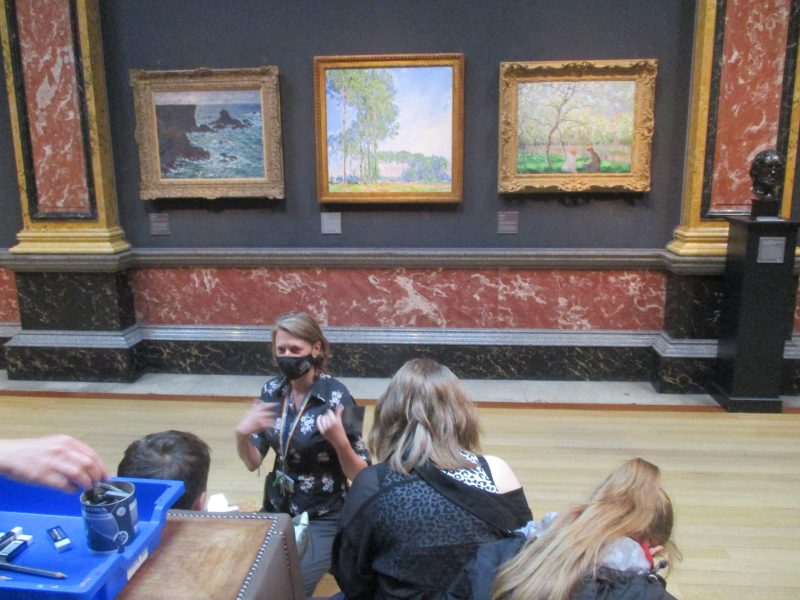 Our final day was spent at the Cambridge University Botanic Garden where we were joined by musician Xenia Horne. We went on a sound walk, carefully listening to all the different types of noises we could hear, collecting them in our minds and sharing them back. From this, we worked together to create a new song inspired by the Garden and the favourite things we noticed and wanted other people to notice too.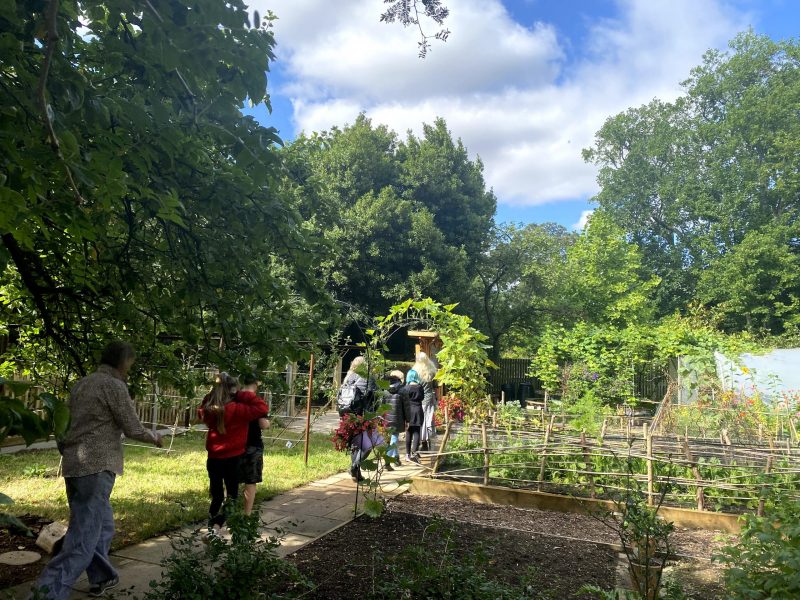 Finally, along with Jacqui, we came together and collated all the things we had made throughout the sessions. We couldn't believe how well our paper had dried and all the colours we could see in it. We also had a go at making a picture using ink made from stinging nettles. It was really fun! All of our creative work with Jacqui and Xenia has led to an Arts Award Discover certificate, which we can't wait to receive.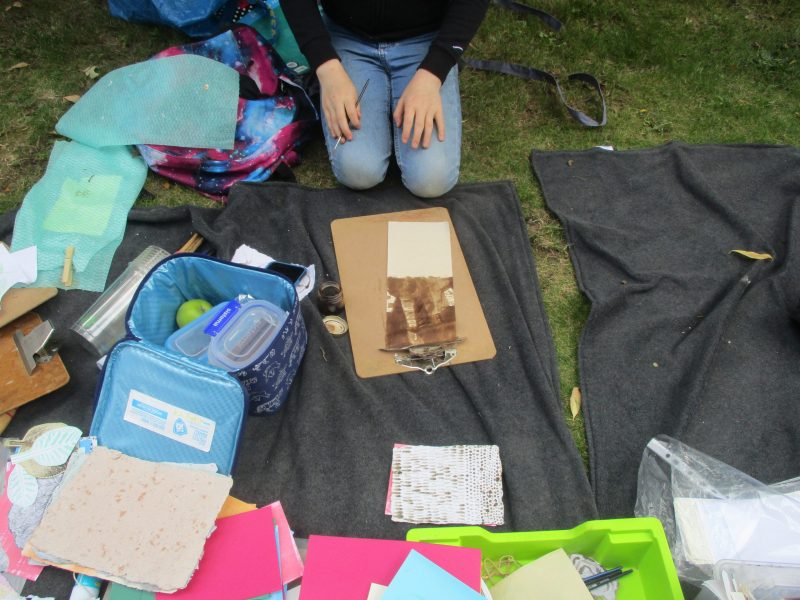 As we reflected on the sessions we thought about our experiences. The whole group had developed a greater understanding about the nature on our doorstep. We learnt about trees and what they bring to our immediate neighbourhoods as well as to the global climate; how valuable they are to people and cultures around the world and how people would use wood – and also reuse and restore it. Through learning about how museums preserve wood, we discovered there are many environmental factors that can impact it; and we found how we can make our own paper – reducing our reliance on timber-industries and much more.
The whole project was a lot of fun. During our breaks we all shared riddles and jokes and it was wonderful to be together. New friendships were formed and it was the first time that some of the young people had met their youth workers in person as all activities had been online for so long. It was, as always, a privilege to meet these young people, watch their confidence soar, share their support for each other, admire their bravery at picking up bugs and be inspired by their creativity in art and music. We can't wait to do it all again next summer!
You can listen to Joyce DiDonato introduce her EDEN programme here.