This year the Arts Marketing Association conference took place in the historic city of Belfast, Northern Ireland. Delegates were inspired by two full days of inspiring speakers. Eleanor Costello, Communications Assistant at Kettle's Yard, shares what she learned and how she hopes to put new practices in place.
This July, the Arts Marketing Association (AMA) invited communications and marketing professionals from across the UK to Belfast for their annual conference. This was my first AMA conference so I was excited to learn from my peers about practices I could use going forward. The theme of the conference was 'The Value of Everything' and I don't know where I would even begin to talk through all of my notes on 'everything' with someone. However, I have summarised some of the biggest takeaways for me, and wanted to share them. I left Belfast incredibly inspired by the amazing, creative speakers I heard from, and by the passionate people I met.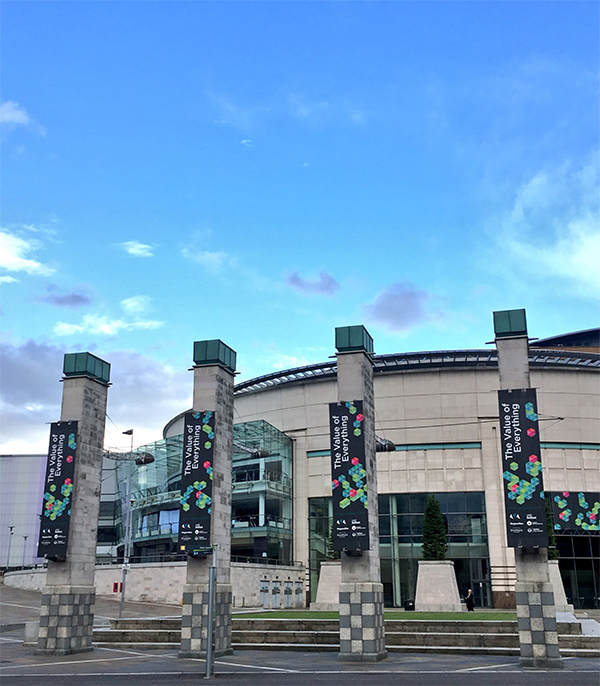 1. Play hard to work hard
Debris Stevenson, CEO, poet and raver was the first speaker of the conference, which is not the easiest slot to fill. However, she set a high standard for the rest of the day as she spoke about embracing her inner 'Kunoichi' (female ninja) and discovering her love of grime and poetry after swapping Pokemon Cards for Dizzee Rascal CDs.
Her passion was clear, but her story of replacing secret raves in the back of convenience stores with early morning meetings and emails probably struck a chord with many in the room. Stevenson claimed that she had lost the reason why she started her company, and needed to find her inspiration again, her 'Kunoichi'.
So, she started going to raves again. From this, she remembered why she loved poetry and the arts and more generally, why she started to do what she does. Now she purposely makes the time to go raving (it's for work). Stevenson reminded us that we're lucky to be surrounded by what we love each day, but not to let it become a job. We must hold on to "the joy of living", embrace irreverence and our own Kunoichi.
2. The phone is the remote control of your life
As marketeers, we create the programming. At least, according to Timothy Armoo from Fanbytes. We should be thinking of apps like channels of the 2017 television. This means that we should also be producers and focus on creating entertaining, engaging content for different audiences on each.
This new insight into why we post on social media really puts the digital side of marketing into a whole new perspective. Armoo emphasised the fact that we don't need big budgets or state-of-the art equipment but to think creatively and use what we have.
There were more than a few laughs around the room when this 22 year old Snapchat mogul told us that he was jealous of us, but these subsided when he went on. We were reminded that we have incredible resources right under our noses in the arts as daily we work with talented artists, experts and beautiful objects that already serve as great programming. It's just our job to share it, so, Armoo warned, "don't blow it".
3. Ask questions
From the first day, AMA had us questioning our practices. The opening keynotes emphasised the importance of curiosity. What do you want to change? What is one thing you can do to get the ball rolling? When will you do it? Right down to examining our Google Analytics (G.A.) data, we were encouraged to ask questions first. Devon from Measure pointed out that the best way to approach G.A. is by asking a specific question before you log in. Knowing what you're looking for, and why you're looking for it, is the easiest way to break down the data and use G.A. more effectively. Something that may sound obvious now, but that was not something I was doing before.
The theme for this year's conference was "The Value of Everything" and almost every speaker addressed this by asking what is this "everything", what do we value? I learned that I value connections, engagement and authenticity (to name a few). But now I need to look outward and examine other people. What is it that our audiences value? I've come back to Cambridge feeling a lot more inquisitive, but it may take me a while to have all the answers for you.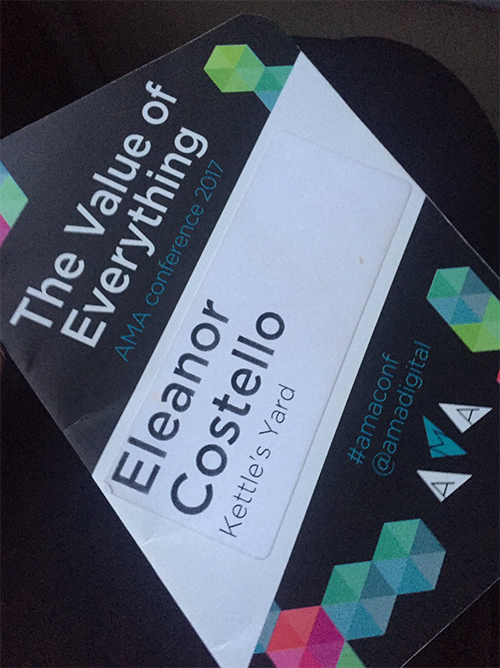 4. Share

It's hard to ignore the new sharing economy. From Airbnb to Zipcar, sharing is becoming the way companies across industries are conducting business. It may be new to some people, but it doesn't seem so recent in the arts. For years artists have been sharing the stage, sharing connections, sharing their talents and, as part of a small network of publically funded arts institutions, galleries, museums, theatres and dance companies do the same.
It's easy for us to stand up and say that we already do this. I work with colleagues across the UK on co-marketing practices and I am constantly blown away by the eagerness of those in the arts industry to help each other. Being reminded that this practice is unusual should make us proud of what we do and also should make us acknowledge sharing as a resource more often.
5. Be authentic
Across the two-day conference, there were many values discussed. The one that seemed to be shared by most was authenticity. Any brand or business can release polished, curated content. Having a voice, a mission, a cause and real people behind it is what makes an organisation stand out.
Nikki Locke from East Durham Creates spoke about 'Neon and That', a contemporary, light-themed exhibition at Dawdon Youth and Community Centre. The artists worked with local young people who were invited to write their own interpretations of the works on show. This project exemplified for me the kind of practices we should be putting into place in museums, working with audiences for more authentic communications across the board.
Authenticity isn't something you can create, it comes with passion, interest and effort. As marketing professionals, there's no point striving for authenticity. Instead, what we should strive for is working within our organisations and outside to start conversations, make things happen, and speak to people about what we do. Amy Lame, from theatre company Duckie, the final keynote, sees authenticity as cultural capital. She encouraged us to be honest, be opinionated, take risks and make mistakes. It can be scary, in a professional setting, to take a stance as opinions create conflict. But conflict is creative and leads to exciting things. Mistakes are the best learning tool and act as ways that we can grow and develop.
We have a responsibility, a power and a privilege to benefit people in positive ways. If we keep this in mind in all that we do and put care into our work, we will find our authentic voice.
Next year's AMA conference will be in Liverpool and I'm already looking forward to it. See you there!
Eleanor is currently working on putting what she learned into practice through Kettle's Yard's digital platforms. Make sure to sign up to the Kettle's Yard mailing list to stay up to date on all their latest news.