Nicky Pearce, Front of House Host at the Fitzwilliam Museum, tells us a little about her back story and how she made the leap from early years education in London to a Cambridge museum…
Following many years of working in Early Years education and the Local Authority, Children and Families sector in London, we moved to Cambridge looking for a new chapter, and after visiting the Fitzwilliam Museum and spotting an advert for a job, I decided it was time for a change.
We arrived in Cambridge from suburban London in 2012, just in time to see the Olympic Torch arrive on Parker's Piece. I picked up my career delivering help and support to children, families and young people in and around Cambridge. I live in the centre of Cambridge and used to visit the Fitzwilliam with friends and sometimes with art groups to sketch. When I spotted the advert looking for staff to work at the Museum, it just made me smile. It was time for a change and I have no regrets. My role involves engaging with visitors, working on the galleries and keeping everything and everyone safe. I am also spending time on the front desks, welcoming and helping visitors.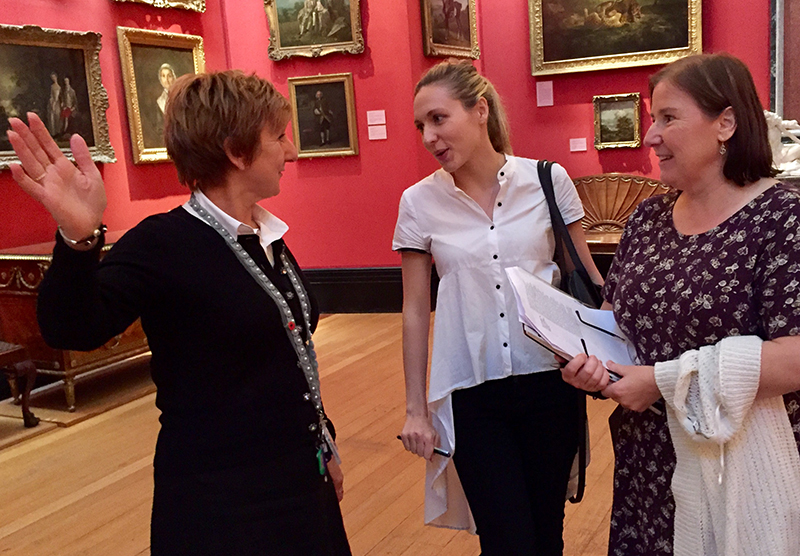 I don't have an academic or Classics background, but I am enjoying learning from my colleagues about the collections and the history associated with the Fitzwilliam. I have however been able to bring my past experience to this role, and a lot of the skills I have proved to be very transferable. I am still helping and engaging with people. The problems are just a little easier to deal with, such as locating the toilets or finding the way out – and I get the same buzz out of closing a case, with objectives met and a good outcome! The one big difference is that visitors want to be at the Fitzwilliam in the first place.
When I first started, the only gallery I felt anywhere near comfortable with was the French Impressionists. Gradually however, with a little more time and knowledge, I am confident in fielding whatever questions come my way. I have even started to suggest and direct visitors to exhibitions that they did not know they wanted to see. It is great when they tell me how much they enjoyed it. A case in point is Sampled Lives, probably my favourite current exhibition. The samplers are exquisite and absolutely fascinating. I am totally in awe of the skills and workmanship, a little sample of past lives.