In early December, there was a hubbub in the Whale Hall as colleagues and volunteers from across the University of Cambridge Museums and Botanic Garden (UCM) gathered at the Museum of Zoology for the UCM Forum.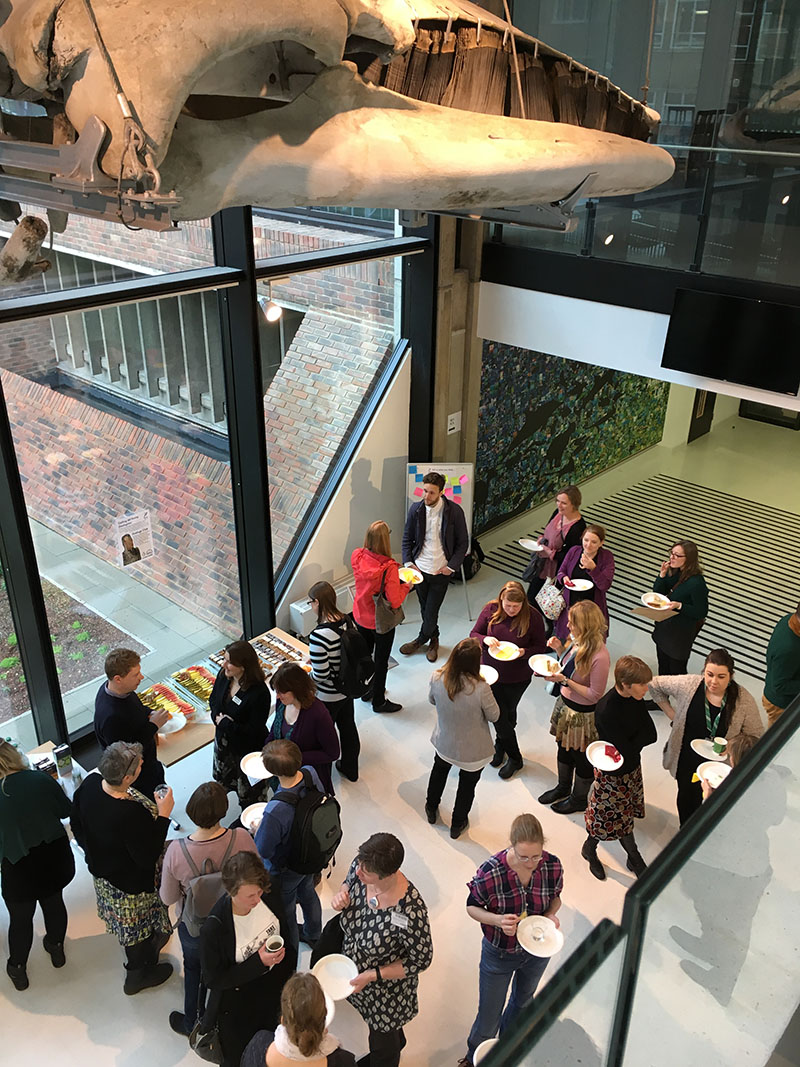 The annual Forum is a chance for colleagues from across the UCM to meet up, take stock, and find out what's been happening in the different collections. This year's event tasked presenters from across the museums and Garden to think about the challenges and learning curves they have overcome or face in their work. The challenges faced were as diverse as the UCM itself: from degrading plastics to a full-capacity café; a statue stained with lipstick to a major research pilot. The answers, though, were very often the same: cross-UCM teamwork. As Paul Brakefield, the Museum of Zoology's Director, said in his introduction, "I feel we really are now a team."
Looking Forward
Museums Officer Liz Hide and Fitzwilliam Museum Assistant Director Kate Carreno gave us a sense of what to expect over the next four years. There are exciting times ahead, as we look forward to more closer working with the Botanic Garden, the University Library, the University Herbarium, Wisbech and Fenland Museum – and regionally and nationally, through SHARE Museums East and the University Museums Group. Liz stressed the importance of the UCM's "collective approach": it helps us work with our key stakeholders, and benefits us and our audiences.
Without further ado, we were onto a series of 5 minute Lightning Talks from across the UCM. Some of the projects have already been discussed on this blog, but here are a just few highlights…
Highlights from the Lightning Talks
Plastics: a conservation timebomb.
Polar Museum Conservator Sophie Rowe and a cross-UCM team are looking for methods and tools to enable conservators to identify different polymers. Unfortunately, one Gromit pencil topper lost his foot in the cause of science. If you have any historical plastics in your collections, send them Sophie's way.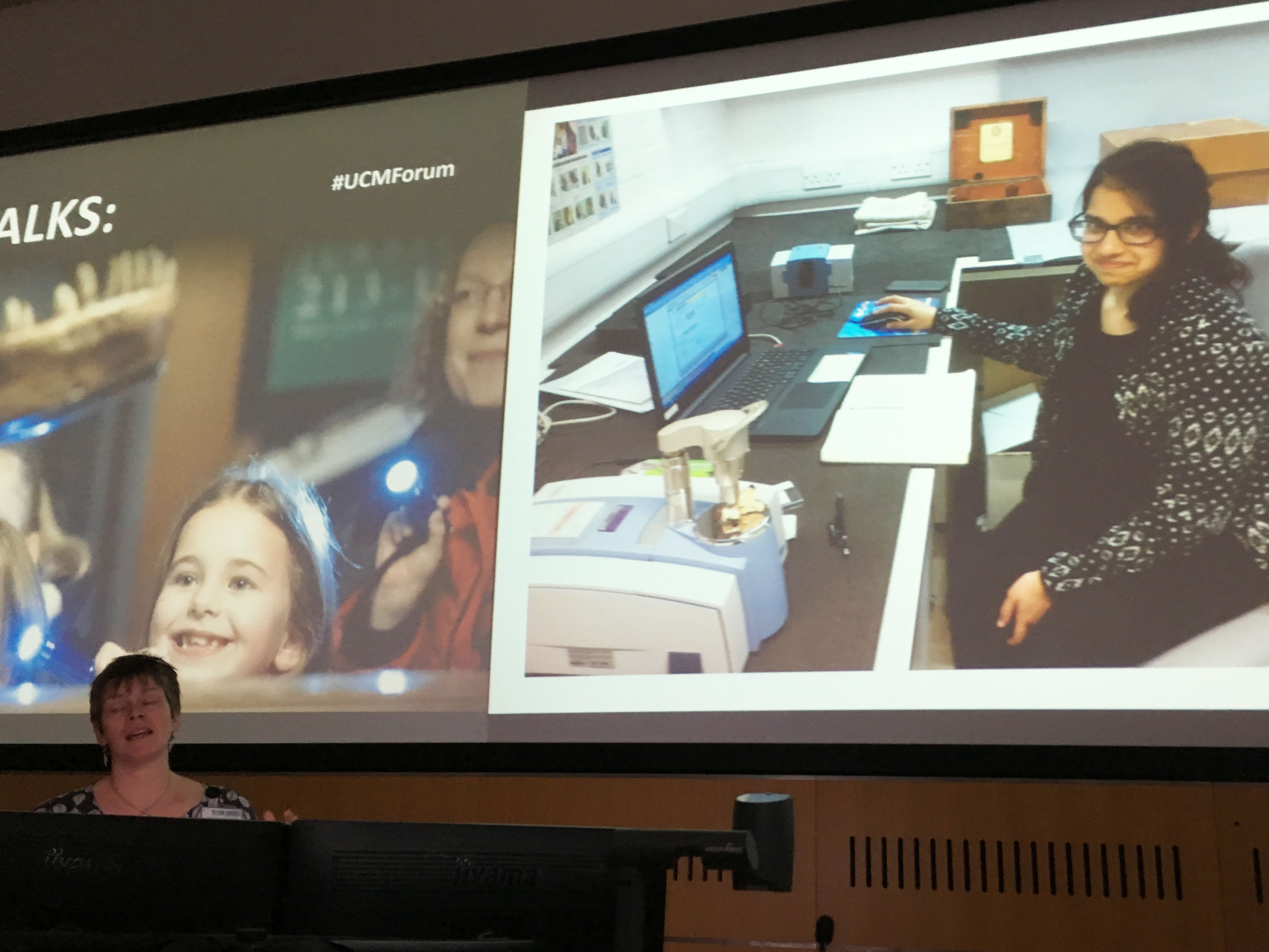 A new museum shop
Setting up a new museum shop isn't so easy when you're not sure what its visitors will like. Ruth McPhee presented on her work with the new Museum of Zoology shop. Testing stock in the UCM shop on King's Parade, as well as at the Fitzwilliam and Botanic Garden, has helped her get a sense of how well different ranges are received.
Arts Pioneers
"Previously he was not able to go to projects at the museum because they were not suitable": Marie Kennedy updated us on the Arts Pioneers programme, dedicated to providing cultural opportunities for 11-16 year olds with learning and physical disabilities. What might the future hold: relaxed openings for Disabled visitors? Watch this space…
Making change
The Change Makers Action Group presented their manifesto. A group of colleagues from across the UCM, the Action Group was founded by Arts Council-funded changemaker Malavika Anderson and aims to drive a conversation about diversity and representation across the UCM and its audiences. (Find out more about Malavika's work here. More to follow on this blog soon.)
Find out more about the other projects presented elsewhere on the blog: Live Streaming; My Nursery School is at the Museum and Garden; Dancing in the Museum; India Unboxed.
The Fitzwilliam Museum has a plan… a Masterplan
How do you deliver an overarching vision for a Museum's development over the next few decades – fitting everything onto a limited site with sensitivity to your historic buildings and neighbours? As the Fitzwilliam's Director Tim Knox told us, this is the challenge facing the Fitz's senior management, as they refine an ambitious masterplan for redevelopment.
Fundraising is in the early stages, but Tim's hope is that the project will transform the Museum not just architecturally "but in the way we work together and with audiences."
Relevance: a panel discussion
This was a new format for the Forum: a panel discussion, chaired by Miranda Stearn, Head of Learning at the Fitzwilliam, between four curators and educators. As Miranda said, the discussion offered "an opportunity to step back and think about the why. What role do we see ourselves playing in the communities we're part of?" Charlotte Connelly (Polar Museum), Sarah-Jane Harknett (Museum of Archaeology and Anthropology), Josh Nall (Whipple Museum) and Susanne Turner (Museum of Classical Archaeology) each responded to a provocative quote from Nina Simon's work The Art of Relevance (2016).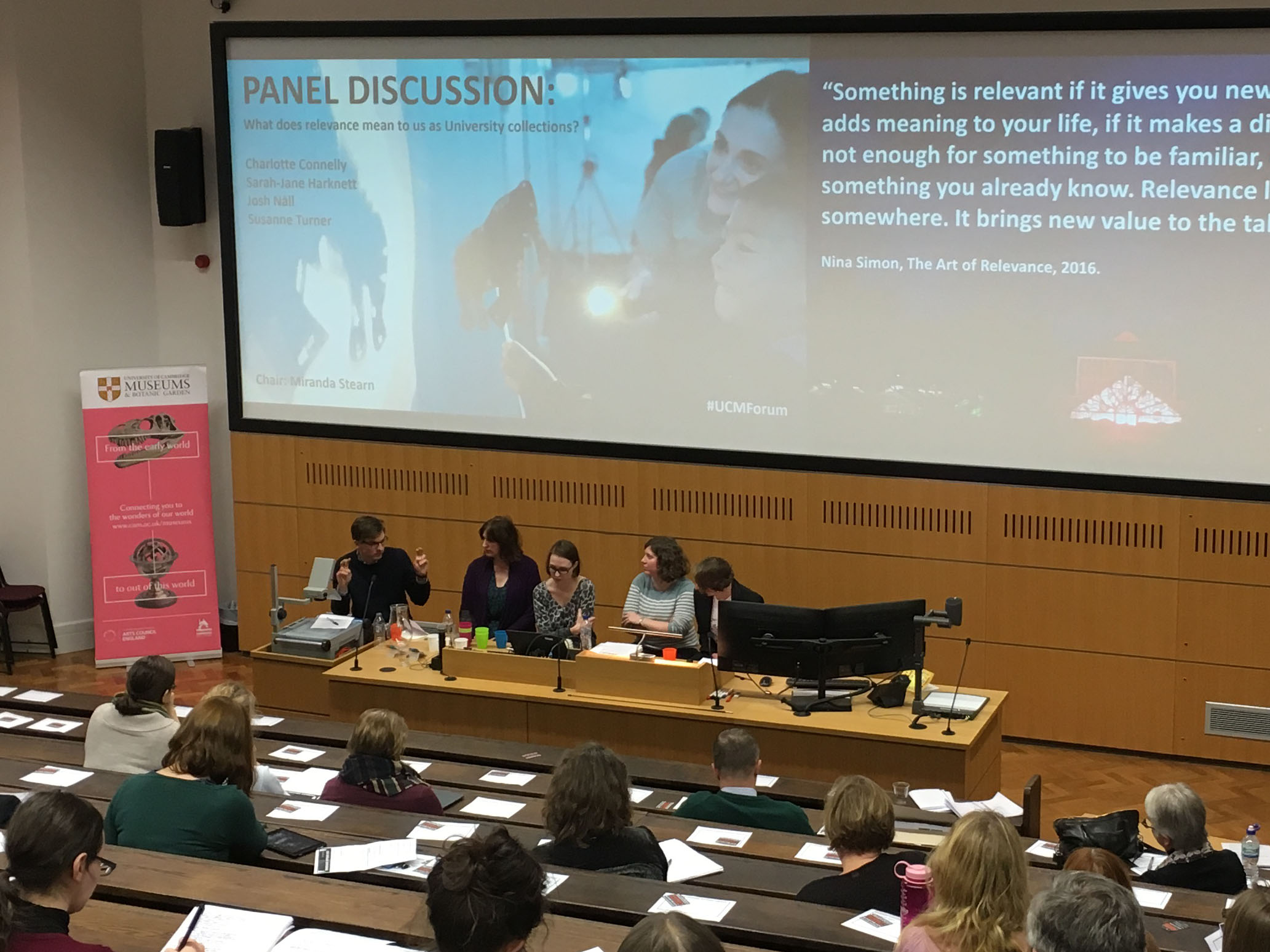 Charlotte preferred the word 'participatory'. Reflecting on her work at the London Science Museum, she told us how the process of co-curating a display with the communities it talked about both materially changed what was put on display and opened eyes in the Museum to the potential of working more closely with communities. She encourages herself and her team at the Polar to consider three questions whenever they are planning: in the story we're telling, do women play a part? Is the Indigenous voice relevant? And how does climate change fit?
Sarah-Jane noted that " 'Relevance' feels loaded. … What are we making relevant, and to whom?" Understanding this is crucial: we have to understand our collections (an ongoing process) and our audiences, as they grow, develop and diversify. For her, relevance has to be two-way. It's not just about being relevant to audiences but letting our audiences change us too.
Josh had applied a scientist's eye to Nina Simon's text. A self-described "sceptical reader", he moved "broadly to a position of support" when Simon discussed beating irrelevance. Relevance is not "getting people's attention without engaging their imaginations". Museums are about making meaning, not putting on a show.
Susanne offered perhaps the rawest perspective: "Museums are already irrelevant to most people." In a world where the traditional visitor base is shrinking, "relevance is something we have to do to survive." She noted that it can be easier with some collections than others: how do you make the Museum of Classical Archaeology's replicas of 2000 year old objects "relevant"? "We'll do it though – we have to"!

Roundup
Nick Thomas, Director of the Museum of Archaeology and Anthropology, rounded up the afternoon with an encouragement to keep up the close teamwork that had characterised so many of the projects presented over the afternoon. There is more to be done. "I keep finding myself completely astonished," he said, by the "variety, suggestiveness and the remarkable quality" of the UCM's collections. In combination, our collections are "extraordinary" – but there is more potential to be activated for interdisciplinary projects.  He doesn't like the word relevance – "it precludes surprise" – but more than ever, in a political climate characterised by turning inwards, we should see it as our duty to reach outwards and welcome in.