In December 2016, Malavika Anderson began an Arts Council-funded placement with the University of Cambridge Museums team. As she prepares to move to her next job, we caught up with her to reflect on the India Unboxed season and her work with the Change Makers initiative.
You've been coordinating the India Unboxed season for the University of Cambridge Museums (UCM) for just under a year now, on secondment from your usual job with the Cambridge Festival of Ideas team. How did this all come about?
In 2016, Arts Council England (ACE) put a call out for a project called Reimagine India, which invited applications for projects developing partnerships with India to celebrate the 70th anniversary of Indian independence, marking the UK/India Year of Culture. So Mark Elliott, curator at the Museum of Archaeology and Anthropology (MAA), and I thought we should put in an application, which we worked on with Kettle's Yard. Although the application wasn't successful, in the process of bringing it together – and working closely with Liz Hide and the central UCM team – we all became very excited about the idea of an India season. It just wasn't clear how we would be able to do it.
Then the national call out came for ACE's Change Makers initiative. This is a funding stream for making change in ACE-funded organisations through a placement for a leadership role for BAME and Disabled candidates. Liz and some of the UCM directors suggested we apply, and I was very keen. Our application was successful, and so we had money to do something exciting. We only found out late last year about that – September 2016 – and I started with the UCM in December.
How were your first few weeks?
I had flu for my first day, and so I didn't come in for the first week! The challenge was to develop a programme within such a short period of time, but I was very lucky that before my actual starting date the UCM had commissioned Danika Parikh to do a scoping study of all the collections, as preparatory research work that would help me when I came in. That was a hugely helpful bit of work, and I was able to rely on it heavily – it was my Bible for the first six weeks.
When you began, did you have particular personal goals you wanted to achieve by the end of your placement? Or were you open-minded about what might happen?
Well, it was a bit of both. Mark's exhibition Another India was already in place at MAA, so that was happening anyway. There were a few things I really wanted to do. I knew the Fitzwilliam Museum had an especially significant collection of Indian miniatures that weren't on display – and discussions were already underway about exhibiting them – and that was something I was keen to see happen: this became the exhibition From Kabul to Kolkata.
I also wanted to make the India Unboxed film series. When we began, I didn't know what the process would be and exactly how it would work, but I felt that producing content was really important. The other thing I really wanted to do was the Festival of Light at the Botanic Garden – which is happening in my very last week.  [And has now happened! – Ed.] Through all of it, though, the important thing was to keep the link to the collections. I didn't want it to be that we were just shoehorning everything in and making it India-shaped because this was the year to do it. And I wanted it to have an element of legacy, and for the relationships and processes we had begun to continue after the end of the placement.
Did anything happen during the season that you could not have predicted?
It was the Museum of Classical Archaeology's Imagining India exhibition. Danika's scoping study had only one line on MoCA which was "Nothing". This was one of my big challenges: do you let that go or not? And I was so surprised there was this incredible and well-considered response to what was a really challenging theme for MoCA, and that they had come up with something that was so on point, made perfect sense and was a complete treat.
If you could go back in time to December 2016 and give yourself one piece of advice, what would it be?
I think potentially it would be to try to do a little bit less. It's not because it's been a completely saturated year, but I think I could have helped myself and colleagues if I'd left a lot more time for planning. I just jumped into it – which is entirely my fault, I was too eager to get into things!
There is some Change Making in the air… Can you tell us more about your work as an Arts Council Change Maker?
Yes! The Change Makers funding has three strands. One was the India Unboxed programming, and the second element was my development, because it's a named person in a placement, so I had the opportunity to do some training and go to conferences. The third, which is the most difficult but the most interesting, is about organisational change. How do we make sure that the UCM – both the central team and the Museums themselves – has a better understanding and appreciation of the role and the nature of diversity in museums? Towards that end, conversations have been happening behind the scenes involving people from various museums. This has led to the formation of the Change Makers Action Group, an informal, but perhaps soon-to-be formal, group of people who are taking forward this agenda after I leave. They will be taking responsibility for actually encouraging and challenging and informing the UCM community on these issues.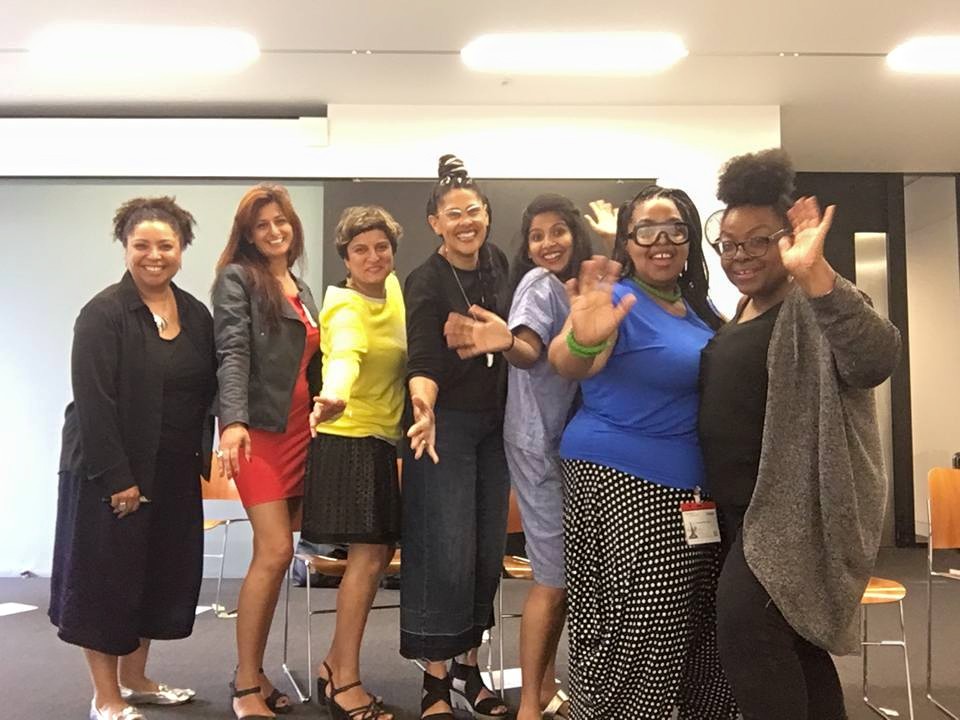 You're leaving us very soon. What are your hopes for your legacy?
It's definitely about the Change Makers Action Group and how that might continue and grow into the future. In this case it's about making sure that the group feels empowered to do things. I would be really, really pleased that in – say – a couple of years from now it becomes a powerful network of people who are listened to and have a voice in the UCM more broadly.
In terms of programming, India Unboxed has been about challenging the museums. Sometimes it's been very hard for museums to respond to the season, especially on top of all their usual activity, and I completely appreciate that. I would be extremely happy if the type of process we have established for India Unboxed continues, where a UCM initiative challenges the museums and provides opportunities for exploration beyond the regular frameworks within which they work. It would be a real win for me if at the end of the season the Museums can say to themselves "Well, we're a collection that has very little to do with India, and we were able to think creatively, engage new audiences and have conversations with people about our collections that aren't the usual narrative we would go for."
It's also about being a bit bolder. I think sometimes there's a tendency to not deal with certain themes because they can be difficult or controversial. I hope that after this season it has made it easier and for Museums to feel it's OK to talk about certain controversial topics – about Empire, for example, which can be difficult for some museums. In fact, the Whipple Museum has just opened an exhibition on that subject, Astronomy and Empire.
A final achievement – which has only just been installed – is Pallavi Paul's Terra Firma at the Fitzwilliam.  Across the season we've commissioned contemporary artists from India to produce new work. These kinds of interventions, bringing new voices into what are predominantly historical collections, are very important. I hope India Unboxed has given an example of how that can happen, and if that work could continue that would be fantastic.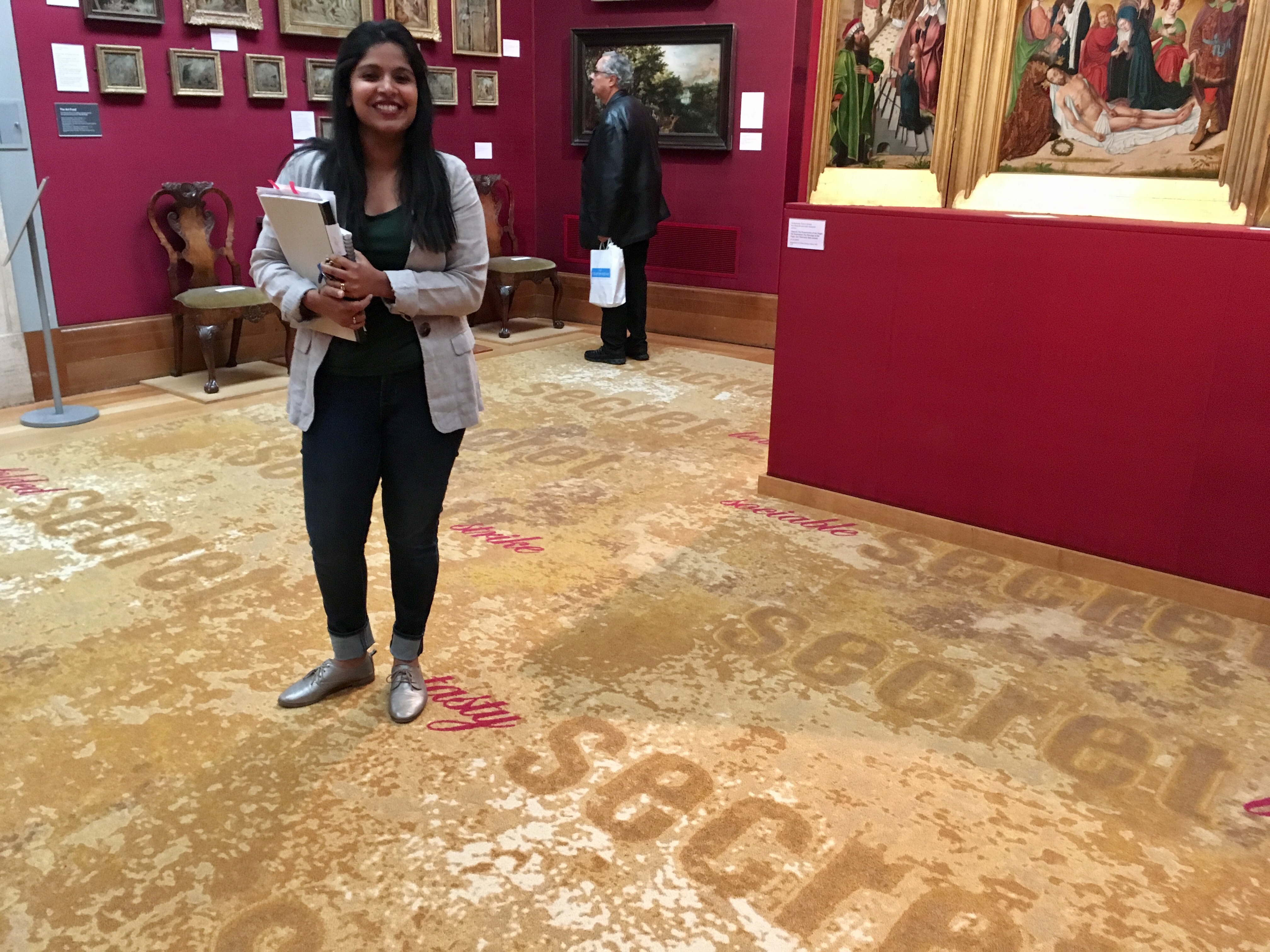 What are you going on to do?
I'm going on to be Head of Live Programme at the Wellcome Collection in London. The Collection does a lot of work in events and broadcast collaborations, and in developing new content. I'm really excited and also extremely terrified about what it's going to be like. I love that collection so much, it's really a dream ticket.
Thank you, Malu, for all your hard work, and we wish you the very best of luck in your new post.
Featured image by Martin Bond, taken at the Festival of Light at the Botanic Garden.