King's Hedges Educational Federation and the Fitzwilliam Museum have been developing a strategic partnership for a number of years.  In Summer 2017, the whole school took part in museum visits linked to different themes they were studying at school.  Each class contributed to the creation of a new Fitz Families Trail around the museum to encourage children to return to the museum with their families in the summer holidays.
We have been working with the school since January 2015 when the Headteacher approached us to form a special partnership after they named one of their school houses after the museum. Many of their children do not visit museum and galleries with their families, and so they were keen for us to connect with them as a school, but also to raise awareness of the Fitz Families offer and how the children can participate. Over the last 2 years we have led assemblies at the school, contributed to end of term events and run INSET sessions for staff. Every year the children (and staff) of King's Hedges Primary School curate an annual exhibition of their artwork in the school gallery. Their artwork is of a very high quality and we were really impressed when we visited.
During the academic year 2016-17 King's Hedges and Fitz staff collaborated on how to help children work towards the exhibition.  When the classes visited the museum we harnessed the children's creativity by asking them to design activities for our Summer Holiday Trail. Every child from Reception to Year Six was visited the museum to see a key object or artwork which they had been focusing on in class. This inspired many interesting activities back in the classroom from creative writing to 3D sculpture and drawing.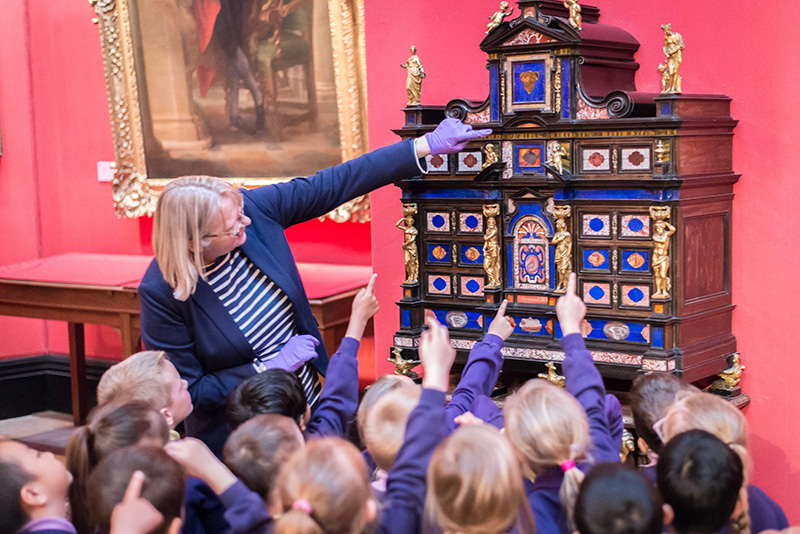 Themes for exploration
We planned a series of visits for the different year groups in collaboration with the school staff along the following themes:
Reception
'Museums in Miniature' – exploring the Cabinet of Curiosity, including a chance to open the doors and drawers of the Castle Howard Cabinets with members of the Applied Arts team (pictured above).
Year One
'People in the Museum' – historical portraits and an opportunity to interview a member of the Front of House team.
Year Two
'The Magic Apple Tree'. This painting is not currently on display, so children were invited into the Graham Robertson Study Room, where scholars may view works for research purposes.
Year Three
'Flowers'. The groups spent time getting to know various examples of our Dutch collection of flower paintings, and met with the Museum Designer to discuss how to turn the paintings into a drawing and designing activity for the family trail.
Year Four
'Water'. Inspired by Monet and Matisse seascapes, the children composed a sound poem which then formed the basis of a matching game for our visiting families.
Year Five
'Weather'. These pupils worked together to design their own weather forecasting symbols to match the various paintings of outdoor scenes in the Dutch gallery.
Year Six
'The Last of England'. Just a few weeks before moving onto secondary school, the children focused on this painting which inspired discussions on themes of leaving familiar places behind and moving on somewhere new.
We built opportunities to contribute to the 'King's Hedges Family Trail' into each session and then incorporated the children's ideas, words and drawings into the trail which was then professionally designed and printed. The trail was available for all visitors to use from the start of our Summer Holiday Family Art Week. Children from King's Hedges coming to the museum were asked to introduce themselves at the Welcome Desks to receive a 'Trailblazer' badge in thanks for their contributions.
"Other schools wish they made a leaflet like this."
Feedback from pupils, staff and parents was very positive. Here are some of our favourite quotes:
"We are so proud to see the King's Hedges leaflet at the Fitzwilliam because our children helped make it. They love the badges. Other schools wish they made a leaflet like this. We are going to tell our governors about this." Parent feedback during Family Art Week
"I really enjoyed working with the Fitzwilliam Museum Learning Team to create a unique art experience for the whole school. Each year group enjoyed visiting the museum and seeing artwork that inspired their own creativity in our art lessons throughout the year. The children were very proud to see their own artwork displayed in our annual Art Exhibition at school."  Emily Donkin, Art Coordinator and Year 4 teacher, King's Hedges Primary School
We were absolutely delighted to be able to work with a whole school rather than a single class or year group.  These visits and the production of the trail have helped to cement the relationship between the Fitzwilliam Museum and King's Hedges Primary School. Of course, there was a lot of planning and preparation involved, and we were really appreciative of the positive collaborations this project necessitated with colleagues across the museum.
We look forward to continuing to develop our work with the children, teachers and families of King's Hedges Primary School. They showed us the museum objects from new perspectives and had so many fantastic ideas – we can't wait to see what we can achieve together next!
Try it out yourself
Why not come and try out the King's Hedges trail for yourself? It's ideal for 4-12 year olds, and will introduce you to some of the real highlights of our collection. We will be displaying some of the work produced by the children as part of the project in the Museum early in the New Year so please come and have a look at their wonderful creations.
This project would not have been possible without lots of help and support from multiple sources and we'd like to thank:
The children, staff and families of King's Hedges School and especially Emily Donkin, Art Coordinator
Ayshea Carter, Museum Designer
Victoria Avery, Keeper of Applied Arts and Helen Ritchie, Applied Arts Research Assistant
The Visitor Services Team and especially Julia Putnam, Gallery Attendant, and Amy Marquis and Hollie Drinkwater, Study Room Invigilators, Graham Robertson Room.