Most of us don't realise the extent to which we rely on wayfinding systems to navigate around urban spaces. At its most effective, orientation signage is something we take for granted – we depend upon it to get us to where we want to go, but rarely give it much thought.
However, the new Museum of Zoology, hidden behind the facade of the New Museums Site off Downing Street, is facing the challenge of making itself visible once again to people in Cambridge city centre (and beyond), many of whom may not even be aware that the Museum exists as a destination.
Heritage Lottery Fund, as one of our major funders, is rightly insistent that the Museum of Zoology has a strong public presence and is easy for visitors to find. In consultation with them, and with the help of a grant from the University of Cambridge Museums (UCM), the Museum has been able to take advice on both external and internal signage from Nicholas Hawksworth of Wayfinding Consultants Ltd.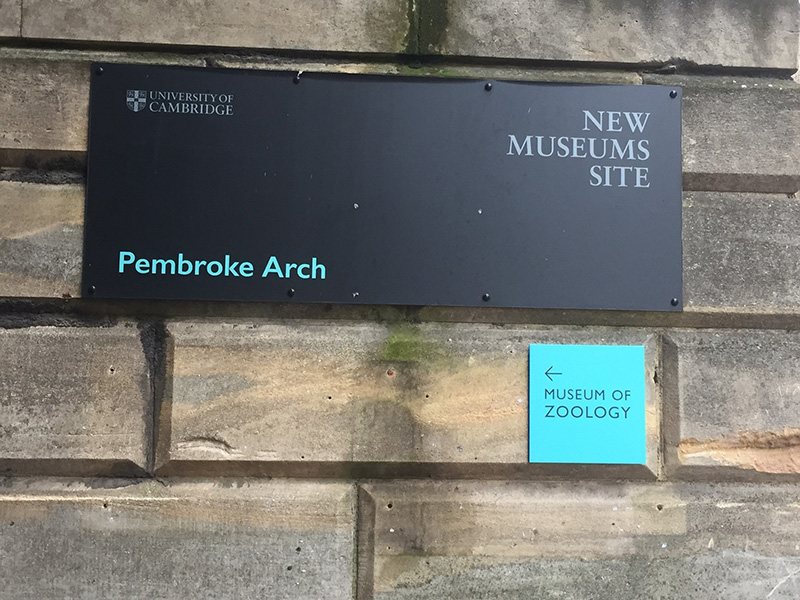 Working with Nick, we've learned about the steps needed to take a visitor easily from the surrounding streets (and further afield) to our new Whale Hall entrance. A blue square, using one of the Museum's branding colours, provides a series of cues, both overt and subconscious, linking the website, printed media and orientation signs. These cues create nodes throughout the visitor's journey, enabling them to navigate easily from node to node up to the door, which is also highlighted in the same brand blue. With help from our UCM colleagues at the Museum of Archaeology and Anthropology and Sedgwick Museum, we've been able to incorporate signage onto pre-existing structures and street furniture along Downing Street, where we cannot gain consent to affix new signs to the listed buildings. A lamppost banner signals the entrance through the Pembroke Arch, where the blue square again appears on the New Museums Site wayfinding 'totems'. A large, colourful, permanent sign will be placed by the Corn Exchange Street entrance closest to the new Whale Café.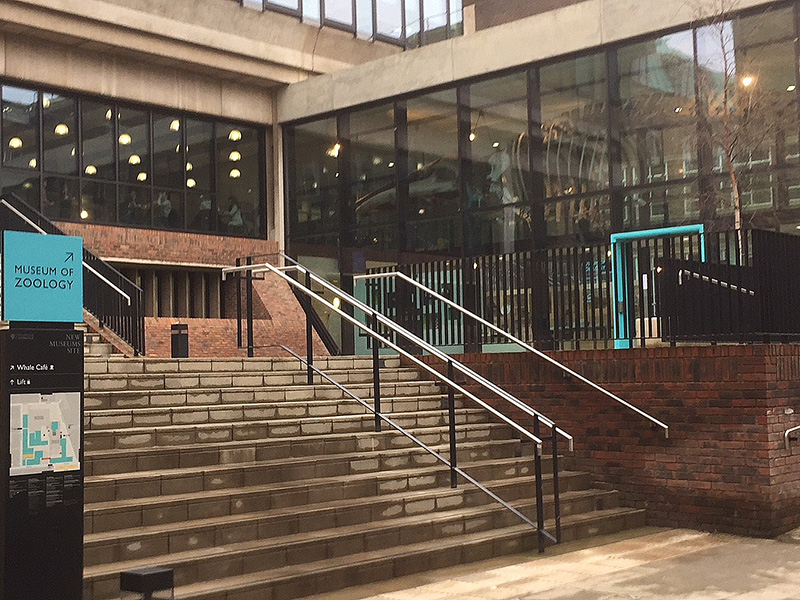 Much of the scheme has been subject to planning consent, and some has been planned as a temporary measure until the New Museums Site redevelopment is completed. Nick and colleagues from Estates Management have helpfully guided us through the planning process and, importantly, given advice on materials and fabrication. We are discussing how the map of the new Museums Site might be redrawn to make all the nearby museums more apparent. Planning the wayfinding has already begun for the routes from Free School Lane and Bene't Street, to be installed before the Pembroke Arch is closed for building work next year. These changes will need to be reinforced by some strategic marketing and clear messages on our web and social media.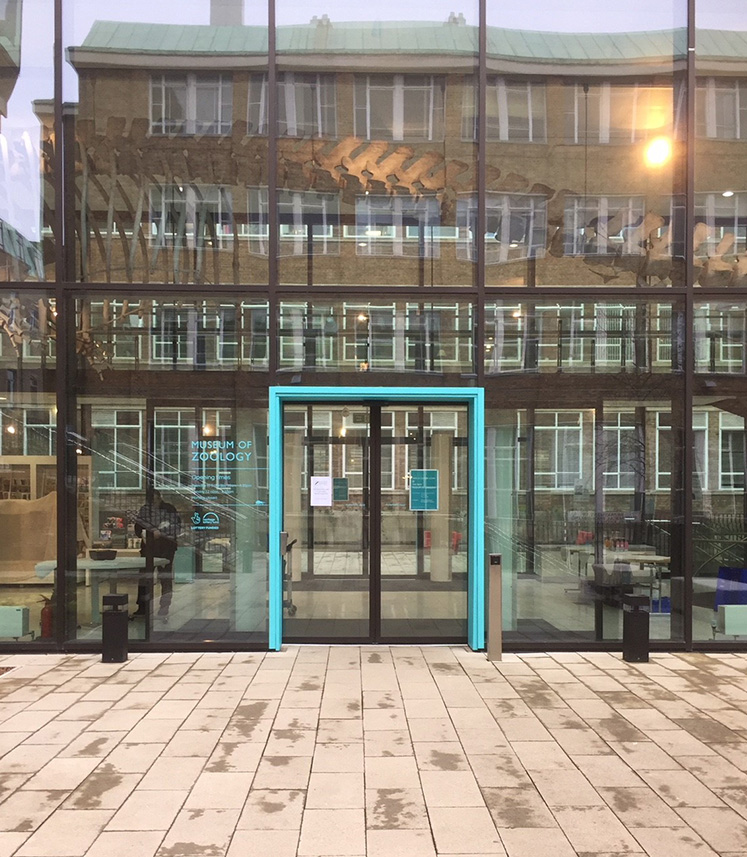 We have been concerned to ensure that visitors have a positive experience of their first approach to the Museum by associating the wayfinding system with the Museum's new brand, and by making clear links between external orientation and internal signage. New floor plans and innovative use of the Museum's brand colours to define specific zones relating, for example, to birds, reptiles or mammals, should reinforce the Museum's distinctive identity. Targeted evaluation should, over time, reveal more about perceptions of this brand identity and the effectiveness of the wayfinding system. We hope that, by thinking carefully about directional cues, symbols, lighting and colour, the scheme that we have devised integrates aesthetically into its environment. We hope that you will very soon find your way to the Museum of Zoology to test its effectiveness for yourself.