The Fitzwilliam Museum has one of the most important collections of botanical art in the world. This is due to the generous bequest of Henry Rogers Broughton, 2nd Lord Fairhaven, who donated his entire collection to the Museum in 1973.
This included over a hundred oil paintings including works by Jan Brueghel the Elder (1568-1625), Jean Baptiste Monnoyer (1636-99) and Rachel Ruysch (1664-1750), over a thousand works on paper and vellum including watercolours by Georg Dionysius Ehret (1708-70) and Pierre-Joseph Redouté (1759-1840), thirty-eight albums, and an array of beautiful floral miniatures. Many of the works are rare and of exceptional quality.
The Fitzwilliam Museum's Flowers Gallery

The Flowers Gallery at the Fitzwilliam was established primarily to showcase Lord Fairhaven's flower paintings. You may not be aware, but one of these paintings is routinely changed and on a monthly cycle: The Twelve Months of Flowers by the Dutch painter Jacob van Huysum (1688-1740).
Today being the first day of June, the Paintings, Drawings and Prints technicians will have made the switch this morning and here is a picture taken earlier in the year showing the month of January framed on the wall with February ready and waiting. The master frame is carefully removed from the wall, the canvases are switched and the month no longer required is placed out of the light in a secure store.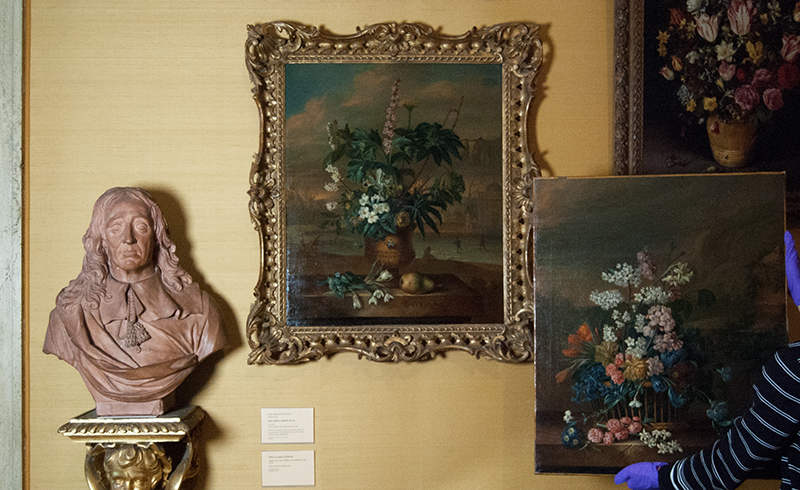 You can flick through the sequence of twelve here:
Based in Amsterdam, Jacob van Huysum trained with his father Justus (1659-1716) and alongside his more famous brother, Jan (1682-1749). They were all celebrated flower painters and their meticulous painting technique was much admired by collectors. In 1721 Jacob moved to London where he remained until his death in 1740. One of his most significant patrons was Sir Robert Walpole (1676-1745), Britain's first Prime Minister, who commissioned Jacob to make copies of old master paintings for Houghton Hall, Norfolk, Walpole's country home.
A series such as this is unusual; it was more common for artists to depict the four seasons. He painted this series of flower paintings whilst in England and over a few years. Three of the twelve flower paintings are dated: the first one may have been the month of December, which was finished in 1732. September is dated 1733, and November 1734.
As of yet not all of the flowers depicted have been identified. During your next visit why not try to identify some of them, and look more closely at the backgrounds, as you will spot some interesting activity.
In the month of January there are figures skating on a frozen pond, classical statues in the months of March and May, and ecclesiastical buildings, perhaps in reference to the beauty of an English pastoral landscape, in the month of June.
There are other wonderful details too, such as the common yellow swallowtail, or Papilio machaon, perching on the stone ledge in the month of May. Nowadays, the butterfly is commonly found throughout Europe, but in Britain is only found in the fens of the Norfolk Broads. It is also our largest species of butterfly.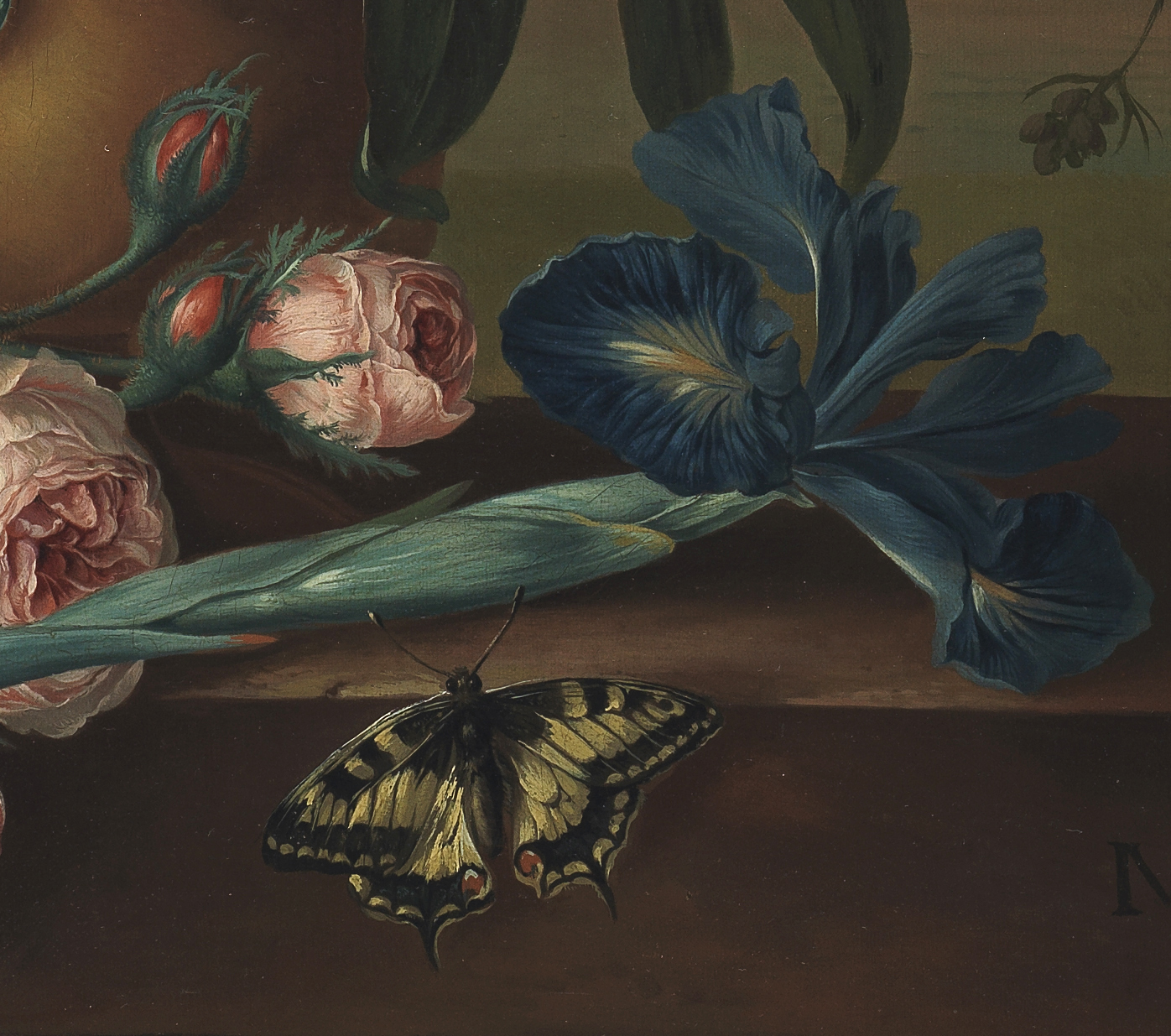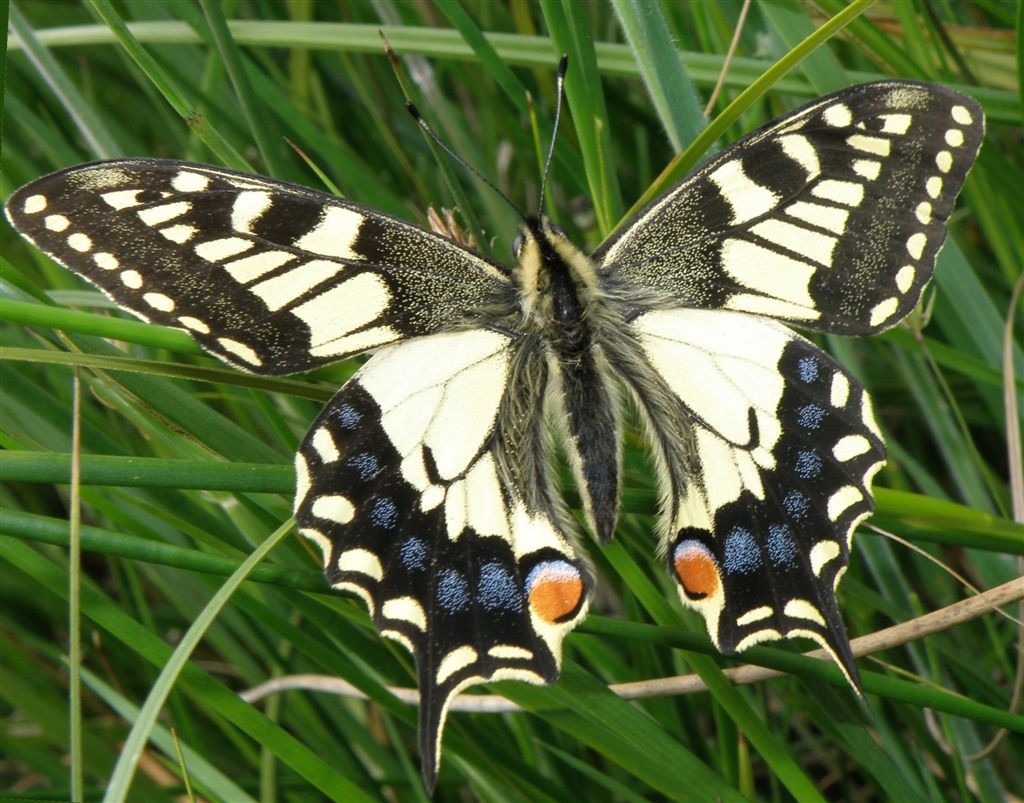 Floral Fantasies
Every three years, as part of the terms of the bequest, the Fitzwilliam puts on an exhibition of botanical watercolours. The next show, Floral Fantasies, is due to open on 5 June and brings together a range of watercolours and floral miniatures from the late eighteenth to the early twentieth centuries that depict decorative and ornamental arrangements. Mostly centred on France, it will include work by the Dutch brothers Gerard (1746-1822) and Cornelis (1756-1840) van Spaendonck who moved from the Netherlands to Paris in 1769 and 1773 respectively. It will also include delicately painted bouquets by Pierre-Joseph Redouté and his follower Nathalie d'Esménard (op.1822-34), as well as watercolours by artists from the Lyon school of flower painting, Antoine Berjon (1754-1843) and Augustin-Alexandre Thierriat (1789-1870). There will also be Sevrès porcelain decorated with floral motifs and children's books by Walter Crane (1845-1915), and albums full of kaleidoscopic floral motifs by Clarence Bicknell (1842-1918).
A selection of the works that will be  shown in Floral Fantasies
The botanical drawings, and others from the collection (the Museum holds some 18,000 drawings) can be viewed throughout the year and upon request in the Graham Robertson Study Room. It is open by appointment Tuesday to Friday, 10.00 – 16.30 (closed 13.00-14.00) and you can contact us at fitzmuseum-studyroom@lists.cam.ac.uk  or by telephone on +44 (0)1223 764363.
With grateful thanks to the Fitzwilliam Museum Photographic Department and Image Library for their help with this blog.