Nigel Hall is one of seven Royal Academicians, who have connections with Cambridge, taking part in RA250 at the Fitz.  We asked each to pick a work in our collection that has inspired them and tell us why.
Nigel chose a fritware dish, made by an unknown potter from Iran, circa 1260 — circa 1350, on display in Gallery 33.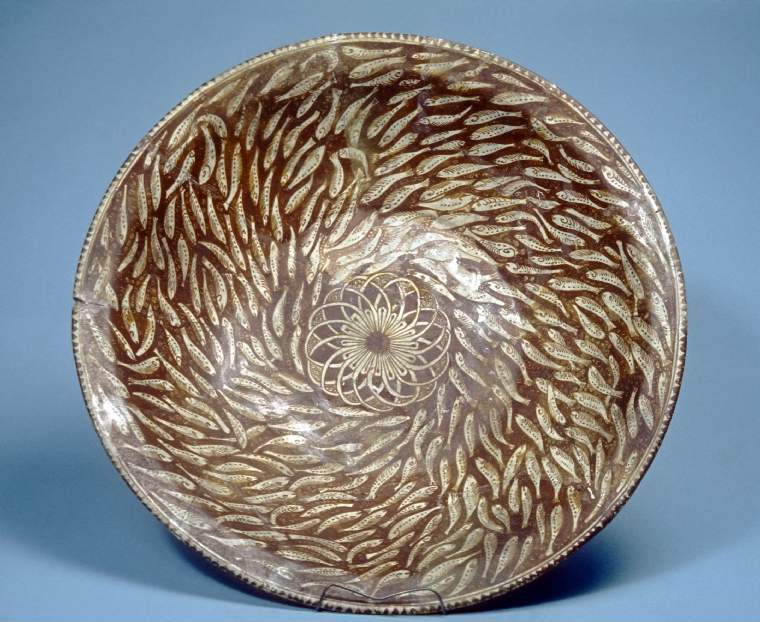 Here, Hall explains why he chose this work:
Regarding the wonderful Fitzwilliam collection, among the many objects that have fascinated me over the years, I am especially drawn to the ceramic collection, in particular the Persian pieces and a dish decorated with a shoal of fish. The fish are painted on the body, swimming in a whorl around the roundel which contains a rosette with overlapping petals. Both fish and rosette are painted in reserve against a lustred background. As a sculptor who has an enduring passion for geometric forms, and whose origins springs from my observations of the natural world, this dish attracts me both for its intrinsic beauty and for a personal connection.
Nigel Hall was born in Bristol, but then moved to the countryside in Gloucestershire.  He studied at the West of England College of Art, Bristol from 1960 to 1964 and at the Royal College of Art, London from 1964 to 1967. A Harkness Fellowship took him to the United States from 1967 to 1969.
Hall recently described his work:
My work is made in a variety of materials and scale from the small and intimate to outdoor pieces of 10 meters. From large works on paper in charcoal and acrylic to sculpture in birch ply, steel or bronze. Often informed by landscape, they use the language of geometry, utilising the dynamic possibilities of the ellipse. As when walking in landscape, so with exploring sculpture by moving, elements move in relation to one another as in a dance but have a stillness when contemplated at rest.
That statement sums up the essence of his shadow-inspired wall objects, and applies even more to the sculptures that can be viewed from every angle.  As the spectator moves and changes perspective, shifts occur in the relations of light and shade, movement and stillness, constriction and expansion.  Hall's sculptures inscribe elementary forms into their locus of presentation that inspire a dialogue with the architecture around them.  In the many parks and gardens that feature Hall's massive yet precise and elegant Corten steel or bronze sculptures, the spectator can enjoy a particularly powerful visual experience.
A solo exhibition of his work was held at the Royal Academy in 2011.  In 2017, Hall was awarded an Honorary Doctorate from the University of the Arts, London.
Here we can see Nigel talking about his working practice in a film from 2011:
Nigel Hall was in conversation with Barry Phipps, Fellow and Curator of Works of Art at Churchill College at a lunchtime talk on Wednesday 11 July 2018 at the Fitzwilliam.  Their conversation covered Nigel's whole working career, and within that we gained some insights into work that can be seen in Cambridge.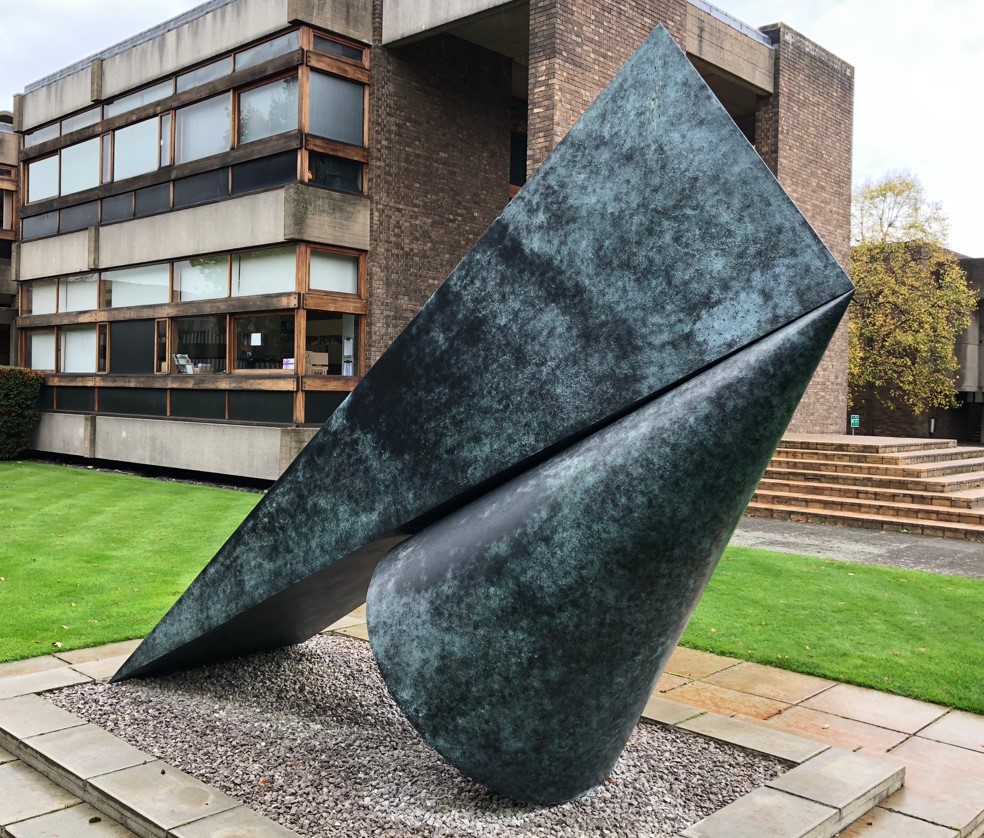 The first images we saw were of the three works that can be seen in Cambridge.  In particular Barry and Nigel discussed a sculpture called The Now (2000) which had been at Yorkshire Sculpture Park, but is now at the entrance to the College on Storey's Way, as is Southern Shade I (2010).  There is another large work, Bigger Bite, on the Sidgwick Site.  Barry commented that he interpreted the title The Now as seeing "… Two shapes resting against each other, but could fall at any moment and being there at that particular moment." Barry Phipps wrote about this sculpture when it arrived at Churchill in February 2015.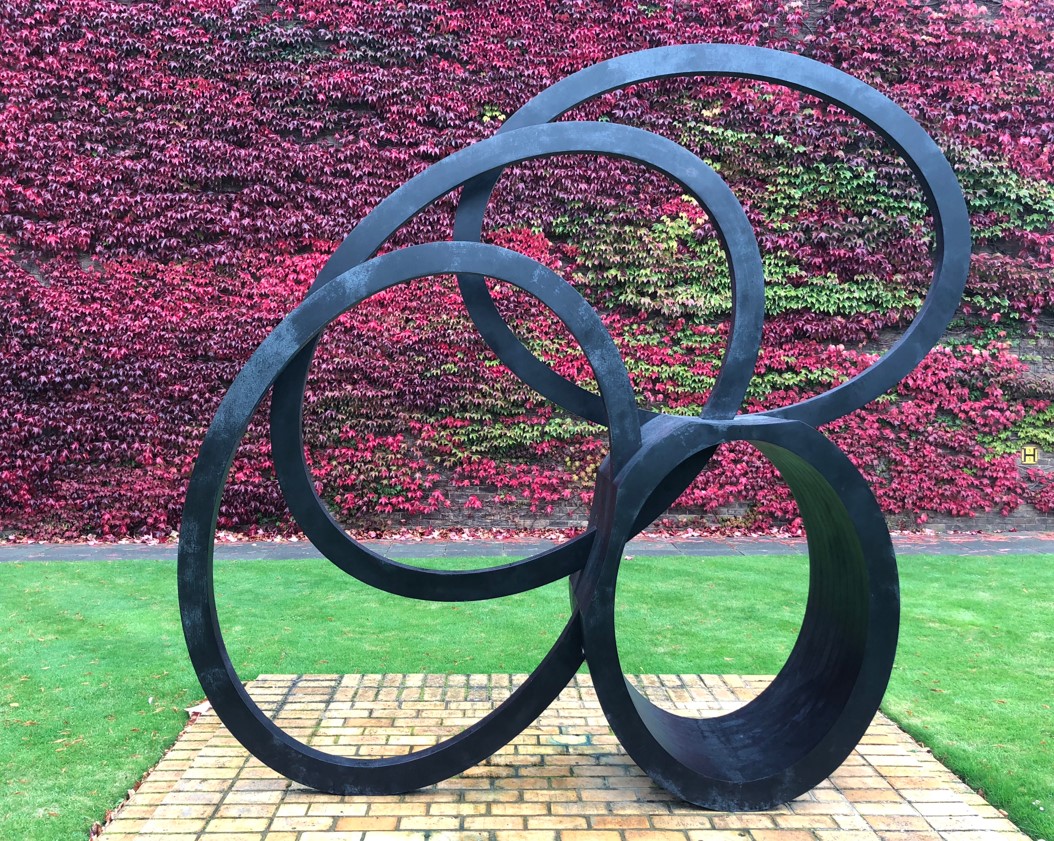 They also discussed an important early work called Freeze in the Kettle's Yard collection, which was donated by Bryan Robertson.  Barry Phipps suggested that everyone at the talk should lobby to get it on display!
Nigel then introduced his work in the Fitzwilliam, currently on display in Gallery 17:
In the collection of the Fitzwilliam there is a wood sculpture of mine called Venetian Twist.  This is one of a series of wood pieces that have an inner skeleton.  Venetian Twist came about because I was one of five artists staying with a family in Venice.  We had been invited to make works to be auctioned to raise money for the restoration of St George's Anglican Church in the city.  Venetian Twist is based on the action of gondola's paddle action.  There are six versions of this in different sixes, and this one was bought for the Museum by a former Director at auction, with funds provided by the Friends of the Fitzwilliam Museum.  It is not carved but made with a complex framework within onto which I put laminated wood pieces.  This means that the sculptures are good in extreme climates and they are also light, and can be wall hung.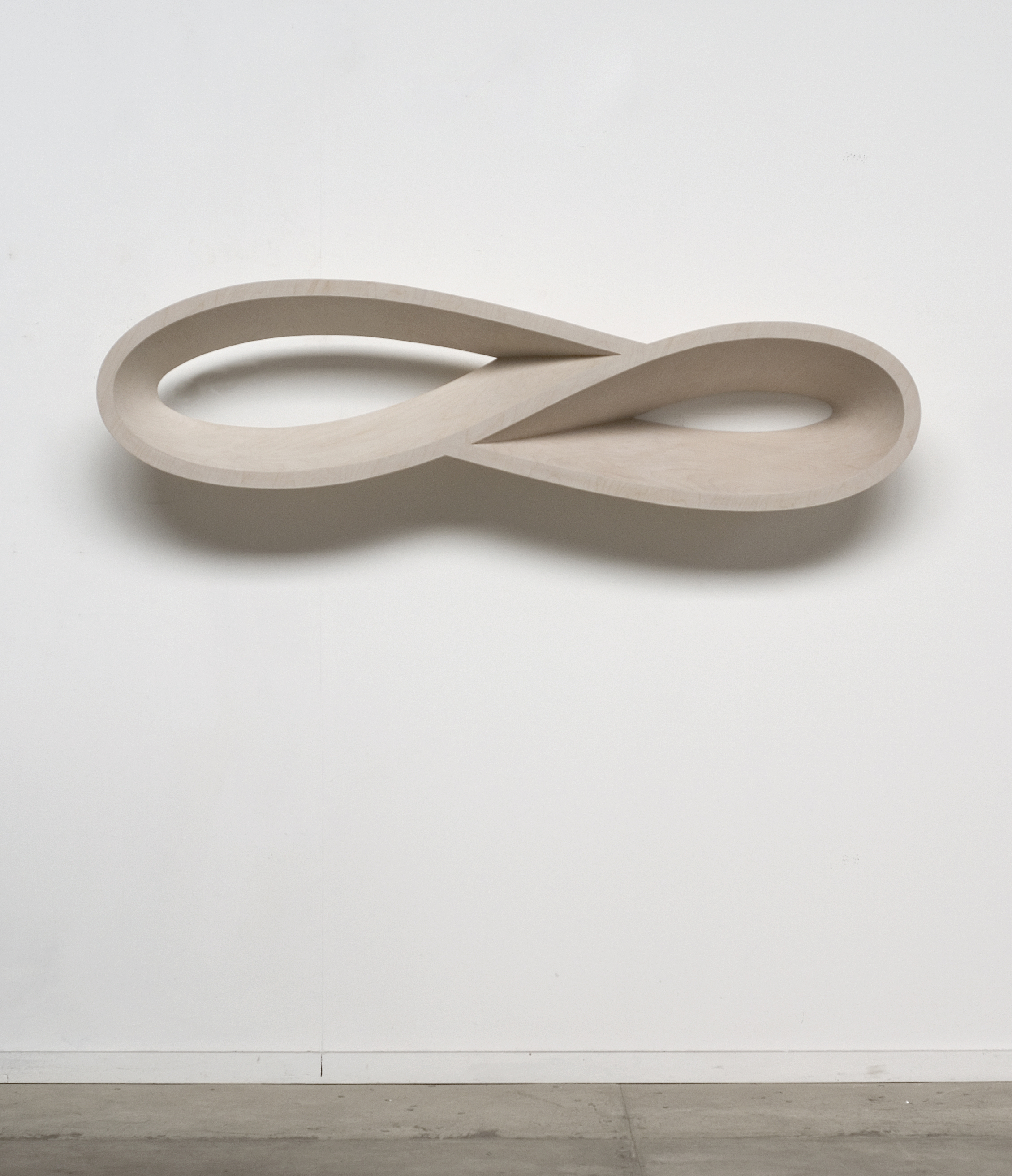 In his catalogue entry for the exhibition held at Sotheby's, in aid of the St George's Anglican Church Venice 400th Anniversary Appeal, Nigel explained the work: 'The sculpture hints at the vortices produced by a vessel passing through water, the singular movement of a gondolier's oar and perhaps the curious asymmetry of the gondola itself.'
You can find out more about Nigel Hall's work on his website and on his page on the Royal Academy's website.

This project, with Art Fund support, forms part of RA250 UK: Exhibitions and events around the UK to celebrate 250 years of the Royal Academy of Arts.