Rounding off a geological tour of Scotland in September 1827, two young 'rising stars' of British geology, Adam Sedgwick and Roderick Murchison, visited the Scottish home of another pioneer of 19th-century geology – Charles Lyell. Sedgwick left his field boots behind and now 191 years later, the Gifford family, relatives of Lyell, have kindly donated them back to the Sedgwick Museum of Earth Sciences.
In 1827, the Reverend Adam Sedgwick, 42-year-old Woodwardian Professor of Geology in the University of Cambridge, made a geological tour of Scotland. His 35-year-old companion was another ambitious young geologist, Roderick Murchison. As their visit neared its end they called at Kinnordy House in what was then Forfarshire. Kinnordy was the family home of another rising star of 19th-century British geology, the 30-year-old Charles Lyell.
When Sedgwick moved on from Kinnordy, he presented his hobnailed field boots to Lyell. Probably the boots no longer fitted Sedgwick. Inserts broadening the toecap seem to have been an effort to make them more comfortable. The gift was also something of a geological in-joke. They are carefully labeled as 'Presented by Professor Sedgwick, Sept. 24th, 1827, Post diluvian?' At the time, the nature and relative age of diluvial deposits in relation to their fossil remains was a hot topic.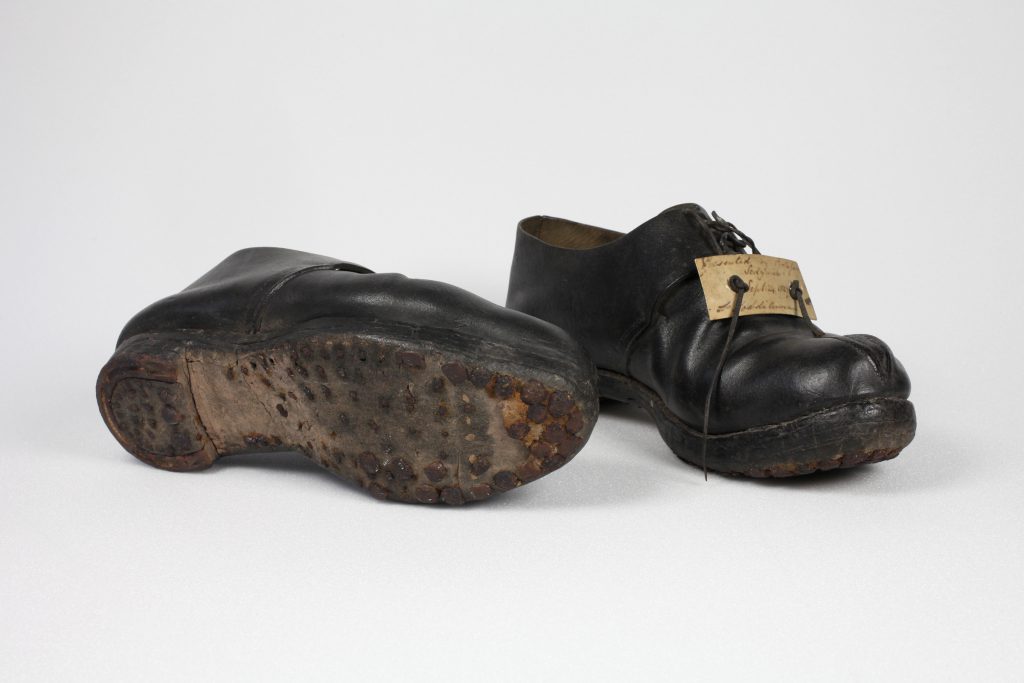 Now, in the bicentenary year of Sedgwick becoming Woodwardian Professor, the boots have been returned to Cambridge. They have been kindly donated to the Sedgwick Museum by the Gifford family, relatives of Lyell, who still live at Kinnordy.
Adam Sedgwick became one of the most famous geologists of the 19th century. And for the last 180 years his boots have held pride of place on the piano at Kinnordy. A relative of the Gifford's remembers noticing the 'wee tackety' boots with their hobnailed soles still sitting on the piano in the 1970s. Although the piano has now gone, the boots, were kept. They have clearly been well looked after and are in remarkably good condition.
We know that Sedgwick and Murchison visited Kinnordy in 1827 because the visit is mentioned in the Life and Letters of Sir Charles Lyell (1881). Lyell subsequently became famous as the author of Principles of Geology (1830-2), one of the most influential geology books of the 19th century.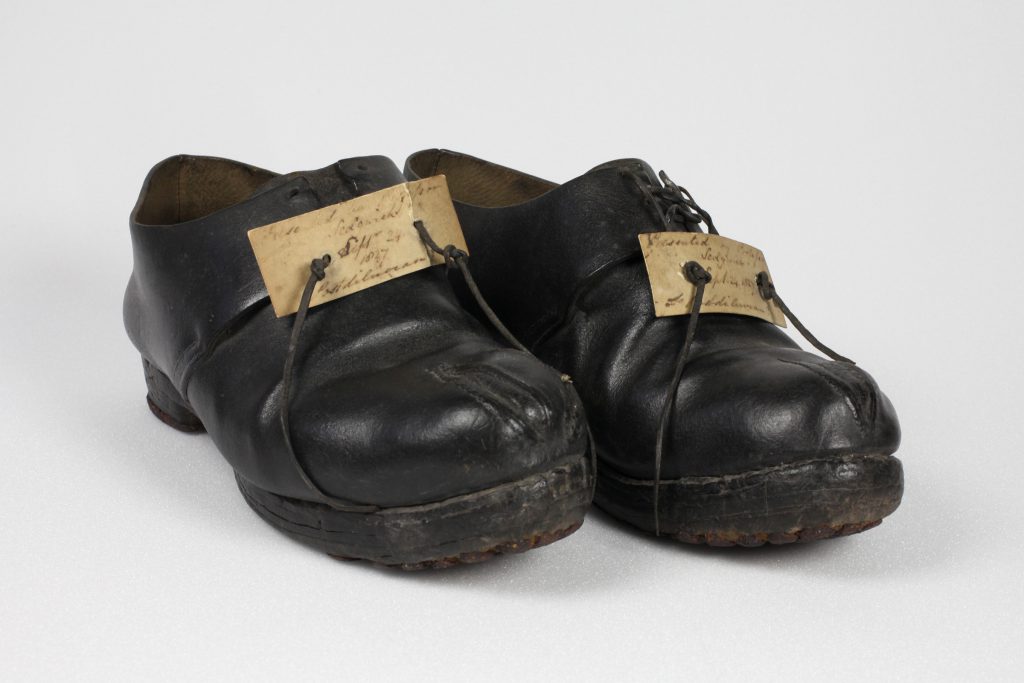 During his 55 year 'reign' as Woodwardian Professor, Adam Sedgwick became famous as a geologist – he named the Cambrian and Devonian periods of geological time. He was a respected cleric and prebendary of Norwich cathedral. He was also a university reformer, working with Prince Albert when he was chancellor of the University. And, it was Adam Sedgwick who tutored a young Charles Darwin in geology before his round-the world voyage on HMS Beagle. But it was also Sedgwick who was one of the foremost critics of Darwin's theory of evolution.
Such was Sedgwick's fame that when he died a public subscription helped fund a memorial building to house the vast geological collections he had helped create. That building – the Sedgwick Museum – was opened in 1904 by King Edward VII.  He first met Adam Sedgwick 58 years before at Osborne House on the Isle of Wight when he was just 6 years old.
Sedgwick's boots are now on display in the Sedgwick Museum as part of the bicentenary celebration of Sedgwick becoming the 7th Woodwardian Professor in 1818.