Community organisations from all around Cambridgeshire are working with the County Council to support young children to develop strong communication, language and literacy skills and to inspire parents to become more involved in their child's crucial early development.
After an initial arts-based 'getting to know you' session at the North Cambridge Children's Centre, families visited the Fitzwilliam Museum three times, exploring the galleries together through music, stories, movement, playful activities and sensory resources. The unfamiliar spaces of the Museum and the incredible art objects combined with carefully planned exploratory activities created an atmosphere of excited curiosity which inspired lots of rich conversational and communicative exchange.
Each museum visit also included a workshop in our art studio. Creative expression in all its forms was encouraged through getting to know amazing artworks and exploring high quality art materials, supported by our studio artists.
Families were given a Creative Families scrapbook in which to record their activities, and were given photographs taken at the Museum to include in it. This provided an opportunity for mark making and book creating together, and a memory to look back on and read at home.
Thanks to generous funding from Cambridgeshire County Council, we were able to provide families with gifts to use at home with their children (pens, pencils and crayons suitable for young children; a role play tea set; and watercolour painting materials). These related to activities and artworks we had explored together.
We know that a home learning environment rich in opportunities for play, communication and active meaning making can support children's learning and development right through the early years and beyond. We hoped that the combination of introducing new activities during the museum's sessions and providing resources to use at home would help the project to have a long lasting impact.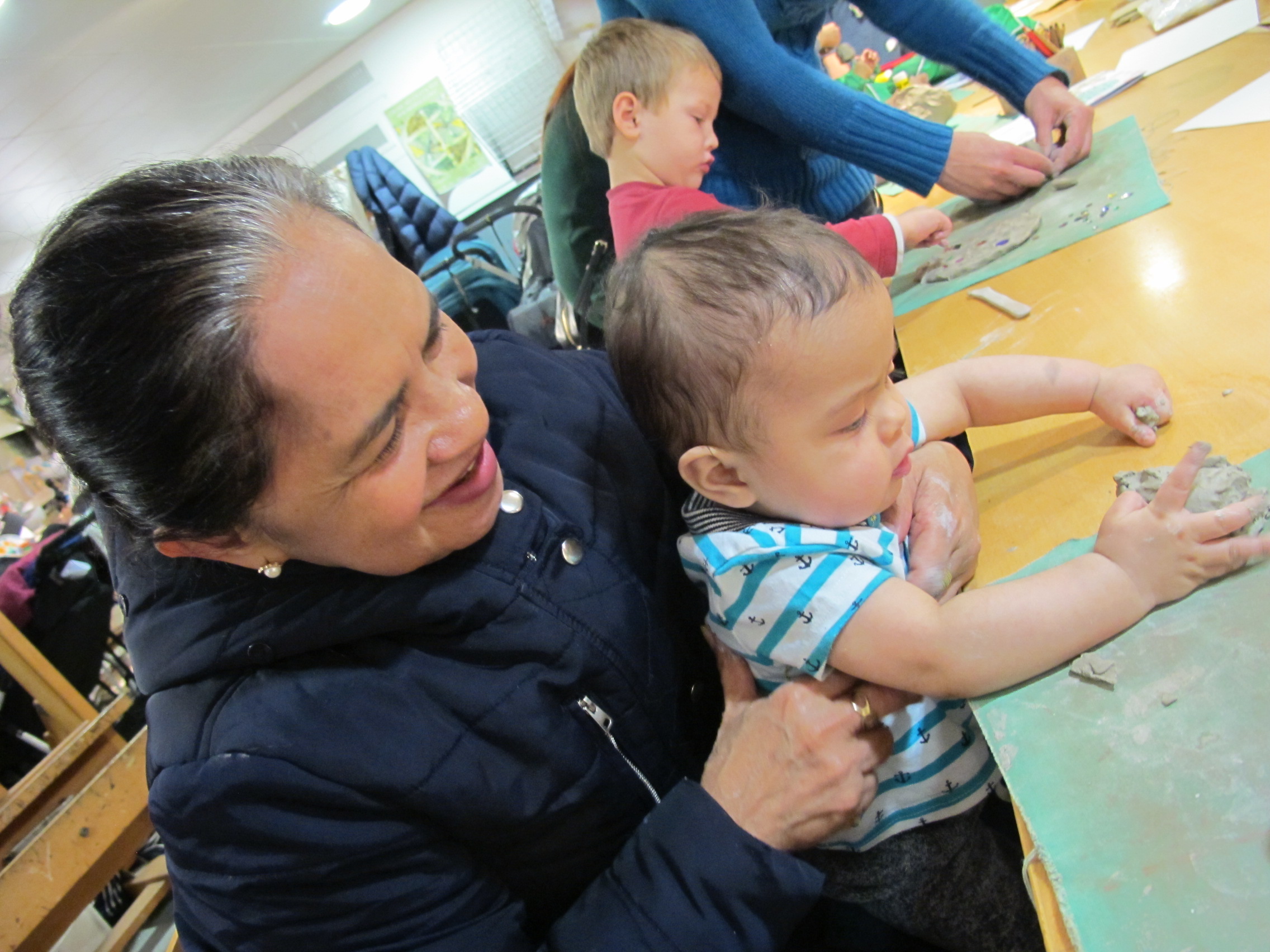 Museum education staff worked in collaboration with a Family Worker from North Cambridge Child and Family Centre. Over the course we worked with 12 different families – 17 adults (mums, dads and grandparents) and 16 children aged between 8 months and 4 years.
Over the different visits we explored armour through nursery rhymes, ceramics through 'The Tiger Who Came to Tea' and Impressionist seascapes through sensory play.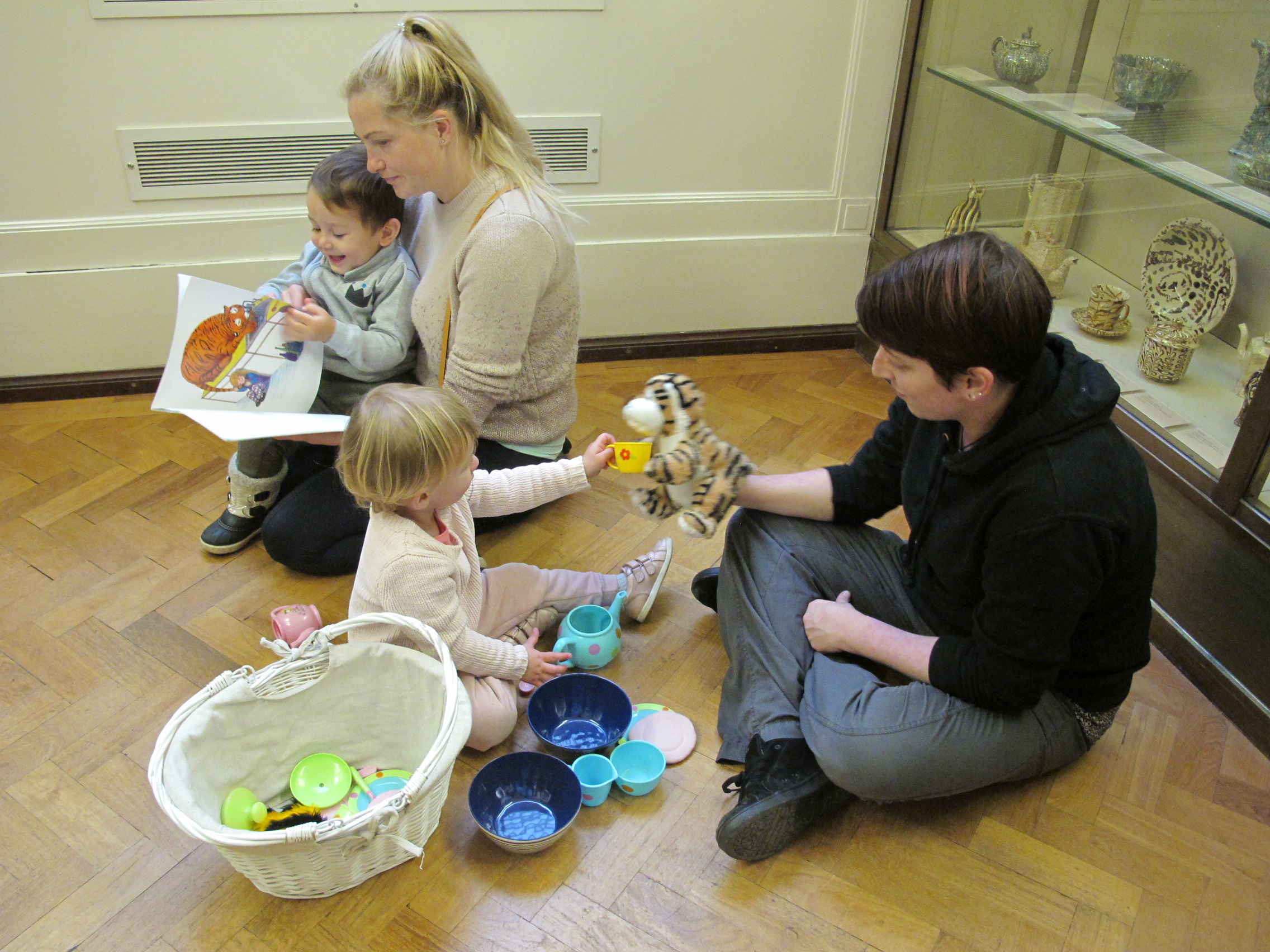 Staff at the Museum thoroughly enjoyed planning and delivering the course: the repeated visits gave us a chance to get to know the families and to share ideas together. Key to the success of Creative Families: Talking Together was close collaboration with North Cambridge Child and Family Centre. We have worked in partnership with them in previous years and this was a great basis on which to build an even stronger relationship with shared aims in mind.
Our evaluation from families showed that they felt more confident about taking their children out and about in the community, including to the Museum, which they identified with much more strongly than at the start of the course. They also gained new ideas for interesting activities to do at home.
Parents told us: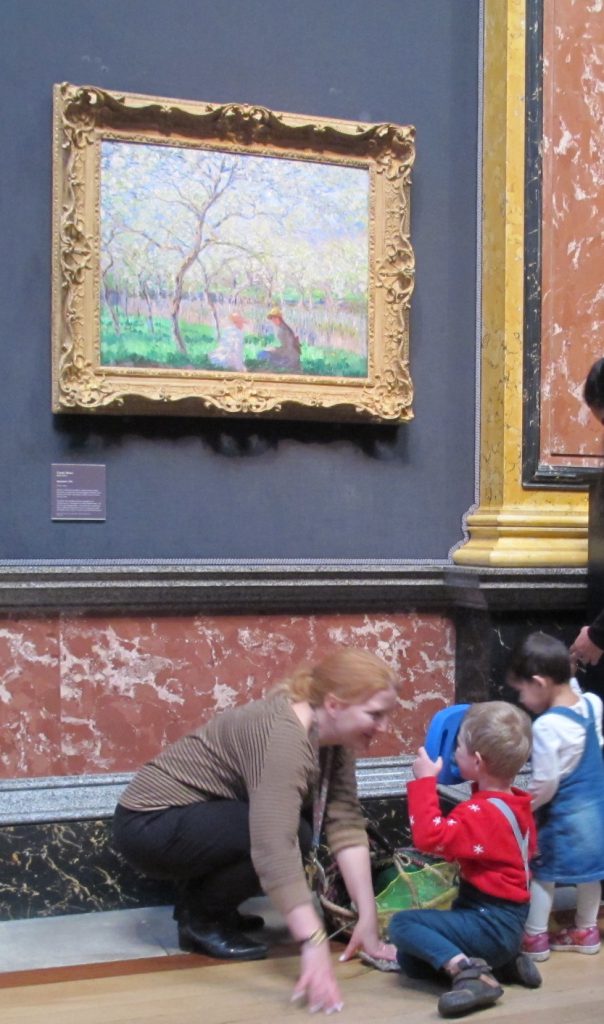 ·       It was excellent, exceeded my expectations. Very hands on and interactive.
·       The staff were incredibly patient and accommodating. They really understand children.
·       We will remember looking at display (statues and paintings and commenting about it); doing the craft; being around people; we will talk about the craft and staff and how lovely they were.
·       Absolutely fabulous. Great way to expose my child with arts and galleries. Was initially worried taking my lil ones in a museum but now realised has so much to see and explore.
·       The knights gallery was the best memory. We have talked about it at home.
Over the coming months we will be sharing our approach and learning with others in the Museum and Early Years sectors. In addition, The Fitzwilliam Museum will support Wisbech and Fenland Museum to deliver another Creative Families: Talking Together course in Spring 2019, and there will be another course in Cambridge for families using The Fields Child and Family Centre in Summer 2019.
If you'd like to know more about the Early Years programme at the Fitzwilliam Museum, please contact Nicola Wallis (nlw30@cam.ac.uk).
We'd like to thank Sarah Villis, Alison Ayres and Nathan Huxtable from the Fitzwilliam Museum, Sally McGivern and all the staff at North Cambridge Child and Family Centre, and the Talking Together Team for all their support in delivering the course.