Source is a free programme at the Fitzwilliam Museum for young people researching their art GCSEs and A Levels. The programme includes primary art and museum object research in the museum galleries, and guest artists in the museum studio.
Source introduces young people taking art and design exams to ' how to research from primary sources in museum collections and to extend this into your art through practical artist led workshops'. This programme includes museum educators' discussion tours, artist-led studio workshops, career and portfolio advice, student well-being, self-compassion and yoga.
Background to Source
Source was started in 2007 in response to the growing need for GCSE and A Level art students to research from primary art and artefact collections. Source offers students the time to research original objects, and enables them to draw and write in their sketchbooks in the galleries. Students are encouraged to discuss their ideas with their peers and museum education staff while freelance artists in the museum's education studio space support students' technical and conceptual art practice.
Source encourages young people to become independent learners outside the classroom as it takes place during school half-term and on Saturdays. Parents play a crucial part in the project by enabling students to get to the museum, and for shy students feeling outside their comfort zone parents give that all important initial confidence boost. Students work as independent learners within their peer group, with the support of education staff as facilitators.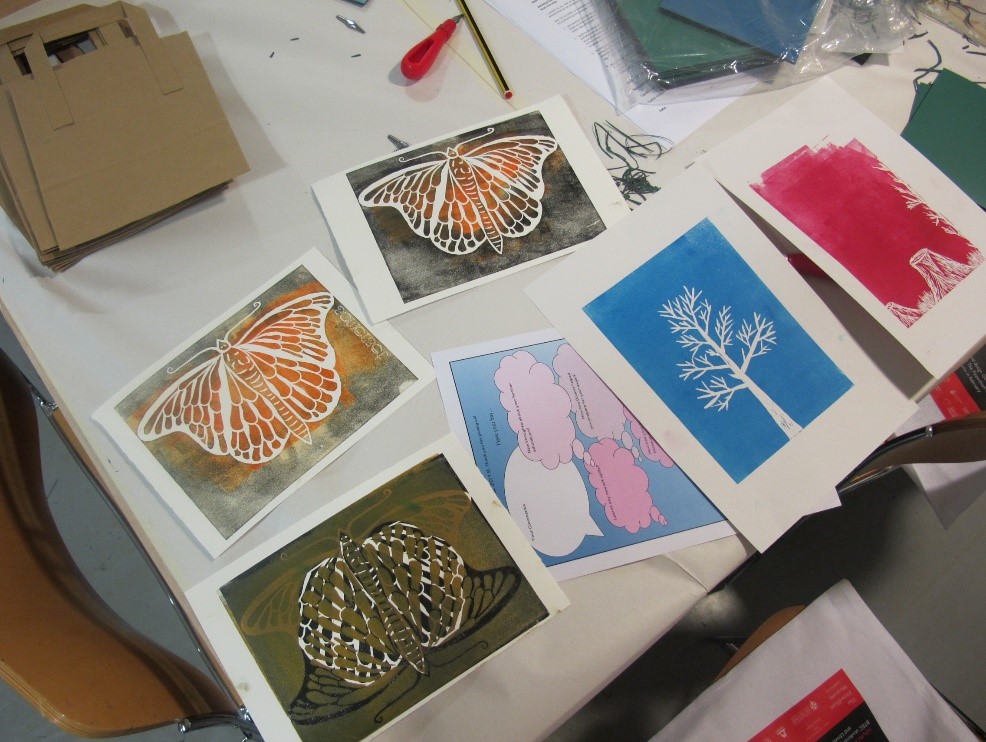 Learning Objectives
Source aims to provide:
Art History: informal discussion tours of the Museum collection.
Informal discussions with specialist Museum Educators on specific artefacts or specimens relating to art exam themes.
Exam theme help and one-to-one advice.
A team of professional artists to assist with art techniques and ideas.
Supported peer group learning.
A professionally facilitated art studio with a high standard of materials and equipment.
Access to the large and diverse University of Cambridge Museum (UCM) collections.
A programme that is accessible to, and supportive of, students with SEN (Special Educational Needs). Teachers and/or parents plan these visits with the museum education department in advance.
Students are offered a drop-in environment where they are provided with support as and when needed throughout their visit. Many students visit over several days to extend their work and find that they achieve a great deal. Sketching in the galleries leads to experiments and finished work in the studio. 2019 saw 111 young people visit over 6 days.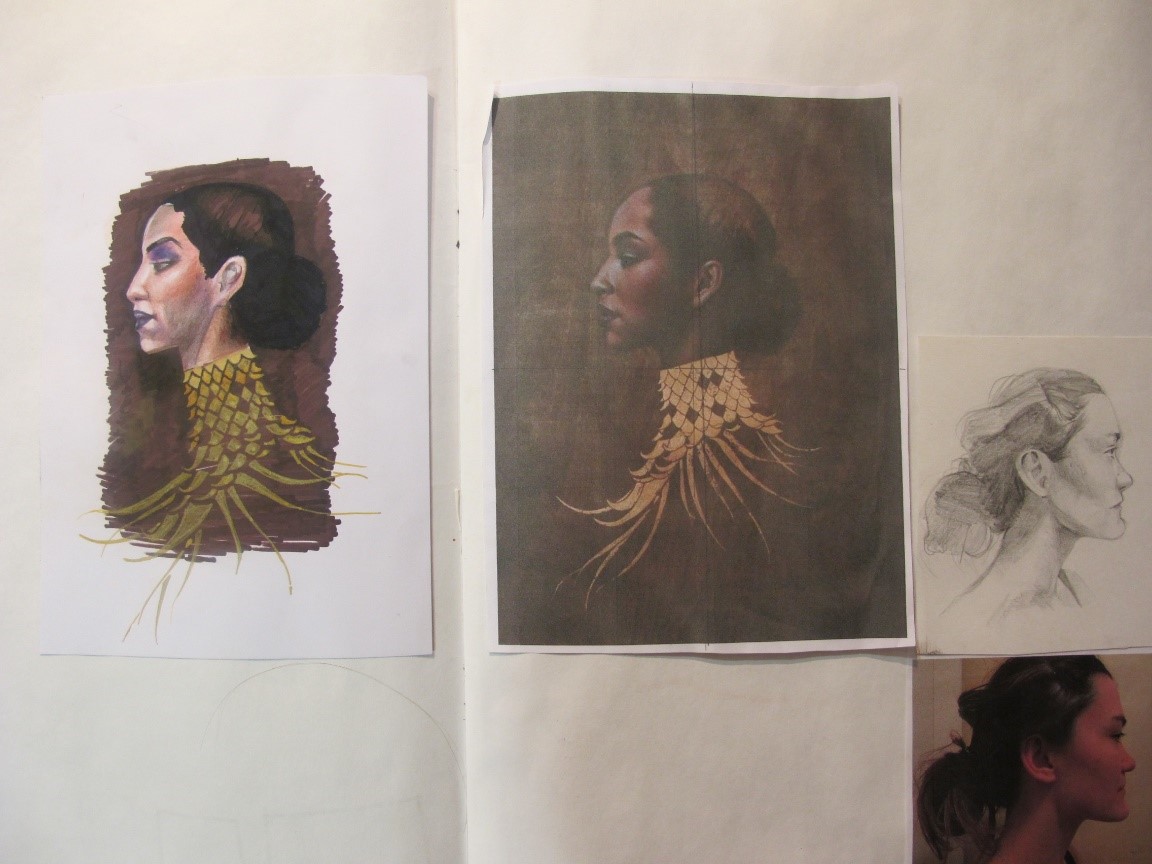 Connecting Collections
One of the most downloaded online resources from the Fitzwilliam Museum website is our Art and Design Exam Themes resource, supporting teachers with a prepared itinerary that matches key objects from the museum's collection to the exam themes.
What do young people think of Source?
This information was gathered as qualitative data on evaluation feedback forms.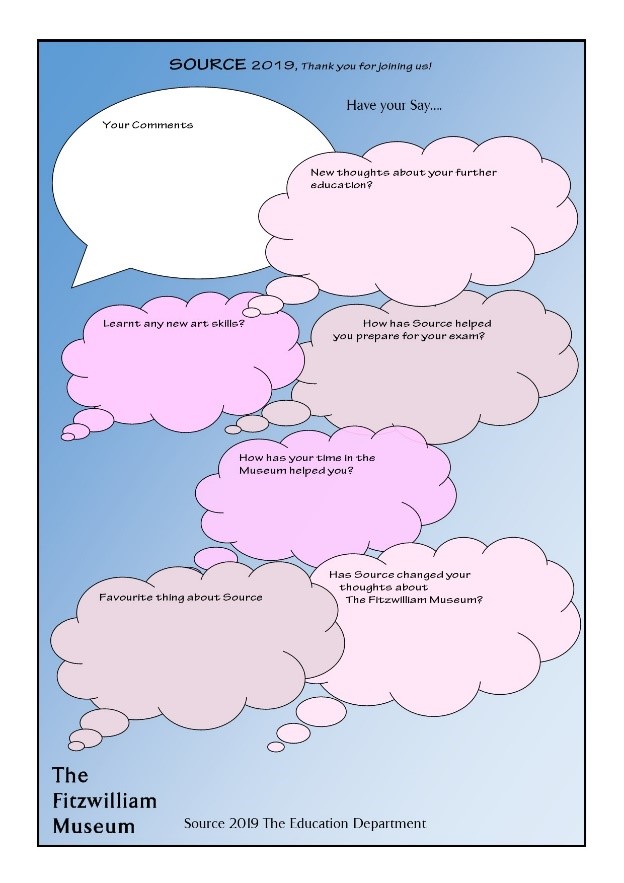 Meeting students' need to research their exam themes in the galleries from primary sources.
"Different source materials, paintings not photos, encouraged me to visit more often".
"Beautiful paintings that are useful for my own project".
"Good collection of preliminary drawings, I hadn't been to the olden part of the museum and I really enjoyed the whole experience".
"Found out a lot, new artists and styles, even old art has an application in modern art".
"I enjoyed looking at painting and making connections, extending my ideas and telling me about other artists".
Conversation and discussion
"Of course it helps a lot having conversations with each other and know where to improve, I should do more research on relevant artists and find inspiration".
"Great conversations about inspiration for artists and different areas of design".
"Really enjoyed it especially talking to the artist and having the time and space to focus on art".
"Relaxing conversation and beautiful arts collections".
"Talking with each other".
Extending exam theme research ideas
"Sharing different ideas are quite useful".
"Doing research, it is the most important thing".
"Directions in where to go next in art".
"Diversity and synergy is the key".
Confidence in art techniques and learning new art skills
"I was able to try out new techniques and gain further inspiration. I learnt etching and how to use water calligraphy brushes".
"It gave me different ways to look for my exam theme of Reflections and taught me new skills like how to successfully carve and print lino".
"It was very useful and I was able to try out new art skills and techniques I wouldn't have been able to do otherwise".
"Really enjoyed it especially talking to the artist and having the time and space to focus on art".
"Inspiring new ideas and artists to feed into my work. In the past I learnt embroidery and clay at Source".
"Taught about new aspects, new ideas, buildings, new galleries to visit and new artists".
"Allowed me to create more material for my exam folder".
"I got a fresh perspective on the exam topic, yes it made me grateful to have such a great place to come for help and inspiration".
Encourage students to feel engaged with the museum
"I didn't know you ran sessions for students".
"I know about what I want to develop further and am interested in looking at more workshops here".
"I feel relaxed and inspired, I hadn't heard of it before and I want to come back".
"I love spending the day here".
"Working with artists and people at the museum who know what they are doing".
"I like the museum, it helped me look at examples of other work that could influence my own".
Widening participation. Has Source changed your thoughts about further or higher education?
"The portfolio review has inspired me to do more independent studies and to continue doing what I enjoy".
"Foundation course, general open days at University".
"I thought of trying doing art course in college as I had a grade D from GCSE".
"Looking at A Level now".
"It made me more excited about wanting to pursue art in the future".
"Made it clearer about my future in further education".
"Meeting Hannah (Kershaw) was inspirational". (Ask the Artist Event)
"I am going to start MA in product design".
Positive attitudes and aspiration raising
"Try to find another way of researching, art should have a variety of expression".
"I really enjoyed the mindfulness in art, which was very helpful, it relaxed and inspired me".
"It was really helpful, I found lots of inspiration".
"Very helpful with where to go next".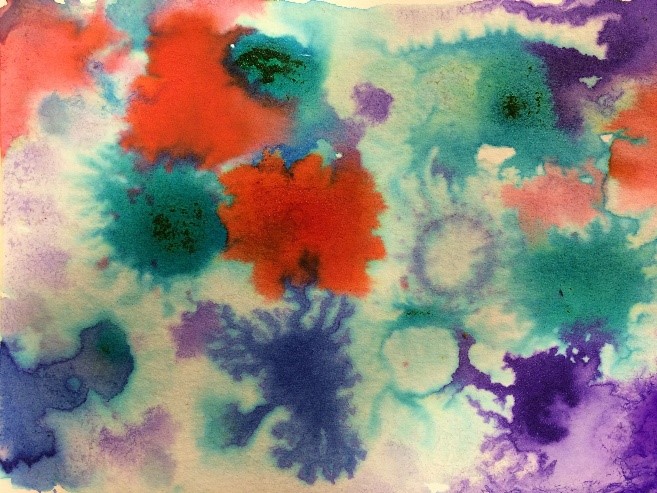 The artists are there alongside the students, experimenting with ideas and art materials
Creative energy, enriched ideas.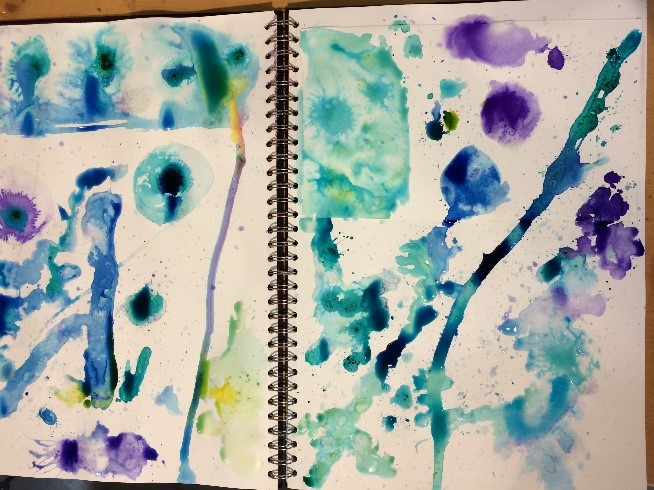 Establishing Connections with Higher Education at Source 2018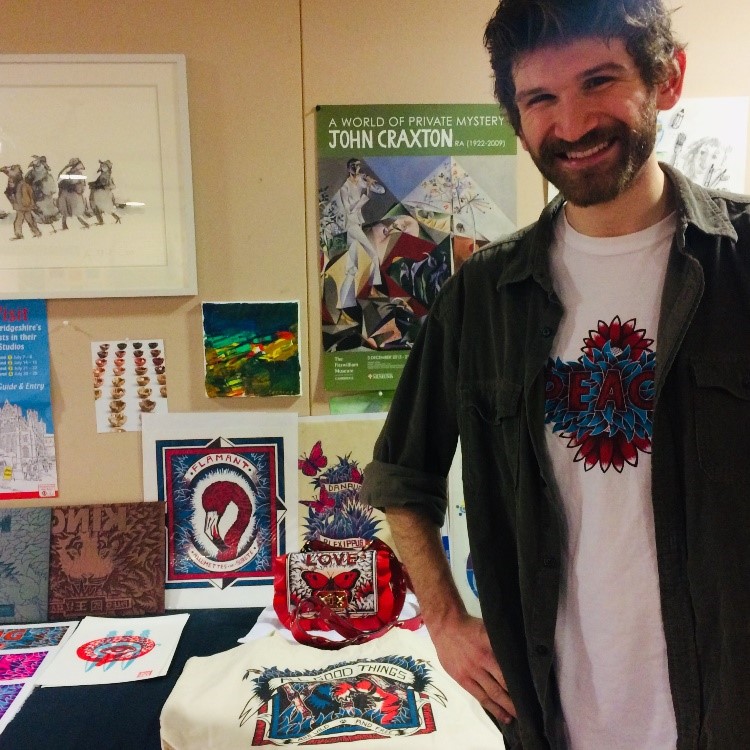 Student Portfolio review day with guest lecturers from Cambridge School of Art Anglia Ruskin University.  With thanks to Will Hill, Deputy Head of School, and John Clarke, Senior Lecturer, who gave valuable advice to our visitors at Source. With bookable slots of up to 20 minutes per art student (and parent) this proved really useful for students to find their strengths and weaknesses with gentle guidance and encouragement from Will Hill.
Will and John offered insights into degree courses and potential career paths in the arts. 9 students took up these 20-30 minute portfolio review slots, these proved a valuable addition to the programme with a real interest shown in arts courses particularly Game Design.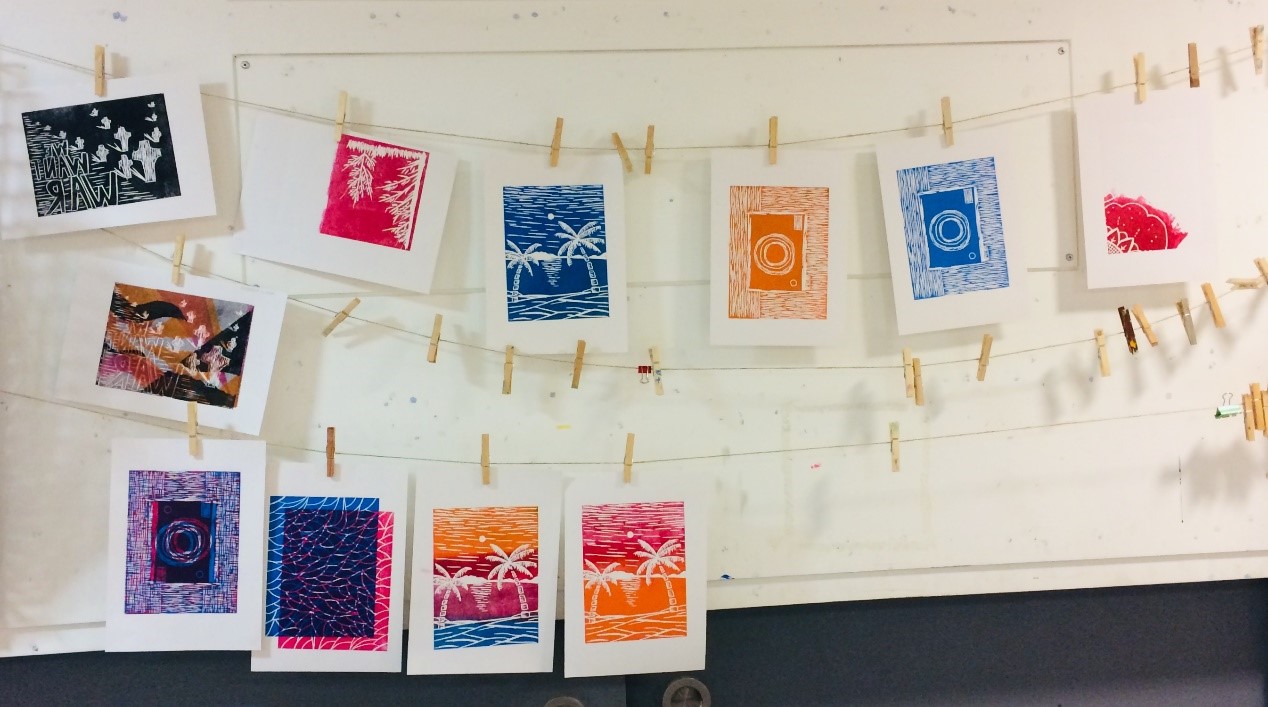 Ask the Artist, an addition to the programme this year, with artist Iona McCuaig and Exhibition Designer Hannah Kershaw offering an hour-long question and answer session with the young people. Hannah and Iona offered advice on subjects such as applying to art college, sustaining a career in the arts, how to establish yourself as an artist and what it is like to be part of a studio group of artists. 10 pre-masters students joined 6 secondary students for this session.
Mindfulness and art
With growing awareness of student wellbeing, schools and colleges are embedding student support as part of the forward facing offer for all. This session of Mindfulness and Art was design for students in years 10-13. Facilitated by therapist Samina Khan and Yoga teacher Daniella McDermott these 2 one hour sessions took place in the Chinese gallery. Mindfulness walking meditation over 30 minutes took place in gallery 11. A focus on breathing through stress and anxiety, self-compassion and body tension release. To be repeated on Saturday 15 June 2019
Inset events for art teachers
Several teachers commented that they would very much benefit from a wellbeing session having seen the Source sessions for students on self-compassion, wellbeing and yoga so this is offered as a CDP event in June alongside a repeat for students on the same day.
Mindfulness and Art, as part of Creativity and Wellbeing Week
A session for Art Educators to refresh, restore and rebalance using mindfulness, self-compassion and body balance. Saturday 15 June 2019.
Development plans for Source 2020
A return of the portfolio review session with additional careers advice and courses.
Focus art technique Saturdays
Master classes each day of Source from figure drawing to arts techniques
Additional visiting handling collections are welcome as are continued links with the other University of Cambridge Museums.
Pop up promotion for schools and colleges in the lead up to SOURCE, build in schools visits.