Portals to the World is a long-running University of Cambridge Museums (UCM) project for adults with dementia and their care partners. This spring, we brought the programme to the Museum of Zoology for a dedicated 6-week long course, delving into the natural world through current research stories and the Museum collection.
Read on to discover how we shaped the course to match the science-based stories being told and used the museum to set our audience up for success.
I began my UCM career as a volunteer for the access and outreach team at the Fitzwilliam Museum, including volunteering on the then 4-year old Portals to the World programme. It was a fantastic way to see the collections being used and accessed by an audience that are traditionally isolated from many activities once receiving a diagnosis. I remained involved with the project as I moved through various other roles in the Museum and continued to feel a sense that we were 'using our powers for good' and witness the benefits that stimulating, social activity can have on all involved. So it was only natural that I should want to bring the project to my new home at the Museum of Zoology once we reopened in June 2018.
Adults living with a cognitive impairment such as dementia can experience a shrinking of their accessible world. Portals to the World hopes to combat this. As with the annual autumn course at the Fitzwilliam Museum and summer course held at the Polar Museum in 2017, the Museum of Zoology course would aim to provide a stimulating yet consistent experience for adults with dementia and their care partners or companions.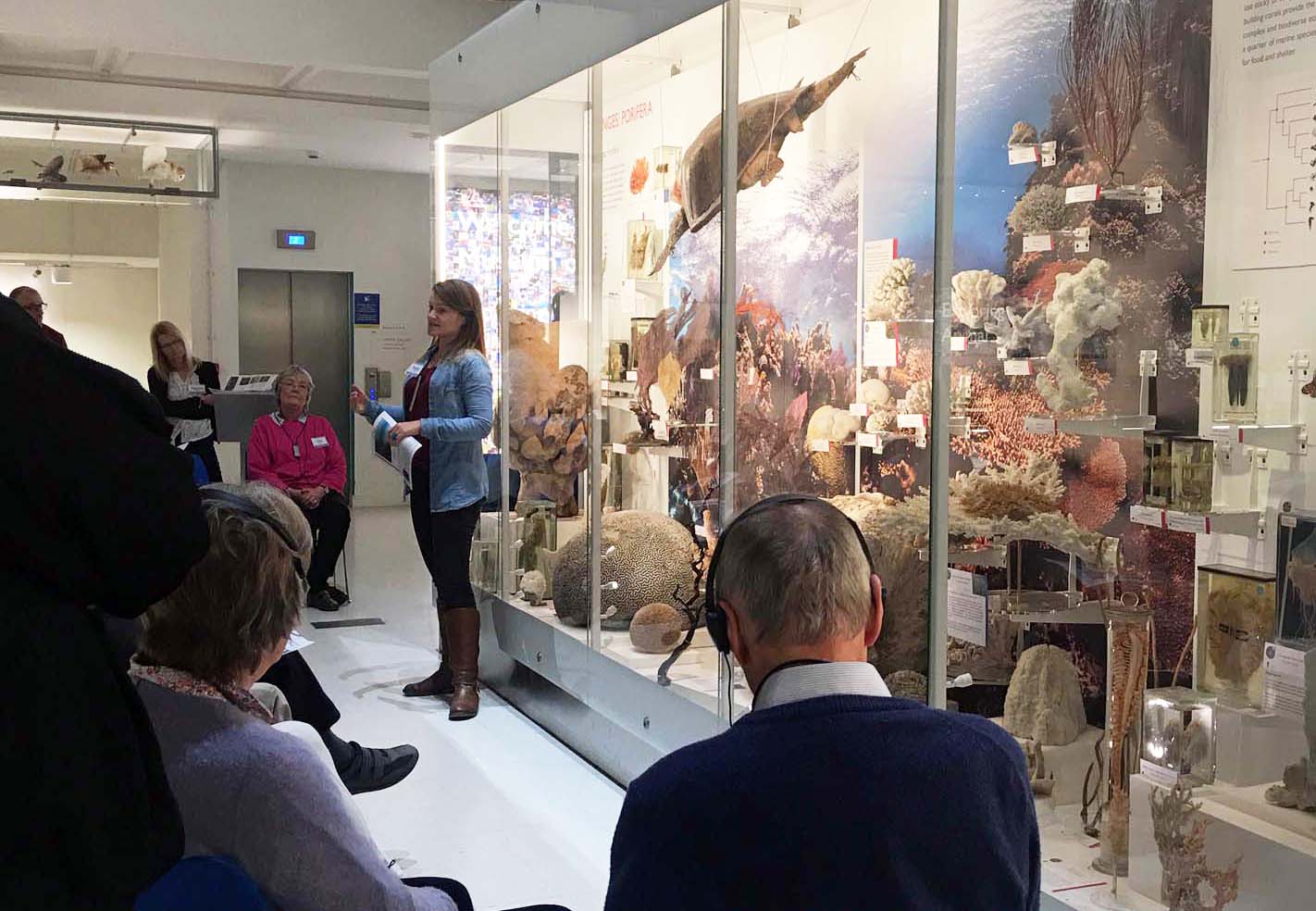 The course at the Museum of Zoology ran for 6 weeks. From bird beaks to corals, cichlid fish to butterflies, each week included a talk given in the Museum gallery or collections store by the researchers or curators themselves, and linked museum collections with departmental research. This was followed by obligatory tea and biscuits, and a hands-on closer look session in the Museums learning lab.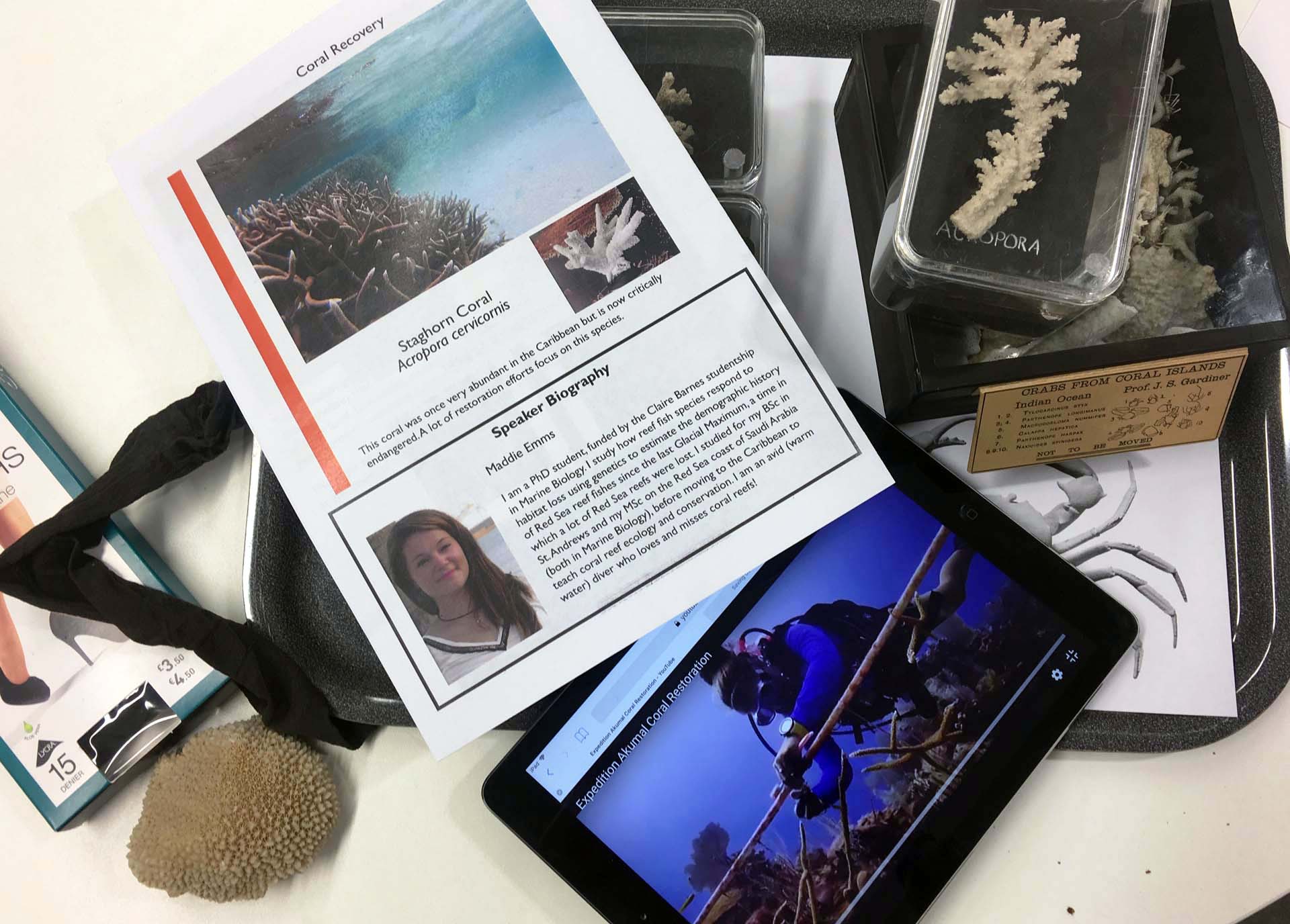 We are, of course, not working alone when we deliver on such a bespoke project. The training and expertise provided by our project partner at Dementia Compass was key to the success of each session. In fact, adapting what we had already learnt from the Fitzwilliam course to a science-focused course was a learning experience for us all! I do not wish to count the hours spent on creating and tweaking the all-important handouts used as tools during talks, and a take-home to extend the experience, but they were worth it nonetheless.
Our speakers came to us from across the Department of Zoology and included PhD students, post-doctoral researchers, fellows and curators. They received training and one-to-one support in developing their talks, ensuring that the content was suitable and communicated in a way that allowed this audience to access it. I believe that we may have successfully encouraged an interest or two in the reproductive peculiarities of echidnas!
The hands-on sessions often included specimens usually kept in the Museum stores, or examples of observations from labs and fieldwork. We were even able to nab a few flowers from the Botanic Garden greenhouse! With permission of course.
Speakers have told us that involvement in the course has been a 'hugely rewarding experience', 'plus it's fun and relatively low time commitment'. Evaluation tells us that speakers felt supported by staff and indicated high levels of personal wellbeing.
The course also relies heavily on a team of dedicated project volunteers, who often come to lend a hand for a number of reasons; from personal experiences with cognitive impairment, to wanting to widen their experience with different groups. Their role involves providing support during the sessions where needed and a familiar face for conversation.
I was pleased to see that all of the volunteers would recommend this role to others. Feeding back that it is 'very fulfilling work, the people I met were absolutely lovely (both the volunteers and participants) and you get to learn interesting things on top of that!'
Participants confirm our thoughts that this is something that they enjoy doing together, in the knowledge that they are safe, secure and supported. A number of participants fed back that they appreciated being given the extra time needed to experience the session thoroughly. Conversations had as a result of the talks have extended into their home environment, with particular emphasis on the current department research presented in the talks.
What would I do differently?
It goes without saying that there are things that I would do differently next time. The practicalities of delivering any programme in a new space will always throw up future tweaks and changes. For my own time-management, I would have begun to prepare course materials earlier. I would also extend the sessions from 1.5 hours to 2 hours, but remain with the same content. Conversations were, pleasingly, much fuller than expected and I found that I was having to cut some short to ensure that participants were able to leave (relatively) on time.
Personally, I was interested in how being involved in a course like this one could change the perceptions of speakers and volunteers of a museum's capability to provide for and impact the lives of different audiences. When asked, both groups reported that it had changed their perspectives on the roles and responsibilities of a museum. I hope that we can continue to highlight how well museums and cultural institutions can step into roles that benefit everyone in our communities through projects like Portals to the World.
What's next?
While we hope to be able to run another Zoology course next year, the participants and volunteers are now able to join the UCM Portals to the World alumni group. Opening up the opportunity to attend talks across all 8 museums and garden on a monthly basis. If you are UCM or University of Cambridge based and would like to get involved by giving a talk to our lovely Portals cohort, please get in touch with Ruth Clarke via community@fitzmuseum.cam.ac.uk.