The painter Whistler saw a parallel between his artwork and musical compositions, so this exhibition seemed a perfect opportunity for our young visitors to explore the connections between music and paintings.
The Fitzwilliam Museum and the Academy of Ancient Music have collaborated before to create musical adventures in art with very young children, which you can read about here.
Our shared understanding that audiences of all ages can engage meaningfully with artworks, and respond creatively to them was what made us what to embark on this new project together. We wanted to find ways to introduce families to some of the themes from the Whistler exhibition musically, and create opportunities for children and their carers to express themselves through music and art. A parent told us: 'I felt so happy and inspired,' and that's just what we were hoping for!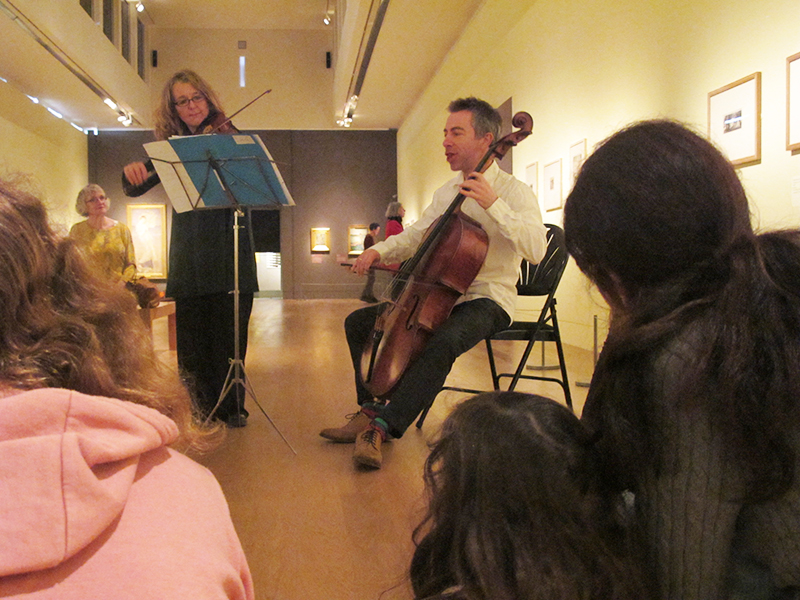 Violinist Jo Lawrence and cellist Joe Crouch worked with us to create two sessions – one for older preschoolers (aged 2-5 years) and one for babies (0-2 years) and their accompanying adults.
We took inspiration from the works in the Whistler and Nature exhibition, beginning with a delightfully expressive etching: The Storm. Jo and Joe used snippets of vivid works by Debussy and Faure to create the different elements of the stormy scene: the driving rain, howling wind, looming clouds – and invited the families to add their own musical effects too using bodies and percussion instruments.
I liked the children playing music with the musicians. – Parent Feedback
Schumann's Träumerei offered a dreamy way into Whistler's equally misty Battersea Reach from Lindsey Houses, with shapes seeming to emerge from the fog, only to drift away again just out of reach with the rise and fall musical phrases.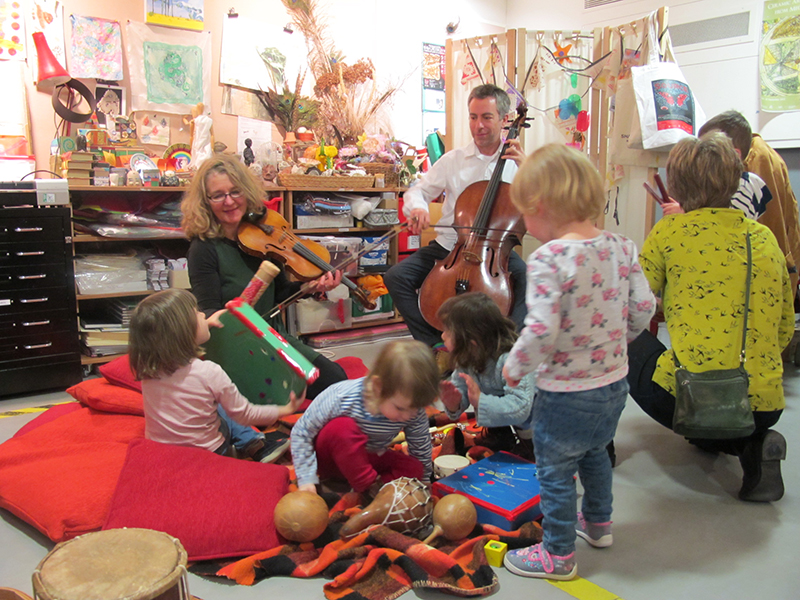 Then on to something more lively! Inspired by Albert Joseph Moore's Seagulls painting of a woman on a beach, her clothes and scarf blowing in the wind, we learnt the Northumbrian folk song Blow the Wind Southerly, made famous by singer Kathleen Ferrier.  It tells the tale of a woman waiting on the shore for her lover to return to her from the sea. This gave children and parents a chance to dance and move along with the music, with the addition of light, flowing scarves to sway which matched the diaphanous fabrics in the painting.
"I liked how inclusive it was of everyone there, with a real sense of respect for the children and their creativity." – Parent Feedback
Finally, we looked together at Whistler's seascapes. The younger children used sensory resources to explore the colours, textures and shapes in the paintings while the musicians watched and accompanied them, responding musically to their play. The older children used a limited colour palette to create their own seascape inspired pictures, which Jo and Joe played as graphic scores, paying careful attention to the children's mark making and creating new improvised works from their ideas.
"It was great fun and O, age 4, loved it. She particularly loved them "playing" her drawing." – Parent Feedback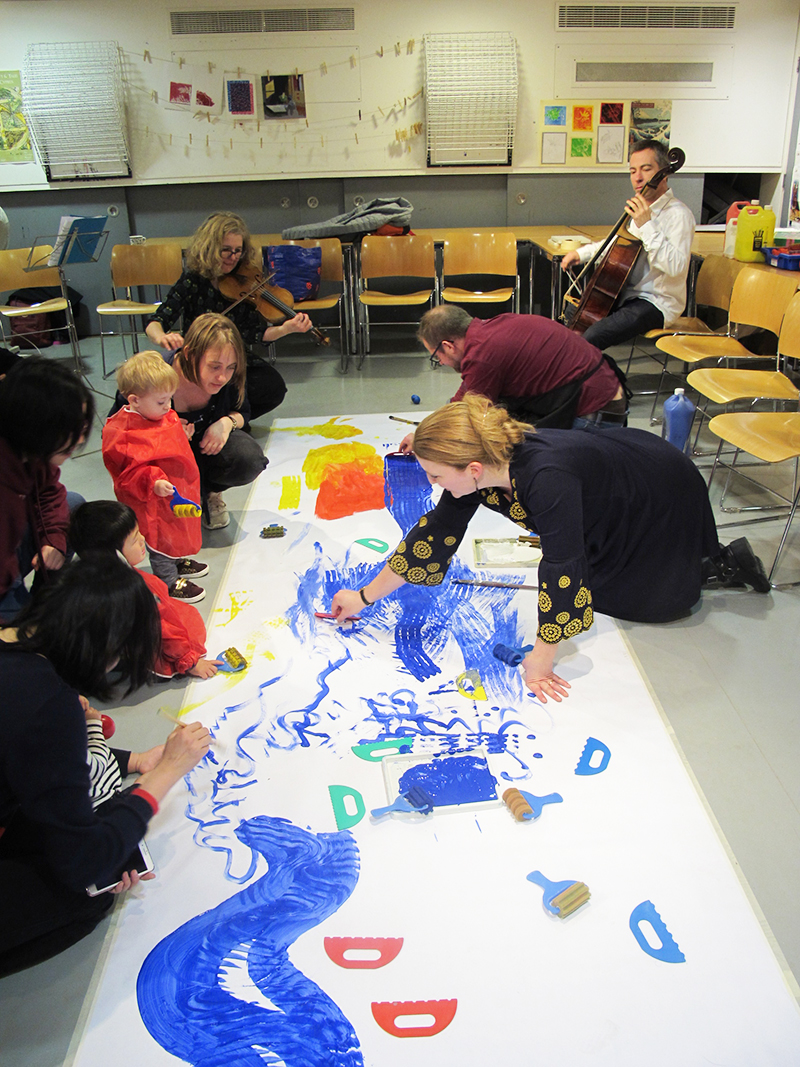 In the studio, the babies continued to explore seascapes by making a collaborative painting on the floor, whereas the older children had the opportunity to design their own ocean drum using dried beans and seeds inside a cardboard box. Throughout the making workshop, the musicians interacted with the children: playing alongside them, reinterpreting their play and art through music, and introducing them to tiny excerpts of pieces from the baroque and classical repertoire.
"Wonderful multisensory experience in a unique environment." – Parent Feedback
The children showed real engagement with the musicians and musical ways of interacting with art objects and spaces. It was an absolute delight to be able to witness these special encounters between our young visitors and artworks both old and new, visual and musical.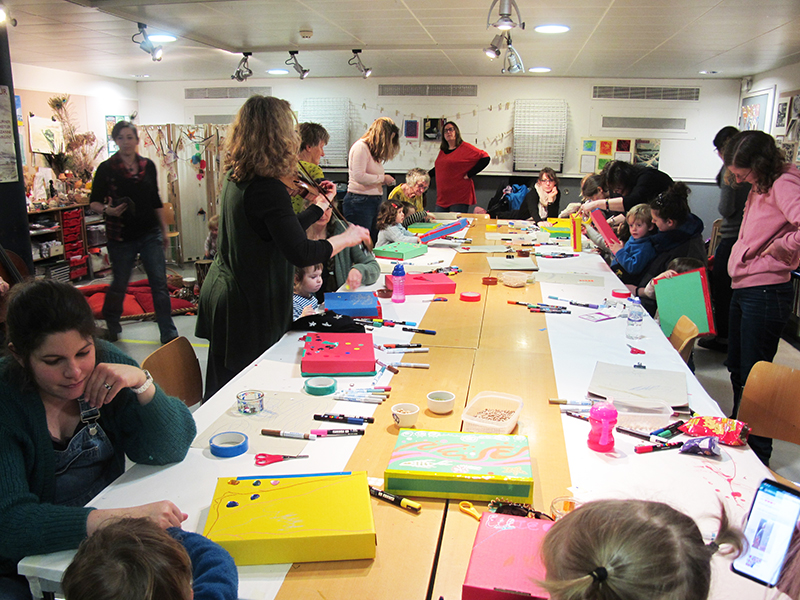 Families told us that taking part had been a very positive experience for them:
"Lovely time together! My daughter is two and I wasn't sure if she'd be a bit young but she was so engaged. The way the musicians interacted with all the children through their music was wonderful and the activities were pitched just right. It has been good to have a shaker to bring home with us as we can carry on talking about the morning afterwards. It was great for me too. I have never sat so close to someone playing the cello to feel the vibrations sitting on the floor and that sense of being surrounded by beautiful art and beautiful music was amazing."

"What a wonderful morning – for children and adults. Hearing the music and encouraging children to listen and imagine was lovely and my son enjoyed it all, especially finishing off with making their own instrument."

"A real gift. It was such a special morning with the violin and cellist joining us and helping to explore the connections between art and music."
We'd like to thank our wonderful musicians Jo Lawrence and Joe Crouch as well as Sue Pope, Alice Pusey, Anthony Brice and Kemper Edwards at the Academy of Ancient Music for their support with the workshops and also Alison Ayres and Nathan Huxtable, Fitzwilliam Museum Studio Assistants, for their help, advice and creativity.
If you are interested forthcoming events with the Academy of Ancient Music, have a look at their website www.aam.co.uk.
If you'd like to know more about the Early Years programme at the Fitzwilliam Museum, please contact Nicola Wallis (nlw30@cam.ac.uk).