In 2018, the University of Cambridge Museums (UCM) set in motion a series of events designed to explore if and how it could extend its engagement with adults who are blind or partially sighted. Taking place at the weekend, the workshops combine audio description, touch and shared learning with making, creating and collaboration, and are led by artist Sally Todd.
The structure and ambitions of the workshops came out of the existing UCM Touch Tour programme and the RNIB's Sensing Culture initiative. Run in partnership with four museum services, Sensing Culture challenged the sector to improve opportunities for engagement arguing that 'if you get the visitor experience right for blind and partially sighted people, you are on the way to getting it right for all'.  In this post, Ruth Clarke, Inclusion Associate and the workshop programme manager, interviews Sally Todd to explore her thoughts on what has happened to date
What type of experience are you aiming to set up for people?
I am keen for the workshops to be immersive, with time and space to experiment with a range of materials and processes, to enable people to fully participate in art making and their own individual self-expression. I want to encourage people to feel that any medium they wish to explore and create with is possible.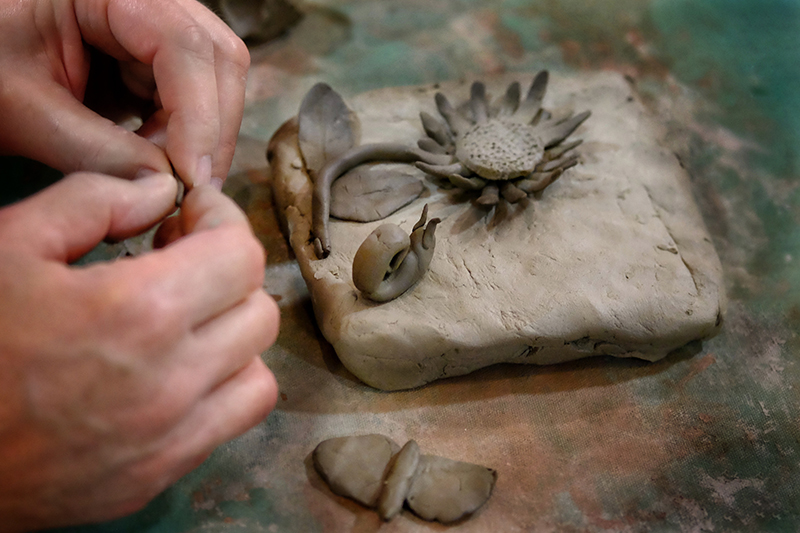 How do you position the museum collections in these experiences?
I realise how privileged sighted people are to have access to the rich variety of artworks at the Fitzwilliam Museum, artworks that often inform my own practice as an artist. This programme has heightened my awareness of how remote the Museum can be for people who are blind or visually impaired who also wish to use the collections as creative stimuli.
With this in mind, each session is shaped as much as possible around which artworks can be explored by touch and what other sensory materials or objects can be added to this to compliment and extend understanding and meaning making. Accompanying this with audio description, research and thoughts on the artwork and the artist's intent set the scene for discussion and further investigation.
What mediums have people worked with?
My approach is to follow the participants lead building on people's responses to stimuli and materials incrementally. In these initial sessions, this has led us to enjoy materials that yield to the touch, which can be shaped and felt in the round such as clay or soap (for carving).
These mediums have correlated successfully with the artworks we have explored to date. For instance, the Carving from Nature workshop in March 2019 was directly inspired by the work of modernist sculptors Barbara Hepworth and Henry Moore. Participants were invited to experience, through touch, two of the artists' pieces, 'Minoan Head' and 'Hill Arches', and to then explore objects from nature that informed the artist's vocabulary such as sea-worn stones and shells. Using these as reference, the participants went on to carve, using soap, their own modernist inspired pieces.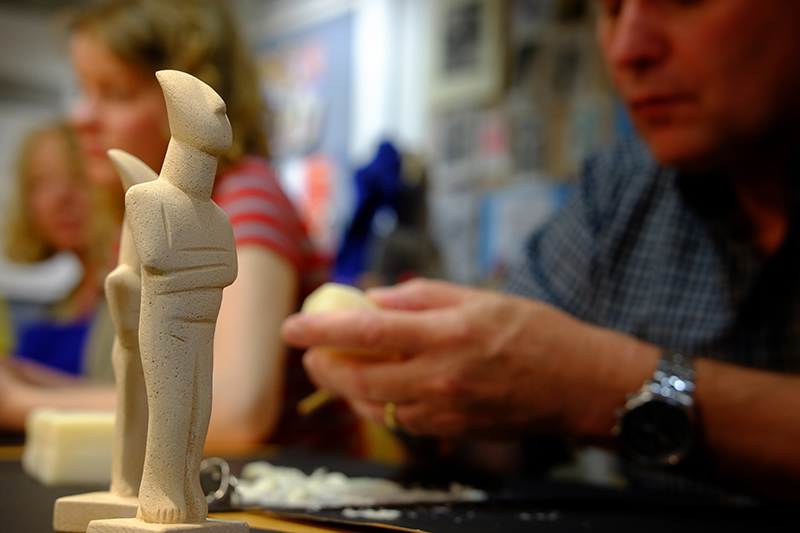 The following quote from Barbara Hepworth is helpful in expressing the importance of touch and how it is the foundation for the creation of sculpture and experiencing it:
'I think every sculpture must be touched, it is part of the way you make it and it is really our first sensibility … it is the first one we have when we are born.'
A participant from this session, when touching Hepworth's Minoan Head, expressed the importance of this to her and in many ways validated this notion of how to touch is to possibly also be touched, when she said:
'I felt completely held by the piece, by its shape and form, but also by its very solid presence.'
What else happens in the sessions, besides exploring the collection and making?
We are increasingly building in time for the group to touch and reflect on each other's work, as the shared experience of this cultural activity seems so valuable. A companion and/or guide dog accompany most participants and they too bring a rich framework of support and creativity to the sessions. The shared experience is becoming increasingly central to the work, whether that be with a friend, partner, and family member or with the group and museum team as a whole.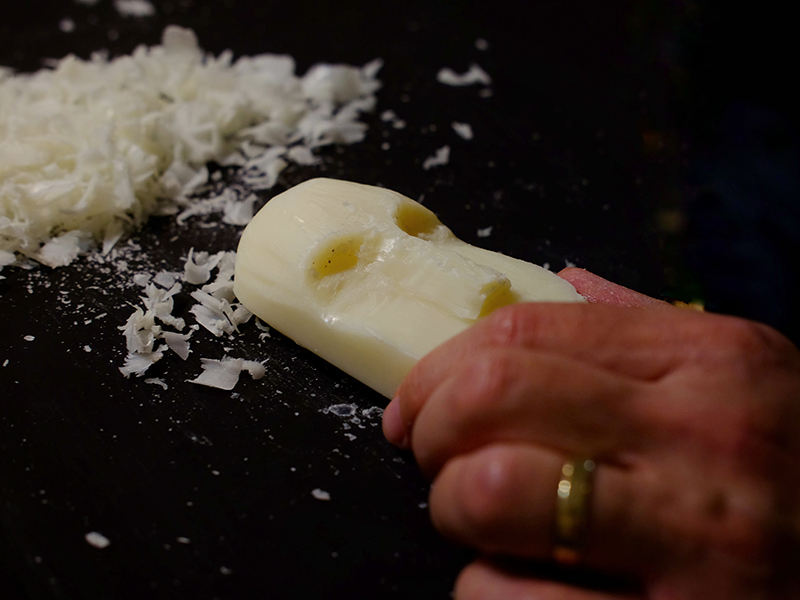 Does this work influence your own practice at all?
I am inspired by the participant's creative responses and greatly encouraged by the trust people have given us, being open to experiments in materials, ideas and approaches. When the work emerges it feels like a kind of alchemy and it makes me realise how much I foreground the visual sense in my own artist practice, sometimes forgetting to acknowledge the power of the other senses, particularly the haptic or sense of touch, as a profound body of knowledge and expression.
What is next?
In future sessions participants have fed back that they would like to use a widening palette of materials to work with i.e. fabrics, paint, and sensory objects. I would like us to add to these sound/text/poems/stories … I imagine this as inventing a glossary of our own about art making, one that doesn't privilege sight, is as much about collaboration as it is about our individual responses and one that fosters imagination and nourishes our curiosity.
I feel so lucky to be working with the participants and museum on this programme; the generosity of spirit and receptiveness of the various teams to explore the possibilities and then the shared awareness that there is a great deal to learn is really quite special.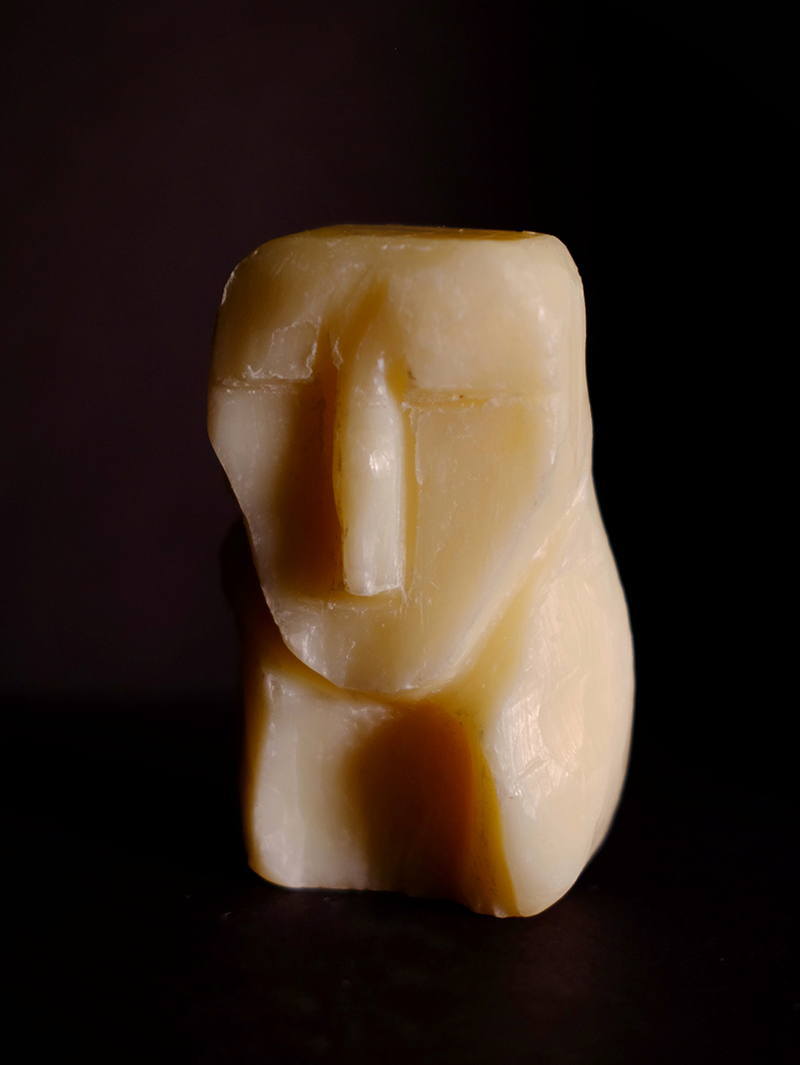 Understanding the participant's experience 
Ruth: Working alongside participants and building the programme with them has been a key part of the pilot stage of this new route to engagement. During and after each of the sessions we have sought to understand better people's experiences through inviting feedback in four areas:
Impact
Practice
Distinctiveness
Development
Social and societal connectivity, learning and creativity have emerged as the key areas of impact. Participants have described the pleasure and enjoyment they have extending their knowledge and experiencing art together, helping to shape the programme and feeling safe to make, experiment and originate their own work.
'The one to one interactive and group sensory learning opportunities …. is such a joy, being able to learn about and handle the items in the various museum collections in a small group, in a museum that I have loved since my childhood.'
The practice that people have found most impactful is one that builds peoples understanding, knowledge and finally responses to a given subject – before meeting 'it in the flesh'. Doing this by audio description of reproductions and opportunities to explore these in the studio alongside related materials, objects, textures and smells, followed by a making / creating workshop and ending with a visit to the galleries to engage with the artwork means that the encounter, when it happens is rich and full.
'I would have passed the picture by normally … but with the description, hands on activity and the chance to create our own version of it in the studio – I now appreciate it, revelling in its richness!'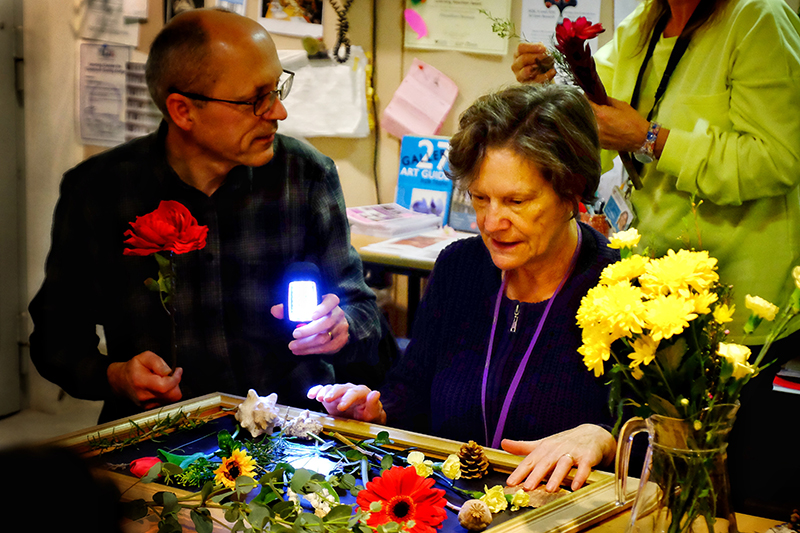 The distinctiveness lies in the Museum as the source for the creative experience and learning, a safe and trusted place packed full of human endeavour. This combined with the enthusiastic – yet sensitive holding of the sessions / programme by Sally Todd, has set the scene of a great deal to have been achieved.
'It so precious being given privileged access to the museum … it is such a nurturing warm atmosphere where time is precious and meaningful.'

'The workshops support complex and challenging sensory needs associated with sight loss and severe sight impairment, which facilitates enjoyment and appreciation of art in such a unique way.'
Moving forward, there is clear evidence that an ongoing programme would be well received, with each session having a waiting list of people keen to attend and people asking in feedback for more, more frequently. The lack of comparable offer in the region is evident in the distances that participants are prepared to travel – one person coming from South London!
The sessions being on the weekend and the encouragement for people to come along with a friend, partner or companion to make it a shared experience are important ingredients, enhancing inclusivity. The most important ingredient though is the opportunity to sense the object beyond sight, with touch being essential. Ongoing investment in this will, in time, benefit the museums offer overall.
'… coming with a friend is more enjoyable, particularly sharing the experience. After the last event, my friend and I have talked about the Barbara Hepworth piece at great length.'

'It would be amazing if we could continue the workshops on an open-ended basis and have the opportunity to explore the whole concept of art in all its different forms within the museum and learn about art history in depth.'
What is next?
The next workshop will be on 9 November 2019, 2-4pm. This will be the concluding event in an exploration of the human form ~ details on the Fitzwilliam Museum website. In January 2020, there will be a new series, for the year ahead, responding to the Fitzwilliam Museum's year of Sensual and Virtual themed programming.
The workshops are part of the University of Cambridge Museums' commitment to programming for people who are blind or partially-sighted.