The beauty of producing Facebook Live videos across a consortium of museums and a Botanic Garden is that you get to visit intriguing spaces and share them online.
This month we headed to the Sedgwick Museum of Earth Sciences' brand new Collections Research Centre, the Colin Forbes Building, which includes sparkling new study, archive and store facilities and will make the museum's internationally-important rock collection much more available for research and public engagement. The pressure was on as we were joined by Ed Lawless, Digital Engagement Manager at the British Museum. Ed was in Cambridge for his British Museum Knowledge Exchange programme, and we were keen to show off our skills to a colleague from the big city.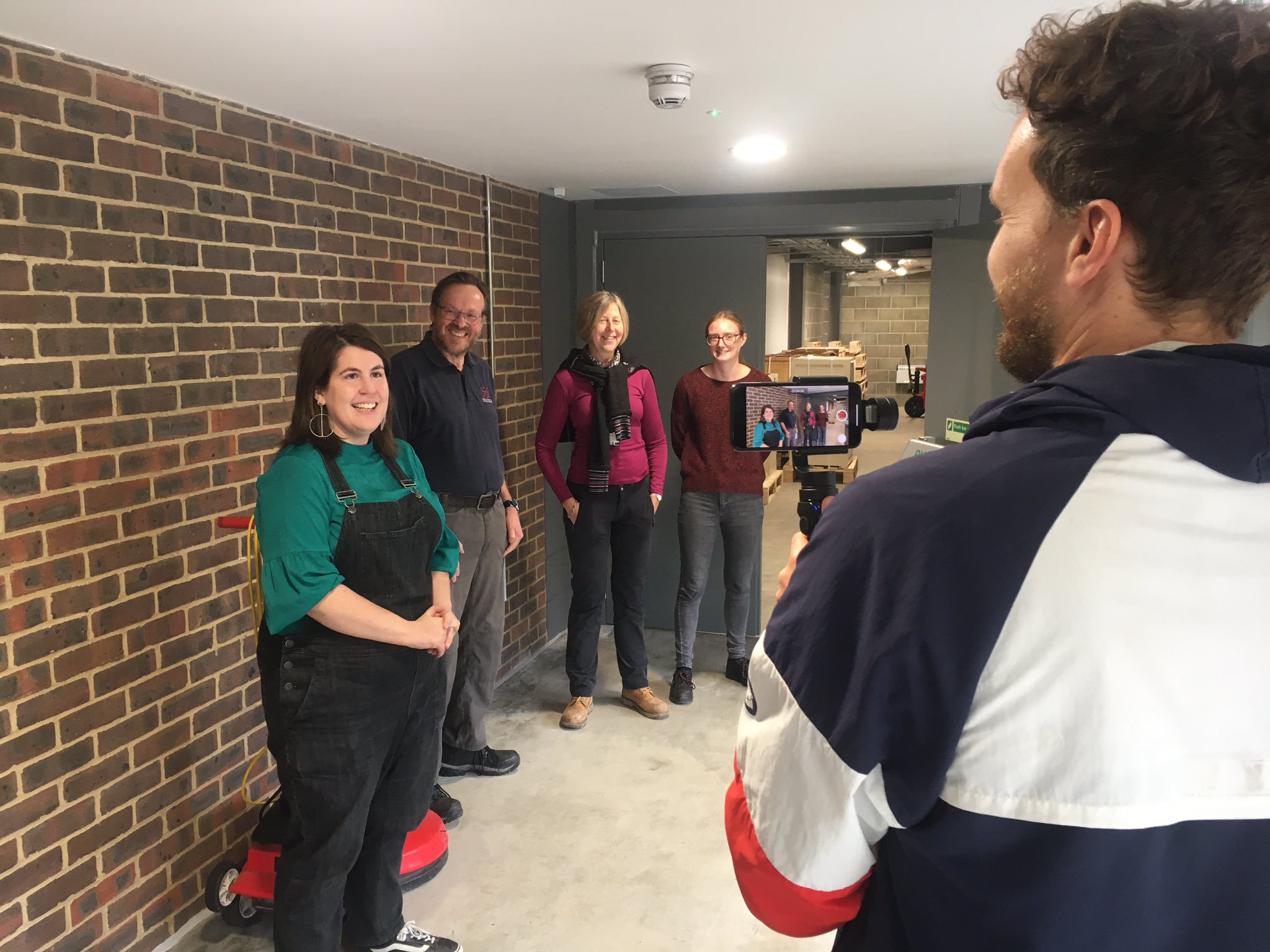 The Colin Forbes Building is not yet fully open (although the public have been welcomed on special tours), and the museum team are currently moving the collections from their old store site. This led to…
An experiment
Normally, we would made a reccy visit to check the strength of the WiFi and 4G signals. (WiFi provides a much clearer picture, though strong 4G is fine too.) This time, as the Sedgwick's research labs and store are based out of town, we weren't able to do so…. So, of course, on arrival we discovered that WiFi was not yet fully in place in the part of the building we wished to film, and the new store's reinforced and climate controlled structure was impervious to 4G.
It's not unusual for us to need to make last-minute changes of plan when producing a live. Sometimes it can be as simple as unexpected hoovering in the next gallery meaning we need to adjust our position. Keeping it simple is much less daunting for the staff taking part, and we prefer our lives not to be hugely polished – it's important that viewers see something authentic.
We decided to go live from the old store space, and then film a walk around the new building and post it online afterwards. We were interested to find out if one video performed better than the other. Would the Facebook algorithm promote the live video more effectively than the recorded one? Would everyone just log off in disappointment when they discovered we weren't going live from the place we promised?
In the event, although the live video received slightly more viewers, both videos performed well. See what you think!
 Live from the old store space

A recorded tour around the new Colin Forbes Building
Thank you to Sedgwick Museum staff Catherine Craston, Dan Pemberton and Sarah Wallace-Johnson for being completely unflappable, and giving us such a great tour, and to Ed Lawless, for his help.
Find out more about the new Collections Research Centre on the Sedgwick Museum's website.
More about livestreaming on the UCM Blog: