Pre-COVID19, our focus as educators was on understanding how to serve our young audiences by finding ways to help them come to the museum. Now we must switch our efforts to identifying how the museum can continue to be relevant and useful to them in their own homes.
Look, think, do
From the start of lockdown, the Learning Team at the Fitzwilliam Museum have regularly posted 'Look, think do' activities online and shared via social media. Each activity introduces a single artwork or collection object, with background information, guided looking prompts, imaginative connections, and ideas for creative projects. Families have used these at home, and schools have integrated them into their remote learning offers.
Reaching out into the community
However, we recognised that some children within our local community would find it hard to access these resources. Not all families are able to get online easily, and some may not have a lot of art materials at home, particularly during the period of lockdown. With this in mind, we considered what we could offer alongside the digital activities to ensure these families were not excluded during lockdown.
Activity packs
We contacted partner organisations in the community, as well as other arts groups, to make sure that what we were offering would meet the needs of our recipients and would be complementary to other offers rather than doubling up.
We focused mainly on families with at least one child aged between two and five years old, but chose flexible resources that could be used by other members of the family too. We selected four objects from the museum's collection which we know that many people enjoy when they visit the museum (a knight in armour, mosque lamp, Monet's Springtime and de Heem's Flowers in a Glass Vase) and included high quality reproductions of each of these for families to refer to when doing the activities, or to display at home.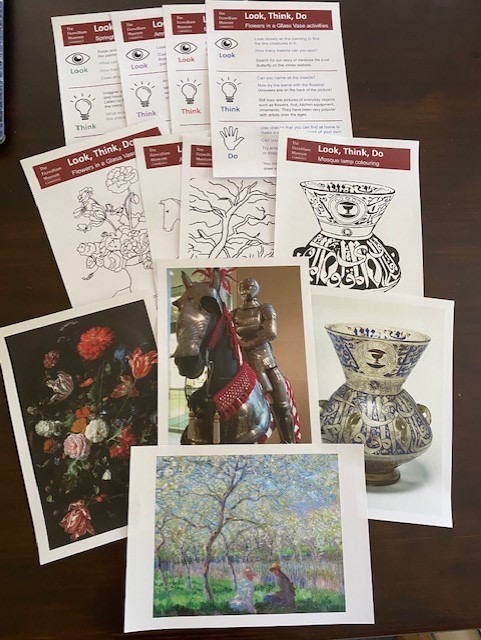 We included background information, and suggestions for things to look, think and do, and specially designed colouring sheets relating to the artworks. Crucially, we included everything needed to do these activities, plus lots of extras for independent art making and creating. The packs contained:
A4 sketchbook
Pencil crayons
Drawing pencil
Pencil sharpener
Stickers
Glue stick
Wax crayons
Coloured cellophane
Scissors
Our contacts in the community organisations (Cambridge Women's Aid, Cambridge City Child & Family Centres, King's Hedges Family Support Project, and our 'Playgroup in Residence': Playlanders) identified families who might enjoy receiving an activity pack and these were delivered to families at home. These strong existing community partnerships were vital in enabling us to continue connecting with families in ways that met their needs during lockdown.
In addition to this, mini packs were also distributed via Cambridge Food Hubs to reach those families who might not be in contact with any of the groups above.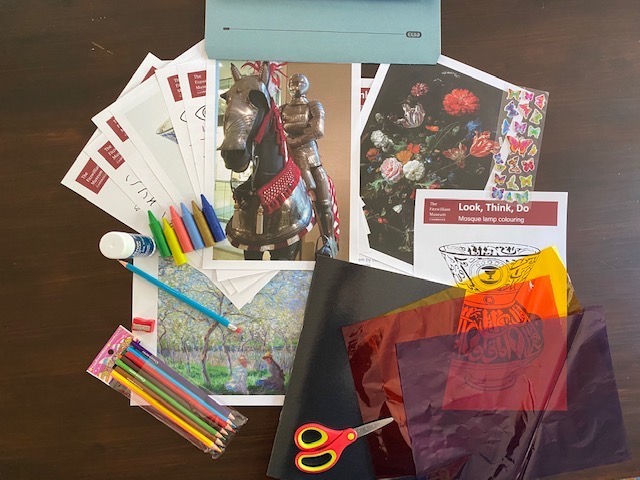 Feedback
We received some great comments via our community partners about what the families thought of the packs. It was really heart-warming to learn that the contents were exciting and useful for the families, as we are really missing our interactions with them during this period of lockdown.
L (mum of L):

'The Fitz pack has just arrived and it is absolutely brilliant. L is incredibly excited and happy! Thank you very much for organising the delivery of the packs and please send on our gratitude to the Fitzwilliam Museum!'

Sally from North Cambridge Child & Family Hub said:

'I received the activity pack today – and it is lovely. You have chosen the pictures so well – I remember all the children being fascinated with the horse in armour at the workshops.'

A (mother of F):

'We received your lovely art pack today and F was delighted, especially by the scissors.'

Susan from Playlanders:

'The children will be SO excited about the photo of the armour, it made such an impression on them.'

Veronica from Cambridge City Early Help Team:

'I've just had some lovely feedback about the Fitz packs from a parent. Her 3 year old was delighted with all the things in the pack especially having her own sketch book, glue and scissors. Her mum said, "she is so proud of her drawings.'

Cllr Anna Smith commented:

'So many suggestions about how to make lockdown more bearable assume families are well-resourced. But for many families in the city this just isn't the reality. When every penny counts, there's certainly no extra money for arts and craft resources to promote creativity and give families something fun to do together. That's why it's so good to see projects like this, from the fantastic team at the Fitzwilliam Museum. As a council we've been delighted to work with them to get the packs out to families, and it's clear just how much enjoyment they are providing.'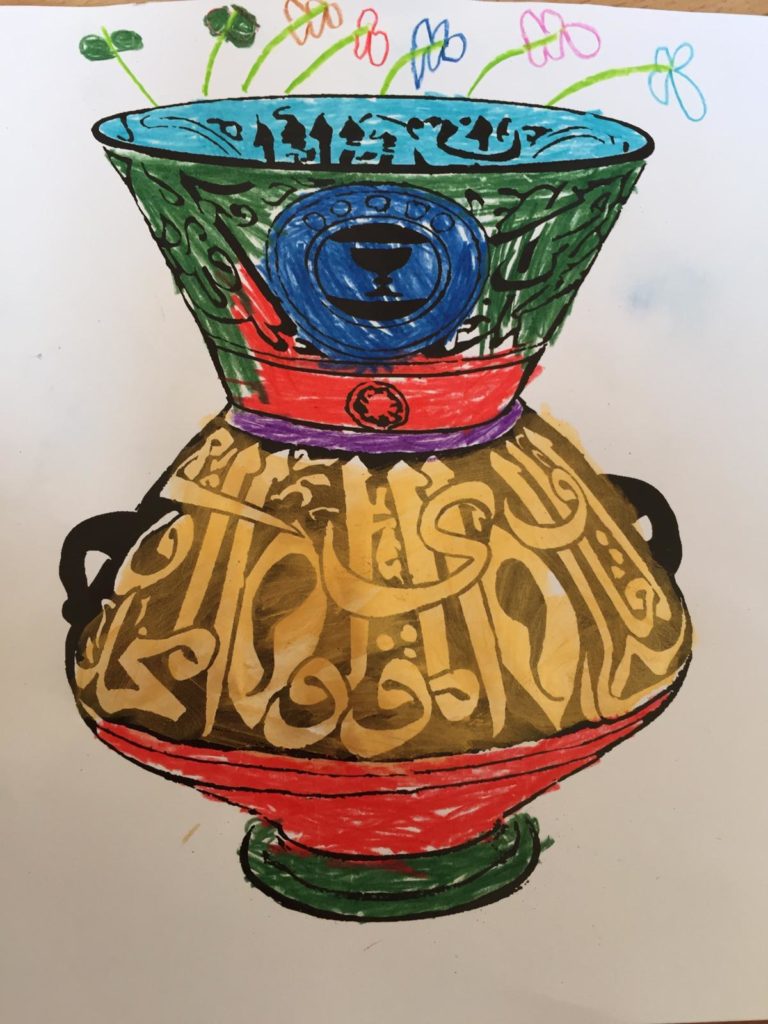 Next steps
We hope to distribute another wave of packs soon, to replenish supplies and introduce new materials and artworks. To help us choose which artworks to include, we will be consulting elders involved with the University of Cambridge Museum's Dance and Time with the Museum programme, who have been having socially-distanced reflective discussions about art from the Fitzwilliam Museum's collection during the lockdown period. We hope that they will be able to recommend some favourites for our family audiences.
The original packs were created with funding support from Cambridge City Council Community Grants, and we will bring together further support from the Council with generous support from the Fitzwilliam Museum's Marlay Group to create the net wave of packs.
If you'd like to read more about the offline engagement and outreach opportunities we have developed during this time, have a look at this article: https://engage.org/resources/engaging-communities-remotely/continuing-connections/