Look Think Do is a set of starter activities the Fitzwilliam Museum learning team have been creating since the start of lockdown. They are aimed primarily at schools to use as remote learning activities for students, but are also written with families in mind, given that we recognised the majority of children would be learning at home supported by family members during this period.
Each activity involves spending anything from a few minutes to half an hour looking closely at an artwork or artefact, thinking together, and making or doing an activity in response.
We had been thinking about what shape digital learning resources for schools might take for a long time. Although digital moves fast, we had an awareness of teacher's needs based on our research on what teachers want from a digital resource in 2016. Since then, during our ongoing programme of teacher CPD and consultation we had been asked to provide ideas for starter activities to use with children and young people. Teachers referred us to popular sites such as Explorify which provide a bank of reliable and accessible science starter activities for schools. We were also interested in how working digitally enabled us to both create content around some of the most popular objects in our collection, but also provided an opportunity to profile works not usually on display or artists or objects from under-represented groups.
There is nothing like a global pandemic to force a decision. Although we have many other ambitions and plans for Fitzwilliam Museum virtual learning opportunities, we thought that starter activities were resources that would balance the awkward pandemic criteria: achieving a high standard for future and enduring use in the museum, but possible to create remotely and within our current website framework. As we had already identified a need for resources of this kind we were able to get on with creating the resources straight away without the usual consultation that we prefer to have with teachers when we embark on new projects.
Practicalities
We were very grateful to receive support from George Doji and the digital team at the Fitzwilliam just before lockdown – at a time when they were already busy. We were also fortunate that the schools teams were not furloughed, so able to continue to work from home and to dedicate significant time to it. We had excellent support from colleagues in marketing, curatorial, photography and the image library along the way.
As we ourselves coped with the practical and emotional stress of lockdown, we felt very aware of the strain on families without access to a computer or art materials. We were also conscious of the need to use accessible materials that might be recycled, found around the house or outside, or very low cost. As the project developed we were able to apply for funding from the Fitzwilliam Museum's support group (the Marlay Group), as well as re-purposing learning and engagement budgets from Arts Council England and Cambridge City Council, which enabled us to print paper copies of some of the images and activities. Our Head of Learning Miranda Stearn and Nicola Wallis, who runs our Early Year's programme, worked with existing community partners and the City Council to develop and distribute these art packs to local community groups, food banks, and families.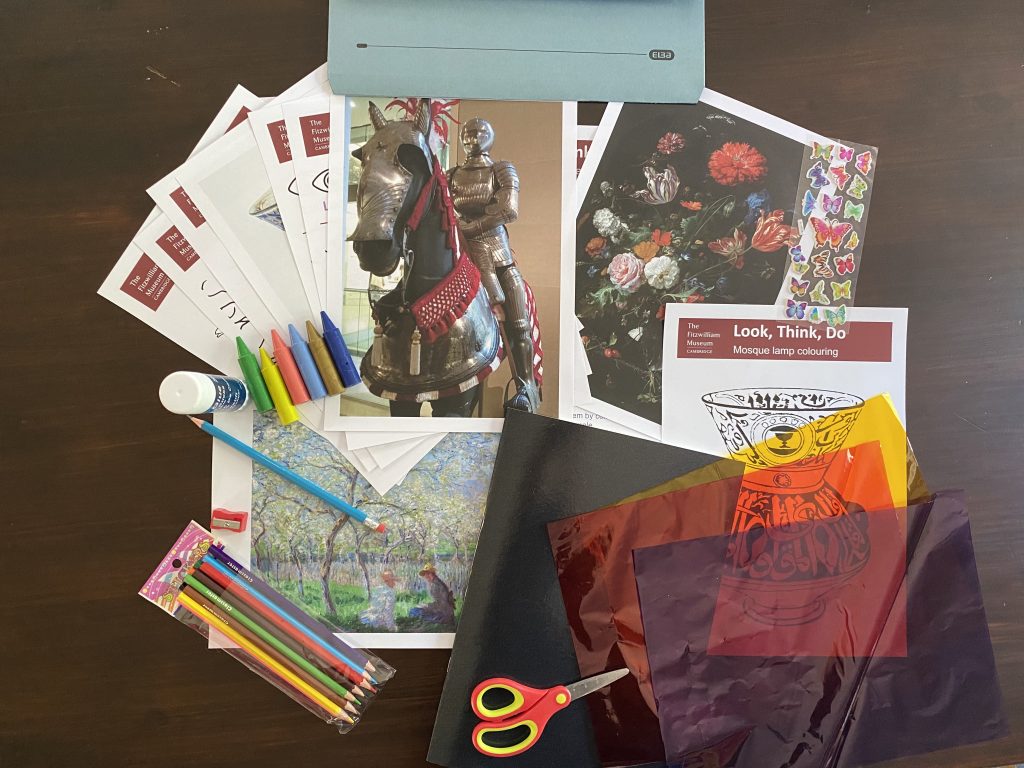 As we plan for the return of pupils to school in September we are thinking about how we might consolidate and improve some of the Look Think Do entries so that they can be used at home and at school.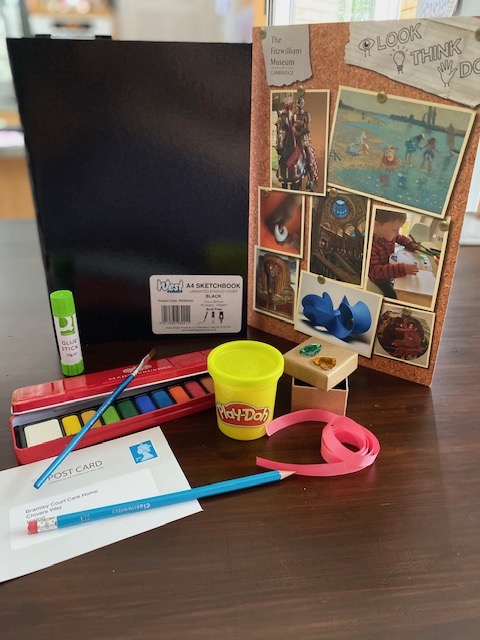 Format
Within these parameters, we considered format very carefully. Based on the previous research, we knew that teachers wanted simplicity, ease, high quality images, and activity suggestions. We decided one object per entry would retain simplicity and enable us to create unique resources about our collection. At first, we created entries based on popular objects and strengths in our knowledge, before quickly expanding to platform artists, makers, histories, and cultures that we can't always incorporate into our most popular sessions focussed on Egyptian, Greek and Roman antiquity. We were also able to diversify the array of disciplines we taught with – including maths, science, D.T. and geography. Look Think Do built on our successful Inspire exhibition which draws on strategies we use every day in our gallery teaching to encourage people to start by looking carefully at museum objects, think about them and create something new in response.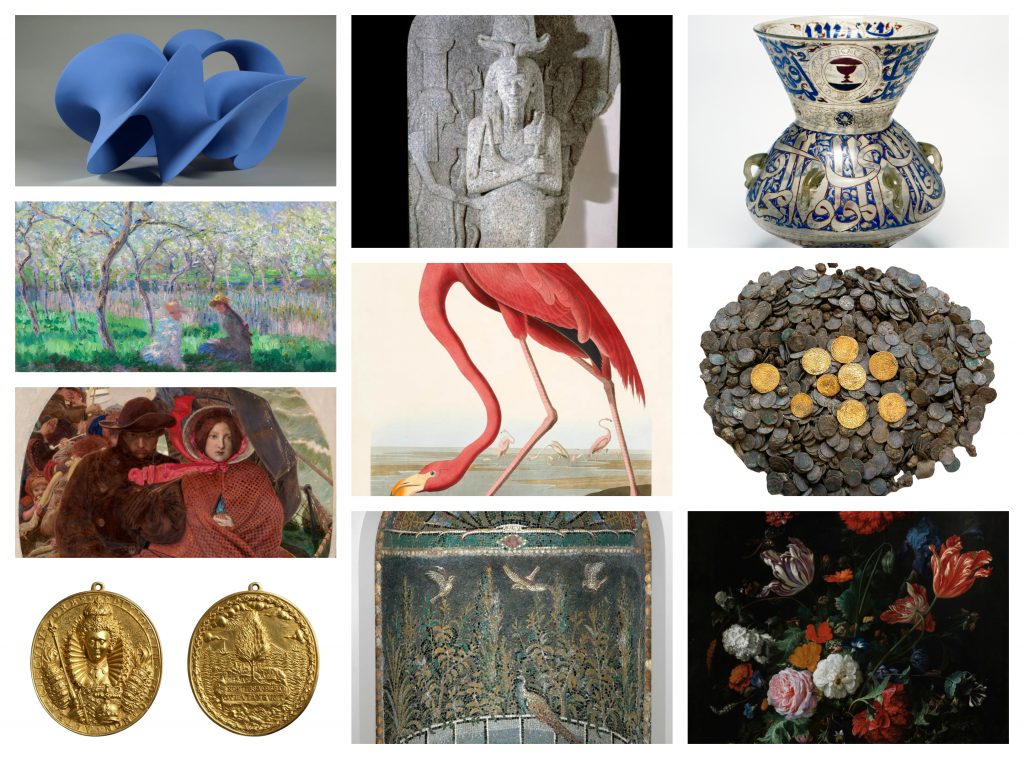 We tried to vary the scale of the activities, provide some activities that could be done with very little supervision, and consider an array of needs. Marie Kennedy, the University of Cambridge Museums' Children and Young People Widening Participation Officer, created a Bridget Riley-inspired SEN Look Think Do. We also worked with museum teachers Nicola Wallis, Jennie Thornber and Jacqui Strawbridge and museum designer Ayshea Carter to record some Look Think Do object based stories. We worked with Fitz Learning Associate for Families Fliss Mottram to market these as a part of our digital offer in lieu of our Family First Saturday events.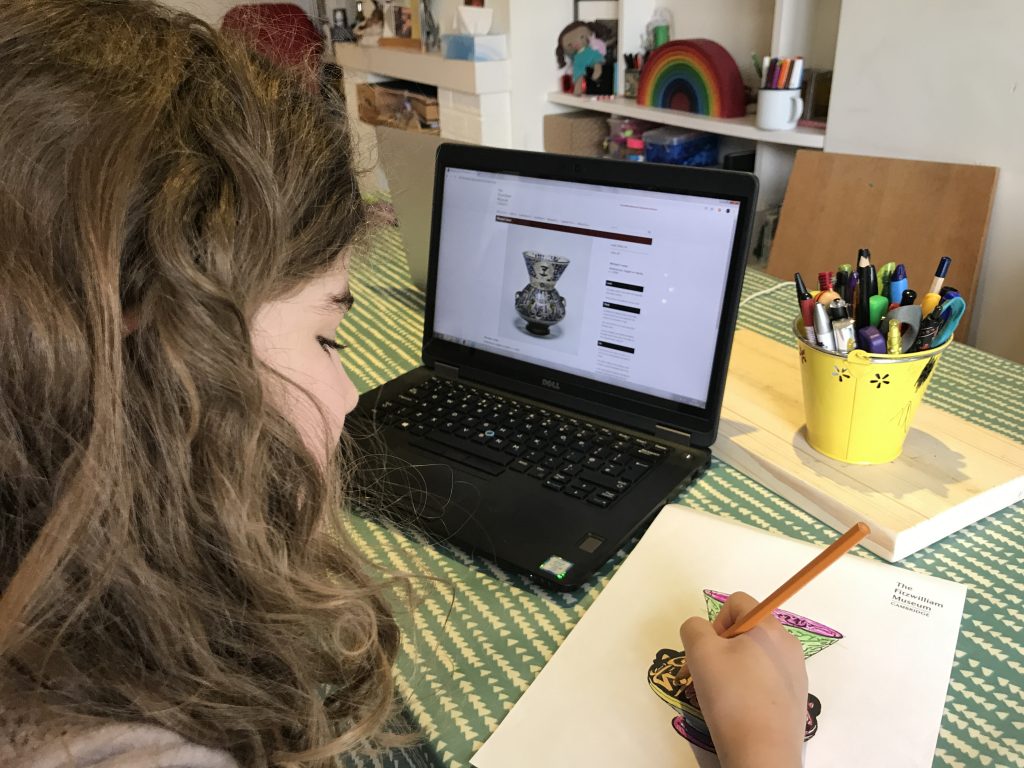 We released entries three times a week from April until June and then at least once a week until July. We consistently posted on social media about the entries, using fun gifs that we made ourselves to attract interest.
Whilst we were without digital infrastructure that would make them searchable, we created a table of curriculum links, resources and themes to enable teachers and parents to navigate their way based on theme and content.
Evaluation
We found it was difficult to evaluate these resources as we would have liked. When teaching in the museum, we rely on having the captive audience facing us directly, creating a constant cycle of feedback – that is entirely absent from digital engagement. First we taught ourselves Google Analytics. This felt daunting at first but this training from Digital Culture Network was helpful. We soon realised that the resources were doing pretty well and were able to see when they were most used (during the school week) and where – our city and wider region. Now, they have had over 25,000 page views and the webpages were visited regularly between March and July.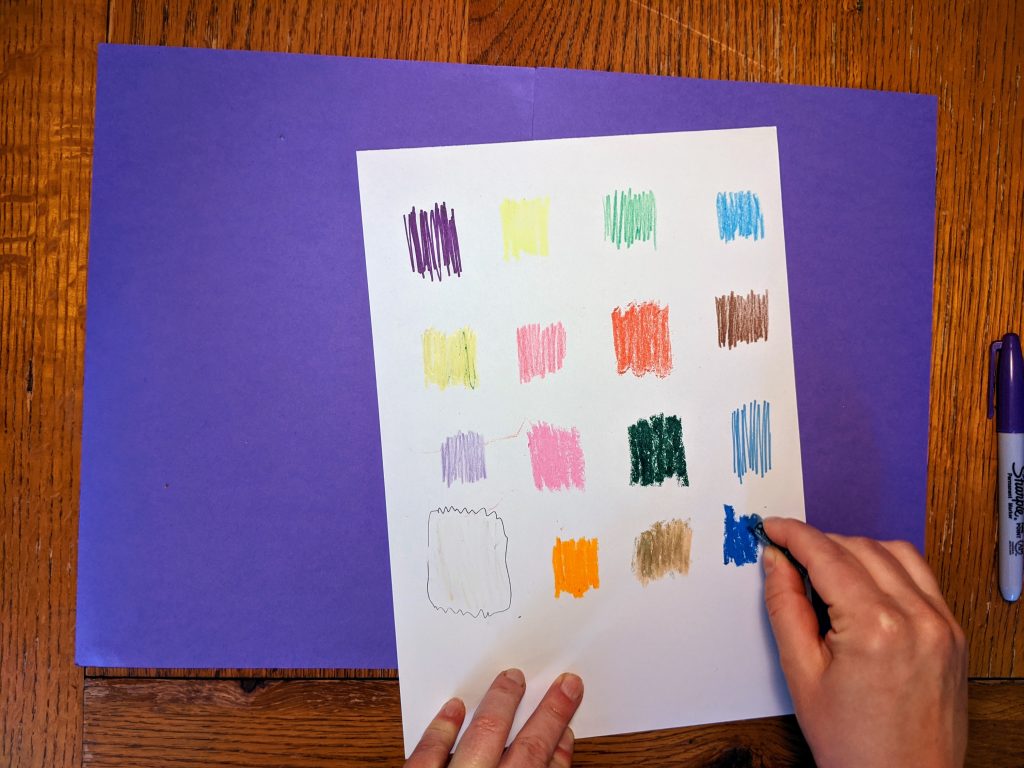 With the huge strain of teaching during a pandemic, we weren't able to ask teachers to trial and feedback as we ordinarily would. We could see that entries were being sent out as a part of schoolwork by local schools, had some engagement on Twitter, and received some positive initial feedback from our teachers mailing list – but we are now thinking about how we might develop more rigorous user testing of our digital resources post COVID-19.
From July, we have been working with a panel of primary school teachers to help us develop our new virtual offer, of which Look Think Do will form a part. The teachers we spoke to in our initial meetings mentioned the flexibility of the resources, how they could easily be scaled and linked into their curriculum. They also noted things we had not anticipated: they had been showing children all of the entries and allowing them to have agency over their interests, and a few commented that the diversity of cultures, artists, and objects were valuable methods for teaching inclusively. And, to our joy, one teacher compared Look, Think, Do to Explorify- a great compliment!
"It's a really nice way of linking into topics and actually it's really lovely that 'Look, Think, Do' [format]."

"It's definitely good to broaden [student's] eyes a bit about what different artefacts and art things are there that might link. Get them excited. And also to remind them that the museum is on their doorstep, once the museum opens up and you can go and look and see it."

"It's the kind of thing you can have a quick look at, but if you want you can make it into more of a longer session, or you can also use it for sort of a ten minute 'let's just have a look at this and talk about it'"

"Having an object that's been made by a Black artist is a really nice way into the topic that's maybe not as dry as a political activist or a politician from years gone by – just because it makes it a little bit more kind of tangible, and then you can do artwork kind of off the back of it, especially for Key Stage 1 as well."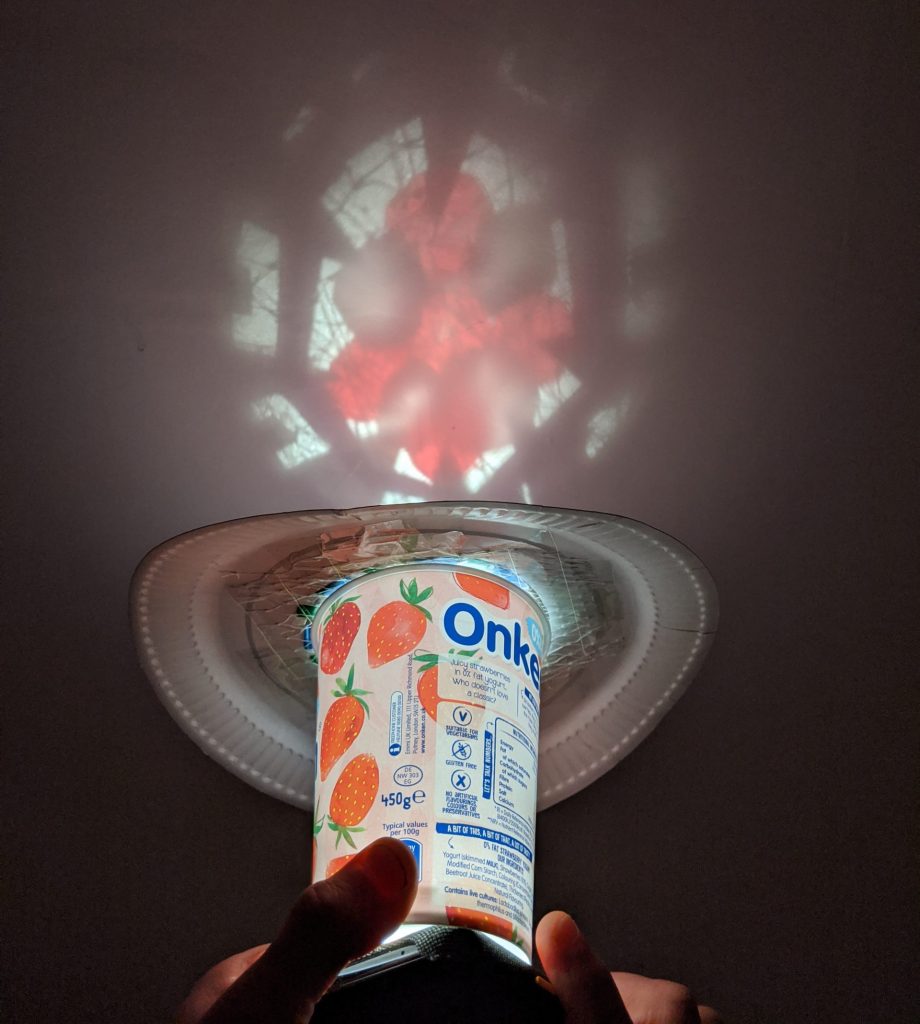 We have also been sent some lovely photos and feedback from families using our Look Think Do Art Activity packs via our community partners.
"I have been incredibly impressed and thankful for your Fitzwilliam Activity Packs. They have been an excellent source of creative excitement and artistic encouragement for my little one, who is greatly looking forward to visiting the Fitzwilliam Museum hopefully one day soon!"
Conclusion and Next Steps
Although we can't wait to see schools in the museum again, we are so proud of Look Think Do. Once schools are able to visit the museum and the threat of school closure is far behind us, we will consolidate these to ensure that they are suitable for classroom use. We are also building them into a wider array of digital resources for schools that we are currently working on. As our new website is developed, we hope to build a search engine that will make the navigation through Look Think Do more practical for schools and students. We are also looking forward to working in partnership with local schools, teachers and families to develop, create and test new digital resources over the coming months.