The RePresent Project, led by researcher Danika Parikh, aims to bring the voices of historically excluded communities into museums. This year, the project worked with the Cambridge African Network and the Museum of Archaeology and Anthropology (MAA) to bring the voices of people of African descent into the museum's galleries.
Tell us a little about the project
Danika:
The RePresent Project aims to bring the voices of historically excluded communities into museums. At its roots it's about ceding some of the power and control we have in museums, and unpicking the idea of looking at other cultures academically. I kept thinking about what it means to have your culture represented by outsiders in museums, and what it would look like if people of colour could represent themselves. Eventually I realised that the problem was also with the kind of labels that are the norm in museums. I wanted to see more personal labels that shared memories and anecdotes about objects on display – labels that are about emotions and connections, not just academic information. I also realised that I wanted to read labels written by people of colour about all kinds of things – not just cultures they grew up in or identified with.
So to try the idea out, I organised a virtual pilot workshop with local community group the Cambridge African Network, in which participants came together to talk about heritage and representation. We asked them to choose objects that sparked a strong emotional response from them, and they then wrote brilliant new labels and recorded really powerful audio sharing their thoughts. All of these can now be seen and heard on our project website.
The team behind the workshop includes myself; Korantema Anyimadu as Facilitator and Sound Curator; and Tara Okeke as Assistant Facilitator.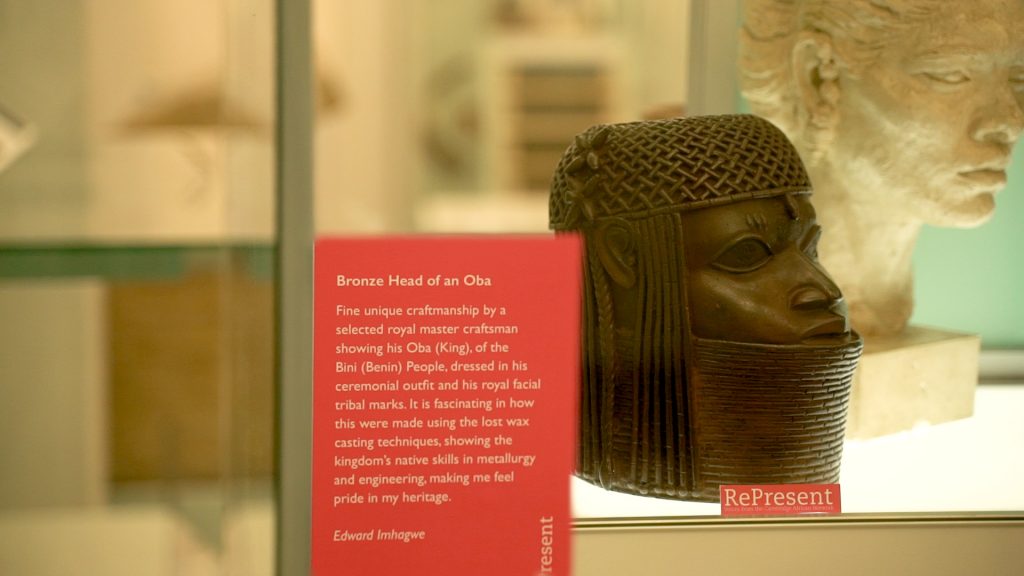 What did you hope the project would do?
Tara:
My hopes for RePresent were myriad and multivalent: to support members of a community – in this case a community of African descent – in honing and owning their voices within a museum setting; to push back against the marginalisation and tokenisation of black and brown voices within the heritage sector at large; to lend credence to the interpretive insights of those without formal training; and to expand bounds and enrich the territory of participation, collaboration and co-production.
Korantema:
I didn't have too many expectations because I've realised that when you bring a group of different people together, you never know what you're going to get! I did hope the project would create some critical discussion. Being in a museum, it's so hard to see yourself as someone with valid opinions, thoughts and feelings, so I hoped the project would allow the group to see themselves as experts in their own right.
Danika:
I hoped it would lead to a new relationship between a community of colour in Cambridge, and the University's museums, by rebalancing the power dynamic and making a space where people would be comfortable being as critical as they wanted – and where that critique was taken seriously. I also hoped the workshop would lead to new labels that would open audiences' eyes to issues around representation and repatriation in museums.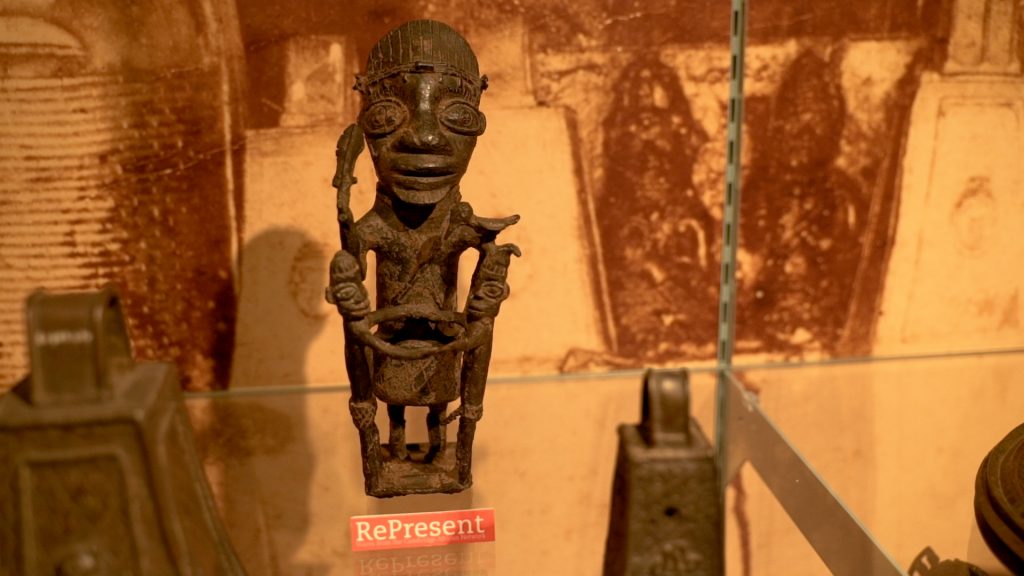 What were the challenges you faced in planning the workshop, and in moving it online in response to Covid-19?
Korantema:
As a facilitator working online, it's much harder to gauge how a group is feeling because you can't go off body language, facial expressions, and all those other telltale signs you can sense when it's in person. Apart from that, I think we saw the advantages of working online too – people were able to join from different countries and in the comfort of their own homes.
Originally, the group was supposed to be able to walk through the gallery spaces to see the objects on display, which obviously wasn't possible. Being physically in the space would have added another dimension to the project but I also feel like not being there might have been beneficial too. Standing in museum spaces can come with a lot of baggage, especially if you're not a regular visitor. You can feel out of place, disconnected or like a passive viewer watching things behind glass, rather than an active participant. I think seeing the objects outside of that context might have given the group more freedom to interpret them as they would if it were, say, an object they found on the street.
Tara:
The online migration of so much of so many of our working lives has come with significant challenges: scheduling conflicts, technical difficulties, lack of direct contact, loss of certain qualities derived in situ. In this way, RePresent was no different. The primary challenge, in my opinion, had to be replicating – or, at the very least, approximating – the experience of 'touring' the Museum of Archaeology and Anthropology's (MAA) collections.
Danika:
Scheduling in a pandemic felt like the hardest part of going online, especially given many people were still working and studying at home while simultaneously managing caring responsibilities. In the end a lot of the people who signed up weren't able to attend sessions, which I understand. This meant that having pivoted to a virtual workshop, we then had to scale down and adjust the sessions as we were working with smaller groups. We tried to be mindful about how to make sure this would still be a positive experience for them, and I'm really pleased that Korantema and Tara were able to make this happen. There's elements of similarity to how we all planned Zoom parties and quizzes – it's nice to have something different and communal to do when everyone is stuck at home!
One of the challenges I had to consider was, given participants may not be able to see the labels in person for some time, how could I honour the effort they put in and make sure people would see their work? We moved really fast to get a website developed, which was particularly helpful given MAA closed for the second lockdown within a week of the labels being added to cases. Korantema is also creating an audio tour using the participants' contributions, which will recreate some of the museum experience – and will double up as an audio guide for when MAA reopens!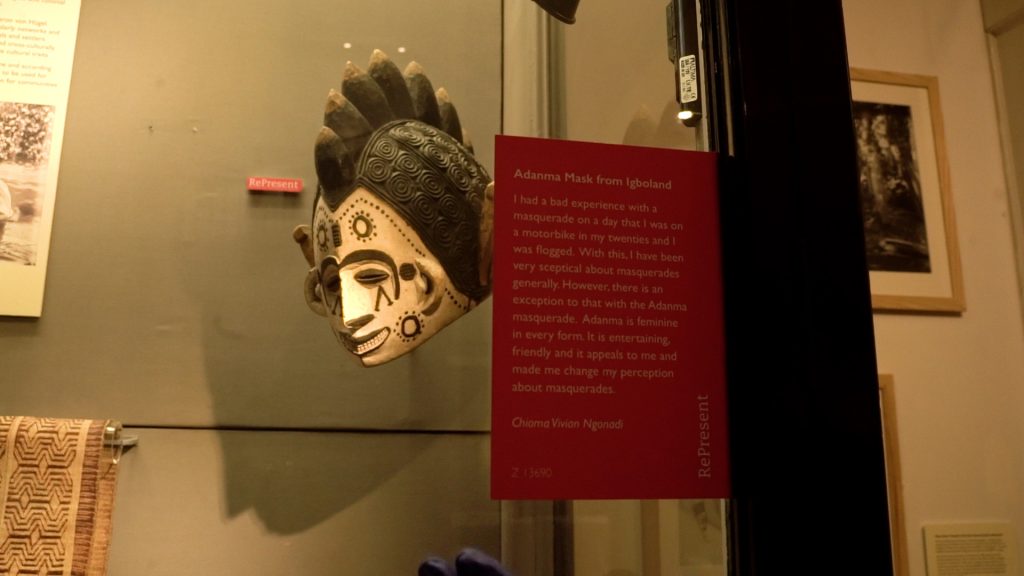 How did you prepare for the virtual workshop sessions?
Danika:
I planned the format and schedule of the sessions and with Sarah-Jane Harknett, adapted MAA's Museum of Me exercise. I also chose several museum objects to critique in a mini virtual decolonial tour. I used these to talk about how museums have historically set the agenda on representation and what happens when they get it wrong, and how we can tell new kinds of stories in museums. To flip the traditional anthropological dynamic, we talked about English folk objects, superstition, and magical thinking through 1920s love charms and present day athletes and sports fans.
Korantema:
I hadn't been into the MAA for years, so I mainly prepared by imagining myself walking through the museum and looking at the digital archive. It was really interesting and strangely soothing trawling through the objects online for hours!
Tara:
As assistant facilitator, I kind of felt I was always in preparation mode! Which is to say: though the sessions had a pre-established design and a requisite structure, they were also informed by the participants and their interests, outlooks and needs; I was learning from Danika and Korantema as I went along, so the sessions were highly instructive for me also. As such, I aimed to be as responsive as possible; preparing in advance, for example, materials to help break down the structure of an object label – but then leaving room for questions and for conversation about that which I had prepared to undulate and develop beyond a fixed point or agenda.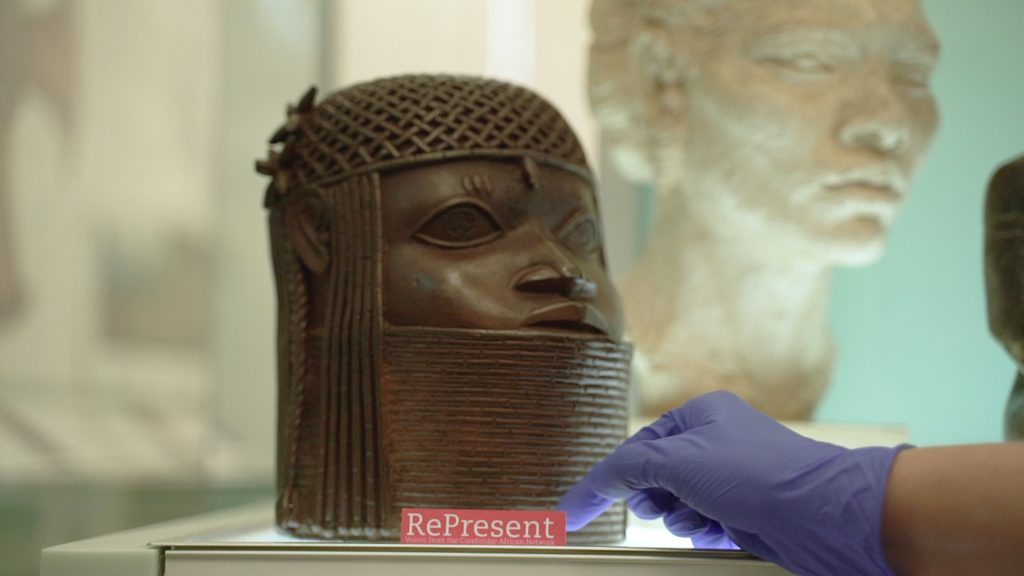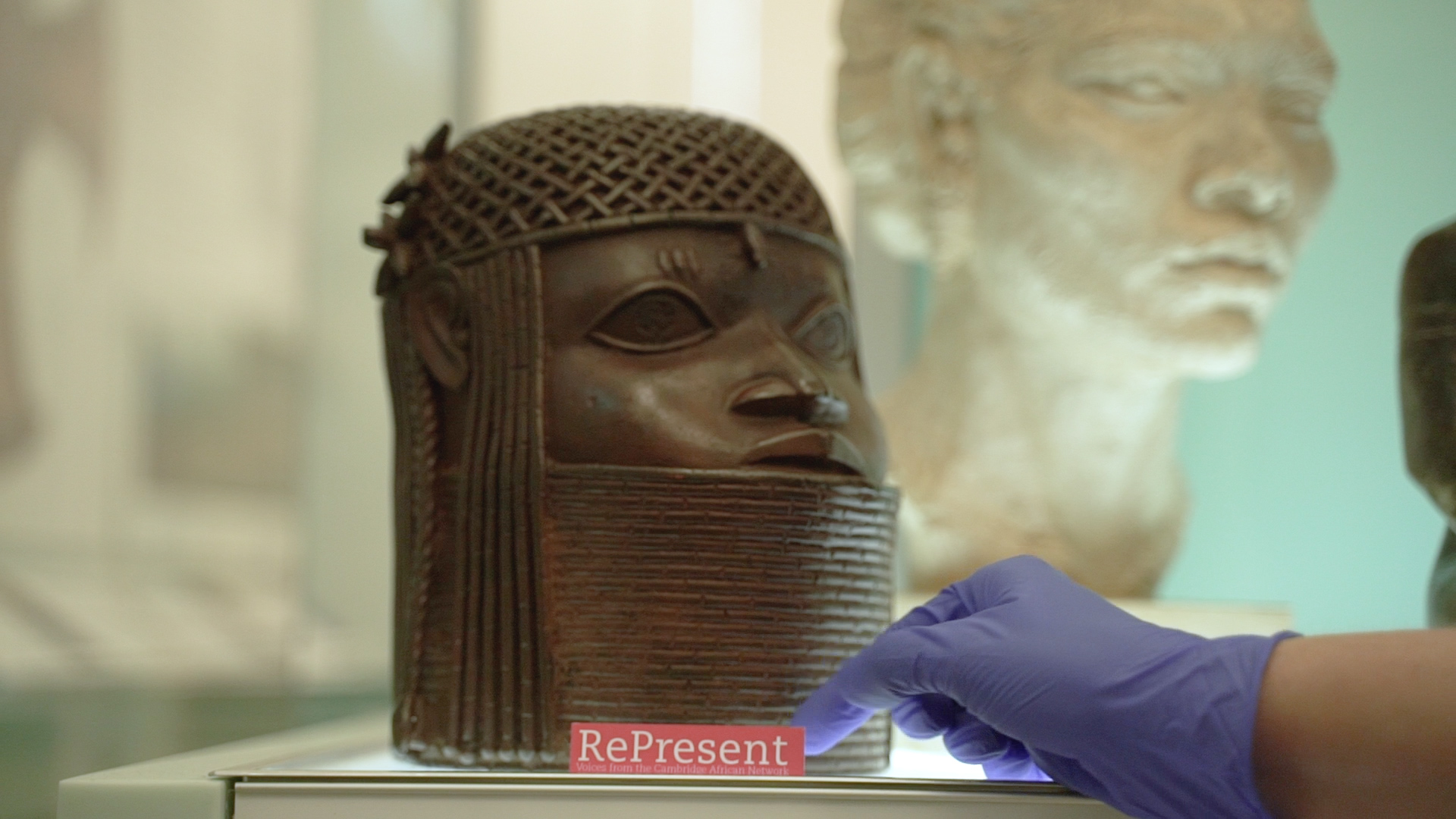 Was there anything that surprised you?
Korantema:
I was mainly surprised by how ready the group were to be so incredibly open and honest about their experiences. I felt really grateful to hear their stories and in such a short time, I feel like we all begun to understand each other quite well.
Tara:
Not surprising so much as simply delightful: all of the workshop participants, without exception, were wholly obliging, engaged and so open with their viewpoints and experiences. The last thing we wanted was for RePresent to feel like work – or, even, an academic exercise – for the participants. There is always a danger that, despite the best laid plans and the best of intentions, workshops (not to mention seminars and conferences) dealing with matters such as heritage and equity can trend toward the heavy and heavy-handed. But I think it is safe to say – as far as can be gauged from the new object labels and some of the feedback we have already received from participants – that we managed to strike the right balance, activate some really robust lines of enquiry and start some really heartening strands of discussion.
Danika:
The participants' generosity in sharing their memories and stories was such a happy surprise. We were able to have very honest and thoughtful conversations, and it felt like we all opened up to each other reciprocally. The workshop took place over a year after the first funding application, with a pandemic in between, and I spent sleepless nights trying to make sure it was a positive experience for everyone, so to suddenly realise how much I was enjoying myself in the sessions was a wonderful surprise! It was great to let go, sit back, and learn from everyone else. The objects came alive for me.
How was the project supported?
Danika:
It was important to make sure that the participants and team members were compensated for their time. I didn't want to ask anyone to take on decolonial work for free, and especially not communities of colour. It took a little while to be able to gather enough funding to this! Ultimately the workshop was funded through three separate grants: a BME History grant, funded by the Social History Society, the Economic History Society, History UK and the Society for the Study of Labour History; a University of Cambridge Public Engagement Starter Fund grant, and a University of Cambridge Diversity Fund grant. I'm really grateful for their help in making all of this possible.
At MAA we were supported extensively by Sarah-Jane Harknett. While working with the Cambridge African Network we were supported by Edward Imhagwe. Photography and filming of the labels was carried out by Adam Page from the University Communications team, in the nick of time before the museum had to close again!
What's next for the project?
Danika:
The participant feedback has been positive, and I love the new labels, so my hope is to keep going! This was planned as a pilot workshop and I've learned a lot in the process about what to keep or change going forward. I would like to organize a whole series of these workshops working with CAN and other groups in Cambridge, including young people and lots of diverse voices.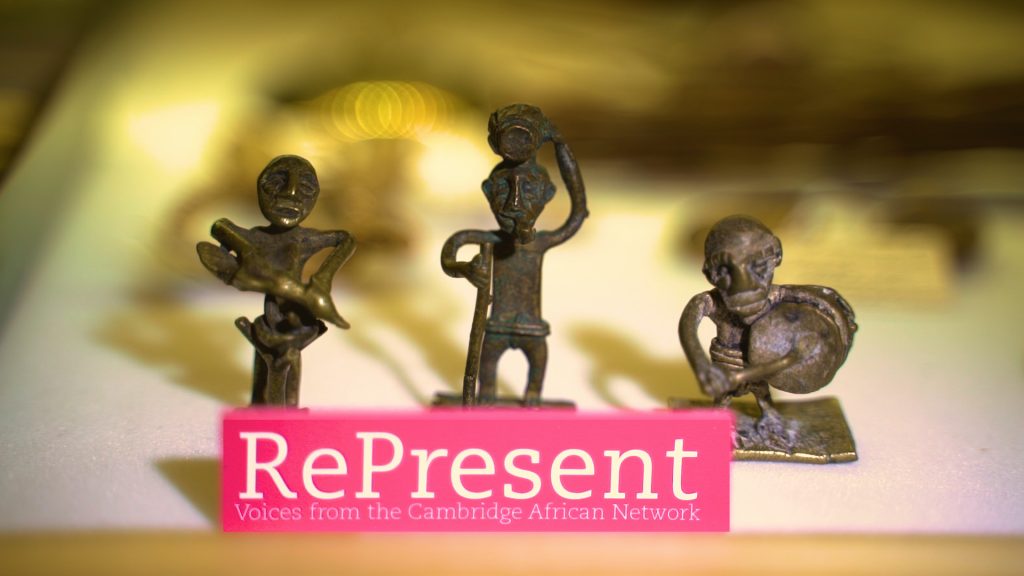 What's next for all three of you?
Korantema:
Next, I'll be working on integrating some of my project on Black womxn and hair into an exhibition in a London museum, which I'm very excited about!
Tara:
My time at the Horniman as their Museum Futures Trainee is drawing to a close, but it is my hope that I can apply some of the insights gained from RePresent to my remaining traineeship projects. Additionally, over the summer, I was selected as a UK Creative Community Fellow – by US-based arts organisation, National Arts Strategies, and Derby Museums – and so I am looking forward to working with my fellow fellows (!) on developing and refining our respective practices and civic projects.
Danika:
After the Untold Histories tours and the RePresent workshop, I'm looking forward to expanding my work with MAA and UCM, including hopefully more RePresent workshops. I'm excited to share more of these plans very soon!