The Covid-19 pandemic has affected all areas of the Fitzwilliam Museum, including its ability to engage with contemporary artists and acquire new works by them for the core collection. However, the Museum has been able to acquire a pair of stoneware vessels, entitled Candy Lady, made last year by the artist Shawanda Corbett (b. 1989), a purchase generously funded by the Friends of the Fitzwilliam.
These pendant vessels join the Fitz's growing collection of ceramics made by contemporary artists working in clay. However, as an abstract portrait, these vessels also speak to the numerous painted and sculpted portraits of women that can be seen across the Museum.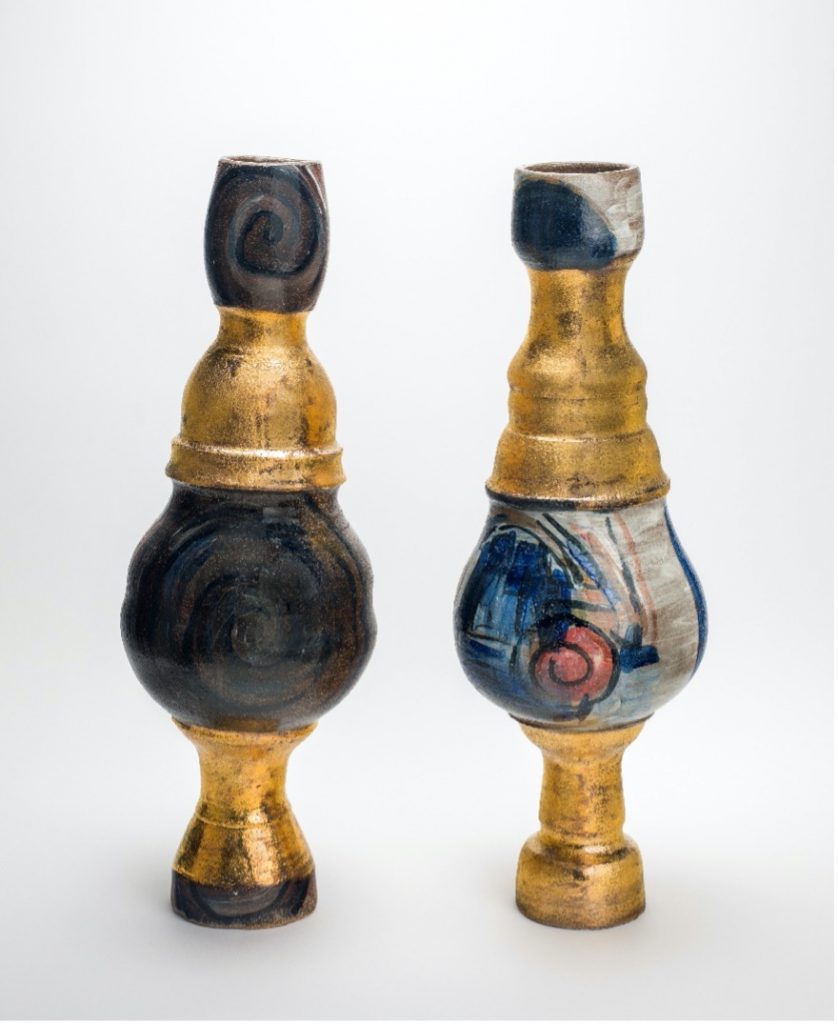 These two large painted vessels form an abstract portrait of a 'Candy Lady', typically a friendly older woman who would sell sweets cheaply to local children in the Mississippi community in which the artist grew up. One vessel suggests, in an abstract way, the external appearance of the Candy Lady, while the other evokes her character and personality.
These vessels were created as part of a series of paired ceramics, which capture elements of local people from Corbett's childhood neighbourhood. They aim to give dignity and humanity to individual African Americans often ignored or reduced to 'tropes' or stereotypes in the media.
Corbett explains:
'I wanted to take these different individuals and really elevate who they really are, which is quite different from what you see on the news and in different media outlets about people from predominantly black communities. I really wanted to take each individual person and abstract them, not like in traditional portraiture, but to take their personality and really show them in a positive way.' -Quoted from an Instagram Live interview between Shawanda Corbett and Isabella Smith, on behalf of the Crafts Council, 19 June 2020.
This series of vessels was exhibited in Corbett's first solo exhibition, Neighbourhood Garden, held at Corvi-Mora Gallery, London (16 June–31 July 2020) alongside works on paper describing different episodes from her youth. Raised between Mississippi and New York, Corbett is currently pursuing a practice-led doctoral degree in Fine Art at The Ruskin School of Art and Wadham College, University of Oxford. Her practice spans multiple disciplines, encompassing abstract paintings, poetry and performance and ceramics. In 2020, she was awarded a Turner Bursary, one of ten bursaries awarded by Tate in lieu of the Turner Prize.
Movement is central to Corbett's practice, irrespective of the medium in which she works. She loves dancing and her performance pieces have often been created in collaboration with her brother Albert, a choreographer.
For her:
'Ceramics record the movement of the body; sound records the movement and noises the body makes when interacting with an instrument or vocals; and dance records the environment in which the body is situated. I don't think of two areas as intersecting but rather as components functioning as one. I think it is the same for art and life.' – From Metaphors of Malleability: Shawanda Corbett interviewed by Jareh Das, Bomb Magazine, 20 July 2020, available here.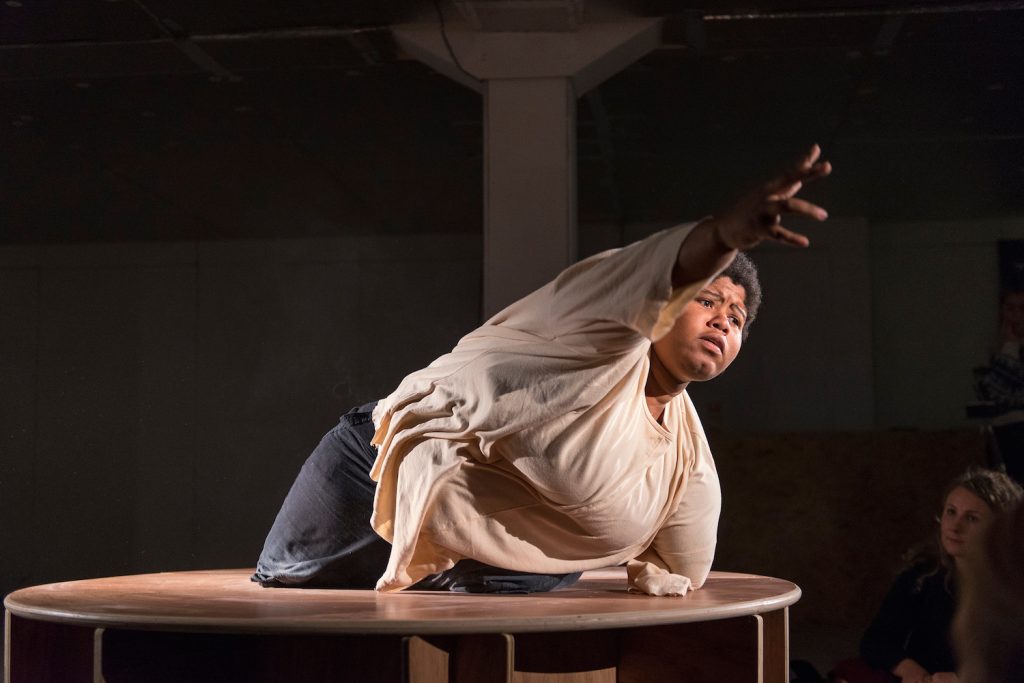 Corbett has brought together these strands of her practice in the playful, vivid painted decoration on the surface of her vessels. She improvised the painting on Candy Lady while listening and dancing to 'Part 3: Pursuance' from John Coltrane's 1965 jazz album, A Love Supreme. For her, these vessels, each one of them unique, leaning and anthropomorphic, act as 'stand-ins for people', who are themselves intimately connected with clay:
'I relate to the medium of clay so much because people are the metaphor for malleability. We start in an original form, and because of life, time, and environments we are constantly changing, are in a constant state of undoing.' -From Metaphors of Malleability: Shawanda Corbett interviewed by Jareh Das, Bomb Magazine, 20 July 2020, available here.
Born with one arm and without legs, Corbett has developed her own method of throwing clay, making use of the wheel's centrifugal force. Inspired by a Japanese technique, she throws upside down in small sections before joining these together to make larger vessels (the vessels comprising Candy Lady measure 64cm and 60cm respectively).
Corbett's work reflects her perspective as a woman of colour and also as a person who is differently-abled. It is expansive – constantly pushing against the notion of a 'complete' body – but also celebratory, especially in the case of Candy Lady. It is hoped that this joyful pair of vessels will soon be displayed in the Museum's Octagon Gallery, alongside other works from the collection that are made by women and/or depict them.
Listen to Shawanda Corbett interviewed by Russell Tovey and Robert Diament on their Talk Art podcast here.
Read an interview with Shawanda Corbett by Isabella Smith for the Crafts Council here.