In January 2021 we were still working within the restrictions of the pandemic and our public programme was to remain online for a while longer. In search of new ways to engage with our family audiences, I looked to a familiar piece of software and some recent training to create an interactive online activity for young people and families.
The launch of the very first Cambridge Festival provided an excuse to stretch our limbs digitally and invest time in a theory; that we could create a digital interactive, in-house. We also wanted to provide an activity that would sit in place of our usual museum trails while we were closed. One that visitors could enjoy at any time, including in the galleries when we were able to be open once again.
Ambitious? Yes. Mad? Most definitely.
If we could pull it off then we would have an 'on demand' resource that families could access at anytime and anywhere with the use of a smartphone, tablet or computer. It would allow us to share the very latest of wildlife conservation stories and we hoped it would inspire families to visit the museum or learn more about the natural world.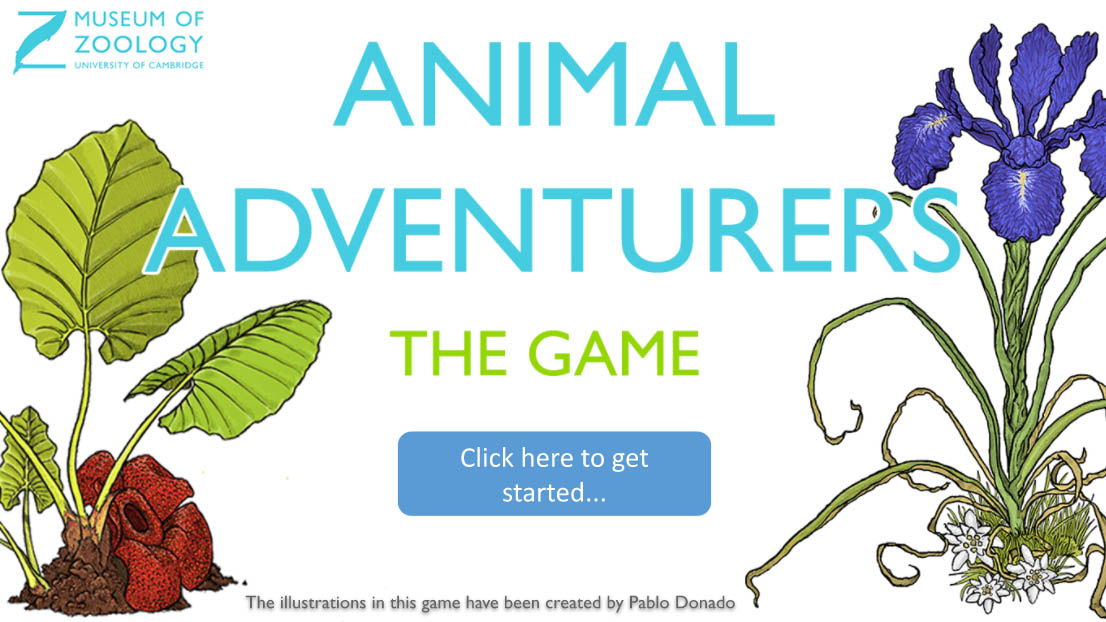 I began by gathering up the best conservation stories and natural world curiosities from my knowledgeable colleagues. This came with all sorts of suggestions, from nutrient-stirring whales to forest-building herbivores and mountain-climbing moths!
As this was to be a predominantly visual experience, I then narrowed down six habitats and relevant stories according to which quality images and specimens I had access to. We also recruited the help of museum volunteer Pablo Donado, with us on a placement, to create some habitat illustrations. These quickly became my favourite part of the whole project and helped to create a consistent, professional and attractive finish.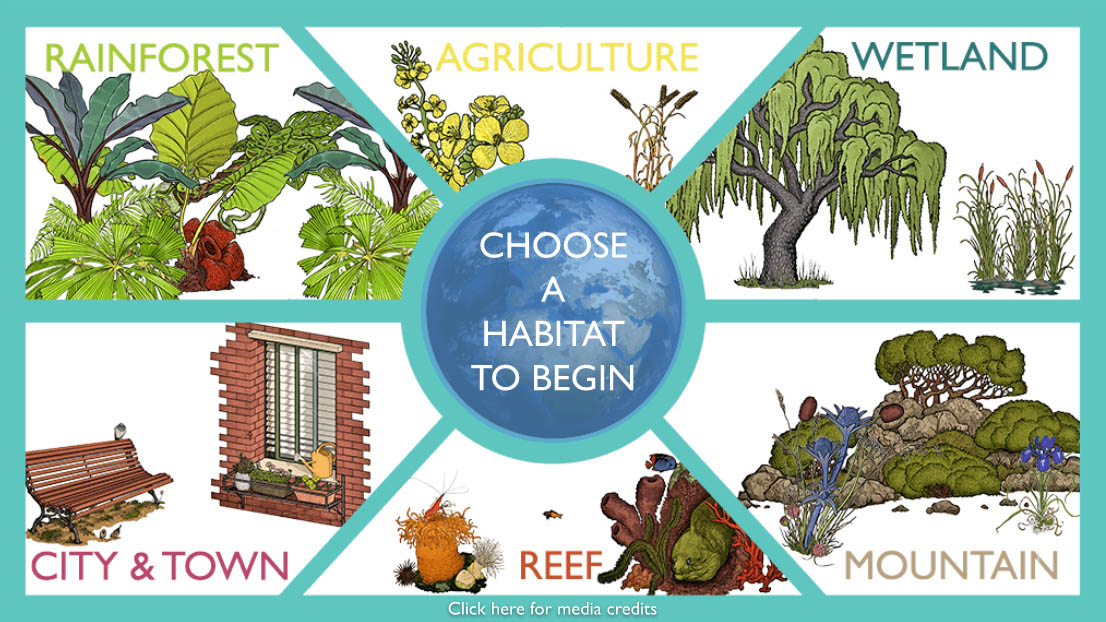 Then things got tricky, but I love a challenge. Each story would become a puzzle and in order for the series of puzzles to be engaging, they needed to differ from one another. Any puzzle also needed to be logistically possible using Google Slides, hyperlinks and explained using as little wording as possible. I did eventually create 13 distinct puzzles. It required a lot of time and clever use of my 'creative thinking' brain – usually available after my morning coffee but before lunch – and a little bit of spying on other games too.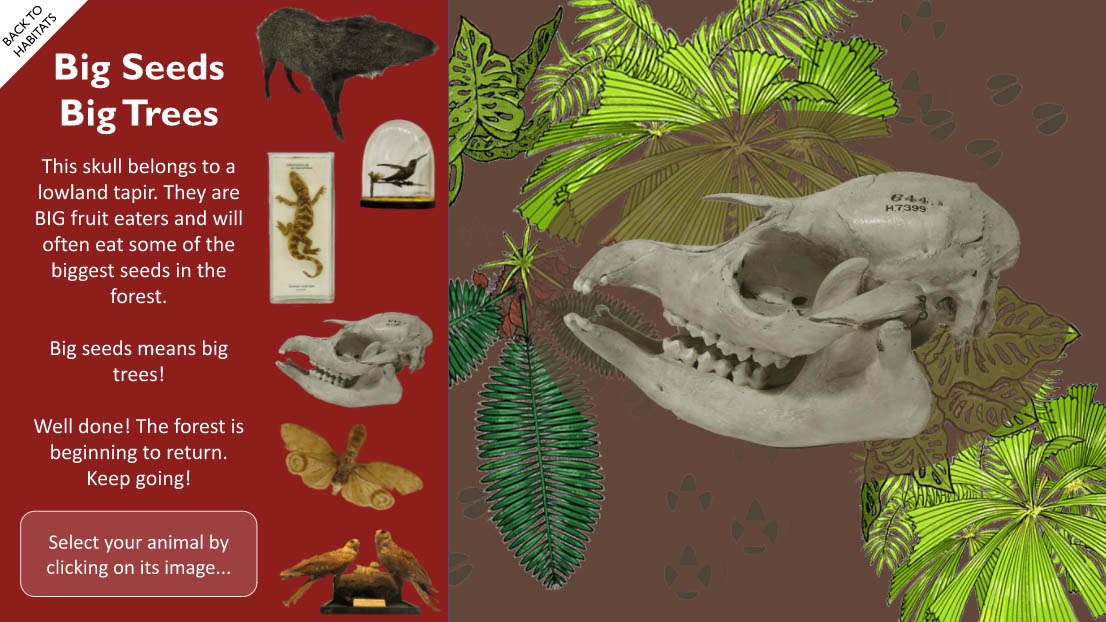 Once puzzles are conceptualized, the creation of pages and hyperlinks are a doddle, if not a little monotonous. I would be happy to show anyone how this is achieved, so do get in touch!
Overall, I am happy with the finished product but as with any first attempt, I learnt a good few lessons along the way. Here's three that I think might be useful to share:
Lesson 1: Kindness and time – a project of this kind requires a lot of creative thinking and energy. My timeline needed to be sympathetic to the fact that gathering up creative energy was also more difficult during the longest lockdown. In hindsight, I am very thankful for having started it 'early'. Admittedly, this was more down to curiosity and a relatively quiet January, than forward planning, but it allowed for a long production timeline and provided wiggle-room. I was able to work to my strengths and do other parts of my job when the creative juices weren't flowing, without worrying about an impending deadline.
Lesson 2: The story – I found parallels between building the game and the skills we use when engaging our audiences. It is all about the narrative. We are already half-way there and didn't even know it!
Lesson 3: Think big but build simple – when it comes to interactives on the big wide web, we are competing with the megafauna of the games industry. Go big with our strengths – the stories – but simple with the tech.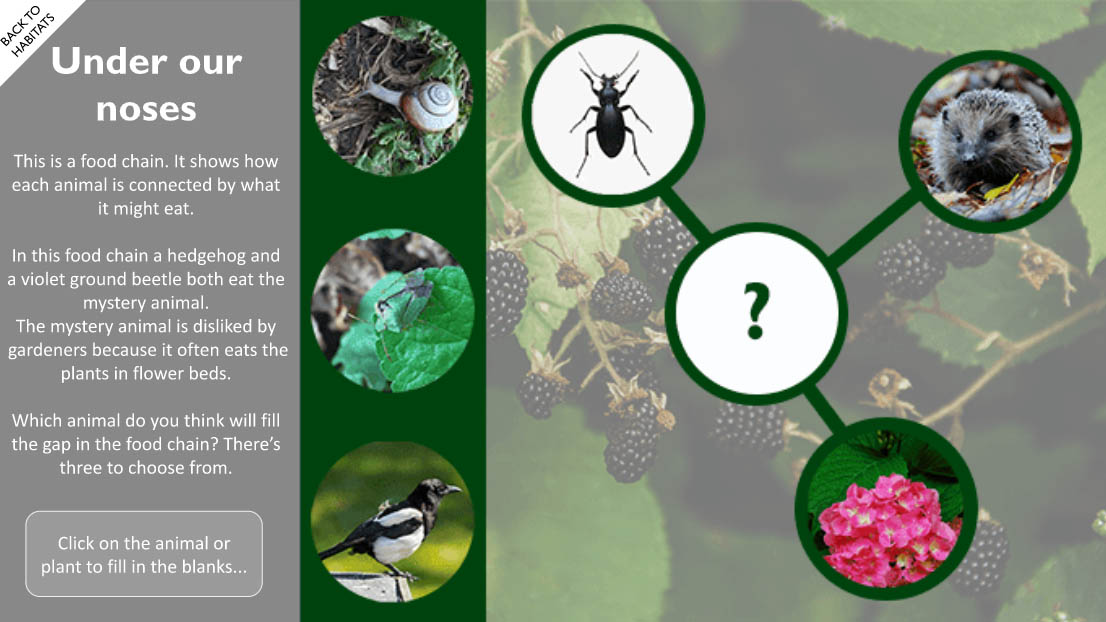 What next?
We now have this in-house knowledge and experience to build upon and the potential to create further online or in-gallery interactives. The game itself is available for anyone to play and sits as part of our online 'Nature Classroom' offer.
If anyone would like to learn more about how you can create an interactive using PowerPoint or Google Slides, please get in touch. Oh, and go play!