Do museum visitors use QR codes? What about near field communication? More importantly, would visitors use those to connect with creative digital content created by our community? Read on!
In the summer of 2020 we ran Museum Remix: Unheard, inviting our communities to make new creative content – films, audio and 2D works – inspired by our collections. This all took place remotely while the museums were closed. From the start of Museum Remix we committed to sharing content created by participants on our digital platforms, but we wanted to find a way to transfer this online project back into the museum buildings after lockdown. Our desire to do this came at the same time as an opportunity to be part of Culture 24's Let's Get Real programme, and so we joined the cohort to explore how to evaluate online success.
Our experimentation began by identifying 20 objects in 5 museums where we could add a label that directed visitors to the online community-created content. By producing these labels, we were able to bring different voices into the museum displays, and explore the impact on our visitors. Museum Remix is about letting go of the institutional reins, welcoming and listening to interpretation from voices beyond our organisations. 
The specially designed labels, created by our friends at Studio Carrom, contained very little text, with most of the space given over to a large QR code. An attached electronic tag would enable those phones with Near Field Communication (NFC) technology to access the content. We set up the analytics so that we could find out which method and label visitors were using, and created supporting promotional materials to let people know why they might want to try it out.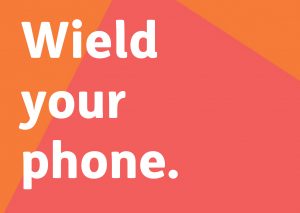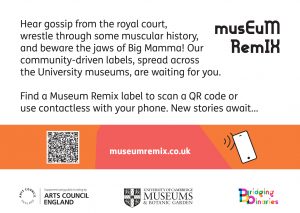 The creation and installation of these labels happened at a time when museums were reopening – a challenge in itself – so asking for the labels to be placed across 5 different museums was tricky. But thanks to staff in all the museums, these logistical issues were overcome, and most of the labels were in place by summer 2021. The labels have a consistent visual identity to be recognisable (and eye-catching) across the different collections. We also made sure they were available in multiple materials to ensure they worked for different museum displays. 
Then came analytics wrangling. The Let's Get Real workshops gave us helpful tools and we managed to work out the practicalities of Google Analytics and URL builders. When we checked the analytics after a few weeks, we discovered that QR codes were by far the most popular method for accessing the new content: nine times as many page views came via QR code compared to people who used NFCs. This could have been a consequence of the ubiquity of the QR code at this point in time: visitors in the summer of 2021 were asked to check into the museum with a QR code.

For some museums, we had good baseline data on how visitors used the gallery before the Remix labels were put in place. This included timing and tracking information. When we looked at the Remix analytics for time spent on the page, we found that visitors were engaging with the content of a single Remix label for up to 15 times longer than they had previously spent at the entire case. Dwell time increased enormously: in the tracking data we found one display that was looked at for 19 seconds on average, but the average time spent listening to one community-created label, related to one object in this case, was over 11 minutes. In the past, we have also tracked visitors while they engaged with museum-generated audio content. This is usually around 30 to 60 seconds. The Remix labels altered this trend, with visitors listening to community-generated content for over 5 minutes on average (accessed via QR code).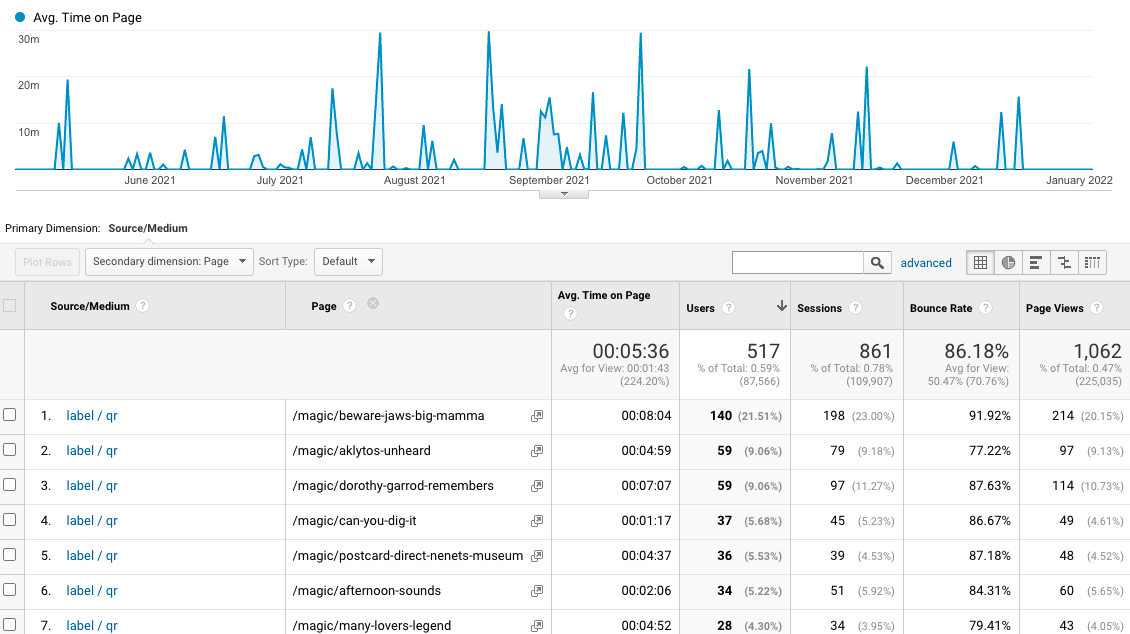 While we liked the content and hoped that other visitors would too, we were both surprised by the huge popularity of the community-created content, as well as the length of time people spent listening. This was especially interesting to us, as visitors were accessing this material while standing in the museum galleries (rather than in the comfort of their own home). 
There has been considerable interest from across UCM about how we develop this experiment further. Some venues are keen to look at developing more interactive labels, either individually or across the consortium. We are all keen for more community voices to be highlighted in our museums. 
We learned that QR codes are a realistic way to direct visitors to online content from within the museums. We have a resource on how to create digital labels for use by the consortium and beyond. More than anything else, we showcased the power of our communities' voices, creativity and interpretation of our objects, and how visitors enjoy their take on objects.
Our top tips for anyone else considering a similar project:
Determine exactly what you would like the label to do and therefore how much information you need to have on there

Make sure the instructions are clear for visitors. They need to have a reason to access the content

Try to define what successful digital engagement in museum galleries looks like. Would 10 interactions with one label in a busy museum be considered good? A baseline from previous experiments can help.