The arrival of a new baby in a family can feel like living in a kaleidoscope of emotions as everyone settles into new roles, responsibilities, and routines. The Fitzwilliam Museum's Musical Bumps course used art and music to support new parents to share a unique experience with their babies while affirming their own creative identities at the same time.
Life is busy and complicated enough with a baby – why on earth did we invite new parents to the Fitzwilliam Museum and ask them to create songs on top of everything else they are juggling?!
We know that being creative and learning new things are important for wellbeing. Challenges can encourage us to have confidence, gain a sense of achievement, and help us feel secure in our identity. We hoped that this project would allow the parents to tap into all the musical and creative sensibilities they might have put to one side while focusing on their babies.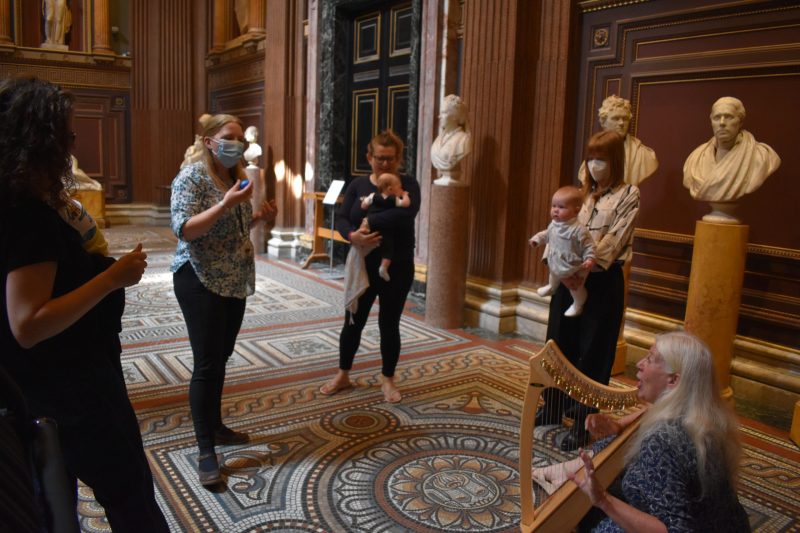 We did, however, want to create a nurturing experience rather than a daunting one. With this in mind, we partnered with harpist Xenia Horne who designed activities for the course that were responsive to the needs and interests of the group; starting with open-ended, simple tasks which became more complex and demanding as the participants confidence grew.
We began with micro-songs, consisting simply of one word, sound or gesture; progressing to mini-songs with a pair of words contributed by each participant; and finally a 6 line melodic verse. Xenia used music to create a calm, relaxed atmosphere turning large open galleries into secure and intimate spaces.  The gentle sound of the harp was at once fascinating and instantly soothing – for the adults as much as the babies.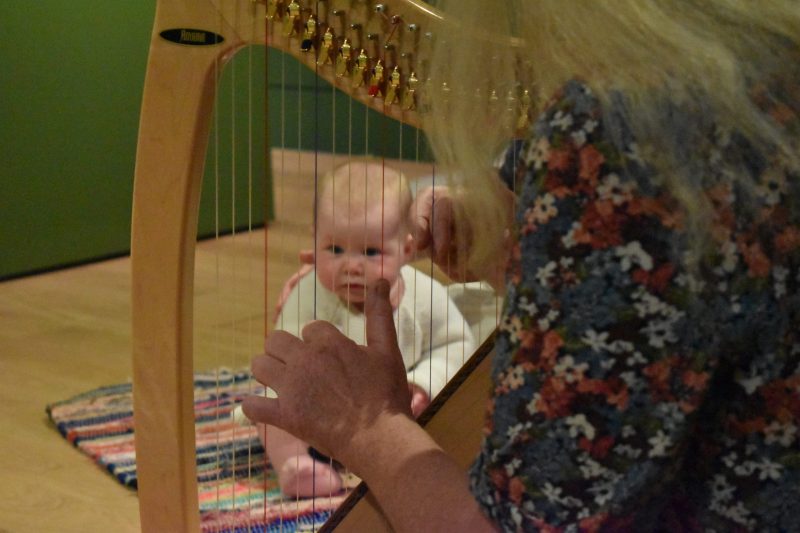 Here are some reflections from the participants:
'Just getting dressed in the morning with a 9-week-old baby was a major challenge – the sessions helped me as they made me get ready in the mornings for the rest of the week too.'

'It was a reminder that babies are able to engage on a different level other than the cycle of eat, sleep, nappy change. A good reminder of how music can engage little babies.'

'I was nervous about making music and became more comfortable – I enjoy singing more now and singing more with my baby too. Now I think about how I can use music with my baby, when he is fretting I sing to him. I sang him the Hello Song and he calmed down.'

'I found it so calming to hear harp music…my baby found it really relaxing and slept so soundly after every session.'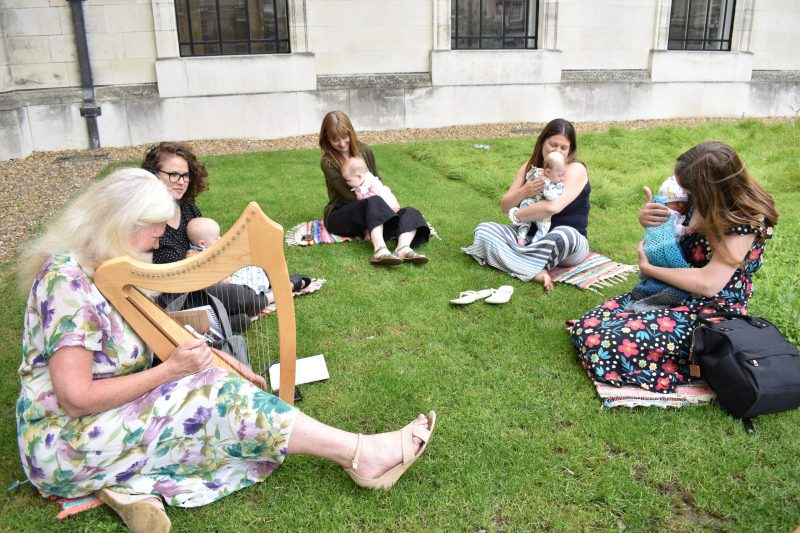 Musical Bumps was devised as part the Social Impact of Music Making module for Xenia's Music in Education Masters at the Royal College of Music.
Many thanks to all who supported us to launch the project, especially Nathan Huxtable and Alison Ayres for photography and ongoing help.
If you'd like to know more about the Fitzwilliam Museum's activities  for babies, young children and those who care for them, please contact Nicola Wallis.