Education Officer, Sarah-Cate Blake discusses 'Zensation', a stress-busting programme offering university students a space to unwind and engage creatively with the Fitzwilliam Museum.
Being a student can be a time when we experience a huge amount of stimulus from new environments, work studies, social excitement or the lack thereof. Experienced over a longer timeframe these stimuli may present as hyperactivation (fight states), absenteeism (flight states) or depressive (freeze states).
As the parent of a student, I watched, listened, took 2am phone calls, sent money, gifts, made visits and did online shopping orders. Meanwhile, my offspring cycled through periods of enjoyment, excitement, and burn out; finding that the demands and expectations of student life can be all too overwhelming. So how can we better support our students?
Universities are now active in offering welfare and wellbeing support, pastoral care and signposted links to finding the right help. The Fitzwilliam Museum has also responded positively, providing opportunities for university students though social after-hours events, programmes exploring  contemporary current issues, and 'change makers', a focused series of workshops for higher education students examining the University of Cambridge Museums collections through talks, making and peer sharing.
The Zensation programme has a slightly different remit: to offer and hold a safe space for playful creative wellbeing. It invites university students to join Fitzwilliam Museum educators and a freelance artist to enjoy a gallery tour, or special exhibition, followed by time for creativity. In recent sessions we've visited the Hockey's Eye exhibition, the Museum's ceramics gallery, explored ideas of beauty in Antiquities, and we will shortly visit Defaced to think about the currencies of protest. Students very much set the pace while our museum educators and artists offer conversation starters or a listening ear as students unpick a line of inquiry. These gentle tours offer up thoughts and reflections which generate ideas in the Museum Studio when we move on to the creative part of the session.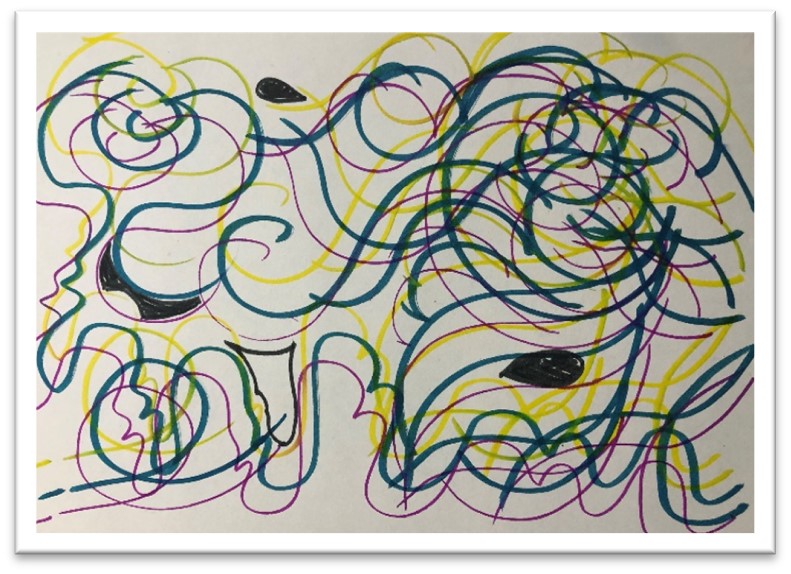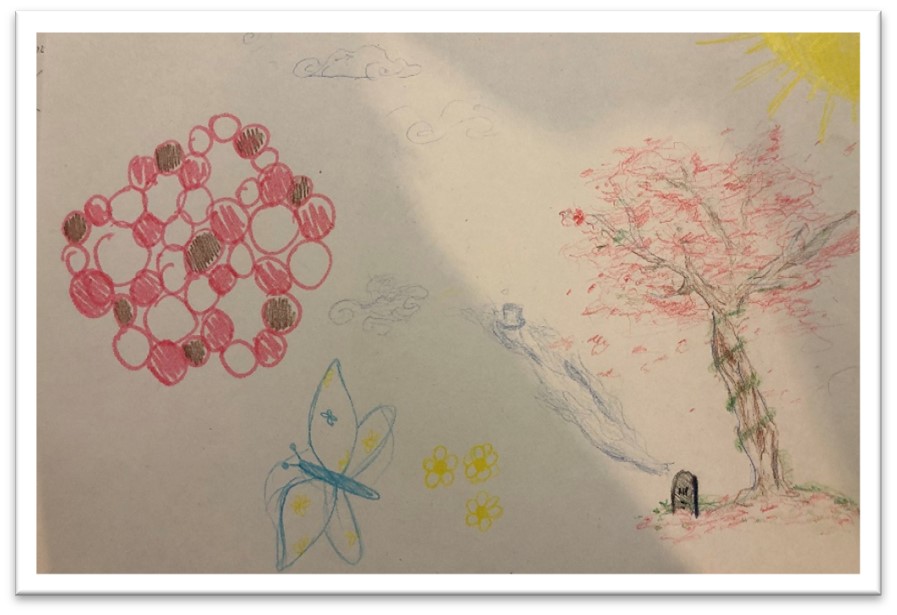 The time in the Studio is extremely relaxed and loose in terms of theme, technical terms or materials. Students simply enjoy the physical proprioception, (a mindful awareness of your body in space and time) of 'making' while they synchronize brain and body to the 'task' or 'activity'.
This state is often called 'flow' – sometimes experienced during a hobby, craft, sport or leisure activity – and is a way of resetting the mental tangles induced by anxiety which can over stimulate our physiological responses. During flow activities we drop into our parasympathetic nervous system and this can be observed in Zensation sessions: chat lightens, facial expressions ease, we see yawns or sighs, hear tummy grumbles and notice a quieting of mood. The students' energy settles as they engage with the 'task' and then reenergize towards the end, usually 45 minutes in.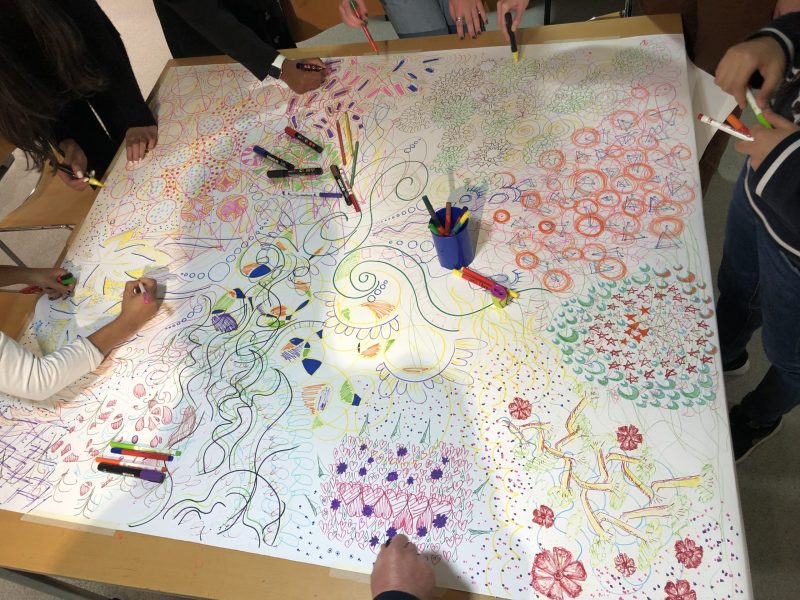 The sessions are softly brought to a close with a group conversation about the rest of the day, bringing everyone into the present and mindful of the next step in the day. Here's what our students have said:
Calming and sociable, it was fun creating unserious art and looking at different art pieces and talking about them. It calmed me down after a stressful morning of 3 lectures.

Mindfulness, relaxation, it was calming and I felt very relaxed I enjoyed the group drawing.

I felt calm, and I enjoyed embracing creativity, meeting new people and getting to draw intuitively. I was pleasantly surprised, thinking about objects in a new light without pressure to go in a certain direction.

I let out my creativity, relaxing and no fear! I felt like I was capable, no judgement of my art – I loved it. I would love to explore further more of such workshops.

The event was extremely calming and fun, it was quite soothing the museum and group doodling were fantastic, yes a very relaxing space away from studying.

HAPPY! Very enjoyable, fresh and new to me.