Sarah Villis describes how the Fitzwilliam Museum is using its galleries and collections as positive, healing spaces, by combining music, movement and art, and the impact this is having on older people's health and wellbeing.
The background
In the Autumn of 2021 The Fitzwilliam Museum started a partnership with Meridian Primary Care Network (Meridian PCN) enabling the museum to play a key role in the development of a social prescribing project, where patients are referred to activities and community groups that may benefit their health and wellbeing. After a consultation period with our clinical partners and a series of pilot courses we developed the Look, Imagine, Move programmes. This includes two courses aimed at adults with health conditions such as chronic pain and musculoskeletal conditions, and also stroke survivors. The programme is complimented by a series of films which are available to all.
The programmes invite people to engage with art through closer looking, imagination and gentle expressive movement. They sit within the Age Well framework, which focusses on programmes with, and for, older people with complex health conditions in Cambridgeshire. Age Well has been created in collaboration with Dance for Health artist Filipa Pereira-Stubbs, resident dance artist at Addenbrookes Hospital. She has been pivotal in the Look Imagine Move programme and jointly delivers this with the Inclusion Coordinator at the museum.
The initial project with Meridian PCN involved patients on waiting lists for muscular skeletal conditions, working with them on their NHS funded project Worthwhile Waiting. Waiting lists for treatment have worsened since the pandemic and this can have a profoundly negative impact on people's health and wellbeing. Will Bailey, Clinical Director at Meridian PCN and co-founder of Worthwhile Waiting, was interested in how patients can use their time well whilst waiting for clinical care, 'how can we transform the waiting period into a positive experience?', and we were interested in how the museum, its spaces and collections could play a role within this.
The first pilots for our Look Imagine Move courses were attended by people contacted directly by Meridian PCN and involved some of the Meridian PCN team such as health coaches and their social prescribers. This proved to be a valuable way for the clinical team to understand the Museum programme and the way it could benefit those patients in their care. The pilots were an immediate success with participants describing that they immediately felt less forgotten by their GP practice.
Based on feedback from the initial pilots and working closely with the Meridian PCN team, it was decided to widen the scope of the programme to adults with chronic pain. We were encouraged by our clinical partners to emphasise the movement part of the programme and the way this can support health. Additionally, started running a monthly session for adults who are stroke survivors, working with the Stroke Association and physiotherapists from Addenbrookes.
Alongside monthly Look Imagine Move Stroke Survivors sessions, we have now run five six-week courses for our Look Imagine Move for Chronic Pain & MSK conditions, with another course planned for the summer. We also offer monthly sessions for those who have already attended a course.
Approximately half of each of the group attending are directly referred to the course through Social Prescribers, with the remaining places advertised to a wider museum audience through the website and mailing lists. The course has now been extended out to the wider Cambridgeshire area, and is advertised on the H.A.Y. Cambridge website and will shortly be available on JOY – a social prescribing referral app being implemented across Cambridgeshire & Peterborough Integrated Care System.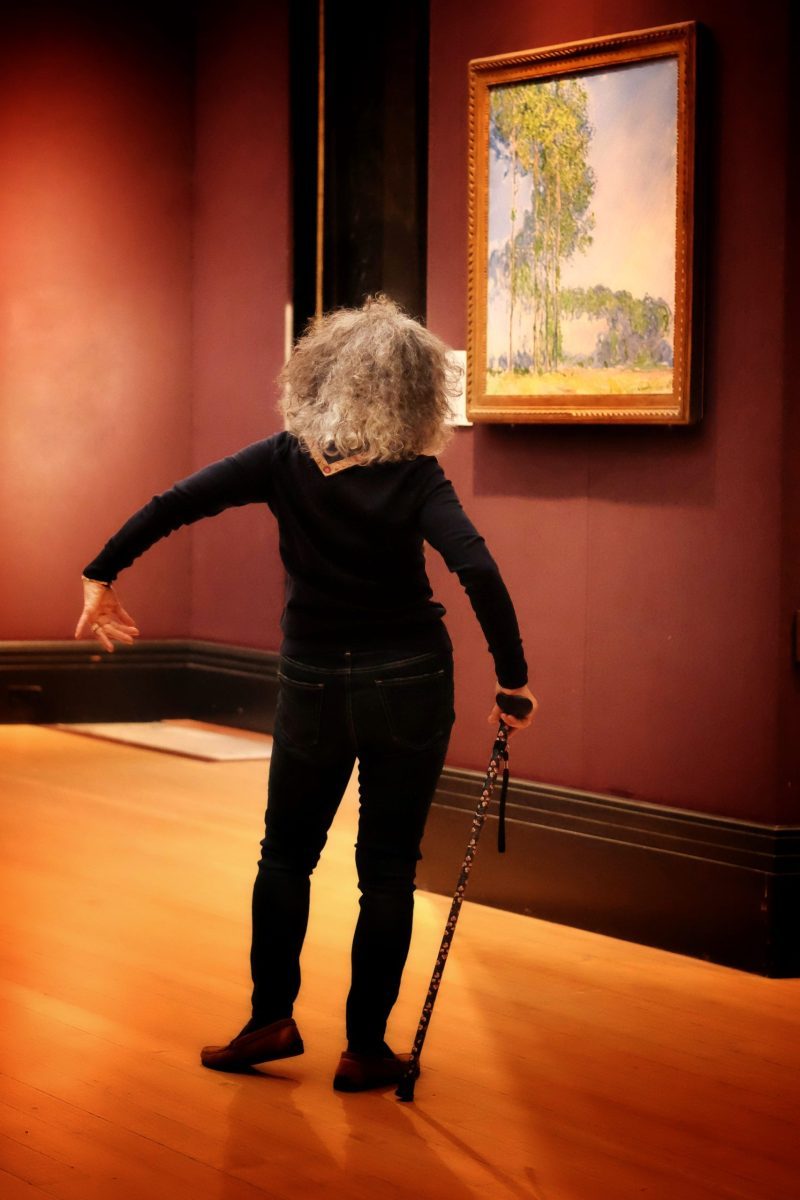 The course and the practice – what do we offer?
Each session is based in a closed Fitzwilliam gallery, creating a safe, calm and nourishing space for participants. Starting with techniques of looking closely at one or two pieces of art from the Museum's collection, we then use music and movement to explore our ideas fully.
"Art, movement and music are all excellent ways individually that help me escape inner turmoil or  'noise'

When combining all three, I found that the noise had much less power over me and I was much more able to lose myself in the moment."
We rely on Filipa as a dance for health artist, with over 30 years experience in clinical settings, and talk through the aims and intentions of the course with our clinical partners at Meridian PCN, the Stroke Association and physiotherapists from Addenbrookes Stroke Unit (who will also recommend and refer people to try the courses). Participants are encouraged to move gently but are not pushed to do anything they don't feel comfortable with.
"I realise I have an opinion on Art and Music so talking out loud in the group I have gained confidence.

I am able to completely forget pain and be absorbed in art and music and dance."
Participants on both programmes have valued the inspiration and imaginative opportunities offered while exploring what they can do with their bodies and minds despite the restrictions of chronic pain and stroke. Movements may carry personal meaning and articulate personal experience creating something nourishing and joyful.
"a very personal experience, it was the first time in a very long time that I had a glimpse of my old self."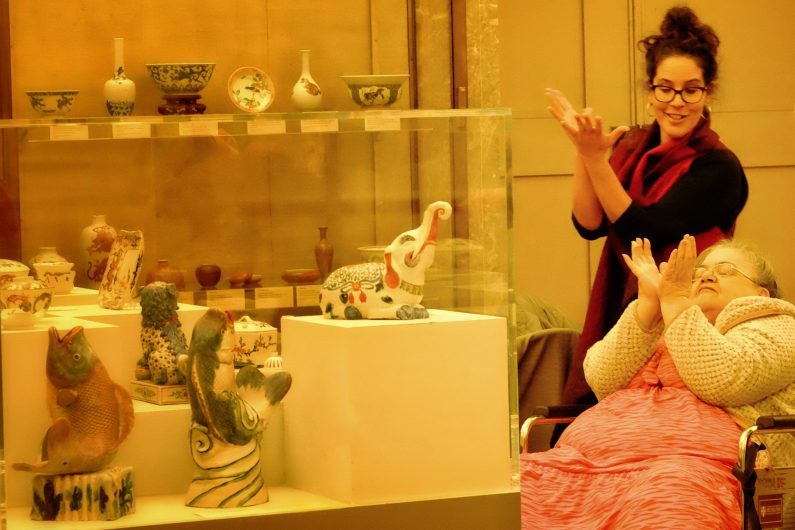 Challenges
There have been challenges in how we describe the programme, and how to encourage people to trust us and to have a go at doing something different.
Other difficulties have included the logistics of closing galleries when the museum is open; and barriers to participants joining in through lack of transport and the difficulties of parking at the museum. Some of these have been overcome by the brilliant support of colleagues in Visitor Services and Security who go out of the way to make sure our group is made to feel welcome.
It was important to have the support from the museum to close a gallery space during the session. This ensured participants had a safe trusted space to share together in their conversation and movement, which could often take them to a very personal space. Participants enjoyed the experience of sessions taking place in a beautiful gallery and how it made them feel.
"We are amongst valuable things, so we feel valued."
Continuing and sharing practices
One of the aims of Look, Imagine, Move was a way of sharing practices that can be used in their everyday lives.
Participants from both courses have now joined public dance sessions that we run termly at the museum on a Sunday morning, an event giving older people the opportunity to shift from 'static looking' to 'embodied looking', and as one participant put it 'to bring my whole self to the museum'
The opportunity to carry on these practices at home and when visiting the museum independently has now been enhanced by the launch of our Look, Imagine, Move films. The 4 films celebrate older people's bodies, and the way movement and dance can be so beneficial to our wellbeing throughout the life stages. And they highlight the opportunity to start looking and using the Museum's collection in a new way. They will now be part of a bank of Health and Wellbeing resources that we will hold and promote on our website and which will include walking wellbeing guides through the galleries.