Taking place through partnerships across the Cambridgeshire region, Age Well is a new framework for the UCM that brings together programmes with, and for,  older people. It is specifically aimed at those living in or supported by social or residential care, and who have complex health conditions including, dementia, physical disability, muscular skeletal issues and strokes.
Age Well is looking to build-on and strengthen the museums response to the high level of health inequalities, social isolation and loneliness experienced by older people in the Cambridgeshire region. Developments in programme activity and the extension of partnerships are key in this, along with opportunities to feed into the University of Cambridge Museums' (UCM) strategic research initiative Collections Connections and Communities, and Cambridge Public Health's research around life course and ageing.
Evaluation by Dr Hilary Bungay, Anglia Ruskin University of the Building Connections programme, 2018-2021 – the forerunner of Age Well – highlighted that museum programmes were often seen or employed by participants as part of strategies to be well and positive; understanding this further and testing-out assumptions that lie within are important aspects of the programme evaluation.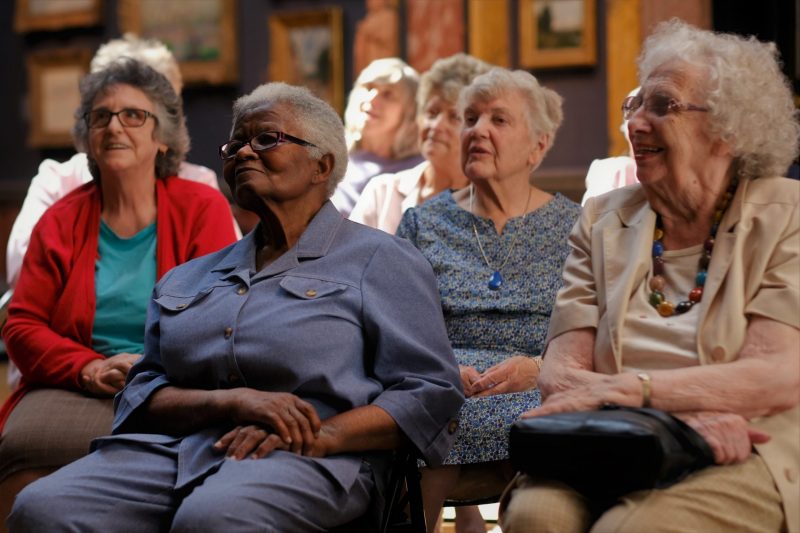 The Age Well framework in practice
Currently there are nine strands of activity that come under the Age Well banner. The strands are being evaluated through a shared Story or Theory of Change  designed to explore the question; how can older people's health and wellbeing be improved by engaging with collections and associated physical and digital spaces? Evidence will be sought through measuring and exploring people's experiences and responses to the collections and their feelings of connectivity, being uplifted, inspired, valued and knowledgeable.
Starting in the Autumn of 2021 and running until July 2023, Age Well activities are focusing on collections related to the natural world, with the intent of looking to understand the potential benefits of this, especially for those who have limited access to nature (e.g. people spending prolonged periods of time in hospital and those living in residential care with limited mobility).
Artefacts and collection items from across the UCM set the scene for this exploration, bringing together paintings and prints, objects, artefacts and exhibits. A couple of examples of how this is working are: an exploration of the Whipple Museums Globe collection preceded by sessions sharing paintings from the Fitzwilliam Museum of cloudscapes, sunsets and sunrises under the theme of  'the sky and beyond'; and the Fitzwilliam's Japanese print collection and East Asia Gallery artefacts framing an exploration of 'nature and its relationship to humanity'.
Although the Age Well framework is a new development for the UCM, much of the practices within it have been developed over a sustained period, through consultation, collaboration and partnerships. The shared ingredients across practices are – that time is taken, inquiry fostered, imaginations are warmed up and engaged, and that sharing leads to learning and invitations to create and ultimately own.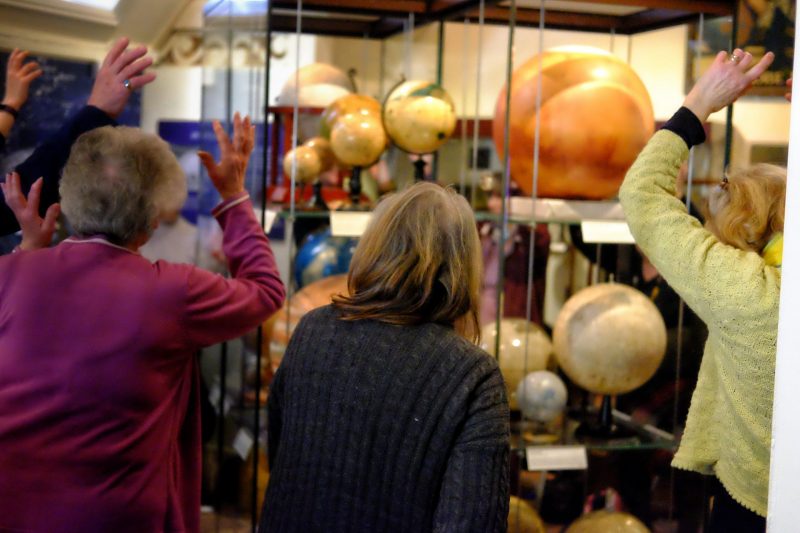 Age Well activity, example programmes
Dance with the Museum which takes place in sheltered housing, residential care, and in Addenbrooke's Hospital – here people are invited to wake up their minds, bodies and imaginations through music and movement inspired by collections.
Time with the Museum  also taking place in residential care settings, day centres and with hospice's – here people are invited to explore collections and share responses and ultimately to have 'conversations that matter'.
Portals to the World for people with a dementia diagnosis and a regular care giver, delivered in partnership with Dementia Compass; people are invited to learn together about collections, with a focus on ability over disability.
Worthwhile Waiting for people with muscular skeletal conditions, taking place online and in person. A social prescribing partnership programme with the Meridian Primary Care Network which employs the Dance with the Museum practice.
Feed Your imagination for people who have had a stroke. This takes place in person and involves gentle and playful art activities and movement.
Dance with Art for older people who know that dance makes them feel better. This is part of the public programme which responds to exhibitions.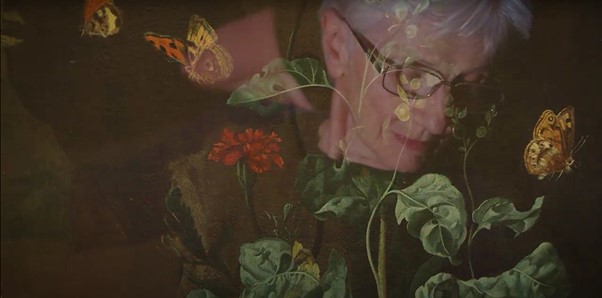 Age Well –training and resources
Going beyond direct delivery and enabling as wide a reach of people and organisations to access the Age Well programme is a key ambition for the work.
New and existing guided films, bedside activity pages, downloadable PDF guides and high-quality reproductions will all soon be available through the health and wellbeing tab on both the UCM website and Fitzwilliam Museum website.
The first of the new resources are the Look Imagine Move film series, artworks in focus at the Fitzwilliam – look out for the subject specific blogpost sharing these films.
To accompany this, a training programme for caregivers and care managers will begin in the summer of 2022 accompanied by a series of events for museum staff, including the popular dementia awareness training delivered for us by Dementia Compass.
Age Well is funded through a combination of grant funding from the Linbury Trust, Arts Council England and Cambridge City Council, and is the development of the Building Connections funded programme 2018-21.