Based at the Fitzwilliam Museum, the Creative Families course offers young children and their adults a chance to explore the Museum through stories, songs, artmaking, and play.
Museum Educator, Nicola Wallis, discusses the Museum's partnership with The Fields Child & Family Centre and the impact of the course.
Funded by Cambridge City Council, Creative Families is a four-week project that invites families with children aged 0-5 years to make connections with the Museum. We worked with Child & Family Centre Worker Maria Wermuthsweisz to make sure that the invitation to take part reached a wide variety of families, including those who might face barriers to participation such as health problems or financial issues.
Nine families participated; 11 adults and 10 children aged between one, and three-and-a-half years. After an initial 'getting to know you' session at The Fields Child & Family Centre – which included chatting and playing together over craft activities – there were three visits to the Museum. Sessions included singing in the Armoury, Tigers Coming to Tea in the Ceramics Gallery, and sound play surrounded by the Dutch seascapes.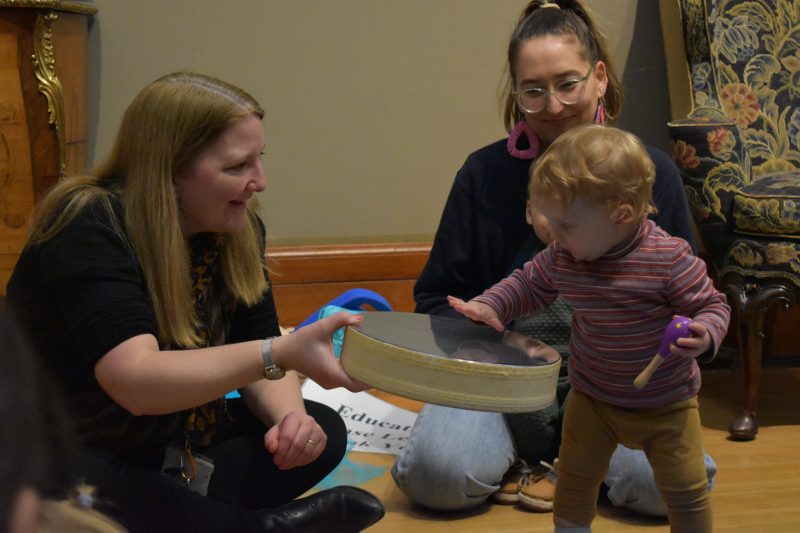 At the Museum we are firm believers in supporting the many different modalities people of all ages use to express themselves, and so exploration with sensory resources and art materials was an important part of each session.
"We have enjoyed all the activities. We liked the time in the galleries – it helped us to see things in different ways. We liked singing and playing with objects. We also liked activities in the Studio – especially painting."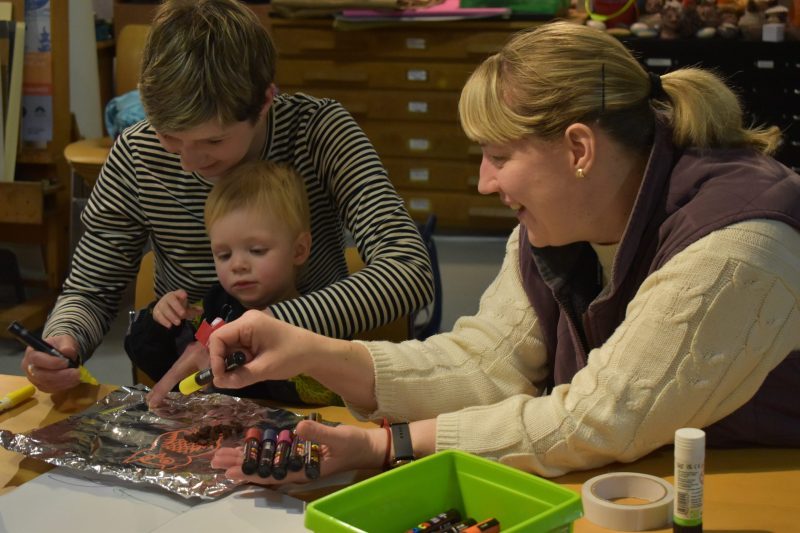 Incorporating lots of possible 'ways in' to connecting with the Museum spaces and objects was important for children to be able to make choices for themselves, and begin to learn that their views and preferences are important to cultural institutions such as the Museum. In new environments, it's important too to leave plenty of time for both adults and children to observe, settle in, and relax so that they feel comfortable and confident to explore. The 90-minute long sessions, and the repeated visits over the whole month were helpful in establishing this atmosphere.
"Fantastic friendly staff who helped me feel at ease with my very explorative child. Engaging themes, great resources, a brilliant intro to museums for my little one."
With some families were nervous about bringing their young children to the Museum for the first time, it was important for us to spend time getting to know them so that we could devise activities together that would allow them to flourish. Some parents were also concerned that transport costs to the Museum were a barrier to taking part, but thanks to the City Council grant, we were able to cover these for all participants. We are committed to making our programme accessible, and will always try to cover transport for any family who needs it at any of our early years events.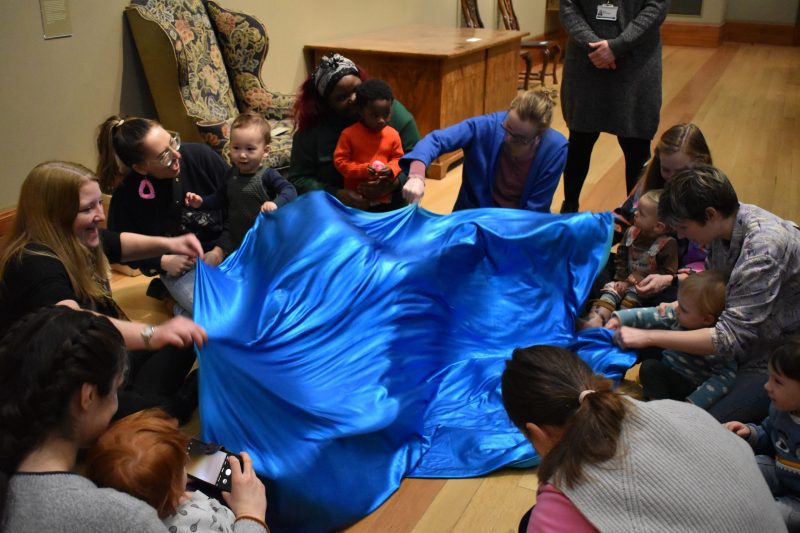 After each session, every family also received a small gift  so that they could continue playing and exploring together at home. During the cost of living crisis, there is often not a lot of cash spare in family budgets for art materials for children. Although there are all kinds of imaginative creative activities that are possible to do with everyday resources, which we modelled during the sessions, we also wanted to offer some new opportunities as well.
"Very informative, engaging and friendly sessions. Great ideas – to visit each part of the museum at a time and make it an interactive session so that little ones can fully enjoy it. Photos of the sessions will be great souvenirs as well as the lovely gifts. Financial support was also very helpful for families that struggle at the moment."
We have a full programme of activities for families with young children coming up over the next few months, and we hope to continue to see many of our Creative Families there.
Great fun for both kids and parents. Very inspiring environment, lecturers and activities. Actually the biggest thing we liked: it encourages people -parents- to go out with kids!!!
Many thanks to Maria Wermuthweisz at the Fields Child & Family Centre and Studio Assistants, Nathan Huxtable and Molly Blacknell, for their hard work and kind support of this project.
If you would like to know more about events and activities for young children at the Fitzwilliam Museum, please contact Nicola Wallis (nlw30@cam.ac.uk).
If you can't make it to the Museum at the moment, why not have a look at the stories and activity videos on our Children & Families YouTube playlist?