With the start of Collections in Action, our new Arts Council England National Portfolio Organisation (NPO) programme 2023-2026, getting underway, we're taking the opportunity to talk to colleagues whose work aligns with one of the four main themes of the programme to find out what it means to them and their work. The four themes are Creating Opportunities, Social Justice, Health and Wellbeing and Our Planet.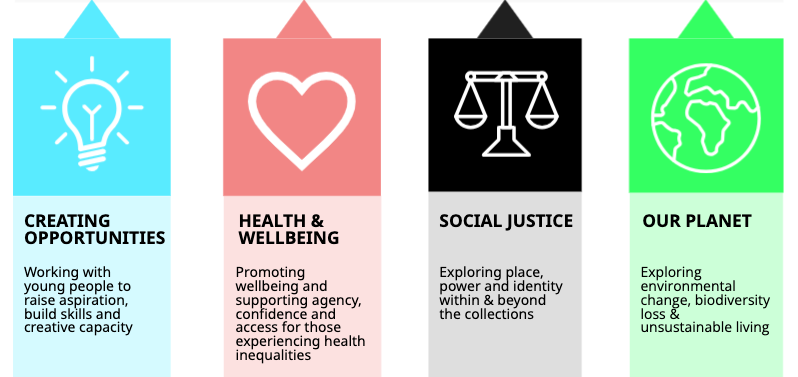 This time around, it's Creating Opportunities: working with young people to raise aspiration and build skills and creative capacity.
We had a chat with Marie Kennedy, Learning Associate: Young People who works with colleagues across the University of Cambridge Museums (UCM) consortium to create opportunities for  young people who may not normally have access to museums.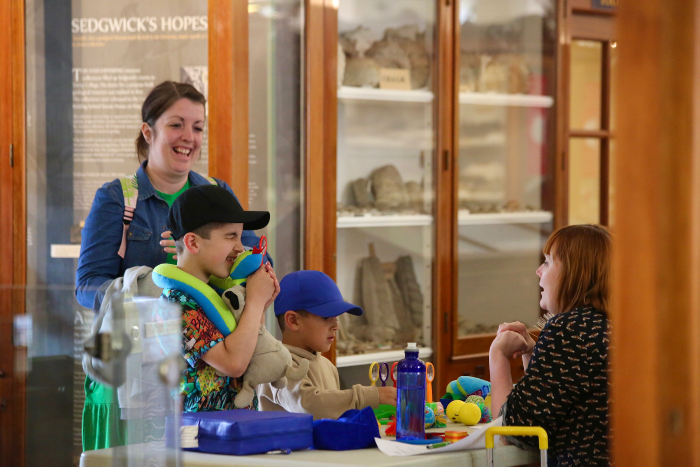 One of the four themes of the NPO programmes is Creating Opportunities – working with young people to raise aspiration and build skills and creative capacity.
Why do you think this is so important?
I think it's really important because not everyone feels comfortable and confident to go into museums, but everyone has the same right to access culture in whatever way works for them. I think it's important that we help young people build skills and be creative because to me, that's one of the reasons we're here.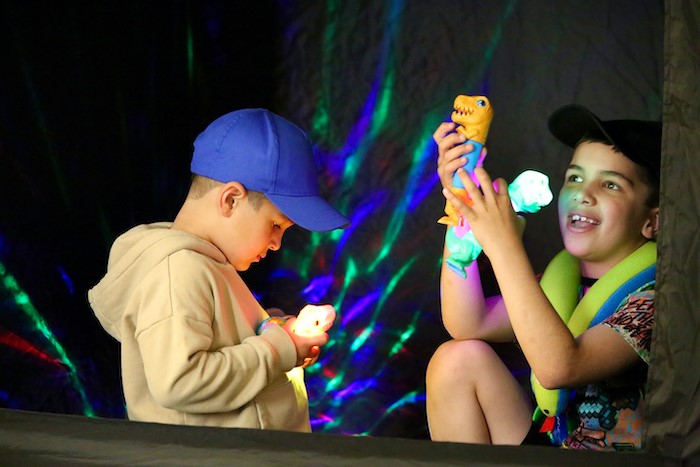 Why is it important in our region?
I think our region is a really interesting one because they're semi-rural areas and it can make things difficult for young people to access culture and to be honest, sometimes just access public transport to  just get out and about.
 I think there can be a lack of aspirations in some areas as well and maybe people don't necessarily think about wanting to go to a museum, but from my experience, what I've found is there is normally a way in with most young people, and it's just about creating those opportunities for people to to be able to access them. 
That's what I love about my job, it's really targeted so I get to really think and work with young people who might not normally think about going to a museum because of whatever barrier that might be.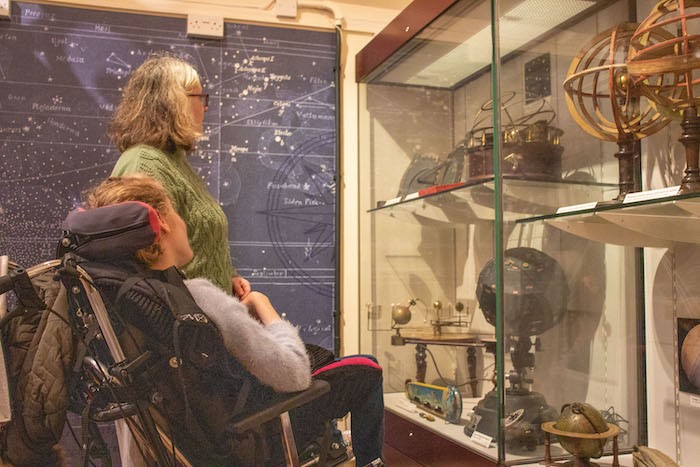 What can we do with collections that makes our contribution to this area so special?
Ohh, I think one of the most amazing things about the UCM is what we have. Such a diverse range of objects, and I think what's incredible for me when I'm working with young people, is that there is pretty much a way in with everyone, we can go for science, we can go for art, whatever their interests may be we can cater for.
I feel we've got a duty to share these incredible collections we look after because they're not ours, they belong to everybody and everybody should get the chance to explore and engage with them.
There's lots of different ways in which people may think  children with disabilities won't want to and can't engage with museums. But they can. We have to be flexible and think about things differently. And I really enjoy that challenge.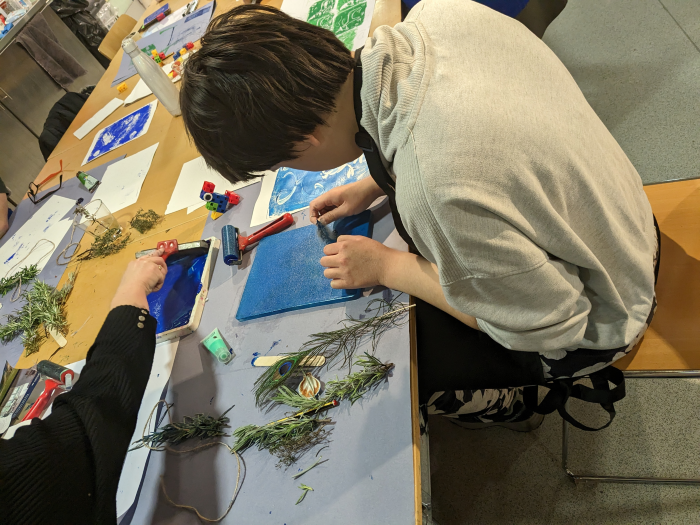 What groups of young people do you create opportunities for in your role?
Disability Friendly Openings
A lot of my work at the moment is working with young people with special educational needs and disabilities (SEND), and I do that in a number of ways. There's Disability Friendly Openings that make the museums accessible for SEND children and their families, because we  always need to remember the families are sometimes quite isolated and affected as well, and so are siblings. So it's a chance for families to come together and experience something in a way that works for the young person, but also for their families.
Arts Pioneers
Arts Pioneers is a group for young people aged 11 to 19 and the young people have a range of special educational needs and disabilities. The club happens once a month at the Fitzwilliam Museum, but we also do a holiday club which alternates around the UCM.
What skills are learnt in these sessions?
There's so many skills. They learn different art techniques but there's also the soft skills, as it were, where they work with other people and they're actually working with other young people and maybe they don't always get to do that. They  participate in a session that's away from their families, which for some of the young people is a really big thing and their confidence has just grown. 
It's been extraordinary seeing the progression from the first time they came to Arts Pioneers to how comfortable they are in the museum now and how happy they are to come in.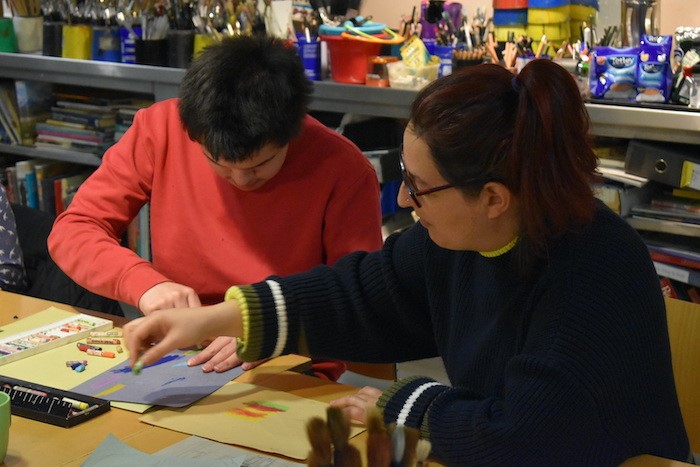 How do you work with arts pioneers to raise aspirations and build creative capacity?
With the arts pioneers, we have to be incredibly flexible because there are such a range of needs and we find that on the day will quite often change how we're working depending on how a young person is feeling or what they want to do. So we really make sure we listen and we watch and we will try to give young people a chance to just be creative and  introduce them to mediums that they might not normally have access to. We do a lot of work with clay and with painting. They work with two professional artists which alternate sessions so they can see what is possible.
They are supported to be as creative as they can be with whatever we're doing and some of the imaginations of the young people were just amazing. It's just so much fun and exciting to watch what they're going to do next, actually.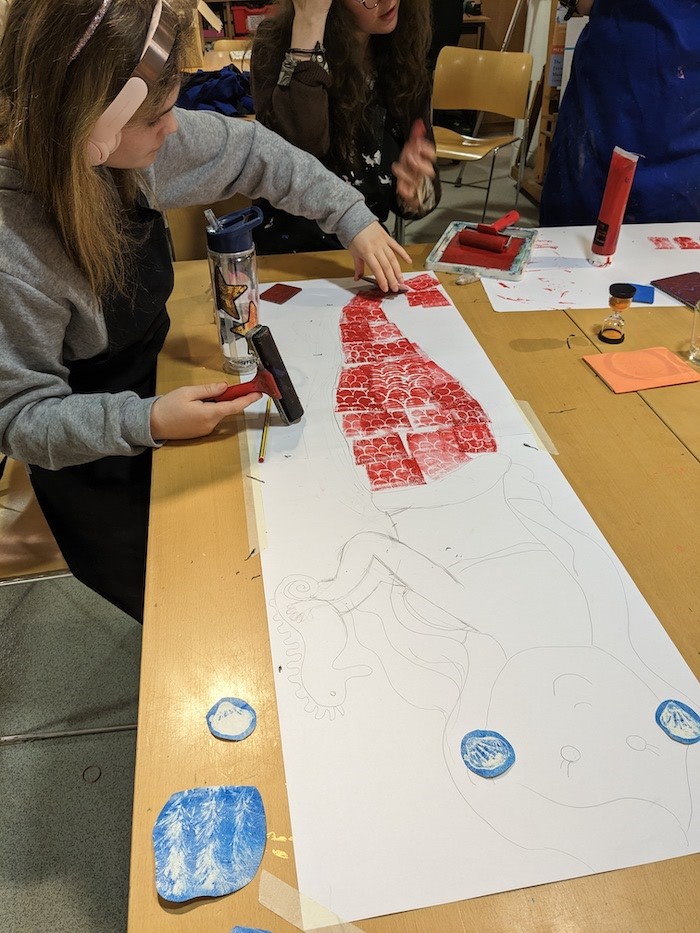 What have you been up to recently?
We've been spending quite a lot of time in the Islanders exhibition at the Fitzwilliam Museum, they've really enjoyed being in there because it's quite a relaxing space with the sea sounds, it's been quite inspiring. So we did some incredible printmaking based on images and shapes and collections that they found in the museum.
We made these incredible teapots based on teapots in the Fitzwilliam Museum, in the porcelain gallery, one of the young people really want to make a teapot, so one of the artists worked with them all to make teapots, and then we had them fired in a kiln and they've been painted and they look incredible.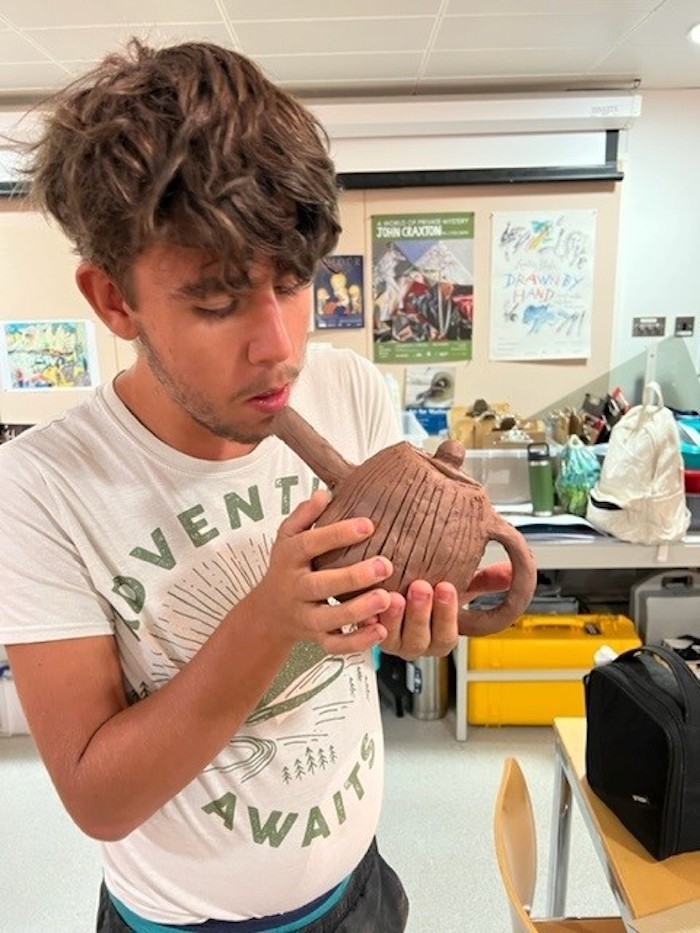 What's coming up in the future that you're excited about?
We're hoping to do an exhibition of the arts pioneers' work. It would be really incredible to be able to showcase their cause. They're work is just honestly amazing, there's things I would buy, some of the prints I'd buy that in a shop, it's so good.
To find out more about how to become an Arts Pioneer or attend a Disability Friendly Opening, check out our webpage which also has lots of free SEND resources and more information, here.