In January 2018 I attended the Museums Association's 'All Inclusive: Championing Diversity in Museums' one day seminar at Thinktank, one of Birmingham Museums' sites in central Birmingham.
The day was billed as 'an interactive day addressing the essential issue of how Museums can diversify their audiences and workforce.' It had a mix of speakers presenting case studies and intellectual provocations, insights and reflections on where we are as a sector, and how Museums can and should be practically working to create a more open and diverse environment for workforce and visitors.
There was a lot to take in, but these are just some of the things I took away:
Required Unconscious Bias training
1,000 employees/volunteers and external contractors who work at Tate venues have received Unconscious Bias training as part of an initiative agreed to, and sanctioned by, senior leadership. After explaining this the speaker, James Brandon, Diversity and Inclusion Manager at Tate, introduced us to the 'So What?' logic model, to help us think more carefully around what the impact of delivering mandatory training on Unconscious Bias for all staff, volunteers and consultants could be, and how to use logic models to make the case for support for this agenda from senior leadership or funders.
A definition of Implicit or Unconscious Bias is: 'Implicit or unconscious bias happens by our brains making incredibly quick judgements and assessments of people and situations without us realising. Our biases are influenced by our background, cultural environment and personal experiences. We may not even be aware of these views and opinions, or be aware of their full impact and implications.'
An example of the logic model, from James' presentation, is below: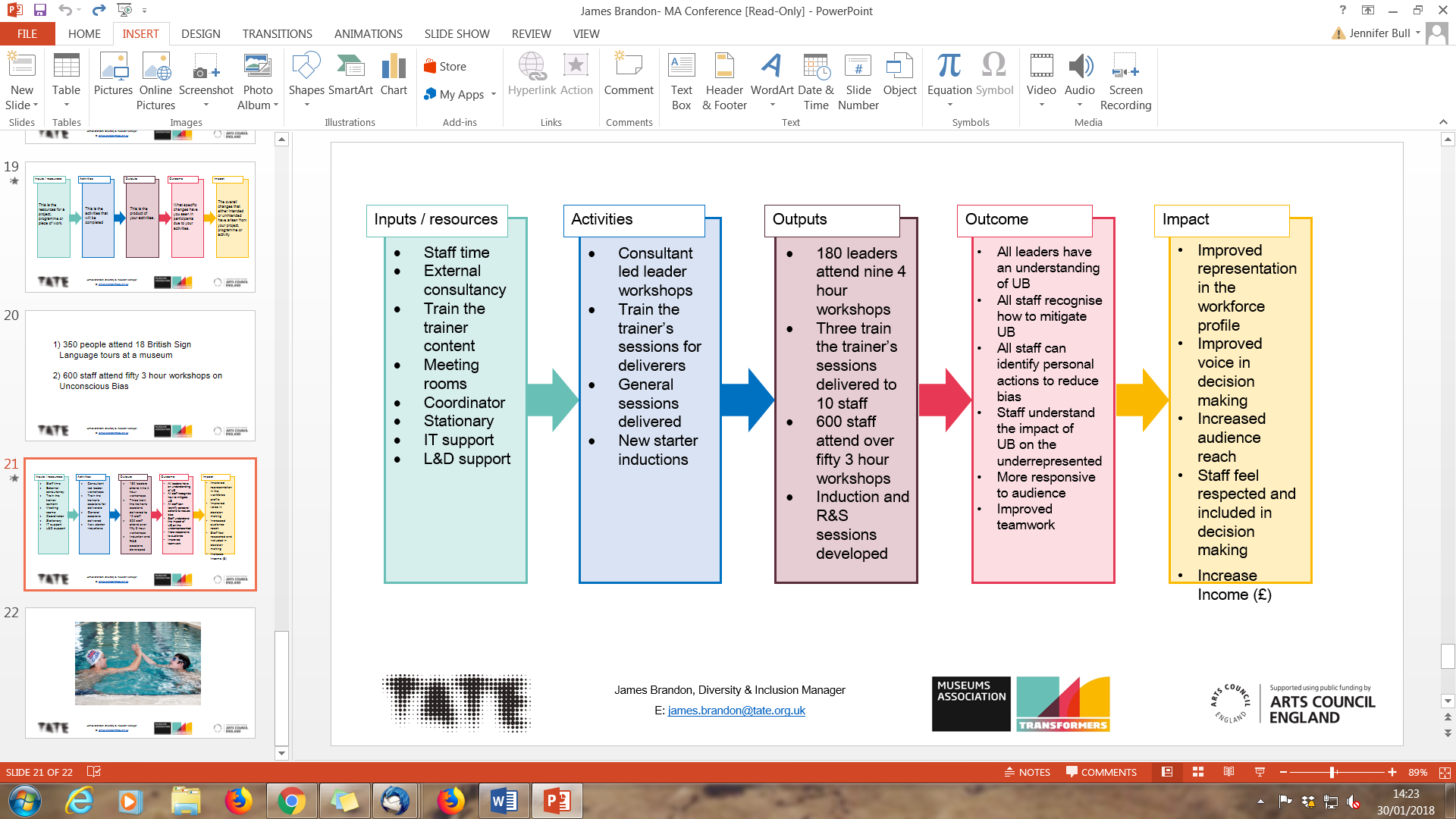 Unpaid Champions of Change 
At least four of the speakers who delivered talks at the seminar about projects they have either led or taken a key role in developing in Museums were working unpaid. Their work is, in some cases, cutting edge for the sector, or has meant that the museums they operate within have garnered major attention and new audiences, or even received monetary awards. The uncomfortable issue of staff working toward diversity agendas on the sidelines of museums, or taking on roles of top of their day jobs to champion equality within their workplace is a real one. We need to admit it and be mindful of it. Even if we can't immediately remedy it we should be thinking around how we ensure individuals are adequately resourced. Ultimately, diversity or agendas for change are sanctioned from top to bottom, from side to side, of organisations and need to be correctly thought out, and funded. Fundamentally, they must be embraced and sanctioned from the top down.
Intersectionality
Intersectionality can be defined as 'a theory which considers that the various aspects of humanity, such as class, race, sexual orientation and gender, do not exist separately from each other, but are complexly interwoven, and that their relationships are essential to an understanding of the human condition'.
 A fair few of the speakers referred to intersectionality in their talks, demonstrating how often people who identify with two or more marginalised groups can have the 'odds stacked against them'. They talked with reference to how museums can be mindful of this when collecting data about audiences and workforce, but also whilst we address stories about people in our displays and activities. To learn more about intersectionality (which is a knotty topic), here are a few articles to give a good start:
Here is a quote from Coming Out, one of Birmingham Museum and Art Gallery's current exhibitions, which phrases it simply too: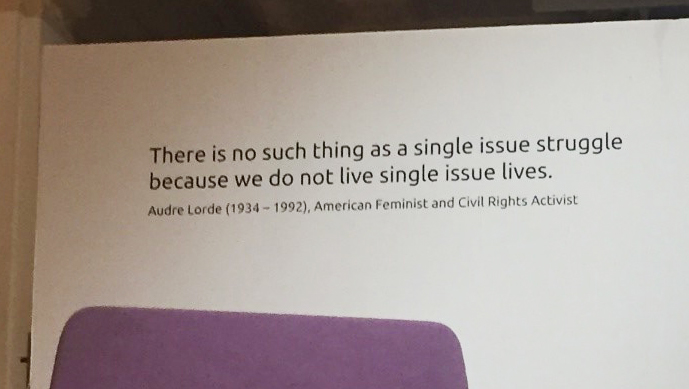 Microaggressions
Microaggressions can be defined as 'brief, everyday exchanges that send denigrating messages to certain individuals because of their group membership' (or identify themselves as having a protected characteristic.)
One speaker in particular talked about microaggressions causing subtle, but long term problems for individuals. Much like unconscious bias training, a starting point for the path to more open, diverse environments is promoting the definitions and facilitating discussions of these terms and theories across our organisations – even with those who are already aware of them and understand them.
Further reading
To get an idea of some of the projects showcased at the conference here is a series of useful links:
Other useful links/materials for addressing diversity that were showcased:
The featured image on this post was taken by Rosanna Evans in the Past is Now exhibition at Birmingham Museum and Art Gallery, which Jenny and other members of the Change Makers Action Group visited during their trip to Birmingham. The exhibition explores Birmingham's relationship to the British Empire. Look out for a blog post about the exhibition by Rosanna next week.